Have you ever come across a situation where you accidentally deleted photos or videos from overwritten SD card? Well, this is a very common issue that people face in their daily life. If you have also become a victim then do not worry, I am here to help you in any manner I can.
Data loss from SD card can be faced due to many reasons like SD card corruption, SD card got infected by the virus,  accidentally deleting images or videos from SD card, formatting memory card or  SD card, etc. After you lose media files from SD card, it happens that you save new data to it and the previous data gets overwritten. But, do not worry, you can now easily recover overwritten SD card data.
Imagine a situation – Let us take Real Example

Recovering Overwritten Data – SD Card

Hi,

I've been dredging the internet for information on recovering overwritten data from a SD Card. Now, before you tell me it's not possible let me explain the circumstances and that I'm already aware of that opinion.

The card was used in a Canon Powershot camera to take photos and video (.jpg and .avi.) and afterwards was erased with a "low level format" from within the camera. This writes 0's to all sectors of the card, making conventional recovery techniques impossible. However, I've seen several posts by users in this forum suggesting that recovery may still be possible but am not sure what those techniques would be. If I were to send it to a professional recovery service do you think it would be possible for them and what techniques would they employ?

I should mention that I do have some experience in data recovery such as using hex to identify file headers in the recovery process. Even if recovery isn't possible I'm still interested in trying and would appreciate any advice anyone has to offer.

Thanks! Please let me know.

                                                       – Original Post from Antionline Forums
Now the question is can you recover overwritten images and video clips onto your SD card. What are the chances of recovering overwritten data?
Overwritten Micro SD Card are the most common scenario difficult to be ignored and difficult to recover photos from SD card that have been overwritten.
But recovering files back from overwritten SD is not impossible. The possibility of recovering the data lies on the fact that how much data you are storing on your SD card. If the file size is larger than the newly overwritten data then there are chances to recover the lost data back, but if the old data is lesser than the newly overwritten data then there is less chance to get back the data.
Ok! The best way to recover overwritten SD-card data is by using Micro SD card recovery software.
The overwritten data are difficult to be restored. But don't lose hope rely on a good and reliable tool to get back old photos/videos from your overwritten SD card. Until and unless you have fully wiped, or erased your SD card you still have the chance to recover overwritten SD card data.
Method #1: Use Windows "Previous Versions" Function To Recover Data
If you want to know how to recover overwritten files on SD card then you can try the feature called "Previous Version" that used to come with the Windows for SD card recovery.  This feature allows the users to restore SD card data that have been deleted, formatted or overwritten accidentally with the backup file history option and restore point.
Step 1: First of all, you have to navigate to the folder where the lost media files were recovered.
Step 2: Now, you have to right-click the empty area of the folder and then you have to select there "Properties".
Step 3: Next, you have to go to the "Previous Versions" tab and there you have to select the latest version from here, make a click on the "Restore" option. Now you have to save the replaced or deleted file for completing the save operation of the original file.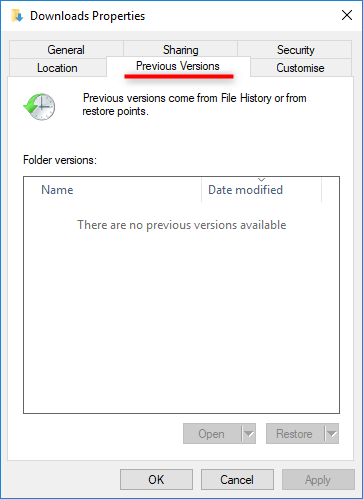 Method #2: Recover Overwritten SD Card Files Using SD Card Recovery Tool
Looking for a solution to know how to recover overwritten photos and video files from SD card? This situation is very common because many users have faced such type of problem once in their life. Generally, the digital data like pictures, audios and videos gets overwritten with new data added by users and thereafter data becomes inaccessible.
In such situation, the chances for recovery of photos & videos from card become very less. But still, you can try SD Card Recovery Software for Windows/Mac which is perfectly designed to restore lost, inaccessible, missing, corrupted media files such as photos, videos and audio files from overwritten media storage devices like memory cards, USB flash drives, external hard drives, etc.
Restore overwritten, inaccessible, missing, deleted, photos, videos and audio files from any memory card
Easily retrieve digital media files such as photos, videos and audio files that are overwritten, virus infected, accidentally deleted, formatted from media storage devices
Recover overwritten video files from SD card
Preview recoverable overwritten images, videos & audio files from card within software before final recovery
100% read-only program, safe and secure to use
emid

emid


* Free version of the program only scans and previews recoverable items.
The SD Card Recovery tool is designed to recover overwritten files such as pictures, videos and audio files from any media storage devices and supports all types of memory card which include SD card, miniSD card, microSD card, CF card, XD card, etc. It can also be called as USB overwritten pictures recovery as it support recovery of digital media files from several USB Flash drives such as memory stick, pen drive, external hard drives and so on.
It thoroughly scans the entire storage device as it has powerful scanning algorithm which can recover overwritten Micro SD Card files.
It also offers preview option through a user can view the recoverable files within the software before recovering and saving them on system. It provides users with the best recovery platform ever for recovering overwritten video, audio and photo files.
The recovery tool is known as one of the successful tools which retrieve pictures, videos and audio files from overwritten USB drives, memory card, hard drives, etc and also supports both Windows and Mac.
Steps To Retrieve Photos/Videos Files From Overwritten Micro SD Card

Step 1: Select Desired Location
Firstly, select the drive, external media or volume from which you want to recover deleted media files. After selecting, click on 'Scan'.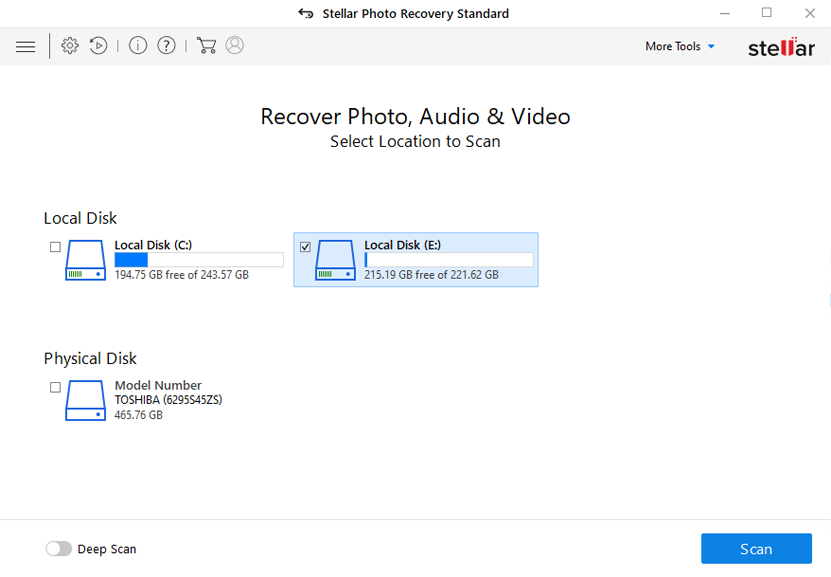 Step 2: Preview Recovered Media Files
Next, you can preview the recoverable media files after the scanning process is completed.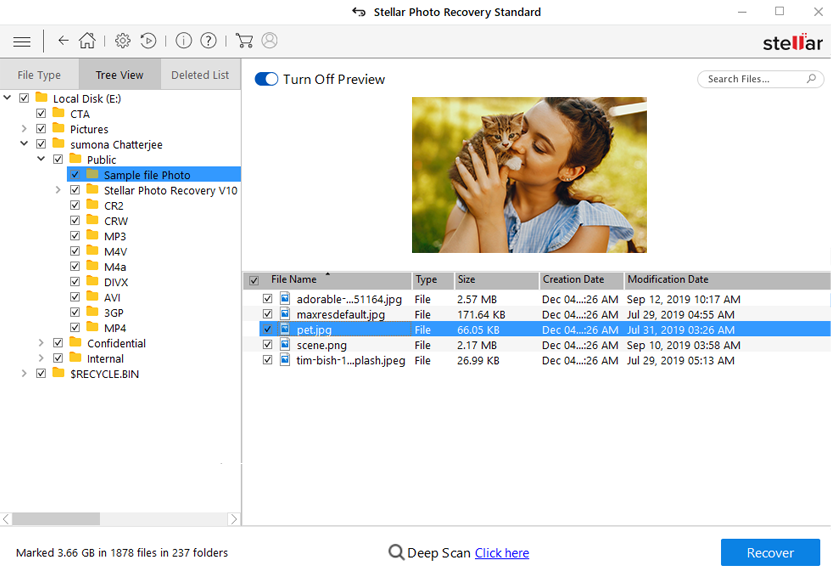 Step 3: Recover Media Files
Lastly, you can select the images, audio, video files you want to restore and click on 'Recover' option to save them at the location you want.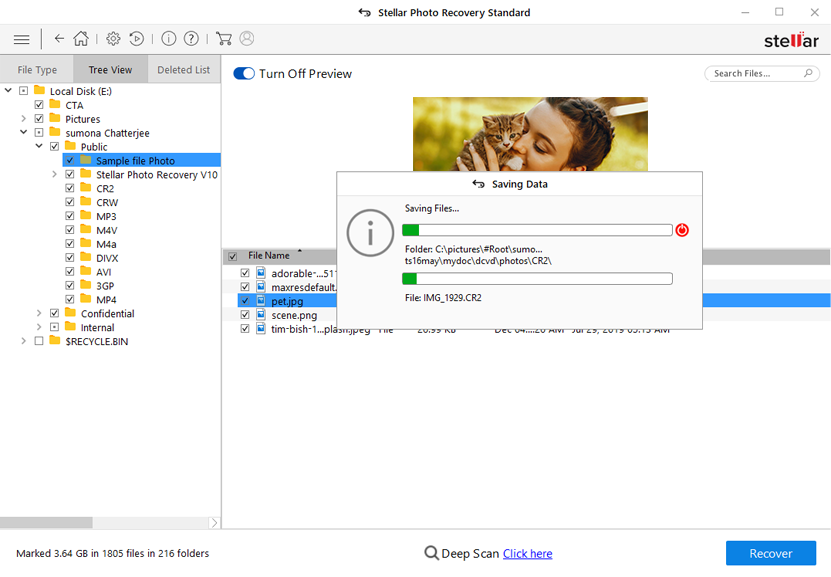 Overwritten files are difficult to restore because once the file is lost, though it is not permanently erased but the index entry of that file is changed and the free space of old file is ready to be overwriting. That is why it is advised to prevent data overwritten.
Tips To Avoid Data Overwriting
Now that you know the trick to recover overwritten files it's time to know the tips for avoiding data being overwritten.
Use some reliable power source which can help your system from sudden shutdown
Before formatting, check your storage device at least two to three times
Never use any digital device when its battery is low
Always make a backup of all your important files or folders so that it can help you in the future when any data loss situation happens.
Before removing the device from computer or from any other system, eject it properly
Never avoid any type of warning message because this can also be the reason for data loss
Always protect your device from any virus or malware attack by using the perfect antivirus program
Before deleting any files, just be sure of what you are selecting and what you are deleting
Don't remove the files when the file transfer process is in progress
Avoid using the same device when it is already used and it is full. Keep it in a safe place and do not save any new media files otherwise, the previous data will be overwritten
Conclusion
If you have overwritten SD card data with a new one then it is really a great thing to concern. But after going through the above sections of this blog, you might notice that it is not that impossible. You can try the solution mentioned here to recover lost data from overwritten SD card with SD Card Recovery Tool.
This tool is very effective in recovering files back from overwritten SD card. So, just try this solution once and know how to recover overwritten video files from SD card. I hope, you will not get disappointed after trying the solution mentioned here.
If you have found this post helpful and useful, then please do not forget to share it.
Also like and follow us on Facebook, Twitter and Pinterest to get latest updates.
Alex is an expert technical writer with 7+ years of experience. His in-depth knowledge about data recovery and fascination to explore new DIY tools & technologies have helped many. Alex has a great interest in photography and loves to share photography tips and tricks with others.