After scanning the SD card/USB drive using chkdsk command, have you received "chkdsk is not available for raw drives"? Well, if you are eager to troubleshoot this issue then you have reached the correct webpage.
In this post, I am going to specify the 7 best solutions on how to fix chkdsk not available for RAW drives error issues.
So, do not skip reading this post otherwise, you will lose something very crucial that can actually help you to solve this problem.
But, before proceeding towards its fixes to repair chkdsk not available for RAW drives error, let's know why the above-mentioned error occurs.
Why We Get An Error Chkdsk Is Not Available For RAW Drives?
Well, below I have mentioned the main reason for the occurrence of the type of file system is RAW. Chkdsk not available on RAW drives" error.
So, the reasons behind the drives can turn into RAW due to:
Ejecting the drive improperly from PC.
Virus attack.
Boot sector or broken partition table.
Loose connection due to problem in the computer.
Availability of bad sectors.
Exceeded read/write lifespan.
Sudden power failure while you were accessing files from the drive.
Hardware failure.
Corruption to drives.
Common Scenarios Of "Chkdsk Is Not Available For RAW Drives"
Sometimes when a damaged volume lose its files system then it might throw the error message "chkdsk is not available for raw drives SD card", but besides this error message, you may also get different error messages such as
The disk in drive X: is not formatted.
Volume X: is not formatted. Do you want to format it now?
Drive X: not accessible. The file or directory is corrupted and unreadable.
There was an error accessing drive X: The disk is not formatted.
The volume does not contain a recognized file system.
Media Storage Devices That Can Throw CHKDSK Error – The Type Of The File System Is RAW
Most of the time, the error message shows "The type of the file system is RAW. CHKDSK is not available for RAW drives".
In general, you might get such types of error messages on any storage media devices, such as:
SD memory card – chkdsk is not available on RAW drives.
External hard drive CHKDSK is not available for RAW drives.
CHKDSK reports a raw error on drives like USB flash drives (pen drives, memory sticks, etc), Micro SD cards or hard drives.
When you receive such kinds of CHKDSK error messages on any digital device, then usually you may run CHKDSK to fix disk for errors or bad sectors.
But when volume system information of the files changes to the RAW file system, then it avoids running the CHKDSK for error checking. Thereby it displays the error messages chkdsk is not available for raw drives external hard drive.

Well, when you receive above shown error message, then what approach should you take? Well, in my suggestion, you must try to fix the error message by using the below solutions.
How To Fix CHKDSK Is Not Available On RAW Drives Error?
Here, I am going to provide you the most possible solutions to fix chkdsk not available for RAW drive.
So, without wasting your time, have a look at the solutions mentioned below:
Solution #1: Check The Connection Issues
The very first step that you must take is to check all the connections between your computer and the hard drive.
If your hard disk is not connected properly or cables become too loose to work as normal, then you might get the error message "the type of the file system is raw. chkdsk is not available for raw drives."
Solution #2: Repair the RAW Drive to FAT32/ NTFS Using the Diskpart
The Diskpart command-line feature is generally used to create, modify, delete, and format the partitions of the computer's disk.
At first, press the Windows + R key together
Then, type the diskpart in a run box >> hit Enter.
After this, follow the below commands and press enter after completion of each command-line:
list volume
choose volume X ("X" simply denotes a volume number of a RAW drive)
format fs=ntfs quick (or format fs=fat32 quick)
exit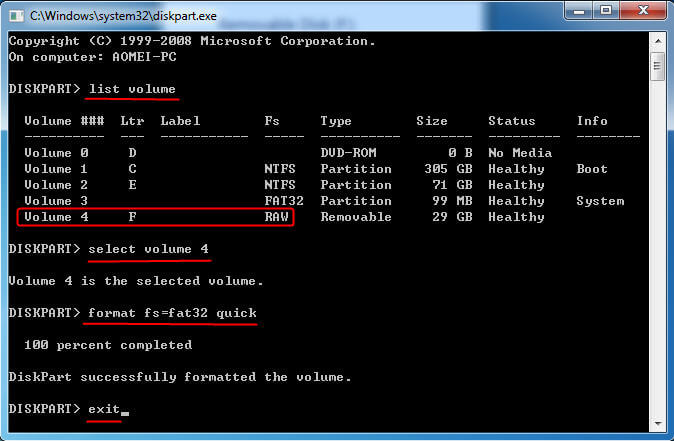 Solution #3: Maybe Lifespan Of Read/Write Process Of Drive Has Been Exceeded
Every Disk has a lifespan and many hard drives also have a limited read/write lifespan.
So, if the drive that you want to repair has been used for several years, then you must consider the usage of the drive and check whether it has reached its service life. If so, then you do not have any option but to replace the drive with a new one.
Solution #4: Run Anti-virus Program To Remove Viruses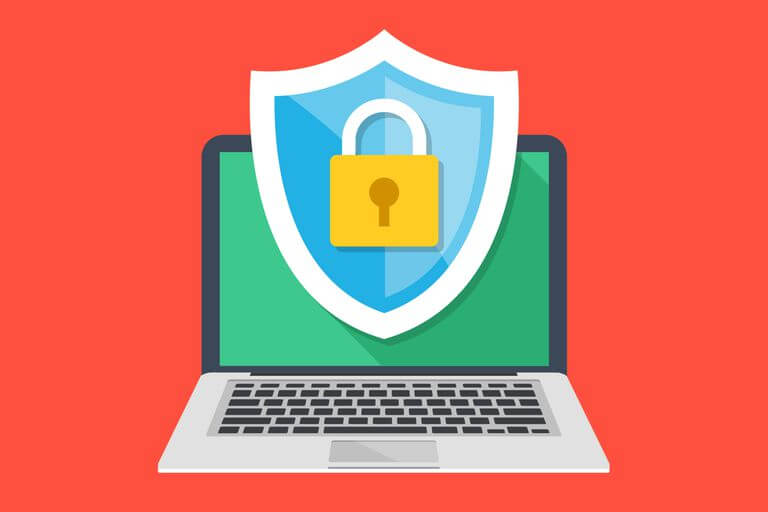 If your disk is infected or attacked by a virus, then it is time to scan your hard drive with an anti-virus program and remove the viruses from the drive.
If you do not have any reputed and updated antivirus tool, then it is time you'd better go ahead and take action right now.
Solution #5: Try To Run CHKDSK By Typing CHKDSK X: /r Instead Of CHKDSK X: /f
Chkdsk.exe is the command-line interface for the CHKDSK tool and it verifies the logical integrity of a file system.
However, if CHKDSK comes across inconsistencies in file system data, then the tool can be used to easily perform chkdsk is not available for raw drives fix cmd, assuming that file system data is not in read-only mode.
But, if the volume system type information is unavailable and if you run the CHDSK command against the volume, then it will display the following error message:
The type of the filesystem is RAW. Chkdsk is not available for RAW drives.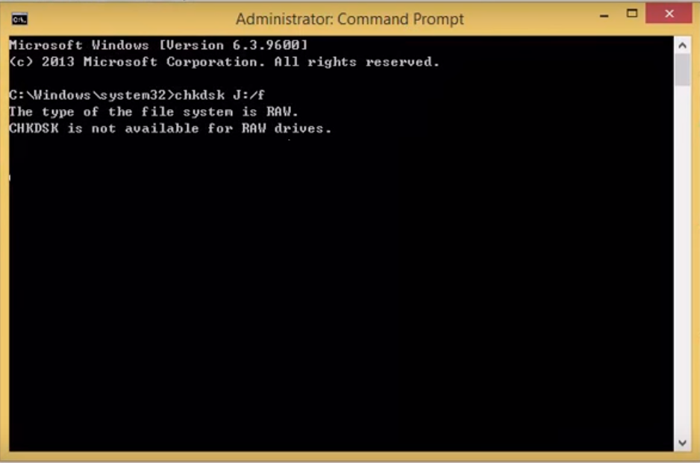 When you perform the CHKDSK command to repair the error of drive, then usually you type the command CHKDSK X: /r. But in this error case, instead of typing the command CHKDSK X: /r type CHKDSK X: /f. This may help you to troubleshoot the problem.
Note: Here X: is the letter name of the drive. So, you must give the right hard drive letter name as per your case.
Solution #6: Format The RAW Drive Using Disk Management
If the above-all solution fails, then you have left with no choice, but to format the disk. But remember that formatting the drive will erase all data stored within it, hence, you must make sure that all-important data in this drive have been backed up already.
But, if you do not have any important data on the drive, then formatting the drive is the most recommended solution to get rid of this problem.
Here to know how to format the disk using Disk management, just follow the given steps:
Click Start and then click on Disk Management (Windows 10/8). Click Start > Right-click on My Computer and then click on Manage (Windows7/Vista).
This will open Disk Management.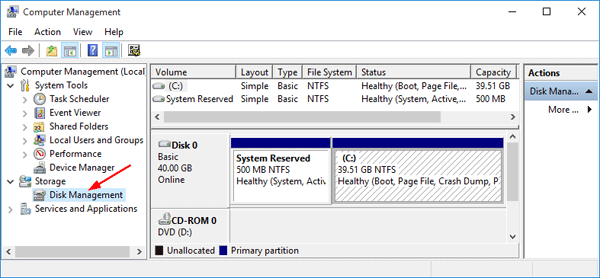 Now right-click on the hard drive that you want to format the card and select Format option.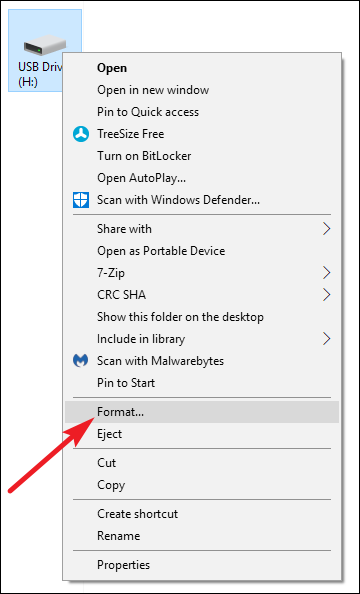 Next, select the NTFS file system and then click Start to reformat the RAW drive to NTFS.
Solution #7: Resort To Expert
If all above solution fails even the formatting the RAW drive using Disk management fails, then you'd better report to an expert or carry the drive to a local computer repair shop. Maybe they can help in some other way.
Ultimate Solution: Recover Data Using Raw Drive Data Recovery Tool
After fixing the error "chkdsk the type of the file system is raw" if you have found that all your data gets deleted, then the Raw Drive Data Recovery Tool can help you to recover lost or inaccessible files from the raw file system.
This tool will allow you to recover data from corrupted SD cards, hard drives, external HDD, memory cards, digital cameras, USB flash drives, and other media storage devices.
This software can easily recover deleted photos from memory cards or drives that show 'The type of file system is RAW. CHKDSK is not available for RAW drives' error messages.
It offers a preview option that is available in a free trial version, it helps you to check if your lost files are recoverable or not from the RAW file system.
emid

emid


* Free version of the program only scans and previews recoverable items.
So, just download and install this utility from the above-given buttons on your Mac or Windows PC and perform RAW USB drive recovery with ease.
Related FAQs:
How Do I Fix A RAW Hard Drive Without Losing Data?
By running the error checking utility, you can fix a RAW hard drive without losing data. Here is how you can do so: • Launch a File Explorer & find out This PC. • Next, right-click on a hard drive which you need to check for errors. • Then, choose Properties >> Tools • In a Tools tab, select an Error checking >> tap the check option.
How Can I Convert My RAW Hard Drive To NTFS Without Losing Data?
In order to convert a RAW hard drive to NTFS without losing data, follow the below instructions: 1. Firstly, open the Disk Management & find a RAW hard drive 2. Among volumes, make right-click the device. 3. Choose the format option & a file system(NTFS) >> tap OK.
How Do I Run Chkdsk On A RAW Drive?
You can run the chkdsk on a RAW hard drive by trying the beneath steps: Step 1: Just press the Windows + R keys together to launch the Run. Step 2: Next, type the cmd there & press Enter to enter a Command Prompt line. Step 3: Type the command: chkdsk G: /f /r >> press Enter.
How Do I Recover Files From A RAW External Hard Drive?
You can easily recover files from a RAW external hard drive by using the advanced and trustworthy Hard Drive Data Recovery tool.
How Do I Transfer Files From A Raw Hard Drive?
To do so, choose the files & folders on RAW hard drive that you need to restore. Then make right-click on those files to choose 'Copy To' option. After this, you will be prompted to choose a new location to store these files. So, create the new folder on the different disk in a place of RAW drive & save the files there.
Conclusion
Since the error message chkdsk is not available for raw drives SD card can occur due to many several reasons, you must be always ready with the solution to fix it.
Hence, by following the solutions that are mentioned above, you can easily fix chkdsk is not available for raw drives external hard drive issue. These solutions have helped many users and I hope they will work for you as well.
Apart from this, if you notice that all your important data have been deleted unintentionally from the drive, then stop using your storage device right there.
This is because you can easily perform media files recovery using Raw Drive Data Recovery Tool.
That's all…
Alex is an expert technical writer with 7+ years of experience. His in-depth knowledge about data recovery and fascination to explore new DIY tools & technologies have helped many. Alex has a great interest in photography and loves to share photography tips and tricks with others.