Have you accidentally deleted WAV files? Are you looking for effective solutions to recover deleted WAV files with ease? Don't know how to recover corrupted WAV file? If yes, then do not worry because here, you will know the best solution to recover WAV file.
In this blog, you will get to know the complete information related to WAV files, its causes of deletion and also how to recover corrupted WAV files?
Without wasting any time, I would like to provide the best solution to recover deleted WAV file. Yes, you can easily perform this re4covery using WAV File Recovery Tool. This tool has the best option to restore deleted WAV file.

To recover corrupted WAV files, we recommend this tool:
This software will restore data from corrupted, formatted, encrypted storage media and works in all data loss situations. Now recover your lost and deleted data in 3 easy steps:
Try this Media File Recovery Tool rated Excellent on Pcmag.com.
Select the storage media from which you want to restore the media files & click Scan.
Preview the recoverable files, select the items you want to recover and click Recover to save the files at desired location.
I know you must be looking for its user guide, but before that, let me share a scenario. After going through this scenario, I have decided to write a blog on this topic.
Practical Scenario
Corrupt WAV file recovery

Hi,

I have a WAV file recorded on Edirol R44, and the file seems to be corrupted. The file size is about 240MB but it does not show running time when I open the info. The data seems to be there but it only opens on VLC. Is there any software that I can repair/ recover the WAV file, preferably for Mac?

– Original Post From Creative Cow Forums
What Is WAV Audio File?
WAV commonly known as Waveform Audio File is a popular audio format extension that provides superb quality of sound without compression. These files are mainly bigger in size offered by Microsoft let you experience the repeated playing of songs in a loop on your system or mobile phones.
Generally, user's stores these WAV files on their memory card that could be comfortable to listen during a journey of in cars or on iPod. But however, this audio file may be lost from your cards or system hard disk due to several reasons that are genuinely responsible for corruption or damage of files. Hence, users are always recommended to keep a backup of their files to tackle such a situation of loss or use the third party WAV File Recovery Software to avoid those issues in a hassle-free and safe manner.
Reasons Behind WAV File Loss Or Deletion
Accidental deletion is one of the major causes.
Loss of these audio files due to unfortunate formatting or deletion from your storage device.
Any sort of interruption during the read-write process of these WAV files.
Corruption of data files due to a broken file system, or card break issue.
The WAV file is attacked by malware or viruses and has gone inaccessible from you.
So now the question is – how to repair/recover corrupted or deleted WAV audio files?
How To Recover Corrupted WAV File?
It is already clear that using WAV File Recovery Tool, you will be easily able to restore deleted WAV audio file in an easy way, so just try it.
This audio recovery tool is very efficient in restoring lost, corrupted, deleted or inaccessible WAV audio files. This tool not only recovers WAV audio files, but also other related audio, video and photo file formats.  The software helps you to recover your WAV files get lost due to any of the reasons like deletion, formatting, corruption, virus infection or any other.
The other audio file format it recovers are MP3, AU, AMR, MIDI, WMA, FLAC, AIFF, AMR, etc.
With the help of WAV File Recovery Tool, you will be able to:
Retrieve corrupted, deleted, lost or inaccessible WAV files easily from various data storage devices
Recover WAV files from computer hard drive, external HDD, memory cards, USB flash drives, etc
Get back other audio files of different file formats such as MP3, AMR, MIDI, M4A, AIF, RA, etc with ease
Also, recover lost/corrupted/damaged or deleted photo and video file formats
Easily perform the recovery process due to the user-friendly interface
The very best thing about this recovery tool is that this tool is available for both the platforms; Windows as well as Mac.
emid

emid


* Free version of the program only scans and previews recoverable items.

So, now have a look at the steps to recover deleted WAV audio files…
Step 1: Select Desired Location
Firstly, select the drive, external media or volume from which you want to recover deleted media files. After selecting, click on 'Scan'.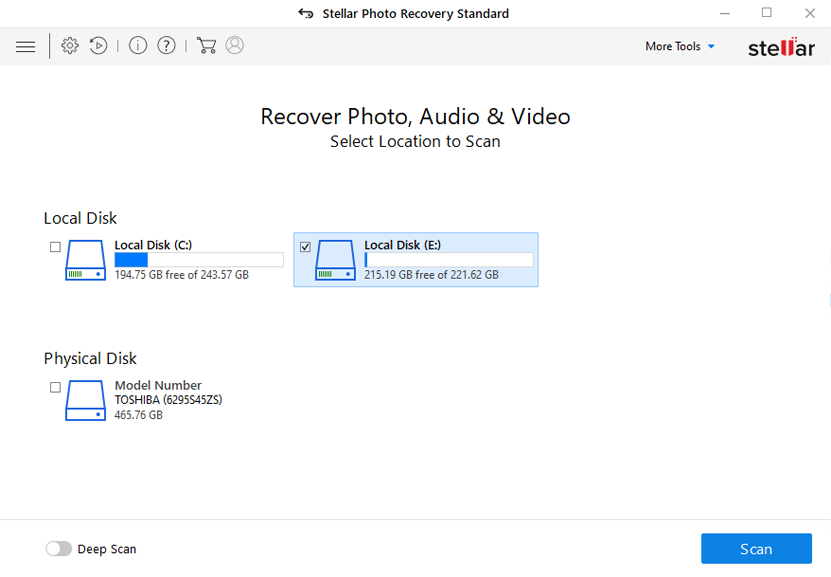 Step 2: Preview Recovered Media Files
Next, you can preview the recoverable media files after the scanning process is completed.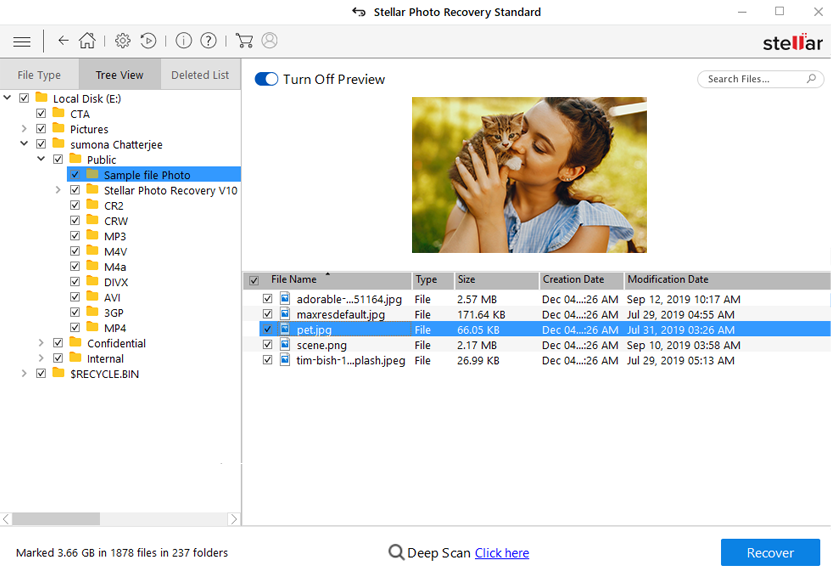 Step 3: Recover Media Files
Lastly, you can select the images, audio, video files you want to restore and click on 'Recover' option to save them at the location you want.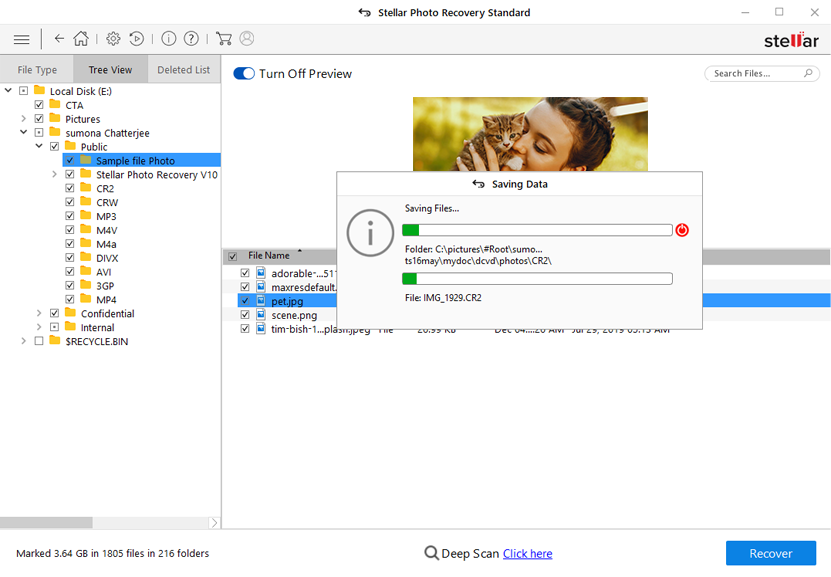 Other Alternatives To Recover Deleted Or Lost WAV Audio File
Solution #1: Recover WAV File From Backup & Restore Option
If you always keep a backup of your important data that you don't want to lose ever then don't worry. I am saying so because backup folder may contain your deleted WAV audio file. So, in that case, you can simply go to your Backup Folder and then go to the files you want to restore. After selecting those files, you can right-click on that and select the Restore option from there. This will automatically restore deleted WAV file to its original destination.
Solution #2: Restore Lost WAV Files From Recycle Bin Folder
Sometimes it happens that you unintentionally delete the file that you actually don't want to lose. However, if you have not pressed Shift + Delete buttons to permanently delete the file, then it can be recoverable.
To restore lost WAV file from Recycle Bin Folder, you have to simply go to your Recycle Bin Folder and then choose the files you want to restore. After selecting them, you can right-click on them and click on Restore option. Doing so will restore lost WAV audio files to its original location.
Tips To Avoid WAV Audio File Deletion
Keep backup of your important WAV audio files so that you can restore them back in case of deletion or loss.
Keep reliable or u-to-date anti-virus in your system to prevent virus or malware attack to WAV files.
Do not shut down system or Switch off the device while WAV files are being played.
Conclusion
Though there are several causes that can lead to the loss or corruption of WAV audio files and hence you must be prepared to handle such audio file loss.
If you have a proper backup, then you can get back deleted WAV files from the backup, but if you do not have a backup, then try WAV File Recovery Tool. This is one of the easiest and the best solution to recover corrupted WAV file.
However, you can also restore from Recycle Bin folder if you have deleted mistakenly and not tried Shift + Delete option. This will help you restore lost WAV files with ease.
Taposhi is an expert technical writer with 5+ years of experience. Her in-depth knowledge about data recovery and fascination to explore new DIY tools & technologies have helped many. She has a great interest in photography and loves to share photography tips and tricks with others.