Rescue Deleted, Formatted, Lost, Erased FujiFilm Camera RAW .RAF Image Files!!!
Summary – Lost your precious and memorable pictures from Fujifilm digital camera? Accidentally deleted Fujifilm camera RAW RAF image files? Do not panic! With the use of professional Digital Media Recovery Tool, you can easily retrieve your deleted photos and RAW RAF images from Fujifilm camera with ease.
With the help of Digital Media Recovery Tool, one can
Efficiently get back deleted, lost, formatted, erased, missing Fujifilm RAW ORF images as well as other photo file format (.jpeg/.jpg, .png, .png, .tiff, .gif, etc)
Also support photo & video recovery from other cameras such as Nikon (NEF), Samsung (SRW & SR2), Canon (CRW & CR2), Sony (SRF), Pentax (PEF), Kodak (DCR), Leica (DNG), Sigma (X3F), Olympus (ORF), Panasonic RAW image, Toshiba RAW image, etc
Retrieves image and video files from various memory card brands such as Samsung, Sony, SanDisk, Transcend, Apacer, Kingston, Kingmax, Strontium,  HP, Toshiba, etc
Recovery software is available for both Windows and Mac users
Read-only program, 100% clean, safe & easy to use
Restore Fujifilm RAW RAF Photos In Minutes



* Free version of the program only scans and previews recoverable objects.
Fujifilm is a popular brand among digital camera. It has released so many models of stylish digital camera with advanced technology and latest features. Fujifilm is used worldwide and well known for producing pocket sized digital cameras. Fuji camera is used by many photographer as well as novice. It allows you to take high quality pictures with the use of high resolution digital camera. You can take great pictures even in low light.
When you click pictures with your Fujifilm digital camera it gets saved in DCIM folder on memory card by default. The photo captured by Fujifilm camera is in raw format that is RAF. It is a digital image format which is used in Fujifilm digital cameras. RAF format file play the same function as similar to negatives, i.e., it consists all type of information (header file, contrast, saturation, brightness, color, sharpening level and other settings)  to create an image. RAF files also hold technical characteristics of camera and it is saved to card inserted in camera and is ready for further processing by users. Fujifilm camera supports memory card such as SD, SDHC, SC and SDGC for storing your captured photos. These memory cards is very unfailing in storing images, though there might several scenario where memory card gets corrupted and you may not able to access your stored images.
As soon as you realize that you have accidently deleted your data or some of your data is missing the first thing you should do is stop using your camera if you want to get back the lost data. The lost or deleted pictures are still present on the memory card until and unless the free space is overwritten by a new file. So it is advised not to use your digital camera as soon as you recover the lost or deleted data. Accidentally deletion is the common issue in Fujifilm digital camera. In such scenario, every user gets panic and thinks what to do now to recover those stored photos. Relax and be calm because here we come with the Fujifilm photo recovery by which you can rescue deleted, lost, formatted, and missing images from Fujifilm digital cameras. But before we know how to recover photos and how to use Fujifilm photo recovery, let's know what the causes are where you lose your photos so that in future you can deal with it in a better manner.
Causes for photo loss from Fujifilm Digital camera

There might be several causes for the loss of photos from Fujifilm digital camera. Some of the basic one is:
Mistakenly or accidental deletion of photos
Intentionally deletion of photos
Virus attack on camera and camera card when connected to PC infected with virus
Improper or forcefully ejection of card
Capturing photos while camera battery is low
Any error while transferring photos from camera to computer or vice-versa
Power failure of camera or computer in between transferring photos
Using of mismatched or incompatible memory card
Formatting of memory card intentionally or accidentally
Cameras gets switched off in read/ write operation
Malfunctioning of camera or camera gets damaged
There might be other reasons you may face which cause loss of images, but the above mentioned cause are common and basic. If you have lost your data due to any of the above reason then last option left with you is using a professional recovery software that can easily recover the lost data with an ease.
How to rescue lost/deleted photos from Fujifilm camera
No matter, whatever the reasons behind the loss of your memorable photos from Fujifilm digital camera. All we want a safe way to recover the data from our digital camera. By suing a professional Fujifilm photo recovery software you can recover deleted photos and video files. This recovery software helps to scan the memory card of your Fujifilm camera and gathers your lost data and forms them into the video, photos files. This tool is specifically designed for recovering RAF files and other images file type captured by Fujifilm camera. It can rescue deleted photos from any type of memory card such as SD, SDHC, MMC, SC, SDGC, CF card, etc. Supports rescuing photos from all Fujifilm cameras even from 3D cameras. It recovers original photo as it was taken by camera there is no loss in quality of the images recovered. It allows user to preview the images before restoring them.
Fujifilm photo recovery tool is easy to use and user friendly. It scans your entire memory card deeply and recovers all deleted/ lost images from Fujifilm camera and camera card. The tool effectively retrieves photos as well as it recovers possible videos and other media files.
You might Also Be Interested In:
Steps to recover Deleted/lost photos from Fujifilm Camera

Steps how to use Fujifilm photo recovery for recovering deleted photos:
Step 1 – Install Fujifilm photo recovery on your PC. After installation launch the tool. Now connect your Fujifilm camera to PC.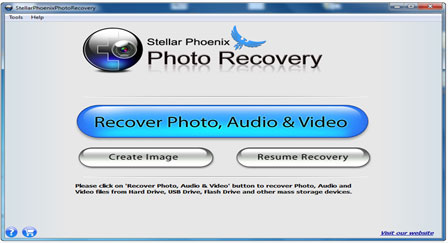 Step 2 – Select your camera and then click on Scan button. Wait for few minutes while tool scan your camera card. On completion of scan it will display all the recovered files.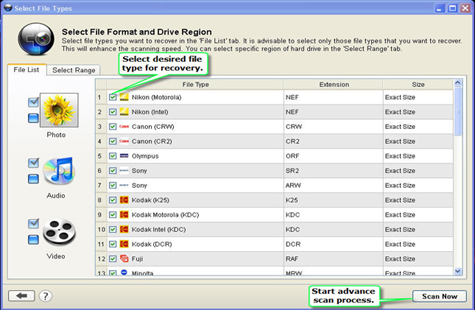 Step 3 – From the category on left side click on Photos and the tool will show all your lost or deleted photos. Now preview and choose those photos which you want back.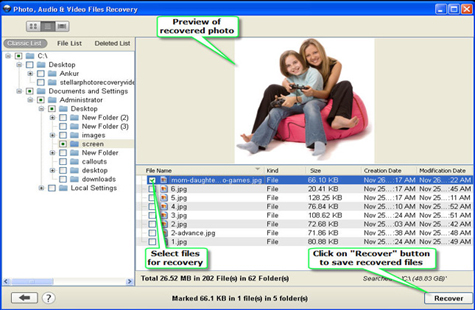 Step 4 – After choosing the files which you want to rescue click on Recover button and then select your desire location on your computer to save those photos.