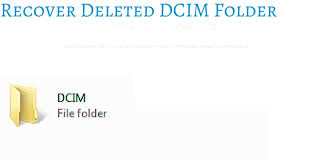 Get Back Deleted/Corrupted/Lost/Damaged Photos, Videos and Music Files From DCIM Folder Easily
DCIM folder contains photos and videos files on your smartphone. Have you lost such photos and videos from your DCIM folder and looking for a solution to get back data from your DCIM folder. Well, if YES then you can easily retrieve deleted or lost photos and videos from your DCIM folder with Photo Recovery Software. This professional tool will help you:
Retrieve photos and videos from DCIM folder easily
Recovers images of different file formats like GIF, JPG, PNG, GIF, PSD, PIC, BMP, etc
Get back data such as photos, videos and music files from external hard drive as well
Also recovers deleted or lost media files from damaged memory cards.
Retrieve deleted data easily due to its user-friendly interface
Recover DCIM Folder Easily



* Free version of the program only scans and previews recoverable objects.
"I need to transfer some pictures from me memory card to backup drive presented on my PC, and I inserted my SD card into the PC with the card reader. Since I noticed that the Backup drive was running out of space, so I delete some unnecessary files from the SD card. I selected DCIM folder from the memory card that is having many files, and accidentally delete the DCIM files. Soon after that, I realized that some of the important pictures also get deleted from the DCIM folder. I don't know what to do, those pictures are very important for me. What should I do to recover those pictures? Is there any way to get back the files saved in DCIM folder? Thanks in advance!!"
DCIM stands for Digital Camera Images became the default directory structure for digital cameras and the entire pictures that are taken from a camera, Smartphone, android devices are saved in this folder that contains all DCIM file like images. These files contain more space in the device and for that user tries to move them to other location. And in this situation user might face the problem of data loss or some other issues take place. There are many reasons behind the loss of DCIM files.
Some Common Scenarios Of Losing DCIM Folder Are:
Unintentional deletion of data from memory card.
Missing of DCIM folder due to malware intrusion or incomplete transfer process from memory card to other storage devices.
Abrupt ejection of memory card while data read / write process is in action, using same card on multiple gadgets, etc. as this can damage memory card making DCIM folder inaccessible.
Format error caused due to logical error or firmware error in camera
All these scenario induce inaccessibility of DCIM folder files from memory card  and user will end up with losing huge data.
Also Read:

Samsung UFS Memory Card Recovery: Recover Deleted Photos, Videos & Audio
reasons Of Losing DCIM Folder
Mistakes are bound to happen and it can happen by any of us. Data loss scenarios happen to us and all have to face such emergencies and need to apply some quick method to avoid all such conditions. However many users makes some common mistakes which need to avoid:
Natural disasters– This is one of the most causes of data loss which is uncontrollable. Therefore, it becomes very important to decrease the risk of data loss by storing all the data under cloud storage device. In fact, always be ready to backup your important data and keep them in the safe place so that data can be protected.
Data deletion– While deleting the data like videos, photos, and audios, it is always important to note that you have made a backup of that data and is no longer in use. If you have verified the data then delete the data which is a must. But if you don't have the proper backup then for recovery of data involves re-installation of programs. It anyone neglects this situation then data loss situation may occur.
Hardware issues– Hardware issues occur and due to this loss of data can happen and this results because of the hosting system crash, due to power failure etc. So to decrease the risk of hardware failure, it is very important to keep your devices on protected environment and to use an uninterrupted power supply.
No backup– If there is no backup available for data then a loss of data is sure to appear. It is always instructed to make a backup of complete data and keep it in the safe place so that if any corruption happens or the original data gets lost then the backup can help you to put the situation under control.
Antivirus– If your system has infected with virus then the data can be lost. This situation may occur when there is a failure to update the system with the latest antivirus software which may result in data loss. If there is an insufficient way to fix the latest threats then this infection can also pose the data loss.
Best way to Recover DCIM folder data items
Restore Media Files from Backup
If you have the backup copies of the media files such as photos, audios, videos and so on. Then you are able to restore them easily. All you need to do is just connect your device to computer via the USB cable that is matched. After it is detected, you can go to your backup files and drag them directly to the storage of your Android.
Make Use Of Photo Recovery Tool
If the above solution fails to work then also you need not to worry because with the help of Photo Recovery Software you can recover data like images, videos & audio file gets deleted from DCIM folder. But when such data loss situation happens then it is instructed not to save any more data otherwise new data will overwrite the old one and it will be impossible to retrieve the deleted data. Not only this, the tool has such amazing feature that makes it a unique recovery platform without losing any single data of it. It supports all types of memory card which include CF card, XD card, SD card etc and can recover any type of file of the different format.
Steps to retrieve lost/deleted data from digital device
Step 1 – Install "Photo Recovery Software" tool and launch it. Click on "Recover Photo, Audio & Video" tab to recover images, songs and videos files from any SD card, external USB drive or computer hard drive. Connect the media to your computer and then perform the process.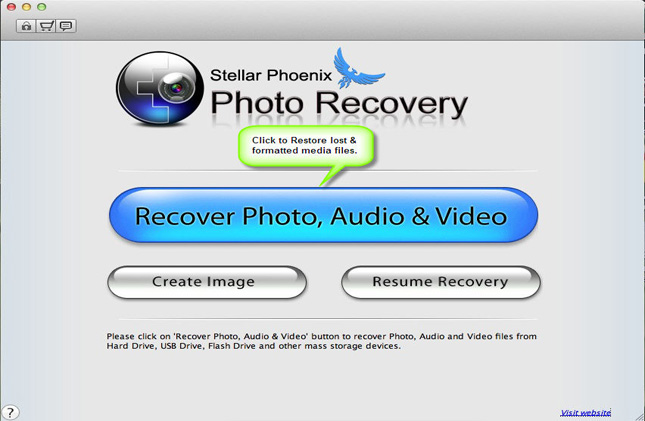 Step 2 – Select the drive from which you want to recover files. The external media will be shown in the list, if not then click on "Refresh Drive" button. Now select the desired drive to scan and then click on "Scan Now". If you want to customize the recovery on the basis of file types then click on "Advance Scan".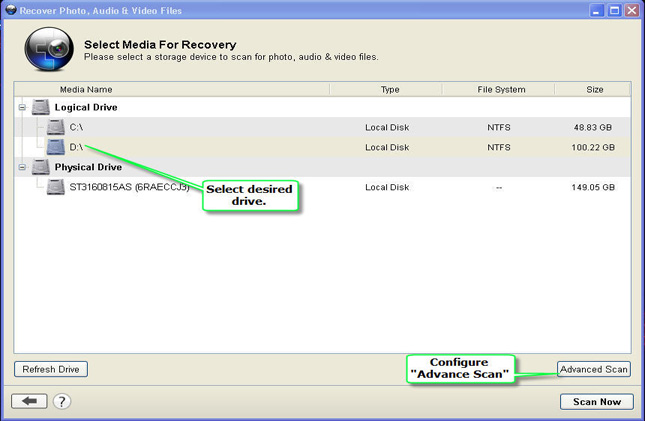 Step 3 – In the Advanced Scan you will have the option to scan as per to the file list, such as Photo, Video and audio or you can also select the data range from the storage device. This option reduces the scanning process time.
Step 4 – Once you click on "Scan Now" button the software will show that scanning is in process. The recovered files listed in a tree structure on the left side of the window panel.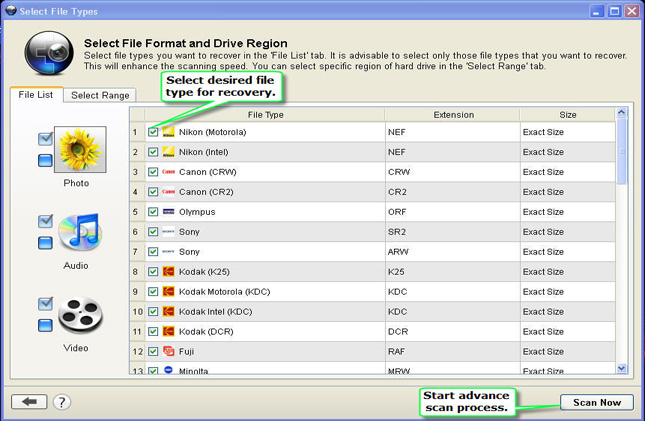 Step 5 – After scanning, you can select the files to preview them and then you can click on "Recover" button to finally save them on your computer.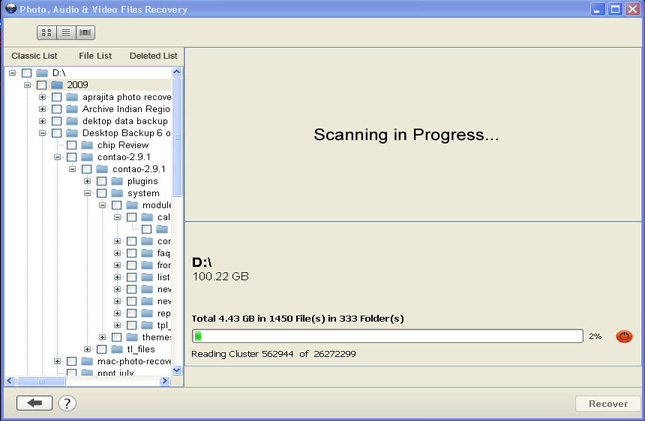 Step 6 – Select the desired location on your computer to save the recovered files. The screenshot shows that the recovered files are being saved.

Conclusion
Now you need not to bother anymore as you must have acquire knowledge about the best possible ways to extract DCIM folder from memory cards with ease.  You can completely trust over the software mentioned in this post. as it is the most trustworthy solution get back lost DCIM folder data.
If you have found this post helpful and useful, then please do not forget to share it.
Also like and follow us on Facebook, G+, Twitter and Pinterest to get latest updates.
Summary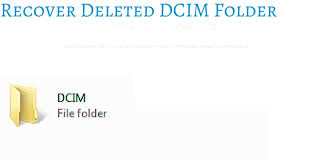 Article Name
How To Recover Lost Media Files From DCIM Folder On Windows/Mac
Description
Have you lost up your important media files from DCIM Folder? Don't worry as this tutorial will give you the best possible solution to retrieve those lost files.
Author
Publisher Name
Publisher Logo