Retrieve Lost/Corrupted or Lost Data Such as Photos, videos and other Media Files from HP memory card with an ease
Have you lost your important data like photos and videos from your HP memory card? Are you looking for a solution to retrieve them back? Well, data can be lost from such memory card due to several reasons but don't worry because now you can easily get them back with Memory Card Recovery software. With this helpful recovery tool, you can:
Retrieve lost photos and videos from Memory card
Recover deleted media files from external storage device and internal hard drive
Get back lost/deleted or corrupted data from different memory card types such as SD card, SDHC card, SDXC card, CF card, etc
Retrieve deleted data from other memory card brands as well, for example, Sandisk, Transcend, Toshiba Verbatim, Kingston, Kingmax, etc.
Recover Deleted or Lost Data From HP Memory Card



* Free version of the program only scans and previews recoverable objects.
"Hello! My HP micro SD card 4GB has been used for a long time in my digital camera, and it contains lots of precious pictures and videos. However, I accidentally reformatted the card just now when I was taking pictures with my camera. When I realized the mistake, I clicked the Cancel button to stop the formatting process. Although the formatting is not completed, the micro SD card becomes inaccessible. When I want to access the card, it says micro SD card needs to be formatted. What should I do to undo format HP micro SD card for deleted photo recovery from SD?"
HP memory cards are similar Sandisks, Lexar, Transcend, Sony, Samsung memory cards. It is used to store data like media files (photos, videos, music files), documents, PDF files and other data. HP cards are used in several gadgets like Digital cameras, tablets, mobile phones, Android phones, Windows phones, iOS devices (iPhone, iPad, iPod), music player, video player, etc. HP card has several benefit features such as it comes with huge storage capacity, light, portable and easy to use in different gadgets.
But, as coin as two sides, similarly HP cards on one hand so many advantageous features, the other hand it is prone to data loss. Many times users face data loss on HP memory cards, or they accidentally delete or lose files due to several known and unknown reasons.
Reasons for data loss From HP Memory Card
If you go to know the reasons behind data loss then they are highly volatile to corruption. Because of corruption or other issues, you cannot get any data on your storage device. Let us know what can lead to data loss situation from any storage device:
Many times due to unwanted interruptions like power failure, memory card disconnected or some issues occurs that can lead to loss of data
Data transfer is on progress and somebody pulled the card without knowing can also lose your data
Virus attack which is a common case may occur and it can completely put your data at risk
Inserting the SD cards on those devices which are not compatible
Unknowingly formatting the memory card without knowing what to delete and what not
Even you may lose all your crucial data when you forcefully insert data on your memory card after it is full
Best way to Recover Deleted Data from HP Memory Card
Want to recover data from a HP memory card? Don't worry and go through the below methods. Everyone want to get their deleted or lost data immediately so that they can relax. But actually nothing can retrieved instant? You will take some time to recover those and also you should know how to recover those files. Well you are guided with some best methods below:
Restore from backup– Backup is something that can really help you when you are in need. But for that you have to make a backup of all those data which are important for you. Hence it is recommended to create a backup of every files that is important for you. As backup file can help you to relax and don't have go here and there for restoring the lost data.
Use professional recovery software– When you don't have backup, then how to get back your lost files? Using professional recovery software like Memory Card Recovery software can help you to get back your deleted files from HP memory card. This is an excellent tool that not only recovers data from HP memory card but also supports other memory card as well. No matter how the data is deleted, it can retrieve back your lost files. You can easily recover any data like photos, videos, music files from HP memory card.
You Might Also Be Interested In:
Steps to Recover Deleted Data from HP Memory Card

Step 1 – Install "Memory Card Recovery' tool and launch it. Click on "Recover Photo, Audio & Video" tab to recover images, songs and videos files from any SD card, external USB drive or computer hard drive. Connect the media to your computer and then perform the process.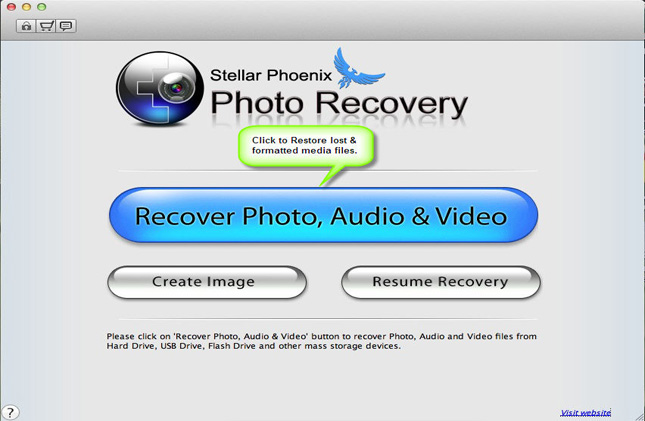 Step 2 – Select the drive from which you want to recover files. The external media will be shown in the list, if not then click on "Refresh Drive" button. Now select the desired drive to scan and then click on "Scan Now". If you want to customize the recovery on the basis of file types then click on "Advance Scan".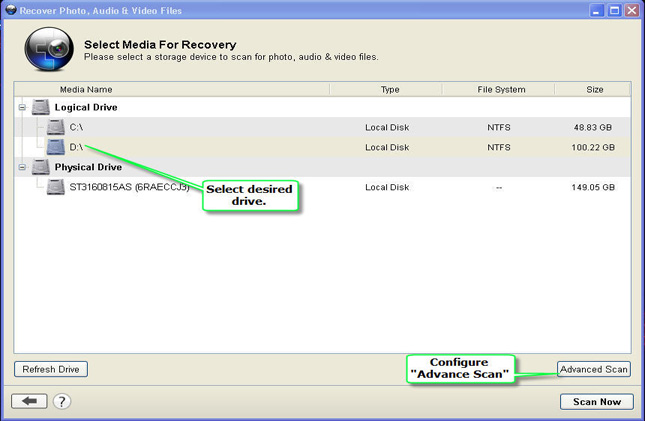 Step 3 – In the Advanced Scan you will have the option to scan as per to the file list, such as Photo, Video and audio or you can also select the data range from the storage device. This option reduces the scanning process time.
Step 4 – Once you click on "Scan Now" button the software will show that scanning is in process. The recovered files listed in a tree structure on the left side of the window panel.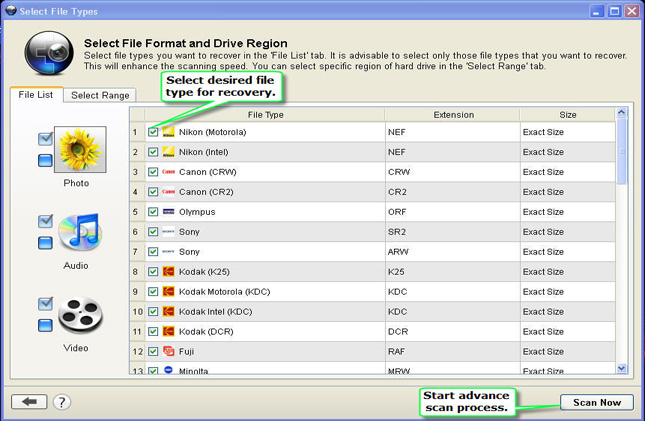 Step 5 – After scanning, you can select the files to preview them and then you can click on "Recover" button to finally save them on your computer.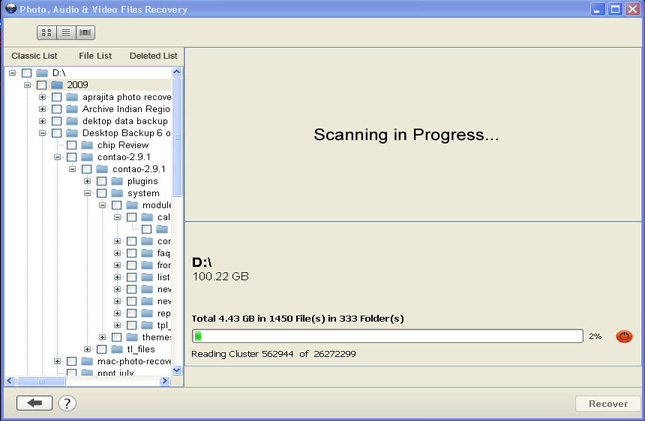 Step 6 – Select the desired location on your computer to save the recovered files. The screenshot shows that the recovered files are being saved.

Tips to remember
Don't worry when you lose your data as nowadays you can very easily get back all your lose files from any storage devices. When you don't have anything to rescue your data, then use professional recovery software. The tool comes in handy to restore all deleted files from HP memory card. But one important thing is recommended and that is to keep a backup of all your essential files.
Summary
Article Name
HP Memory Card Data Recovery on Window/Mac
Description
Solution to get back your deleted data from HP memory card by the help of Memory card data recovery software. Easy to use without any data loss
Author