Learn 4 Effective Solutions To Repair Corrupted .MOV Video Files In And Easy Way!
Summary: If your MOV video files have got damaged or corrupted and looking for an easy way to fix your corrupted QuickTime MOV videos, then you have landed on the right webpage. This guide will show you different solutions that will help you to fix corrupted or damaged MOV files. Additionally, you can also use third-party MOV video repair for Windows/Mac to repair corrupt MOV videos in just few mouse clicks.
One of the best methods to repair corrupted MOV files is to use powerful Video Repair which is suitable MOV Video Repair software.
With the help of Video Repair software, you can:
Easily and quickly repair corrupted, damaged, broken, unreadable, unplayable MOV videos.
Fixes all types of errors and issue on video files in just few steps.
Repair MOV videos that are recorded on DSLRs, Camcorder, GoPro camera, Drones, iPhone, iPad, iPod Touch or downloaded from net.
Repair MOV files that are saved in PC/Mac hard drive, external HDDs, memory card, USB drives or any other media storage devices.
Preview repaired MOV videos for free within the preview screen of the software.
100% safe, secure and easy to use.
Free Download MOV Video Repair Tool
In case, if you are looking to recover deleted or lost MOV video files on Windows or Mac computer, then please visit: MOV File Recovery- Recover Deleted MOV files on Windows/Mac
Coming back to the topic – Let's start with real user practical scenario!
Practical Scenario: A User Looking To Repair Corrupted MOV File
How can I repair a corrupted .mov file?

Hi all,

I accidentally deleted some important videos on my action camera and have recovered them using recuva. However, one of the files has come up as corrupted every time I try to open it, even though Recuva say it is of excellent quality.

Any suggestions for how I might be able to repair it?

Thanks,

Rosie

– Original Post From CNET Forums
Just like above-mentioned practical scenario, there are several users out there whose important or valuable MOV videos got damaged, corrupted, unreadable or not getting played in QuickTime MOV, VLC Media player, Windows Media Player or any other video player.
Usually, MOV file format is compatible to most of the multimedia gadgets such as camcorders, iPhone, iPad, drones, Android and other various gadgets. But this video file format can get damaged or corrupted due to various reasons. Some of the reasons are mentioned below.
Additional Reading: Top 2 Ways To Recover Lost or Deleted Webcam Videos
Causes: What Makes MOV Video Files To Get Corrupt, Damaged or Broken
Interruptions while transferring video files form one computer to any device or vice versa.
Corruption in MOV file header.
Using unreliable tool to for recovering deleted or lost MOV video files.
Converting video file format frequently and quickly.
Playing video in incompatible or unsupported media player.
Lost internet connection, power failure, network error while downloading or uploading MOV videos.
Unexpected or sudden exit of VLC, QuickTime or other apps when the video file is playing.
Errors in MOV file compression due to unreliable compression tool.
Incomplete or improper read-write operation may lead to error message.
Abrupt ejection or improper removal of camcorder or any other removable storage media while moving/transferring/copying MOV videos.
MOV video files can easily get corrupted if saved over virus infected storage device.
Even incorrect editing process may also lead to the damage of video file.
In any of the above causes, your MOV files may get corrupted and become unplayable.
Some of the times MOV video corruptions also include audio video synchronization issues, codec error and so on.
But you don't have to worry about it at all, as here we bring few effective solutions that you can follow to repair/fix your corrupted, damaged, broken, unreadable or unplayable MOV videos.
Additional Reading: How To Recover Deleted Videos From Flip Camera
Solution 1: Repair Corrupt MOV Video By Using QuickTime 7 Player
QuickTime 7 Player has a feature to fix not enough severely damaged MOV videos automatically. If an MOV file is severely corrupted, then it will display the black screen error message.
QuickTime 7 comes with a feature that allows you to check the properties of the damaged videos. To check: Launch QuickTime player and Show Movie Inspector from Windows, this will show the details of the video file such as video format, movie fps, playing fps, resolution information, duration, data size, data rate and so on.
If the MOV file is corrupted, then QuickTime Player will display black screen error and the "Movie Inspector" will show the video details in the video file metadata.
Solution 2: Repair Damaged MOV Files By Using VLC Media Player
VLC media player has the feature to repair damaged, corrupted, broken or unplayable video files.
So, next time when you play your MOV video, the VLC player will ask you to repair corrupted/unplayable or broken videos, simply click on "Yes" and follow the onscreen instructions to fix the video.
Alternatively, follow the below mentioned steps to fix corrupted MOV video file:
Launch VLC media player, go to "Media" and then click on "Convert/Save".
Click "Add" to browse and select the video files that you want to repair.
To edit or to check profile setting check-mark the box "Show more options" and then click on "Convert/Save".
Once the convert Window opens, under "Settings", select the appropriate codec from the drop-down list provided.
Give the name to the file and browse the desired location to save the file and then click on "Start" button.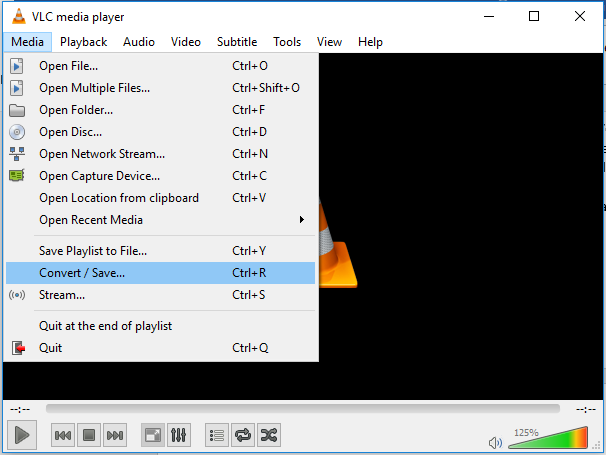 Note: You can add new profile or delete the existing one.
This solution may help you to repair corrupt video files and make them playable in VLC or other media player. If not, then there are other solutions that can be followed to repair corrupt video files.
Additional Reading: Drone Data Recovery: Recover Lost or Deleted Videos & Photos From Drone Camera
Solution 3: Change File Extension of The MOV Video File
Here follow the steps:
First of all make copy of the original MOV video file and the change the file extension from .mov to .avi
Now launch VLC player, go to "Tools" and click on "Preference".
From the top, click on "Input/Codecs" and then click on "Save" in the bottom of the preference window.
In the damaged or incomplete AVI file, select the option "Always fix" from the drop down lost provided.

Solution 4: Repair Corrupted or Damaged MOV Files By Using Video Repair Tool
If none of the above solutions have helped you in repairing or fixing your corrupted MOV video files, then in such cases, it is highly recommended that you must use Video Repair which is perfect and best MOV Video Repair Tool, designed to repair corrupted, damaged, broken, unplayable or unreadable MOV video files on Windows and Mac computer.
This MOV Repair software fix video files that got corrupted due to header corruptions, compression issues, virus attack, interruption while transferring videos, improper read-write process, codec issues, etc.
This MOV video repair software can easily repair/fix video files stored on PC or Mac internal hard drive, external HDDs, SD memory cards, digital camera, camcorders, drones, iPhone, iPad, iPod touch and other media storage devices.
Below follow the steps to repair corrupt or damaged MOV video files by using Video Repair program.
You Might Also Be Interested In:
Steps To Repair Corrupted or Damaged MOV Video Files
Step 1: Download, install and launch video repair software on your computer. Click on "Add Files" to add corrupted video files.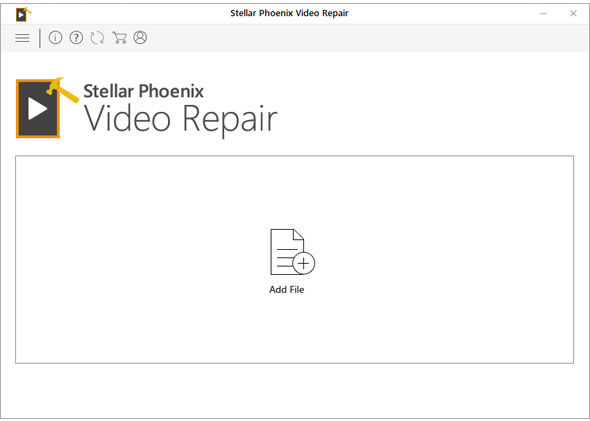 Step 2: If you wish to add more damaged video files, click on "Add File".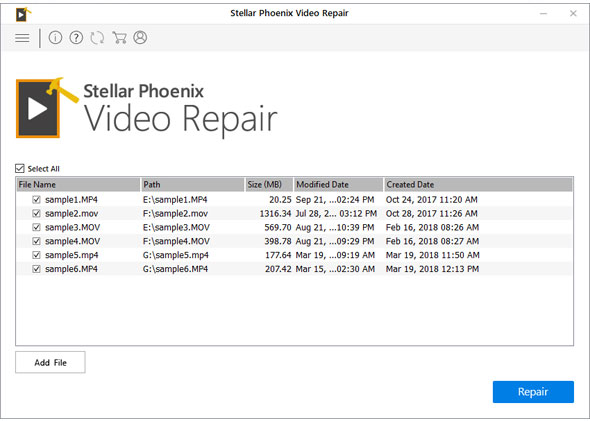 Step 3: Click on "Repair" button to begin the repairing process. This start repairing your added files one by one. You can see the progress bar that indicates the repairing status of the file. There is also a "Stop" button that you can click if you wish to stop the repairing process.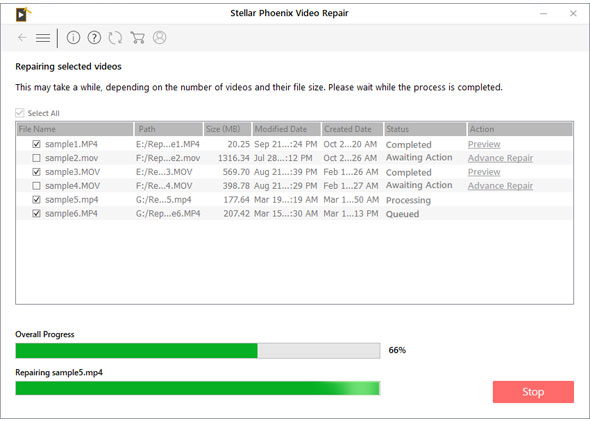 Step 4: Once, the repair process gets completed successfully, you will receive the message saying "Repair process completed".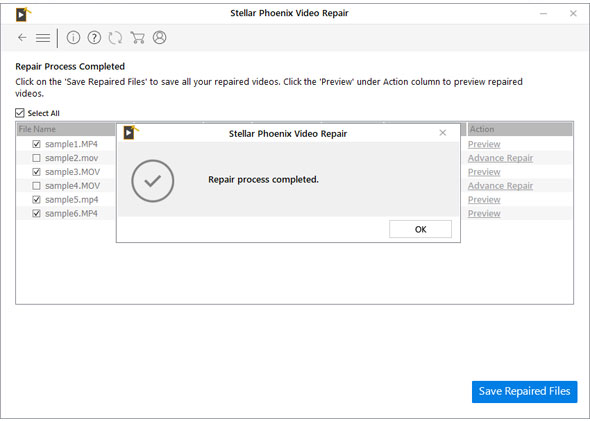 Step 5: You can click on "Preview", in order to preview the repaired video file within the software.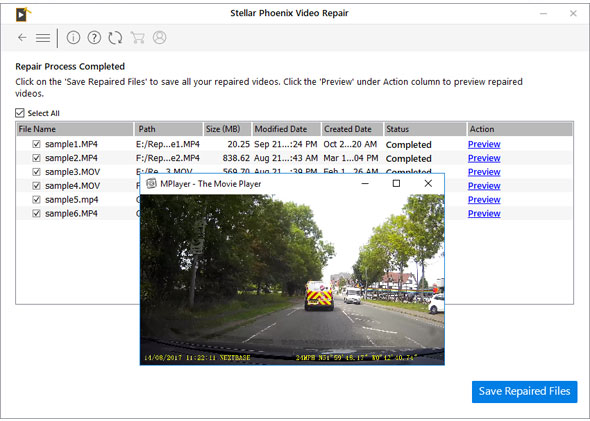 Step 6: If your video is severely damaged or corrupted, the software will tell you to repair the video by using the "Advance Repair" feature of the software.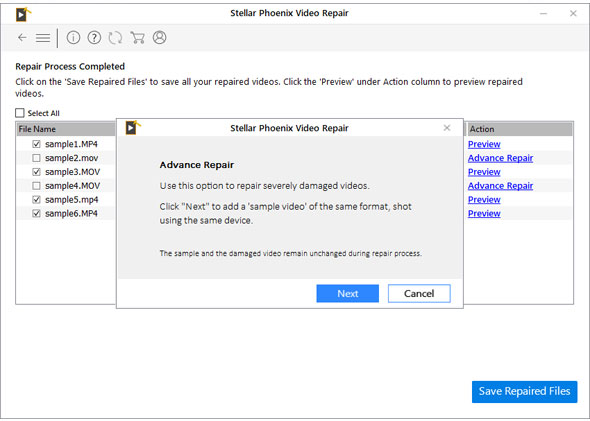 Step 7: Finally click on "Save Repaired Files" button to save the repaired video files at desired location on your computer.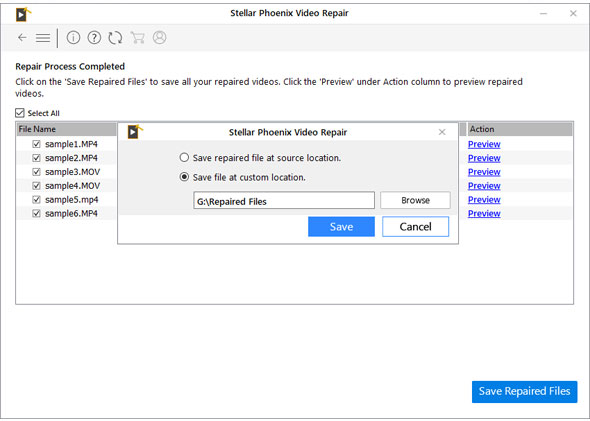 Conclusion
Since, there are various causes that can lead to the corruption or damage to your MOV video files and make them unplayable, hence, it is suggested that you must prepare yourself to handle such situations.
You must keep two copies of your precious or important MOV videos at two locations. However, if do not have copies or backup of your corrupted MOV videos, then you can follow the solutions mentioned in this guide above. But do remember if all the manual solutions fails, then it is strongly recommended that you must try Video Repair software to fix damaged or corrupted MOV video files.

Summary
Article Name
MOV Video Repair: Fix Corrupted or Damaged MOV Files On Windows/Mac
Author
Publisher Name
Publisher Logo