Easily Retrieve Back your Deleted or Lost NEF Images From Nikon Camera Using Nikon Photo Recovery Software!
If you have lost your NFF images from your Nikon camera and you are looking for a simple and perfect way to restore Nikon raw NEF image files, then do not worry because with the use of Photo Recovery tool, you can easily recover lost NFF images from Nikon camera with an ease. Using this recovery, you can:
Retrieve Lost or Deleted raw NEF Photos from Nikon digital camera. 
Also recover other several image files format like JPG, BMP, PNG, GIF, PSD, PIC, etc.
Besides Nikon camera, you can also recover deleted photos from other camera brands such as Canon, Casio, Panasonic, Fujifilm, Sony, Samsung, etc
Retrieve deleted photos from digital camera easily in just a few clicks.
Provides easy to use interface
See preview of recovered photos and select the required photos from the list.
Effectively Recover Deleted NFF Images from Nikon Camera



* Free version of the program only scans and previews recoverable objects.
For last few decades, the digital photography world has improved a lot and is still improving to cater the needs of various people with unique taste and demand. Whether you are professional photographer, photojournalist or anyone who just loves to click anything memorable, digital cameras are always handy for them.
To select the best camera among several renowned camera brands is a big challenge, but with Nikon digital camera in your hand, you don't have to think much. Nikon camera always gives you the best quality photos even if you click anything in low lights. But people very often lose their memorable pics from Nikon cameras, and in order to recover them you need advanced Nikon camera photo recovery software.
Additional Reading: Nikon D3300 Camera Photo Recovery
What is NEF Image File Format?
Nikon digital camera primarily stores all images that it clicks in NEF (Nikon Electronic Format) format which is its RAW photo file type that provides you the high image quality. Initially, all images which are snapped with Nikon cameras are saved in camera's memory card with (.nef) extension and they are stored in such a manner that they can easily be converted back to the generic image file types such as JPG, PNG, GIF etc, using proper software.
But this RAW file types of Nikon are also susceptible to corruption or damage which cause NEF image loss and in order to restore them back you have to use either the available backup or use NEF Photo Recovery software.
Let Us See Real Example of NEF Photo Loss
I took pictures and deleted them from my camera. I've recover my photos but they're not being recovered. What is the best software to recover NEF raw images? If I delete pictures from the camera will the recovery program be able to find them?

                                 – Original Post from Photo.net Photography Forums
Causes For the Deletion of Nikon Raw NEF files
Accidental photo deletion is the very common scenario of photo deletion, Photo can gets deleted when user erase them accidentally while viewing photos in computer or on Nikon camera.
Reformatting Memory Card – When you try to access the memory card then it displays an error message like "Memory card is not formatted" or "Card could not be recognized" etc. It means your memory card gets corrupted and all photos that stored in it will also get inaccessible. If this kind of error messages are displayed by your memory card then avoid reformatting because if you reformat it then all the stored photos gets formatted and it is not easy to recover them.
Interrupted Read/Write Operation – All photos are also get inaccessible when the Read/ Write operation gets interrupted by the user. This process gets interrupted when memory card is removed during the file transferring process or power cuts while doing Read or Write operation.
Memory card gets corrupted – This situation occurs due to the bad sectors of memory card. Bad sectors are arising on the memory card due to the unwanted power surge while accessing the photos of memory card or it may also arise because of improper camera shutdown.
Virus attack – It is the most common reason of photo lost, it occurs if the memory card of the camera get infected with any kind of virus. Virus attack can corrupt the memory card and all the stored data.
Computer Shutdown Accidentally while Transferring Photos to Computer – Power cut or unexpected system shutdown during image transferring can affect the memory card and make it inaccessible.
Instantly Capturing of Images – When you captured images one by one without giving time to Nikon camera to store the previous images, then all the captured image gets inaccessible because this camera takes few seconds to write or store the captured image on the memory.
Additional Reading: How to Recover Deleted Photos from Nikon D5100
How to recover lost, missing, deleted, formatted or corrupt RAW NEF photos from Nikon camera?
If all the captured images of your Nikon camera gets inaccessible or corrupted due to reasons as mentioned above or due to any other, then the manually recovery is almost impossible unless you have the backup of the lost images. So, in order to rescue all the images or other digital contents from your Nikon digital camera, you have to use third party Nikon Photo Recovery software (Windows/Mac).
This tool is very effective and simple; it recover all the images without losing the picture quality. It is the safest way to recover the unreachable or corrupted raw NEF photos. So use this advanced and sophisticated software and retrieve deleted or corrupted raw .nef  Nikon camera photos.
You Might Also Be Interested In:
Steps to rescue loss or deleted pictures
STEP 1: Download and install this powerful recovery software on your PC and then connect the camera to the computer by USB cable or card reader.
STEP 2: Choose the drive and select the file type of the photo that you want to recover from the "Advanced Scan" option. Then click "Start Scan" to proceed to scanning procedure.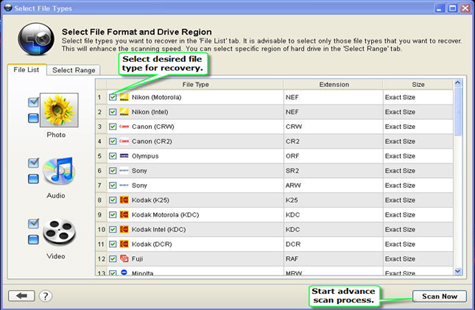 STEP 3: Preview and recover the found images. When the scan is over then preview those found photos and evaluate if they are the same which were deleted. Then click "Recover" to get them retrieved.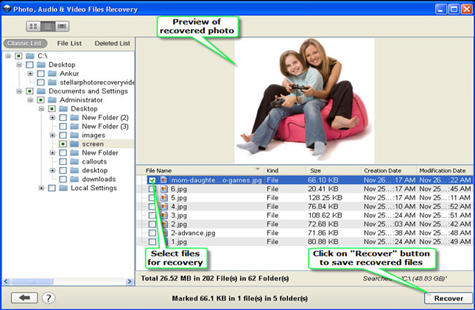 Additional Reading: Nikon Coolpix Photo Recovery

Tips to remember
After losing your important data from your storage device, it is very much important to remember some useful tips which can help you to avoid data loss in future. Some of the tips are mentioned below:
Always make a backup of all your important files or folders so that it can help you in future when any data loss situation happens.
Use some reliable power source which can help your system to avoid sudden shutdown
Before formatting, check your storage device at least two to three times
Never use any digital device when its battery is low
Don't remove the files when file transfer process is on progress
Before removing the device from computer or from any other system, eject it properly
Avoid using the same device when it is already used and it is full. Keep it on safe place and do not save any new media files otherwise the previous data will be overwritten
Always protect your device from any virus or malware attack by using the perfect antivirus program
Before deleting any files, just be sure of what you are selecting and what you are deleting
Never avoid any type of warning message because this can also be the reason for data loss
If you have found this post helpful and useful, then please do not forget to share it.
Also like and follow us on Facebook, G+, Twitter and Pinterest to get latest updates.
Summary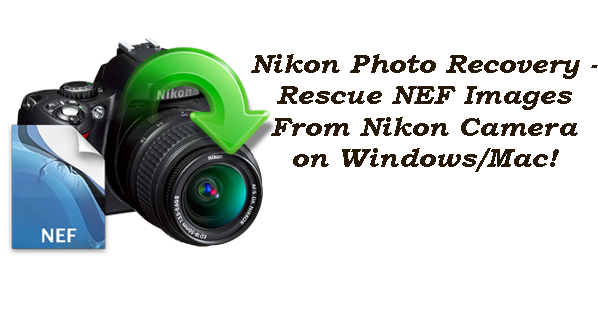 Article Name
Nikon Camera Photo Recovery - Retrieve Deleted/Corrupted NEF Images on Windows/Mac!
Description
Nikon photo recovery is very powerful software that rescues lost, corrupted, formatted or deleted photos from Nikon cameras, including RAW NEF images from Nikon camera in just few simple steps.
Author
Publisher Name
Publisher Logo