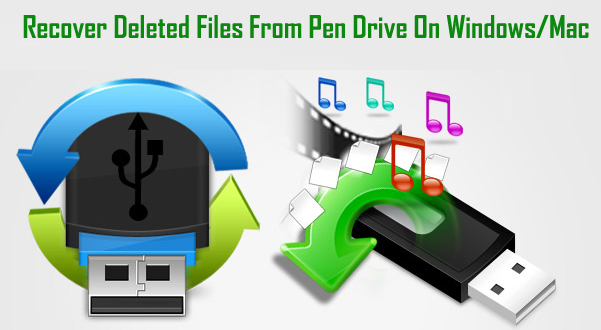 Find out How To Restore Deleted Lost Photos, Videos and Audio Files From Pen Drive!!!
Summary – In order to retrieve deleted, formatted, lost, missing files like images, movies, songs from pen drive, you will require powerful pen drive recovery software known as Digital Media Recovery Tool.
This effective recovery software will help you to:
Recover erased, formatted, lost, deleted media files such as pictures, videos and audio files of various types
Support various pen drive brands like SanDisk, Transcend, Spice, Lexar, Kingston, Apacer, Samsung, HP, Toshiba, Sony, Strontium, Verbatim and many more
Also restore data from various memory cards (SD, SDHC, microSD, MMC, CF, TF, etc), digital cameras, camcorders, mobile devices, hard drive, external hard drive, etc
Retrieve media files from corrupted, damaged, inaccessible, virus infected pen drive
Read-only program, 100% risk-free & easy to use
Free Download Pen Drive Data Recovery Software



* Free version of the program only scans and previews recoverable objects.
Pen Drive is used for storing data and you can carry it anywhere you want. The name pen drive itself reflects that it is like pen shape and small which portable. Pen drive can store any type of file, it can store file like videos, photos, music, documents, excel file, PPT file, etc. but keeping data stored in pen drive for longer period of time is not a good practice, because unfortunate things could happen anytime.
Practical Scenario
I was checking the content of my pen drive and I saw that there is lots of useless data is stored, so I decided to delete them. I have selected those useless data and by choosing delete option I have deleted them. The very next day I was checking important files, but they were not there in pen drive then I realized that may be I have deleted it by mistake. Now I am hopeless and seeking way that "Is there any chance to recover my important data from pen drive?"
If same thing happens with you and you are looking for the recovery of your files from pen drive, then you have come to right place. But before knowing the recovery methods first you have to know about some precautions. By applying some effective precautions during operating pen drive you can protect your precious data from corruption. Some precautions are always use strong antivirus program, always use safely removal process to remove pen drive from computer system, Avoid connecting pen drive to any virus infected or unprotected computer system, If you want to delete all the content then don't use "Delete All" option but instead of this option use "Format" option to clear your pen drive. So by applying the given precautions you can protect your important pen drive files from corruption and inaccessibility situation.
Though, deleting data by mistake is not the only chance, there might be a several ways where you could lose data from your pen drive. In such scenario you don't have to worry about it, with the help of pen drive data recovery you can get back your deleted or lost data. But before going to the solution let us know the possible causes which are responsible for data loss from pen drive.
Additional Reading: How To Recover Data From Formatted Pen Drive
Basic reasons of data loss from pen drive
Virus infection – Virus is major threat for the loss of data or corrupting data, if you connect the pen drive to the computer which is affected by virus there might be a situation it may enter in your pen drive which will corrupt your data stored in pen drive.
Deletion of data by mistake – There might be chances where you can delete data from pen drive when connected to computer and the deleted data does not go to recycle bin so you can't get data from recycle bin if you want it.
Format error – As soon as you connect pen drive to the computer, sometimes it gives error popup message "H:  drive is not formatted, format it now" and hence some of the users clicked on format button and as a result you lose all of your data from pen drive.
Direct removal of pen drive – After completing the work when time come for disconnecting pen drive, some of the users directly disconnect the pen drive from computer. It may cause corruption or data loss from your pen drive.
Power failure – while transferring files from computer to pen drive or vice-versa, if power goes off which results in abruptly shut down of your computer in between, then there might be data loss from pen drive.
Above mentioned reason is some of the causes, there are more several ways for data loss or corruption of data of your pen drive. No matter whatever the causes by which you have lost your data, you can still recover them. Take a note that do not add or delete any files from it before recovering them, as it may over write data and may make them lost forever.
Additional Reading: [Fixed]: "Windows was Unable to Complete the Format" Error on USB, Memory Card & Hard Drive
Tool we recommend To restore Media Files From Pen drive

Pen Drive Data Recovery is professional and powerful tool for recovering deleted or lost data. No matter whether your pen drive is corrupted, affected by virus, data got deleted from it, formatted, etc. It can recover and restore missing, lost, deleted photos, videos files, mp3 files, etc. It is absolutely free tool and recovers all types of files and supports all types of Pen drive such as SanDisk, Sony, HP, Lexar card, Transcend, Kingston, etc.
This tool is also very easy to use because this recovery software is full with graphical instruction through which one can easily operate this application to recover their data. The tool offers users to preview the files before recovering them. Get Pen Drive Data Recovery Tool now and recovers lost/deleted data from pen drive if you are in such problematic scenario.
You might Also Be Interested In:
Simple steps to recover deleted/ lost data from pen drive
Tool is user friendly and easy to use. Follow the below mentioned simple steps to recover deleted data from pen drive:
Step 1 – Install "Photo Recovery" software and launch it on your computer. Click on "Recover Photo, Audio & Video" tab to recover photos, videos and audio files from any SD card, external USB drive or computer hard drive. Connect the media to your computer and then perform the process.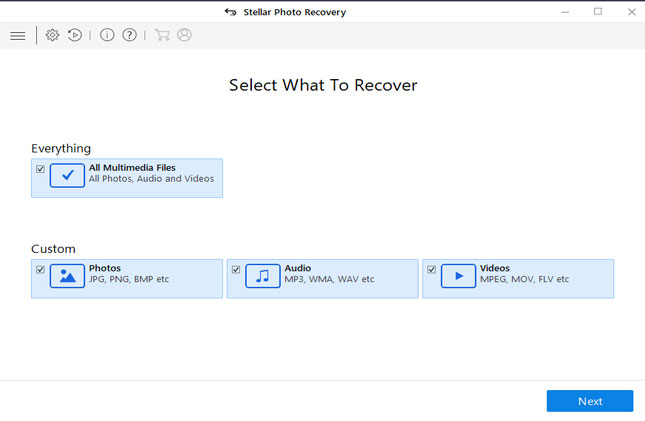 Step 2 – Select the drive from which you want to recover files. All the hard drive and external media will be shown in the list. Now select the desired drive to scan and then click on "Scan" button.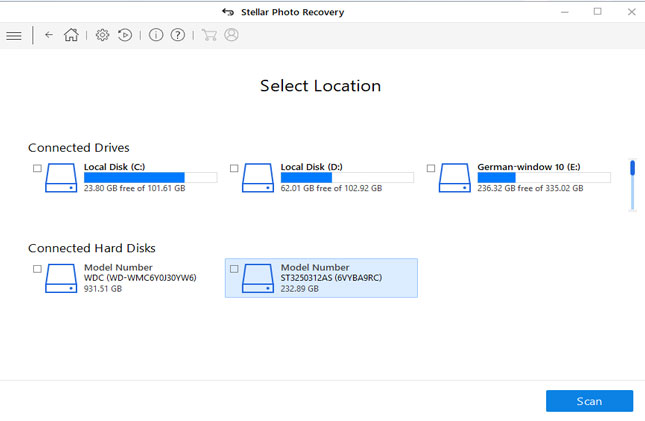 Step 3 – Once you click on "Scan" button the software will show that scanning is in progress. The software will search for all multimedia files from your selected drive or attached media.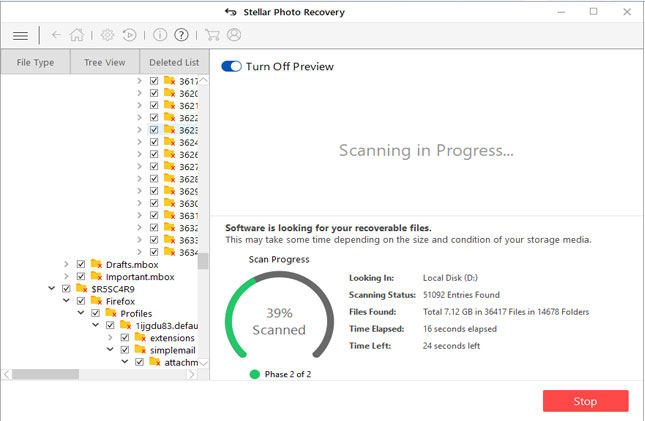 Step 4 – After scanning, all the files that are found in the selected volume, hard disk or other storage media devices are listed. You can now select the files to preview them and then you can click on "Recover" button to finally save them on your computer.