Retrieve Lost/Corrupted or Deleted Media Files From USB Flash Drive with an Ease
Have you lost all your photos, videos and music files from your USB Flash Drive? Are you looking for a solution to retrieve lost photos, music and videos from such USB flash drive? If yes then do not worry because you have come to the right place. Using Digital Media Recovery tool, you will be able to:
Retrieve deleted or lost photos, videos and music files with an ease.
Recover lost images of any file format like JPG, PSD, GIF, PNG, BMP, PIC, etc
Get back lost videos and music files from other external devices easily
Also, allow you to retrieve photos from different camera memory card like Toshiba, Sony, Pentax, Verbatim, Transcend, Kingmax, Kingston, Samsung, etc.
Use this tool with an ease due to its user-friendly interface
Recover Deleted Media Files From USB Flash Drive



* Free version of the program only scans and previews recoverable objects.
Have you lost your important data from USB flash drive? When data are lost or deleted from USB flash drive then the actual data remains on flash card until and unless a new data overwrites the space. As long as the original data space is not been overwritten you can recover the flash drive data.
USB flash drive is a data storage device which contains flash memory with integrated Universal Serial Bus (USB) interface. It is usually removable and re-writable, and smaller than the floppy disk. It is mostly used for storage, transfer and back-up of computer files. It is smaller, faster, durable and reliable as it has no moving parts.  Below you have a common scenario that lead to USB flash drive data loss:
Accidentally deletion of  files from USB flash drive
Mistakenly format USB flash drive
Virus attack
Power failure or electronic-static discharge
Improper removal of  USB flash drive from a computer
The USB flash drive file system is display as raw
Sometime windows ask do you want to format USB flash drive
If you find any of these then need not to worry. At such situation stop using your USB flash drive so that the lost files are not overwritten by new created files and doesn't end the hope of recovery.
Data loss situation is the most dishearten moment for anyone. You have stored all you important data, memorable moments in a form of   video, images, or the music of your favorite singer. But one day you find that all the data are gone. Losing you data is not a big deal but losing that beautiful moment which you have captured just to remember your beautiful time does matter. No matter what device you using the data stored in it matter a lot. But when you came to know that your data are gone.
How you are going to react. But as it is said that lost thing never found when this lines go like this Nothing is lost forever you still can get them back. Now you might be thinking ah! It's not possible. But now it is possible you got a powerful Data recovery Software.
The best way to get back the deleted photos, videos, music files from USB flash drive by using USB Drive Data Recovery software. It performs safe read-only operation on flash card while recovering photo, video, and other data.  Data Recovery Software can undelete photos, music, videos from flash drive.
You Might Also Be Interested In:
Steps to recover deleted photos, music and video file from USB flash drive
Step 1 – Install "Photo Recovery" software and launch it on your computer. Click on "Recover Photo, Audio & Video" tab to recover photos, videos and audio files from any SD card, external USB drive or computer hard drive. Connect the media to your computer and then perform the process.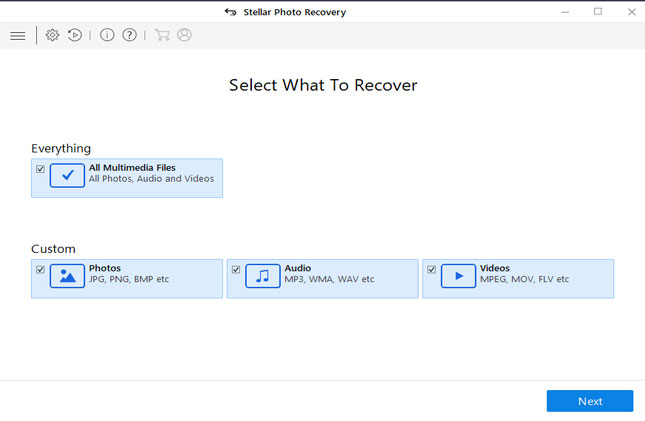 Step 2 – Select the drive from which you want to recover files. All the hard drive and external media will be shown in the list. Now select the desired drive to scan and then click on "Scan" button.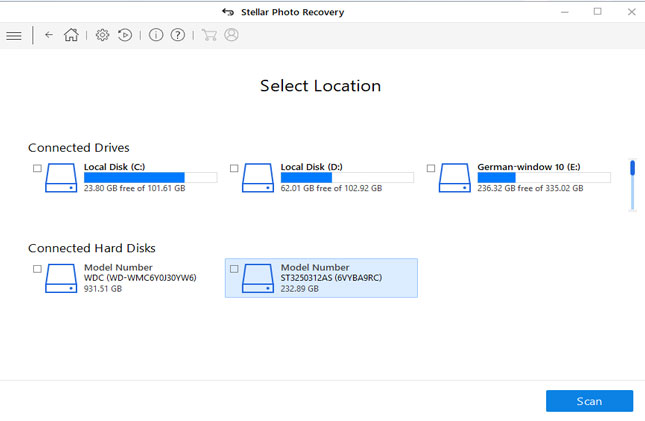 Step 3 – Once you click on "Scan" button the software will show that scanning is in progress. The software will search for all multimedia files from your selected drive or attached media.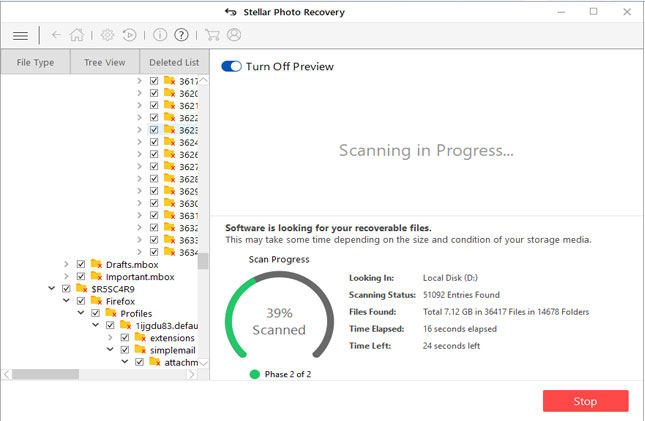 Step 4 – After scanning, all the files that are found in the selected volume, hard disk or other storage media devices are listed. You can now select the files to preview them and then you can click on "Recover" button to finally save them on your computer.