Restore lost/deleted/corrupted/erased video that are big in file sizes!!!
Lost your 60GB Video files? Do not know how to restore big Video files? Well, when anyone lose their large video files that hold lots of cherishing memories of several life events then it is obvious that one will get frustrated. However, the good news is that with the help of Video Recovery Tool, one can easily Recover Deleted Large Video Files.
With the help of Video File Recovery software, one can:
Recover Video files that are large in sizes such as 20 GB, 40 GB, 60 GB, 120 GB and so on
Supports scanning of data storage devices having storage capacity over 2TB
Restore HD videos available in .mp4, .mkv, .mov, .avi, .mxf, .mts and many more
Undelete video files from Hard Drive, External hard drive, memory cards, USB drive, Phones, camera and other data storage devices.
Retrieve Large Video Files From Media Storage Devices



* Free version of the program only scans and previews recoverable objects.
Practical Scenario

I accidentally deleted two video files that I have captured from my handycam and the size of video was around 40 GB that I would really want back. I have downloaded and ran data recovery software, but it was unable to find it. I haven't added any new data to my handycam memory card, so I am very confident that the video can be rescued. Is there any appropriate software that can help me to get back my deleted huge video files?
Another Real User Example:
Need to Recover Large Video File

I accidentally deleted two large video files with a total combined size of about 40 GB that I would really like to get back. I downloaded and ran the file recovery program Recuva, but it was unable to find it. I haven't really worked on the computer since the files were deleted last night, so I'm fairly confident that at least one of them is still perfectly intact. FWIW, I was down to about 17 GB of space remaining on my hard drive before I deleted the videos, and now back up to about 57 GB.

Is there a better program I should try? Am I missing something with Recuva? It seems to me 40 GB is hard to miss. Should I just keep trying different third party recovery apps til I find one that works, or is there something I can do in Vista to get back these videos? Any help would be much appreciated.

                                                       – Original Post from Windows Vista Forums
Video file is media file and it is used all across the world for several purposes. In addition people get maximum entertainment from videos that hold movies. Also there are several media storage devices that are made to record videos and those recorded videos get saved on storage media available in the gadgets. But, while dealing huge or large video files people generally face various strange issues and that can lead to loss of large video.
Additional Reading: MP4 File Recovery – Recover Lost or Deleted MP4 Video  File
Causes FOr The LOss/deletion Of Video Files
Besides finding the solution for video recovery, it also becomes very important to know the reasons for the loss or deletion of video files, because it will help you to avoid such mistakes in future and you may not face with video files loss or deletion.
So here are some common causes responsible for the loss of video files (including large video files):
While deleting unwanted videos, sometimes by mistake users also select important videos from their system and hence they suffer from video loss.
While transferring movies, video songs or any other video files from external data storage to PC or vice versa, if there is any interruption like cable disconnection, system shutdown, etc, then it may lead to deletion of video files.
Virus or malware infection to data storage devices on which you have stored large videos, then it will corrupt it and finally you will not be able to access it.
Formatting memory card/hard drive or any other data storage devices in which you have saved large video files, then you will encounter complete loss of your files including bigger video files.
Improper usage of media storage devices, such as using it on multiple devices, improper handling, use of Shift + Delete keys and so on can also delete video files.
In any of the above mentioned scenarios, you will face serious loss of videos. However, the best thing is that you can now very easily recover bigger in size video files with the help of Video file recovery software.
Additional Reading: MKV File Recovery – Recover Lost or Deleted MKV Video File
Recovering Deleted /Lost Large Video Files
There are few methods through which you can get back large video files that you lost or deleted. Below find out the large video file recovery methods:
Method 1:  If you have kept the backup of your videos to any other data storage devices, then you are lucky enough to get back lost/deleted video files from the backup.
Method 3: In case, if you do not have backup, then you can use Video file Recovery (Windows/Mac) which is perfect software to recover deleted/lost large video files from any media storage devices such as hard drive, external hard drive, memory card, USB flash drive, digital camcorder/camera, video player, etc.
The video file recovery software helps you to restore all video files formats such as AVI, MKV, MOV, MP4, HD Video files, XVID, DIVX, WMV, VOB, 3GP, etc. The software also supports recovery of photos and audio files.
Additional Reading: TS File Recovery – Recover Corrupt or Inaccessible TS File
Note: Do not add any new data on the media storage devices from which you have lost/erased your large video files, because it will overwrite the existing data and hence you will lose chances of recovery.
You Might Also Be Interested In:
Steps to retrieve lost/deleted Large Video Files
Step 1 – Install "Photo Recovery" software and launch it on your computer. Click on "Recover Photo, Audio & Video" tab to recover photos, videos and audio files from any SD card, external USB drive or computer hard drive. Connect the media to your computer and then perform the process.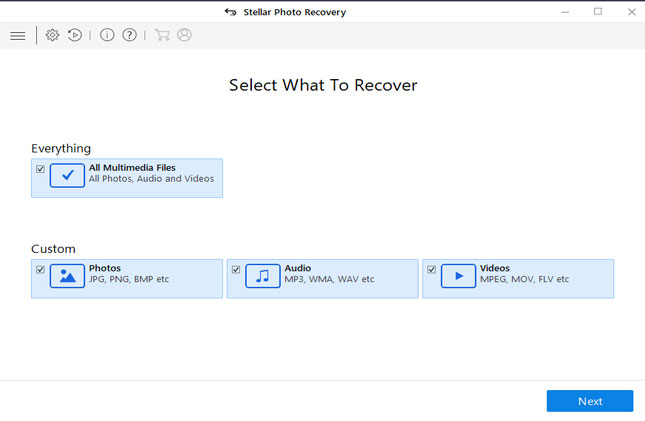 Step 2 – Select the drive from which you want to recover files. All the hard drive and external media will be shown in the list. Now select the desired drive to scan and then click on "Scan" button.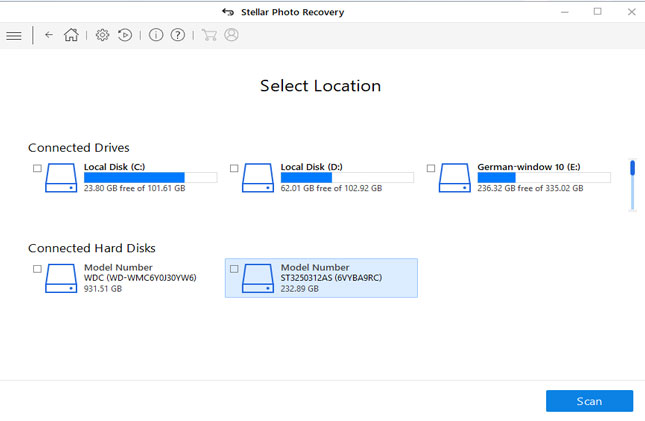 Step 3 – Once you click on "Scan" button the software will show that scanning is in progress. The software will search for all multimedia files from your selected drive or attached media.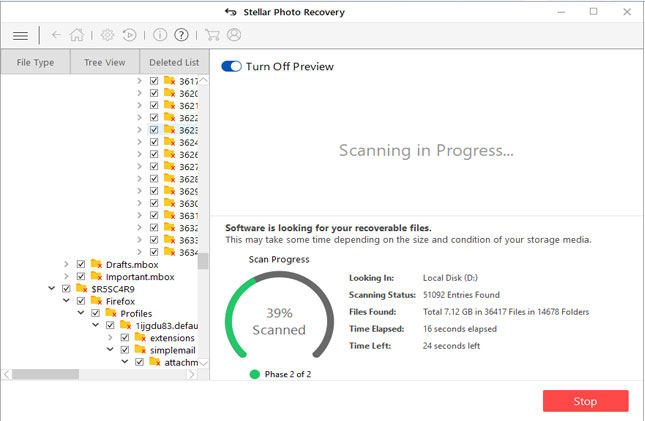 Step 4 – After scanning, all the files that are found in the selected volume, hard disk or other storage media devices are listed. You can now select the files to preview them and then you can click on "Recover" button to finally save them on your computer.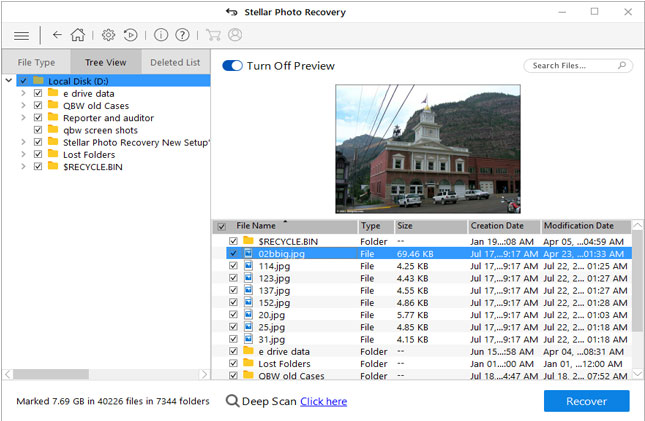 Tips To Remember
Make a habit of keeping backup of important video files. Make two copies and keep it in two different locations.
Never try to format or erase data storage devices without checking its data.
Make sure there is no interruption while transferring huge video files from one storage device to another device.
Use updated Anti-virus program to always protect your media storage devices containing large videos from virus/malware attacks.
Conclusion
From the above mentioned solution I am sure you were able to retrieve deleted/lost large video files. For users who have not kept any backup of their video files, I would recommend them to try Video files recovery software.

If you have found this post helpful and useful, then please do not forget to share it.
Also like and follow us on Facebook, Twitter and Pinterest to get latest updates.
Summary
Article Name
How to Recover Deleted Large Video Files on Windows/Mac?
Description
Here find out 2 simple methods to recover deleted large video files. It can help you to restore video files that is bigger in sizes such as 4 GB, 7 GB, 10 GB, 20 GB, 25 GB, 30 GB, 100 GB and so on till 2TB.
Author
Publisher Name
Publisher Logo