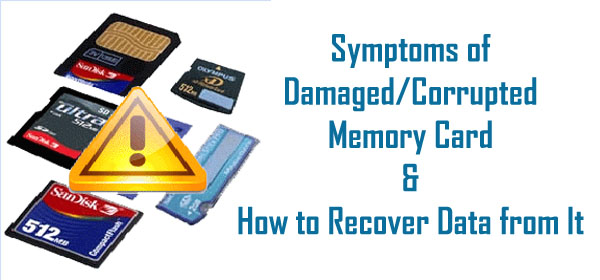 Summary: In this article, I am going to discuss on – how tell if your SD card is corrupted? How to know if your SD card is corrupted or damaged? As well as faulty/bad SD card symptoms. Along with the recommended solution on how fix bad memory cards and recover photos, videos and audio from it.
I have found in many forums and community websites that there are many users out there who are encountering with several memory card or SD card errors. They want to check if sd card is corrupted or if corrupted then how to retrieve back data from it? And, therefore I have decided to write this topic.
We will discuss all about this later in this post, but before that let me introduce the recommended solution on how to get back digital media files like photos, videos and audio files from corrupted memory card.
The expert recommendation is to use Photo Recovery software, which will help you to:
Recover images, songs, movies, videos, audio files from all types of memory cards
Restore media files from damaged, corrupted, formatted, inaccessible memory cards. As well as from card displaying error messages such, "empty card', "blank SD card", "card is locked", "card is write protected", etc.
Effectively get back deleted, lost, missing, formatted, erased photos, videos and audio files from any card such as SanDisk, Transcend, Kingston, HP, Sony, Samsung, Strontium, etc.
Preview recoverable files within software before final recovery
100% read only program, safe and secure
Effectively Restore Files From Corrupt/Damaged Card



* Free version of the program only scans and previews recoverable objects.
What is Memory Card?
A memory card is a small device that is used in many electronics gadgets such as digital camera, music player, cell phones, video player, iPod, iPhone, iPad, etc. It is used for storing digital media like photos, videos, music files, etc. Memory card is of various types such as SD card, SDHC card, XD card, microSD card, etc. However, these memory cards are prone to corruption.
A damaged or corrupted memory card does not allow its data to perform properly. If a card gets corrupted you may not be able to access data from it. Most of the time memory card corruption occurs due to human error. Knowing the main causes can help prevent card corruption from occurring.
Symptoms of corrupt or Damaged SD card
Below, I have mentioned some symptoms or signs that will tell you SD card is corrupted:
You will find that most of the photos on your memory card are missing.
You will not be able to perform anything on your camera as you can view only black display on its screen.
In order to view files, you will connect your memory card to your system, you can view the root directory of your memory card, you may even see subfolders inside the root folder but when you try to view the files, you get error message displaying – cannot read from the device.
You can see the data of your memory card in both camera and PC, but the moment you try to copy the data it throw error message – most commonly CRC errors.
When you try to delete your unwanted photos or videos from your card, you get error message – memory card is corrupt or memory card error.
You can do various action on your stored photos such as you can copy photos from your memory card to PC or delete photos from the card , however when you try to click on new picture from your camera, it display error message.
When you start your cell phones, you see error code due to card corruption.
When you insert memory card to your system, it display a message prompting to format your card.
Your card gets detected by your PC, but you cannot view any stored photo or video.
Sometimes you encounter errors in SD card when you connect it with PC, stating that "card is not formatted", "card damaged error" and so on which makes card SD card data inaccessible
There is no guarantee that you will be able to successfully recover lost or inaccessible data from corrupt memory card. In the case of physically damaged, you may not be able to restore files from it, but file system or software errors can be handles in some simple ways.
Common reasons that cause corruption to memory card and result in the above cases are:
Virus attack.
Abrupt removal of memory card from your camera, computer or smartphone that interrupts the data transfer or read/write process.
Available of any bad sector in the memory card.
Mistakenly or accidental deletion of entire data (music, photos, videos) from memory card.
Unexpected or accidental formatting of memory card.
Using the same card on multiple devices can cause damage to data stored within the card.
Power failure while previewing the files on computer can result in loss of data.
Clicking images even when your card memory is full can lead to loss of data or even when your device's battery is low.
5 Fixes for  damaged or corrupted Memory card
There are several solutions that you can apply to fix damaged or corrupted memory card or SD cards such as:
Fixes 1: Insert card on different devices
You can also check if SD card is corrupted or not by inserting the card in multiple devices such as computer, smartphones, tablets, etc. Sometimes the card may show incompatibility issue, hence try to connect it to another devices and check your card is working or not.
Fixes 2: Try "CMD" or "CHKDSK" Command
You can connect your memory with PC and follow the step by step guide mentioned in the following post:
Fixes 3: Check whether card is locked
Some cards are locked. You can either unlock card switch or else, you can  format the SD card. Here find out – how to format SD card?
Fixes 4: Rename the card with new drive letter
If you card is not recognized or detected by system operating system then, rename the card with new drive letter such as if your card is F drive then rename and give it a new name such as G drive.
Fixes 5: Use Photo Recovery Software [Recommended]
If your memory card is damaged or gets corrupted, immediately stop using it. Do not delete the content or try to format the memory card. If the card is still readable then try to rescue the files by using Memory Card Recovery the perfect Photo Recovery tool. If the card is unreadable in your camera, cell phones, music player, iPod, iPhone, etc, then try to restore the files by using a memory card recovery software.
This reliable memory card recovery tool comes with advanced scanning algorithm through which it easily recovers all you're lost, deleted, inaccessible, damaged or corrupted files such as photos, videos and audio files from the memory card. This tool support all kinds of memory card such as SD card, microSD, XD card, SDHC card, MMC Card, etc. Through this way you can get back your precious photos, videos and audio files easily.
You May Also Be Interested In
Steps to recover photos, videos and audio files from Corrupt/Damaged memory card
Step 1: Install Memory card recovery tool. Connect your memory card to your computer with the help of data cable. Then, launch the program.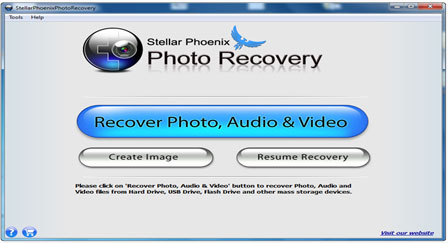 Step 2: Now, click on "Start" and select the desired drive that represent your memory card to scan. Then, click on 'Start Scan'.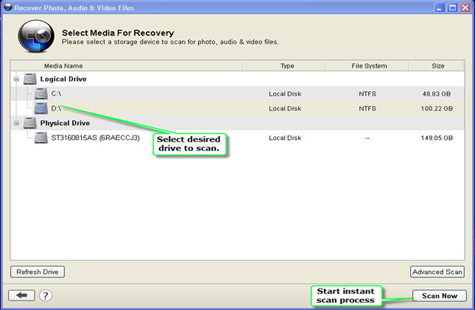 Step 3: Once the Scan process completes. The tool will display the recovered photos, videos and audio files. You can recover them by checking the boxes on the left. Now, select the files that you want back and then click on 'Recover' button to save them.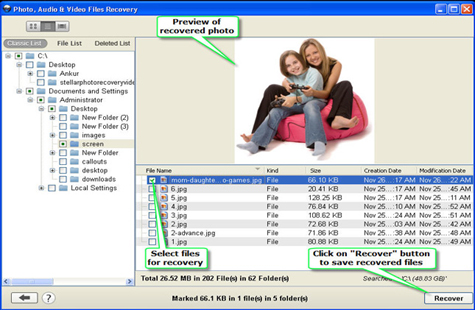 Step 4: Finally select the destination path to save the recovered files.

Conclusion
By now I hope, you have understood what makes SD card corrupt and how to know or check whether SD card is damaged or corrupted. As well as, effective solutions that you must try to fix corrupted/damaged SD card. If you are not able to fix the corrupt SD card with the manual solution then you can always use the recommended Photo Recovery software that will help you to get back lost or inaccessible photos, videos and audio files from any memory cards types.
If you have found this post helpful and useful, then please do not forget to share it.
Also like and follow us on Facebook, G+, Twitter and Pinterest to get latest updates.