Lost your important AU files? Have you accidentally or unintentionally deleted your .au audio files? Do you want to restore AU files? If "yes" then you have landed on the right webpage.
Yes, in this blog, you will get to know how to recover AU audio file format, about this file format and what causes the deletion of AU file.
Well, I would like to provide you a very straight solution for AU audio file recovery. You can easily recover deleted AU audio file using AU File Recovery Tool. This audio file recovery tool is the best option to restore lost AU audio file in no time.
To recover deleted AU files, we recommend this tool:
This software will restore data from corrupted, formatted, encrypted storage media and works in all data loss situations. Now recover your lost and deleted data in 3 easy steps:
Download this Media File Recovery Tool rated Excellent on Pcmag.com.
Select the storage media from which you want to restore the media files & click Scan.
Preview the recoverable files, select the items you want to recover and click Recover to save the files at desired location.
I know you must be looking for a user guide now but let us first know something about AU file format and its causes of deletion.
What Is AU File Format?
AU is a file extension for a simple sound file format introduced by Sun Microsystems. The format is common on Sun, NeXT and DEC systems. This audio file format also is known as the Sparc-audio or u-law format. AU file contains three parts – the audio data and text for a header (containing 24 bytes) and an annotation block.
This audio file format can be saved on media storage devices such as external hard disk, computer hard drive USB flash drive, memory cards, etc. However, people tend to lose or encounter AU file deletion due to several reasons. But now you can easily retrieve back your lost or deleted audio files with the use of the appropriate AU Audio File Recovery Tool.
Common Mistakes For The Loss/Deletion Of AU Audio Files
Loss of data can take place due to several reasons. Some mistakes are made by the user unintentionally due to which one may lose all the data from their system. Below you can have a look at some of the most common scenarios of losing AU audio files.
Issues With Hardware: Hardware issues occur and due to this loss of data can happen and this results because of a hosting system crash, due to power failure etc. So to decrease the risk of hardware failure, it is very important to keep your devices on protected environments and to use an uninterrupted power supply.
Formatting the Device: If you format the device accidentally then all the data that resides in the device will be automatically deleted or lost.
Antivirus Issue: When your system has been infected with a virus then it is possible that the data can be lost. This situation may take place when there is a failure to update the system with the latest antivirus software which may result in data loss. If there is no solution available to fix the latest threats then this infection can also lead to loss of data.
Unintentional Deletion Of Data: Whenever you delete any data from your camera such as photos, videos, etc then it is always advised to note that you have made a backup of that data and is no longer in use. If you have verified the data then delete the data which is a must. But if you don't have the proper backup then for recovery of data involves reinstallation of programs
How To Recover Deleted AU Audio File?
As I have already mentioned that using AU File Recovery Tool, you will be easily able to recover AU audio file, so just try it once. his tool has been specifically designed to retrieve AU audio files from the system on Windows as well as Mac system.
This recovery tool not only recovers Au audio file format but other audio file formats as well, for example, MP3, AIFF, WAV, WMA, FLAC, etc
With the help of this recovery tool, you will be able to:
Retrieve back lost, deleted, formatted, missing AU Audio files from various media storage devices
The software also restores other audio files like M4A, WAV, MP3, AMR, WMA, etc. Also, retrieve various video and photo file formats
Support audacity recovery from computer internal as ell external hard drive, USB flash drive, memory stick, pen drive, memory card, digital camera, mobile devices, etc
Preview recoverable AU Audio files within software before you proceed to save them on your computer
Read-only program, 100% clean, safe & easy to use
emid

emid


* Free version of the program only scans and previews recoverable items.
You just have to apply a few steps and you will see that all your deleted videos will be restores to the desired location.
So, now let's have a look at the steps to recover deleted AU audio files….
Step 1: Select Desired Location
Firstly, select the drive, external media or volume from which you want to recover deleted media files. After selecting, click on 'Scan'.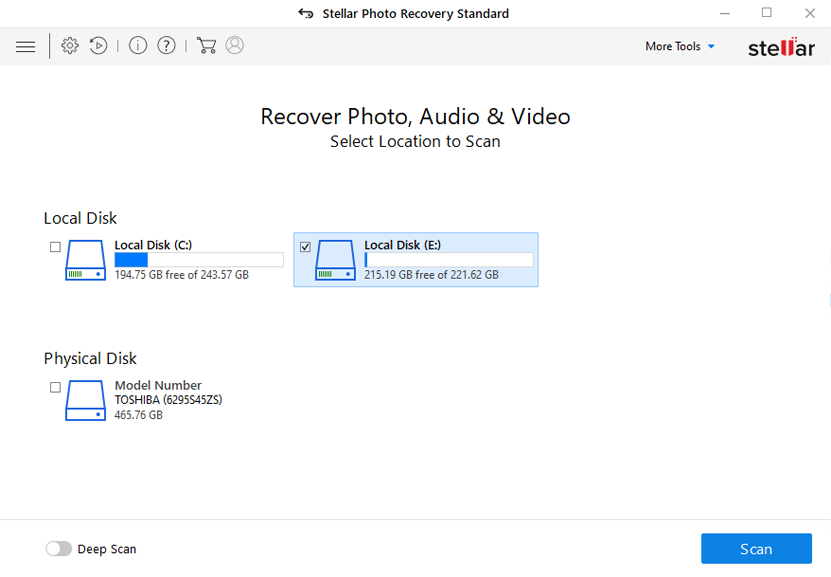 Step 2: Preview Recovered Media Files
Next, you can preview the recoverable media files after the scanning process is completed.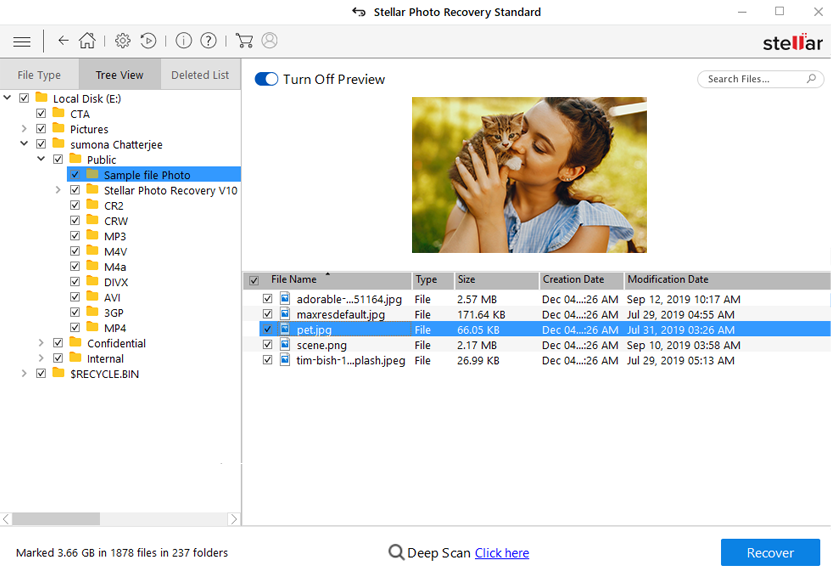 Step 3: Recover Media Files
Lastly, you can select the images, audio, video files you want to restore and click on 'Recover' option to save them at the location you want.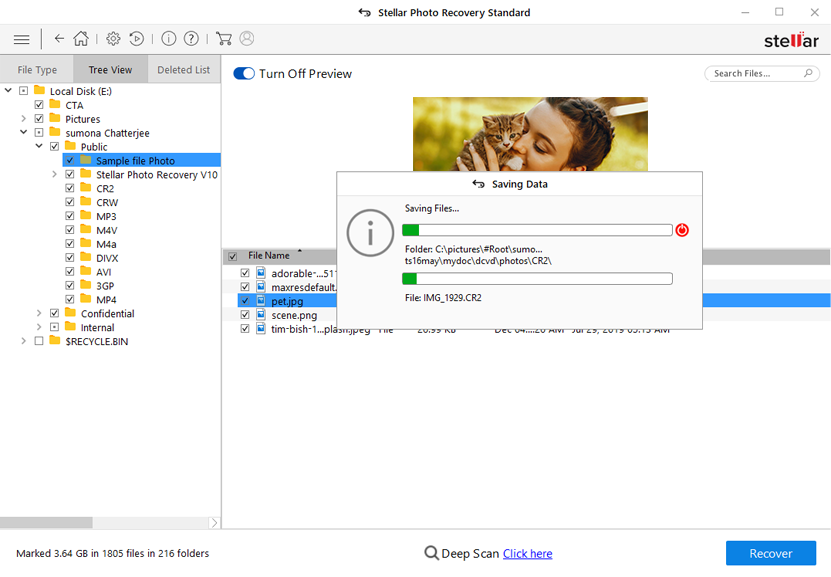 Other Alternatives To Recover AU Audio Files
You can try some manual, solutions to recover AU Audio files. So, go through these manual steps one by one:
Solution #1: Remove Virus From System & Recover Lost AU File
Sometimes it happens that the audio files you have saved in your system are hidden due to virus infection. You can do the following things to make your system virus free:
Install Antivirus Software
Connect your camera card to the system with the help of card reade
Scan your memory card with the antivirus software
After performing these steps, you will notice that the audio files are now visible and can be easily accessed.
Solution #2: Recover Lost AU File From Backup Folder
If you have a backup of deleted or lost audio files then you can easily restore or recover AU audio files from there. But before restoring the audio files, you have to look for things like:
Check if the backup is available there
Make sure the data is not overwritten with the new data
Check if the files are corrupted
These are the things you have to look for before you restore lost or deleted AU audio files from your system on Windows/Mac.
Solution #3: Recover Deleted AU File Using CMD Option
You can also use Command Prompt option to recover AU audio files from your system. Follow the steps below to start the recovery process: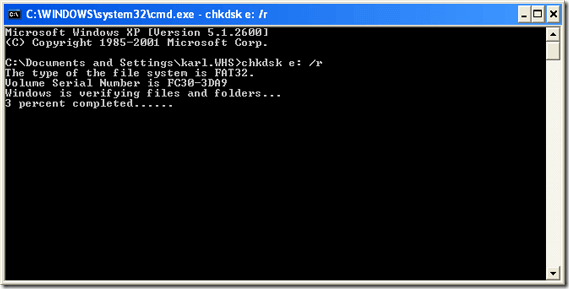 Open the command prompt by clicking the "Run" at the start menu of the computer. Now type "cmd" in the given text box.
Now type the command "CHKDSK [driveletter] /r" in the command prompt. As for example, the SD card drive is "E" then you have to type "CHKDSK E: /r" command on the cmd. The command "CHKDSK" will check the specified disk for structural corruption. And the parameter "/r" will denote the command to recover the data it finds.
After this, simply chose "Yes" and then CHKDSK will report back what it has done and you have to visit "My Computer" and check out your specified drive.
Conclusion
If you have lost your AU audio files from your system then you can easily recover them back easily with the above methods mentioned above. There are several manual solutions available in the above sections that will help you a lot in recovering lost or deleted Au audio files with ease.
But the best solution you can try is the AU File Recovery Tool. This tool will definitely help you to recover deleted AU file. However, you can also try command prompt option to restore deleted or lost AU audio file from the system.
If you have found this post helpful and useful, then please do not forget to share it.
Also like and follow us on Facebook, Twitter and Pinterest to get latest updates.
Alex is an expert technical writer with 7+ years of experience. His in-depth knowledge about data recovery and fascination to explore new DIY tools & technologies have helped many. Alex has a great interest in photography and loves to share photography tips and tricks with others.