Audacity is one of the popular audio editing software widely used for recording or editing audio content. You can use this program to record live audio; manipulate audio tracks, record computer playback & more.
However, at times you may lost or delete your Audacity recording due to some unforeseen circumstances such as – accidental deletion, system crashes, or any mishaps.
Today in this guide, I am going to share the most effective ways how to recover Audacity files. So, if you want to rescue your lost, deleted, or unsaved Audacity audio files then keep reading this post….!
To recover deleted AU files, we recommend this tool:
This software will restore data from corrupted, formatted, encrypted storage media and works in all data loss situations. Now recover your lost and deleted data in 3 easy steps:
Try this Media File Recovery Tool rated Excellent on Pcmag.com.
Select the storage media from which you want to restore the media files & click Scan.
Preview the recoverable files, select the items you want to recover and click Recover to save the files at desired location.
Common Reasons For Audacity Files Deletion
How To Recover Deleted Audacity Files On Windows PC?
How To Recover Unsaved Audacity Files After System Crash?
How To Recover Lost/Deleted Audacity Files Using Audio File Recovery Software?
FAQ [Frequently Asked Questions]

Common Reasons For Audacity Files Deletion
Accidental or unintentional deletion of Audacity files
Abrupt interruption while transferring the audio/music files between devices.
Due to Audacity crashes, unexpected system shutdowns, power failures etc.
Corruption of storage devices due to virus or malware infection
Formatted the drive without keeping a backup of Audacity files
How To Recover Deleted Audacity Files On Windows PC?
#1: Restore Deleted Audacity Files from Recycle Bin
If you have accidentally deleted your Audacity files on your computer, then firstly you should check your recycle bin. If the deleted Audacity recordings are available there, then you can simply restore the deleted folder from there.
Open the Recycle bin folder on your PC & look for your deleted Audacity files. Once found, right-click on it & click the Restore option.
However, if you have emptied your recycle bin folder, the audio files will not exist there. Simply move to the next method.
#2: Restore Audacity Recordings through Backup
If you have ever saved the backup of your Audacity files on a PC or external storage device, then you can easily restore your lost or unsaved AU audio files from there.
Connect your backup storage drive to your PC.
Locate the folder where you have saved your Audacity files.
Select the audio files you want to restore, copy them & paste the files to your desired location.

#3: Restore Lost Audacity Recordings from Exported Files
This method can help you recover Audacity recordings only if you've exported the AU files or tracks using the export command.
Here's how to recover the lost Audacity files from exported files:
Open the folder or storage device that contains your Audacity recordings.
Search the folder or location where you have saved your Audacity recordings.
Now, navigate to the File menu> Open.
Then, select your lost Audacity tracks or recordings from a drive from where you've exported, & click "Open" to get it into the Audacity.
If you have get back your lost Audacity recordings using this method, that's good. However if not, then simply go for the next method.
How To Recover Unsaved Audacity Files After System Crash?
Sometimes, while working on Audacity, the program crashes or your system shutdown unexpectedly due to power failure or any reason because of which you may not be able to save your working project.
In such a situation, you can apply the below-given methods to restore your lost or unsaved Audacity audio files.
#1: Restore Lost/Unsaved Audacity Tracks Using Automatic Crash Recovery (AutoSave Feature)
Audacity has an Autosave feature that enables you to recover Audacity recordings in case of Audacity crashes or sudden system shutdowns.
When you reopen the program after the crash, a dialog box appears, asking you to recover your Unsaved Project. It displays along with the project name with the date and time.
Click on Recover Projects to recover your unsaved AU audio files and you are done.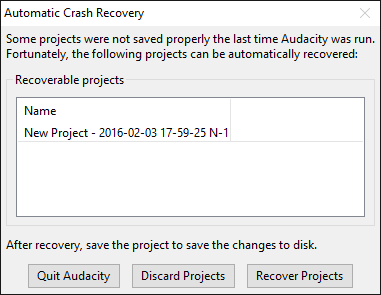 #2: Get Back Unsaved Audacity Files from the Temporary Folder
Audacity creates temporary files while you are working on a project. This folder might contain your unsaved audio files that have been lost due to a system crash.
You can simply restore your unsaved audio tracks from this folder and save them to your desired location on your PC. Further, you can edit them as well without any issues.
Find your unsaved Audacity tracks from the temporary folder
Then, open Audacity & press Ctrl + P keys to open Audacity Preference window
Next, go to Directories, and simply copy the below-given path of the temporary file directory:
Windows: C:\Users\<your username>\AppData\Local\Audacity\SessionData
Mac: /Users/<your username>/Library/Application Support/audacity/SessionData
How To Recover Lost/Deleted Audacity Files Using Audio File Recovery Software?
Audio file recovery is a professional audio recovery software that can help you recover lost, deleted, missing or inaccessible audio files from different storage devices.
No matter whether your audio files have been lost due to accident deletion, drive corruption, virus attack or formatting, this software will deeply scan your storage device and extract data from it in no time.
Below you can find some more advanced features of this tool:
Restore lost, deleted, corrupt, and formatted audio files from various storage devices.
Recover audio files from memory cards, USB flash drive, external hard drive, pen drive, memory stick
Apart from music files, it can also recover various images and video file formats.
It supports the audio file recovery of MP3, FLAC, WMA, M4A, AIFF, RPS, OGG, MIDI, AMR,
It is available for both Windows & Mac OS.
emid

emid


* Free version of the program only scans and previews recoverable items.
So, just download & install this amazing tool on your PC and recover your lost or deleted audio files with ease.
Follow the below steps to recover deleted AU audio files using this tool.
Step 1: Select Desired Location
Firstly, select the drive, external media or volume from which you want to recover deleted media files. After selecting, click on 'Scan'.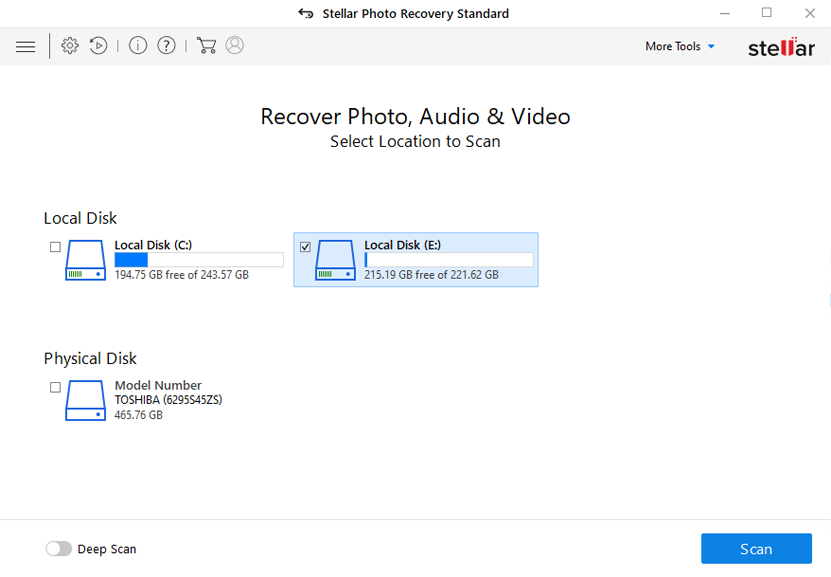 Step 2: Preview Recovered Media Files
Next, you can preview the recoverable media files after the scanning process is completed.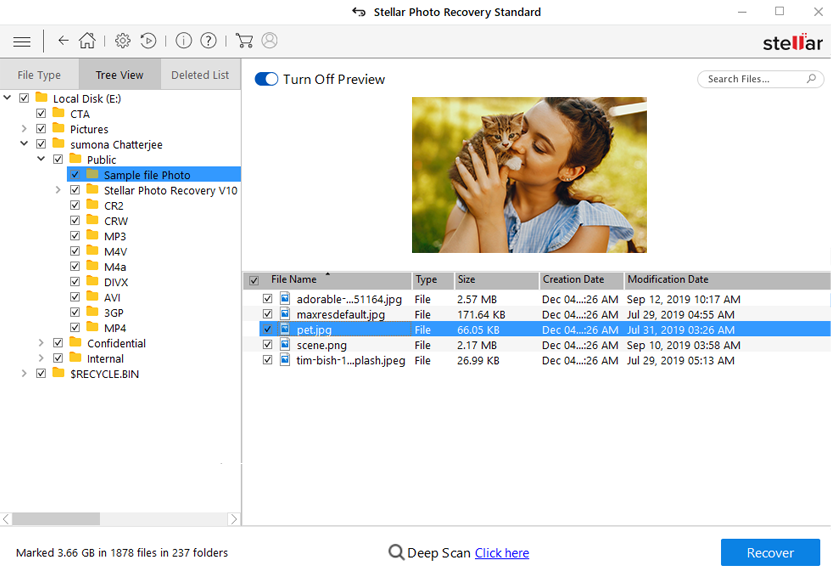 Step 3: Recover Media Files
Lastly, you can select the images, audio, video files you want to restore and click on 'Recover' option to save them at the location you want.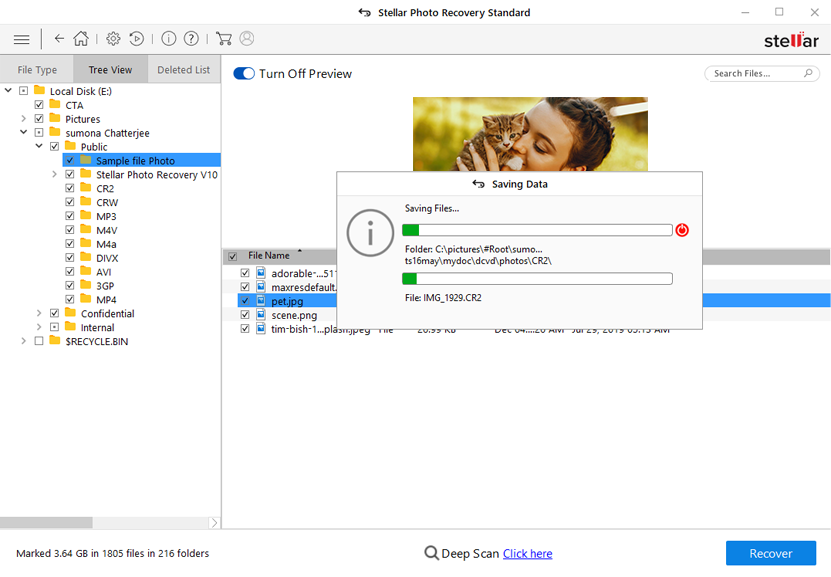 FAQ [Frequently Asked Questions]
Can You Recover Unsaved Audacity Files?
Of course yes, you can recover your unsaved Audacity audio file from the temporary folder or using AutoSave feature as I mentioned above.
How Do I Recover A Corrupted Audacity File?
You can simply recover your corrupt Audacity audio files using the reliable & trustworthy Audio file recovery tool.
How Do I Export My Recordings From Audacity?
Follow these steps to export or download recoding from Audacity:
Open Audacity, go to 'File' menu and choose 'Export'.
Now, a dialog box will appear where you need to choose a file format (WAV, MP3).
Next, you need to set additional parameters such as bitrate, quality, or other options.
Once done, choose a location where you need to save the audio file, give it a name, then click 'Export' or 'Save' option.
That's it! Your recording is now exported and saved in the specified location.
How Many Hours Can Audacity Record?
Audacity lets you record the audios as long as the storage is available in your disk.
What File Format Does Audacity Use?
Audacity generally uses '.aup' file format to store their audio files.
Conclusion
Losing your important Audacity project files can be a nightmare, especially when you've invested a lot of time and effort in creating or editing a project.
However, the solutions mentioned in this post will help you recover your lost, deleted, or unsaved Audacity recordings in no time.
No matter whether you're a professional editor or a regular user, keep trying out the methods one by one until you get back your lost Audacity files successfully.
Hope you found this post helpful….!
Taposhi is an expert technical writer with 5+ years of experience. Her in-depth knowledge about data recovery and fascination to explore new DIY tools & technologies have helped many. She has a great interest in photography and loves to share photography tips and tricks with others.