If you are getting stuck with the Smart hard disk error 309 HP while turning on your laptop or booting your PC, don't panic! In this article, I will show you how to fix Smart error on hard disk with 7 quick and easy ways.
But before learning the solutions, it's important to figure out the reasons behind it. So, let's get started….!
What Is Smart Hard Disk Error 309 HP?
The SMART Hard Disk Error 309 HP is nothing but an unexpected error message which indicates the hard drive or any SSD (solid-state drive) failure.
This error message is mostly seen in the HP laptops that come with the HP SMART. The smart hard disk error 309 HP laptop can take place on your HP laptop at any time and due to any reasons.
What Causes SMART Hard Disk Error 309?
SMART hard disk error 309 is usually caused due to bad sectors on the hard disk, lost clusters, or directory errors in the hard disk.
However, there are some other reasons that could also lead to this issue. They are as shortlisted below:
If the SMART hard disk fails or corrupts.
Due to the misconfigured or outdated BIOS.
Unexpected shutdowns of hard drive due to the power failure.
Due to the Malware/virus infection.
SATA / IDE controller chip might destroy in Motherboard.
After knowing the causes of the Smart hard disk error 309 HP laptop now it's a time to troubleshoot this error with the below-listed methods.
How to Fix Smart Hard Disk Error 309 HP?
Under this section, you will get some of the handful ways to fix Smart hard disk error 301/302/309 HP windows 10.
So, if you want to get rid of the frustrating issue then keep trying the given methods until and unless the error is fixed successfully.
Method 1: Restart Your PC/Laptop
If you are receiving Smart Hard Disk Error 301 HP, firstly I will suggest you restart your system. If the error isn't fixed after restarting the PC/Laptop then simply move to the next method.
Method 2: Cool Down the Hard Disk
Sometimes, an overclocked spinning of the hard disk could cause Smart hard disk error 309 HP windows 10. So, here you need to ensure that your hard drive is cool & not overworked.
Method 3: Test Your Hard Disk from BIOS
If you are not able to boot into Windows normally then you should run the hard disk test within the BIOS environment.
Firstly, you need to restart your system.
As it starts booting, keep tapping the F10 key on your keyboard in order to  access the BIOS
Now, make use of right arrow in your keyboard in order to move to a Diagnostics tab
From here, you need to pick any Primary Hard Disk Self-Test & hit Enter
Let the BIOS test run – the process might take some time.
If the test detects any problems, it simply means that your hard disk is corrupted. In case, no error is found in this test, simply move to the next method.
Method 4: Use CHKDSK Command to fix Hard Disk Error 309
Using the CHKDSK command is a perfect way to troubleshoot hard disk-related errors like – Smart hard disk error 309 HP, Smart Hard Disk Error 301 HP, etc. It's a system inbuilt tool on Windows OS which scans the hard disk to find system errors.
Running this command or utility helps to check & repair your hard disk errors and also keeps your computer data organized.
Check out the below-given steps to know what you need to do:
1st Step – Open your PC then go to the Start menu and type CMD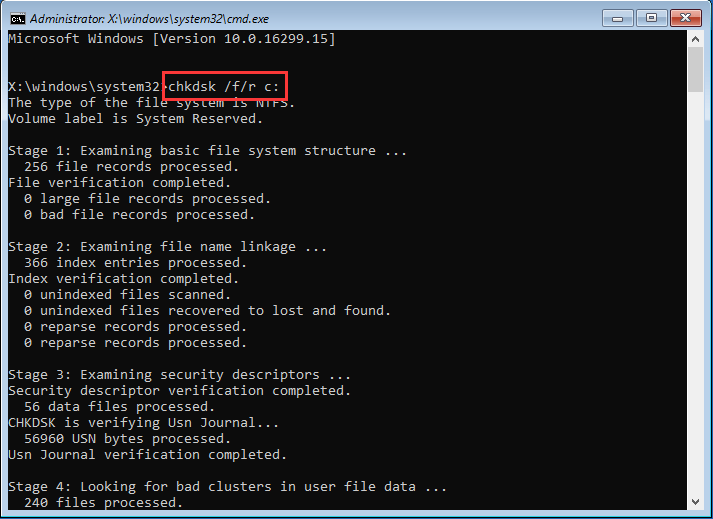 2nd Step – After that, make a right tap on CMD & Run as administrator
3rd Step – Once you reached a command window, you need to enter a below command
PLEASE NOTE: The below-given command will fix the errors in the entire hard drive by scanning it.
But in case you wish to perform a scan on any particular drive then you need to apply Step 4.
CHKDSK /F
4th Step – Enter this command to perform the scan in a particular drive –CHKDSK /F  X:
PLEASE NOTE: In the above command X: is the drive letter.
Use a drive letter in which you need to perform a scan.
5th Step – After entering this command, nothing will happen. The process of scanning & preparing will automatically be done after rebooting the system.
6th Step – As soon as the scanning process is over, you will notice that any of your smart hard drive error will not appear anymore.
Method 5: Reset the BIOS
Resetting the BIOS often help to fix such kind of errors as it returns back to its default settings.
Here's how to reset the BIOS:
Step 1: Firstly, you need to enter into the BIOS of your system/laptop by simply pressing the relevant keys on the startup.
Step 2: Once you entered the BIOS, move to the reset option. This option may vary in different laptops:
Load Fail-Safe Defaults
Load Default
Load Default Settings
Load BIOS Defaults
Step 3: At last, you have to save the changes that have been made & exit from the BIOS.
Method 6: Perform Hard Reset
Turn off your PC and unplug all the devices from your system including scanners, printers, USB flash drives, media card readers, DVDs, and CDs
After that, unplug your AC adapter then remove a battery from the battery compartment & hold the Power button for at least 15 seconds.
Insert a battery back & plug an AC adapter into your HP computer.
Now, press a Power button in order to turn on your laptop/PC. If the startup menu appears, just use the arrow buttons to select a Start Windows normally& press Enter.
Method 7: Replace the Hard Drive
If the smart hard disk error 309 HP windows 10 is not fixed even after trying the above methods then now it's time to replace your hard disk.
But before replacing your hard disk or taking any other step, kindly save the backup of your hard disk.
Recommended Solution – How to Recover Deleted Data From External Hard Disk
After fixing Smart hard disk error 309 HP with the above-listed methods, if you find that any of your data are missing from your hard disk then you can use our recommended tool – Hard Drive Data Recovery Tool.
This tool has enough capability to restore all kinds of deleted stuff such as music, photos, videos & others from corrupted, damaged, inaccessible, or undetected hard disks. No matter whether you have lost your data from a USB flash drive, SD card, memory stick, or other external devices this tool can recover them effectively.
So, without wasting much time, quickly download and install this software on your PC and get back your erased hard drive data with ease.



* Free version of the program only scans and previews recoverable objects.
Here is the step-by-step guide to recover stuff from an external hard drive in no time using this fully-featured tool.
Time To Wrap Up
 Smart hard disk error 309 HP is one of the frustrating errors that usually appear during booting up the PC. However, sometimes a hard disk failure could also lead to this error. Regardless of the reasons, the aforementioned methods are universal and work in all scenarios.
Thus, if you are having any hard disk-related errors or issues then try the given methods. Hope your problem will be solved soon.
Taposhi is an expert technical writer with 5+ years of experience. Her in-depth knowledge about data recovery and fascination to explore new DIY tools & technologies have helped many. She has a great interest in photography and loves to share photography tips and tricks with others.