Accidentally deleted or lost your files from a Mac Trash folder? Emptied your Trash Bin? Willing to know how to perform Mac file recovery from Trash? If all these questions your answer is yes, then continue reading this article.
Well, if you are a Mac user then you must be aware of Trash Bin, right? Though, it is an exceptional folder that is specially designed to hold the temporarily deleted files or folders. So, if you've unintentionally or intentionally deleted your files then first of all you should try to find and restore files from Trash Mac.
Read further to know more…
emid

emid


* Free version of the program only scans and previews recoverable items.
What You Should Do After File Deletion From Trash Folder?
After deletion of Trash bin, if you need to recover files from trash Mac, take the below measures:
Firstly, you have to stop using the Mac PC to avoid the existing files gets overwritten.
Look for the backup data of Time Machine which you have accidentally deleted.
Can I Restore Files From Emptied Trash Mac?
Of course, the answer is 'Yes, you can recover data after empty Trash Mac by trying some of the easy ways mentioned here.
Generally, when we delete any of the files from our Mac or Windows PC, those data are directly moves to the Trash or Recycle Bin folder. After that, we can easily get those files back from these folders.
But what if you emptied your Trash folder on Mac? Well, there is nothing to worry about it. Actually, when the files get deleted from the system or Bin then they're still present on the hard disk until and unless those files are not overwritten by the new data.
In such a situation you need to try the best software- Mac File Recovery from trash to retrieve those files back. Apart from that, you can also try to recover using the Undo option, Put-Back, and Time Machine backup easily.
[Recommended] Try Powerful Software To Perform Mac File Recovery From Trash
Frankly speaking, if you have permanently erased your files on Mac then it'll be a difficult task for you to perform Mac file recovery from Trash without using any software.
Therefore, here I would also like to suggest you to use the advanced Mac Data Recovery Software. It will surely help you for Mac recover file from Trash without any trouble.
emid

emid


* Free version of the program only scans and previews recoverable items.
This program has the ability to rescue all kinds of files like photos, videos, audios, and other documents from iMac, Air, MacBook Pro, Mac Mini, etc.
So, what are you waiting for? Just download this tool as per your niche and follow the below easy steps to recover permanently deleted files, Mac.
Step 1: Select Type of Data
First of all, you have to select the type of file you want to recover and then click on 'Next' option.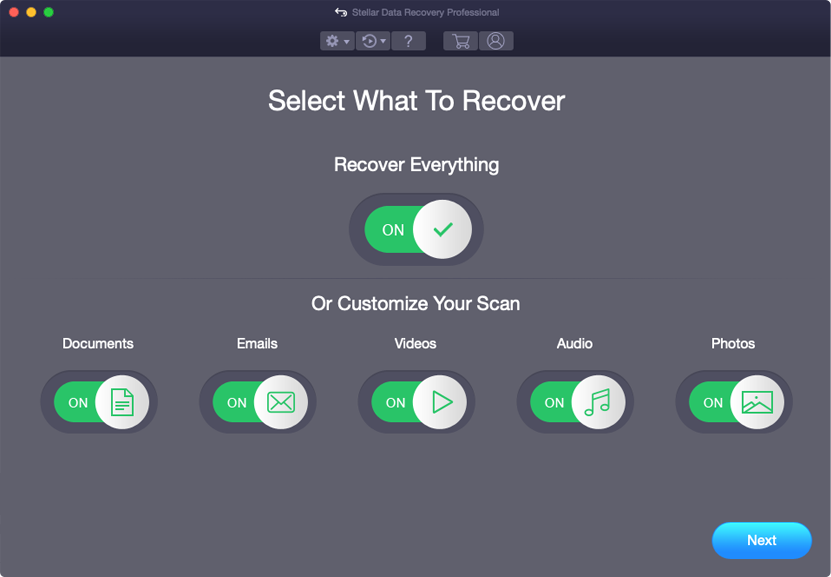 Step 2: Select Location
Next, you have to select the storage drive from where you have lost the data.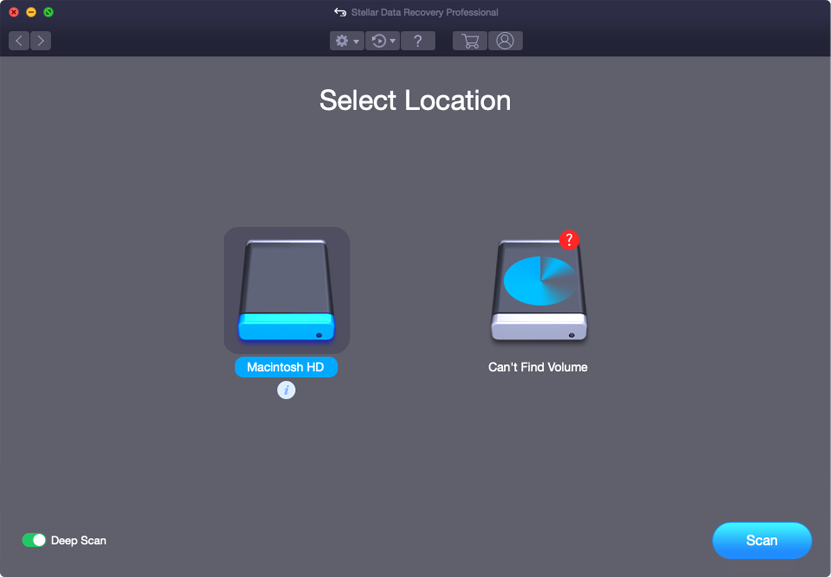 Step 3: Scan & Recover
After selecting the storage drive, you have to Scan, then Preview and after that Recover the files from Mac storage disk.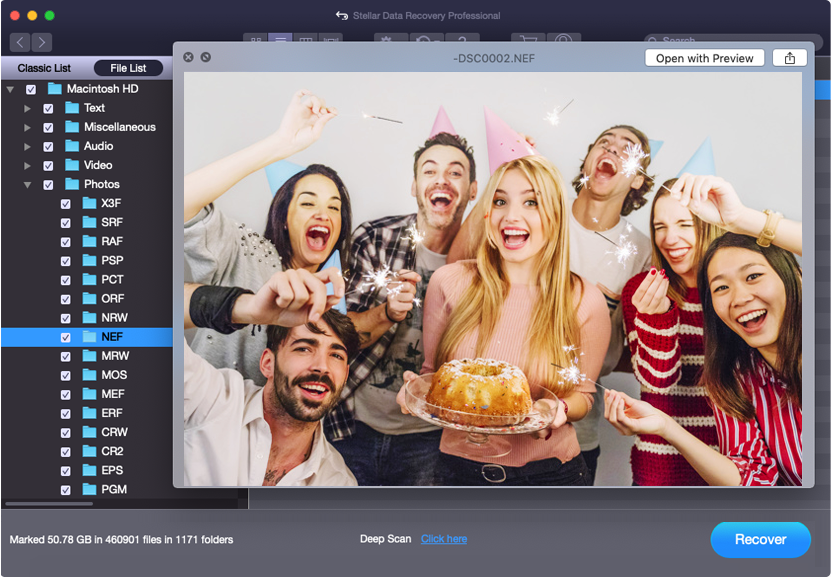 How To Recover Deleted Files From Trash Mac Using Put-Back?
For performing Mac recover file from Trash using put back, you need to try the beneath instructions very carefully:
Step 1: At first, tap on the Trash & choose the files whichever you wish to restore
Step 2: Then, right-click on all the selection
Step 3: Select the Put Back option to restore files from Trash Mac.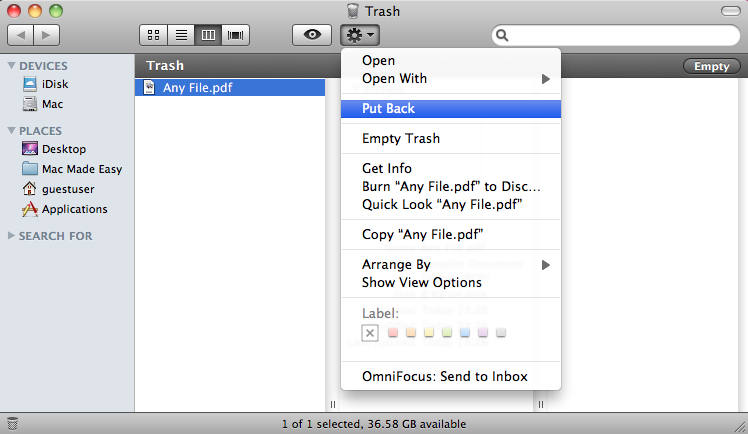 Now, you can see all mac recovered files in trash to their preferred places.
[Please NOTE]: You can retrieve your erased files from a trash for 30 days only after the date of data deletion.
How To Recover Deleted Files From Emptied Trash Mac?
Check out the below ways to recover deleted files from emptied Trash Mac with ease.
Method #1: Restore Files From Trash On Mac Terminal
On a Mac PC, a terminal is a built-in program like Command Prompt option on Windows system. Therefore, it can also help you to execute Mac file recovery from Trash.
Here is how you can restore files after emptying Trash Mac using the terminal.
First of all, go to the "Finder" option > "Applications"
Next, tap on "Utilities" & make double-click on the "Terminal".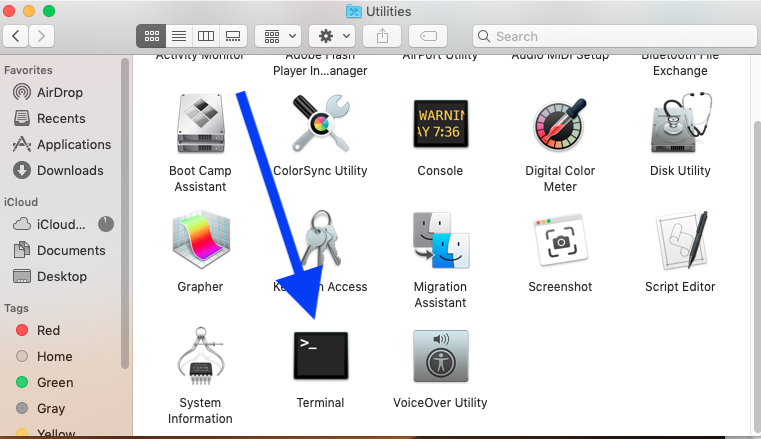 Here you need to type cd .Trash command >> press "Return" button on a Mac.
After this, enter the "mv xxx../" command and hit the "Return". (here xxx simply means a name of your deleted file)
Now, type the "Quit" in a Terminal in order to exit from Terminal Window.
Method #2: Execute Mac File Recovery From Trash Using Undo Options
Another solution that you can to bring the lost files back is to use an "Undo" option. However, you must do it proximately after deleting the files.
So, by following the below easy steps you can get those files back with Undo:
Step 1: Once files get deleted, go to the "Edit" >> choose an option "Undo Move".
Step 2: Otherwise, you can even use a command + Z button in order to undo a delete operation.
When the process gets over, you can bring lost files back on your Mac.
Method #3: Recover Deleted Files Using Time Machine
Well, if you have erased your files forever, but kept a backup on Time Machine, you can do Mac recovery files in trash from backup.
Nevertheless, Time Machine is an incremental backup utility on Mac operating system. It means it creates a backup of your important data without making a duplicate.
Hereafter, if you are lucky enough then your permanently lost files must be there on a Time Machine backup drive. Just restore them from there, by trying the below steps.
Please NOTE: Ensure that the Time Machine backup drive should be connected with your Mac.
Step 1: From the menu bar, you need to tap on "Time Machine" and then Enter a Time Machine
Step 2: In the second step, search for deleted item in the Time Machine's Window
Step 3: Choose a deleted file and preview your chosen file by simply pressing the Space Bar.
Step 4: Tap on the Restore button.
Step 5: Now, check if you are able to view the rescue file.
FAQ (Frequently Asked Questions)
Where Are Deleted Data on Mac?
You'll find all your deleted files in the Trash on Mac OS from where you will be able to recover them easily. But in case you've permanently deleted your files or fully emptied a Trash then the files will remain hidden in your hard drive of a computer. In such as case, you need the best Mac data recovery software.
How Can I View Trash Folder On Mac External Hard Drive?
In order to view a trash folder on Mac external drive, try the below simple steps: Step 1: Open the Finder. Step 2: Select an option 'Go to a Folder' under a Finder Go menu. Step 3: In a search bar, enter 'Trash'. The trash folder will appear on your screen.
Where Do I Find a Trash on My Mac PC?
Generally, you will find your Trash folder on the Mac's desktop. Though, if you are still unable to find the Trash on your Mac then you need to go to a Dock. Here, you may also choose a 'Go to folder' opt. & then in a search bar type 'Trash'. Afterward, trash folder will open itself and start displaying all files whatever it contains.
How Do I Undo A Trash Delete??
Restoring the lost files from a Trash to its preferred location is quite an easy task. But it is easy for you before 30 days' time window. So, once try the below instructions to undo empty trash mac: Step 1: On a Mac PC, go to a trash Step 2: Choose the files that you need to recover from Trash. Step 3: Click a Restore option.
Can I Recover Permanently Deleted Files From Trash Without Software?
It is little bit difficult to answer this question. If you have created a backup of those lost files then you can restore them without software using the Time Machine (method #4) of this blog. But in the absence of Time Machine backup, you won't be able to recover permanently deleted files mac without any software.
How Do I Empty Trash Bin folder On My Mac?
For emptying the Trash folder, you need to tap & hold on Trash icon under the Dock. After this, one pop-up box will appear saying 'Empty Trash'. Now, you need to select on it. Also, you can empty your Trash bin from Finder window simply pressing Command, Shift, and Delete keys at the same time.
[Bonus Tips] How to Avoid Trash Files Deletion?
By following the below effective tips, you can definitely avoid Mac Trash files deletion in the near future:
Always try to keep a valid backup of your important computer's data. Ensure to save the files in two or three different locations to protect the stuff.
Instead of deleting the files using "Shift + Delete" buttons make sure to use a Delete key only.
While emptying the Trash or Recycle Bin folder, you need to confirm that you don't have any vital items in that folder.
Wrap Up
Keeping a valid backup of your PC files is a good idea to protect files from permanent deletion. Though, maintaining a proper backup should not be ignored at all. In case if you forgot to take backup then it will be a tough task for you to restore the lost data without software.
Similarly, in this post, I have outlined the 5 best solutions for Mac recover file from trash with or without software. Although, deleted trash recovery Mac software is best among these solutions.
I hope you liked this article…
Taposhi is an expert technical writer with 5+ years of experience. Her in-depth knowledge about data recovery and fascination to explore new DIY tools & technologies have helped many. She has a great interest in photography and loves to share photography tips and tricks with others.