No doubt if you have clicked on this page then you must definitely be willing to know how to repair MOV videos? So, do not skip reading this page, just stay here for a while and know MOV repair solutions to solve how to fix corrupted MOV files.
Not only the solutions, but I will also provide you information related to MOV file format, how MOV file gets corrupt, why MOV video file becomes inaccessible under certain circumstances.
But, before you proceed to read all the related information, let me tell you the best suitable solution to repair damaged MOV files.
Well, you can easily fix corrupted MOV files using MOV File Repair Tool.
To repair MOV files, we recommend this tool:
This software will repair flickery, stuttery, jerky, unplayable videos and supports all popular video formats. Now repair your corrupt and broken videos in 3 easy steps:
Download this Video Repair Tool rated Great on Pcmag.com.
Click Add File to add the video you want to repair.
Select Repair to start the repair process and save the repaired video on the desired location after the repair is done.
However, if you want to know how to use this tool to repair .mov videos, you have to follow the user guide mentioned in the below section of this blog.
But, before that, let us first have a look at the practical scenario discussed by the users, and due to which I get inspired to write this post.
Practical Scenario
I've got a video cam which had some files accidentally deleted and I'm trying to recover them but am encountering problems. I ran a variety of recover tools but the best result was Recuva which pulled a dozen files off. The camera normally records in MP4 format but the files recovered were .mov files, although Recuva listed the file condition as 'excellent' they won't play.

I've tried converting them to another format with Handbrake and VLC but they won't even load, same with After Effects.

I tried running Remo repair mov to fix them but it didn't work either. Even tried just changing the file extension to mp4 out of desperation but unsurprisingly that didn't work either.

Bearing in mind they were listed as being in excellent condition does anyone know of any way to fix these and make them playable?

Source: https://forums.anandtech.com/threads/is-it-possible-to-repair-mov-files.2509942/
About MOV File Format
A MOV file is a most well-known multimedia container file format which was developed by Apple company. It is compatible with both Windows and Mac platforms.
This file format may contain several tracks that store different types of media files and are generally used for saving movies as well as other video files. MOV file generally uses the MPEG-4 codec for compression.
Reasons For MOV File Corruption
No doubt when corruption in any file format occurs then there is a great reason behind it. Let us find out some of them due to which it might have become corrupted, damaged, or broken.
Video Compression Issues
Power Interruption While Recording Videos
Broken Video Header
Improper Conversion or Transfer of Files
Incompatibility Issue
Now, it's time to have a look at the steps you need to process to repair MOV videos. So, let's move on to the steps to know how to fix MOV videos.
How To Repair MOV Files On Windows/Mac?
As mentioned earlier, the MOV File Repair Tool is one of the best solutions to repair damaged MOV files, so, it's better to try this first rather than the manuals. This tool is perfect to repair corrupted, damaged, inaccessible or broken MOV video files from different digital devices.
I am saying so because this MOV repair tool can:
Fix MOV files that have been corrupted or became damaged due to some reason.
Also repairs files that are virus-infected.
Apart from MOV, it also recovers MP4, AVI, AVCHD, F4V, M4V, MPEG, MTS, and other related file formats from different storage devices.
Allows you to preview the repaired files
100% safe & secure



* Free version of this program only previews repaired videos.
Now, let's get the instructions to perform the repair solutions using MOV File Repair Tool:
Step 1: Download, install and launch Video Repair software on your system. Click on 'Add Files' to add corrupted video files.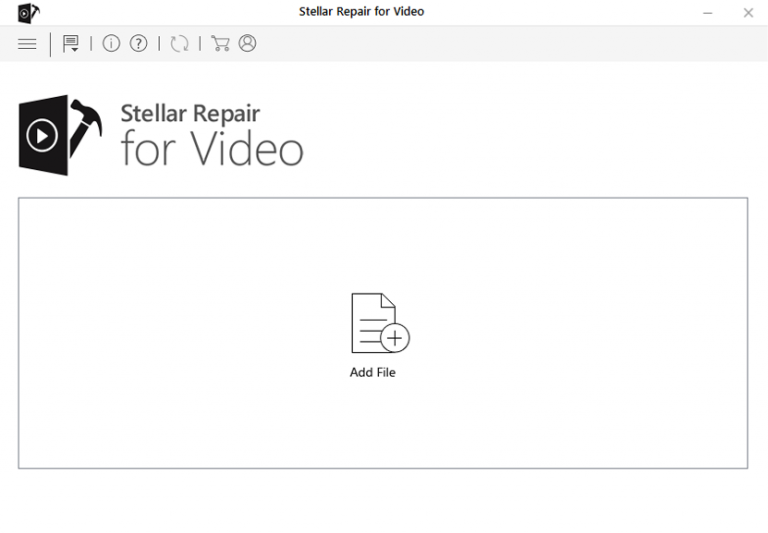 Step 2: Click on 'Repair' button to begin the repairing process. This start repairing your added video files one by one.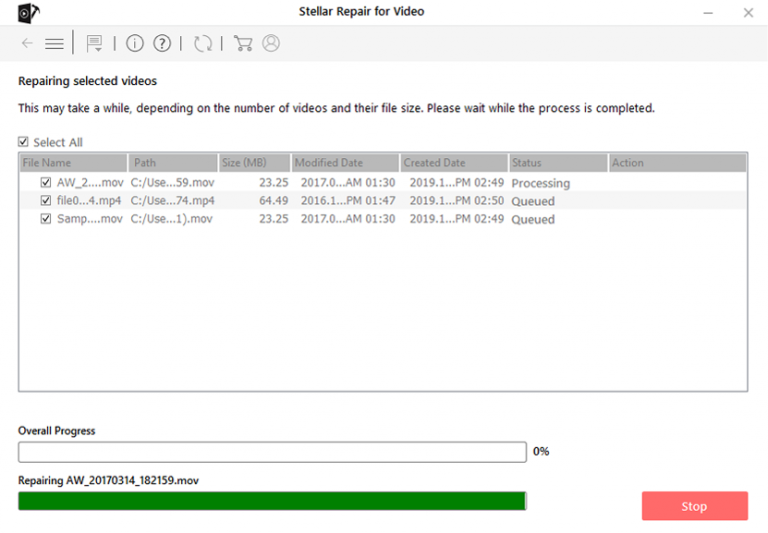 Step 3: You can click on 'Preview', in order to preview the repaired video file within the software and click on 'Save Repaired Files' button to save the repaired videos at desired location.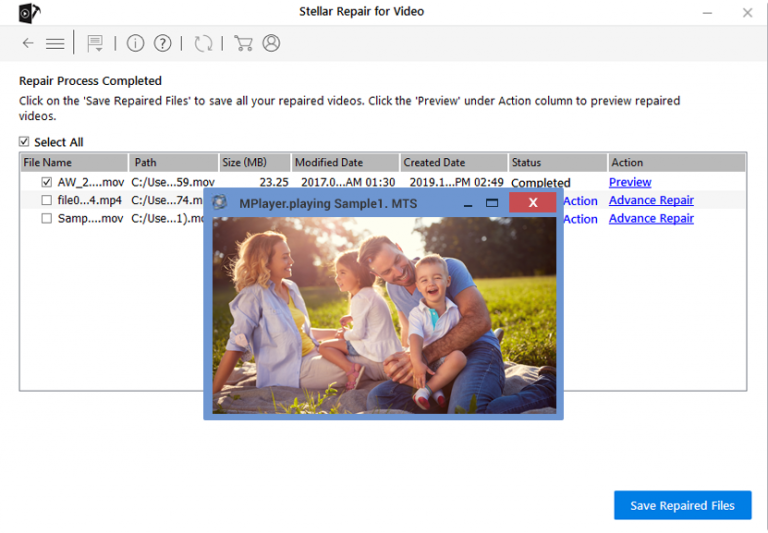 Alternative Methods To Repair MOV Video Files
Solution #1: Fix Corrupt MOV Files By Using QuickTime 7 Player
QuickTime 7 Player has a feature to fix MOV video automatically that is severely damaged. If an MOV file is severely corrupted, then it will display the black screen error message.
QuickTime 7 comes with a feature that allows you to check the properties of the damaged videos. To check: Launch QuickTime player and Show Movie Inspector from Windows, this will show the details of the video file such as video format, movie fps, playing fps, resolution information, duration, data size, data rate and so on.
If the MOV file is corrupted, then QuickTime Player will display black screen error and the "Movie Inspector" will show the video details in the video file metadata.
Solution #2: Repair Damaged MOV Files By Using VLC Media Player
The VLC media player has the feature to repair damaged, corrupted, broken or unplayable video files.
So, next time when you play your MOV video, the VLC player will ask you to repair corrupted/unplayable or broken videos, simply click on "Yes" and follow the onscreen instructions to fix the video.
Alternatively, follow the below-mentioned steps to fix corrupted MOV video file:
Launch VLC media player, go to "Media" and then click on "Convert/Save".
Click "Add" to browse and select the video files that you want to repair.
To edit or to check profile setting check-mark the box "Show more options" and then click on "Convert/Save".
Once the convert Window opens, under "Settings", select the appropriate codec from the drop-down list provided.
Give the name to the file and browse the desired location to save the file and then click on the "Start" button.
Note: You can add a new profile or delete the existing one.
This solution may help you to repair MOV videos and make them playable in VLC or other media player. If not, then there are other solutions that can be followed to fix MOV videos.
Solution #3: Change File Extension Of The MOV Video File
Yet another possible solution to repair MOV videos is by changing the file extension of MOV file. Here are the steps you should follow:
First of all, make a copy of the original MOV video file and the change the file extension from .mov to .avi
Now launch VLC player, go to "Tools" and click on "Preference".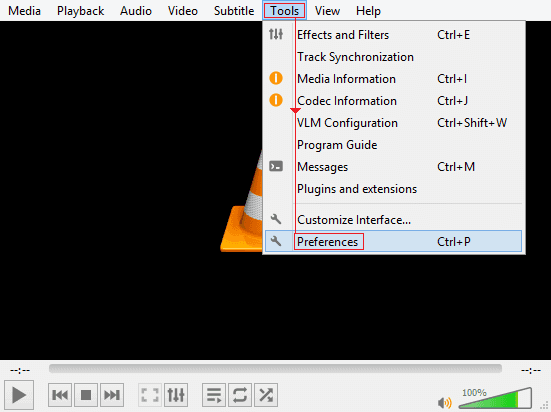 From the top, click on "Input/Codecs" and then click on "Save" at the bottom of the preference window.
In the damaged or incomplete AVI file, select the option "Always fix" from the drop-down list provided.


Frequently Asked Questions:
Is MOV File The Same As MP4?
It is really difficult to answer this question but we can say MOV file is similar to MP4 to some extent. Though, the foremost difference between both the container files is that, MP4 is the international standard format while MOV is a proprietary Apple video format for QuickTime. Besides, MP4 files are usually more compressed & smaller in size, whereas MOV is higher in the quality & larger in size.
Can't Open MOV File On PC?
You might unable to open the MOV file on your Windows PC due to missing video component on Media player or corrupt video header. Therefore, in such a situation, you have to install the best Video Repair Tool mentioned above to make your MOV file playable again.
What Codec Do I Need To Play MOV Files?
MOV is the container format which can be determined with different audio and video formats. But when we are talking about best MOV codec, K-Lite Codec Pack and Windows 10 Codec Pack is mainly recommended to users to play MOV videos.
How Can I Repair A MOV File For Free?
To repair MOV files for free, you have to follow the below troubleshooting tricks:
Fix the MOV file with VLC
Fix the MOV by using QuickTime 7 player
Changing the file extension
Using the video repair tool
Re-downloading the MOV video file.
Why Do Some MOV Files Not Play?
Cause 1: There might be a missing video component or broken video header due to which some of your MOV can't play.
Cause 2: Frozen frame of the video file is another foremost reason behind the unplayable MOV files. This happens when the video file gets interrupted while downloading process.
Will .MOV Play On Windows?
MOV is the QuickTime movie video format which consists of numerous tracks for storing videos, audios, time codes, text tracks and many more. The best thing about this video format is that- it is compatible with both the OS: Windows & Mac respectively. Hence, it means you can play MOV video on Windows PC easily.
Conclusion
Since, there are various causes that can lead to the corruption or damage to your MOV video files and make them unplayable, hence, it is suggested that you must prepare yourself to handle such situations.
You must keep two copies of your precious or important MOV videos at two locations. However, if do not have copies or backup of your corrupted MOV videos, then you can follow the solutions mentioned in this guide above.
But always remember, if all the manual solutions fail then it is strongly recommended to use MOV Video Repair Tool to repair damaged MOV files.
However, while repairing those files if all your essential gets delete then you can recover missing/erased MOV video files from the backup option.

Taposhi is an expert technical writer with 5+ years of experience. Her in-depth knowledge about data recovery and fascination to explore new DIY tools & technologies have helped many. She has a great interest in photography and loves to share photography tips and tricks with others.