The Windows recycle bin is a folder which temporarily holds the deleted files/folders. It helps Windows users to quickly recover files that were mistakenly or intentionally deleted. Sometimes it may happen that we need to empty the recycle bin folder to free up some hard disk space in the system. But what if you later want to know how to recover deleted files from Recycle Bin after empty? Do not worry, in this tutorial, I am going to explain why it is possible to recover emptied recycle bin Windows 10 along with the 6 best ways.
So, let's read…

To recover deleted files from Recycle Bin after empty, we recommend this tool:
This software will restore data from corrupted, formatted, encrypted storage media and works in all data loss situations. Now recover your lost and deleted data in 3 easy steps:
Download this Media File Recovery Tool rated Excellent on Pcmag.com.
Select the storage media from which you want to restore the media files & click Scan.
Preview the recoverable files, select the items you want to recover and click Recover to save the files at desired location.
Why Is It Possible To Recover Emptied Recycle Bin Windows 10?
Once a file/folder is deleted from the PC, it's moved from its original place to the Recycle Bin. However, if your recycle bin is emptied intentionally or unintentionally, then you must be thinking that all your files are deleted permanently but, this is not true.
Actually, when your data gets removed from the recycle bin then they aren't permanently deleted. The files exist there only, just their addresses are lost. So, those files can be recovered by using some effective solutions mentioned here.
However, if you want a safe and secure method to restore recycle bin Windows 10 after empty then I would like to recommend you to try the professional data recovery tool. In the next section of this article, you'll get the user guide of this feature-loaded program.
What Happens To Files After Empty Recycle Bin Folder?
When you delete any file or folder on your PC, it directly moves to the Recycle Bin. But if you empty your recycle bin, then it's removing a reference of your hard disk file. After that, you need to go for any third-party software to execute the emptied recycle bin recovery with ease.
[Excellent Tool] How To Recover Deleted Files From Recycle Bin After Empty Windows 10?
Recycle Bin Recovery Software is the best option that you can try to recover deleted files from recycle bin after empty Windows 7. It would first scan your system and find your missing files, once the recycle bin recovery gets complete it will show the result on the File type view.
The best thing about this program is that it's compatible with both the platforms, i.e., Windows as well as Mac.
emid

emid


* Free version of the program only scans and previews recoverable items.
Let me make it very clear why I am recommending you to use this software because it has lots of features that make this tool outstanding like:
Recovers deleted, missing or lost photos, videos, and other files from different storage and digital devices
Preview recoverable media files within the software, before recovering them on the system
100% read-only. Safe and secure to use
So what are you waiting for? Just download, install Photo Recovery Tool…And try the step-by-step guide to know how to recover deleted files from recycle bin after empty mac.
How To Recover Deleted Files From Recycle Bin After Empty Without Software?
Just try out the below-provided methods on how to restore permanently deleted files from recycle bin and let's see which way will work in your case.
#1: Recover Deleted Files From Recycle Bin After Empty Free Using Windows Backup
Well, if you are using a backup utility on your Windows PC, then you can easily restore all your missing files from there.
So, to recover deleted photos and videos from recycle bin after empty via backup, then follow these instructions:
 Step 1: Firstly, tap on "Start" & type the "Control Panel" in a search box.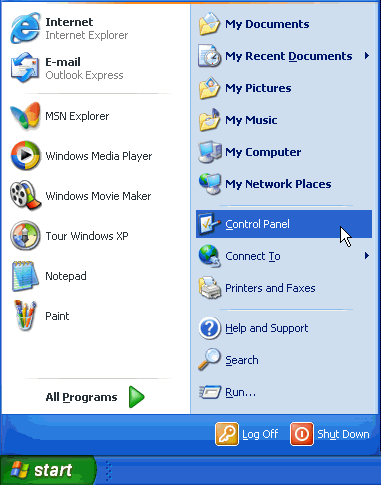 Step 2: Then, open the Control Panel, choose the "System & Maintenance"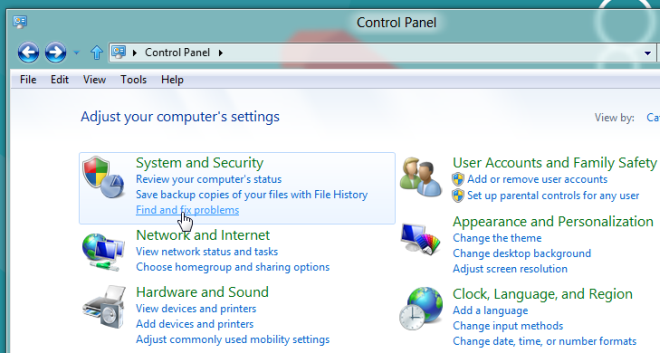 Step 3: After that, click on "Backup & Restore".
Step 4: Now, tap on the "Restore my files" option to start the restoration process.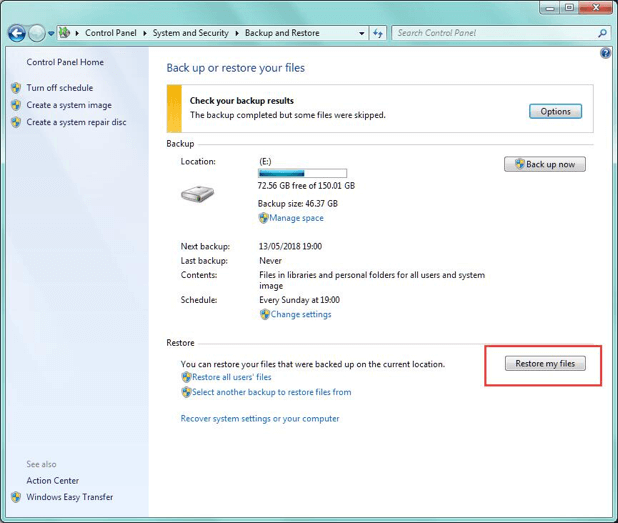 #2: Recover Deleted Files After Emptied The Recycle Bin By Using Command Prompt
Another option that you can try is Command Prompt. It can help you to restore your erased files.
Please Note: This is going to be a technical method.
Once booting up the computer PC, you need to press the "F8" key
Next, choose the "Safe Mode with Command Prompt".
Then, type the "../.." (Without quotes) & hit the Enter.
In this step, type the "cd RECYCLER" or "cd $Recycle.Bin" and press Enter.
Again, type the "cd" & press the tab Now, you will see the directory name next to this and hit Enter.
At this time, type in "dir/a" to show all the files then "copy [file name] [file location]" >> "./.." >> "dir" >> "ren [your deleted file name].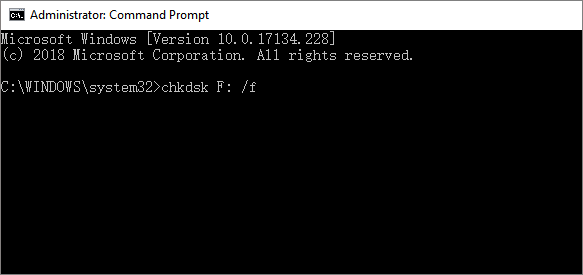 #3: Get Back Lost Data by Turning On The System Protection
In order to restore the missing stuff after emptying the recycle bin, just turn on the System Protection by following the below-given steps:
Step 1: First of all, go to Control Panel.
Step 2: Choose the System and then System Protection in a right window.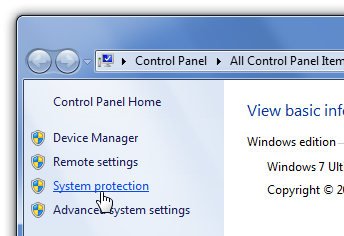 Step 3: Now, the PC lists all the available drives with the corresponding protection.
Step 4: Then, choose the specific drive & click on configure.
Step 5: In the last step, you need to select the "Restore system settings & previous versions of file" then click on OK to bring back the files.
#4: Restore Deleted Files From Recycle Bin After Empty From Previous Versions
You can use the previous versions to recover deleted files from recycle bin after empty Windows 10. Try the below steps to restore the previous files & folders:
First, make right-click the folder that contained your deleted files.
Next, click on the "Restore previous versions" option.
Now, choose the desired files & tap on the "Restore" option.

#5: Retrieve Data Via File History Backup
The file history option can be used for recovering the deleted files from Recycle Bin. If you have a File History backup drive set up, follow the steps given below:
Step 1: Click the search box present on the taskbar.
Step 2: Type "restore file" and select the Restore your files with File History.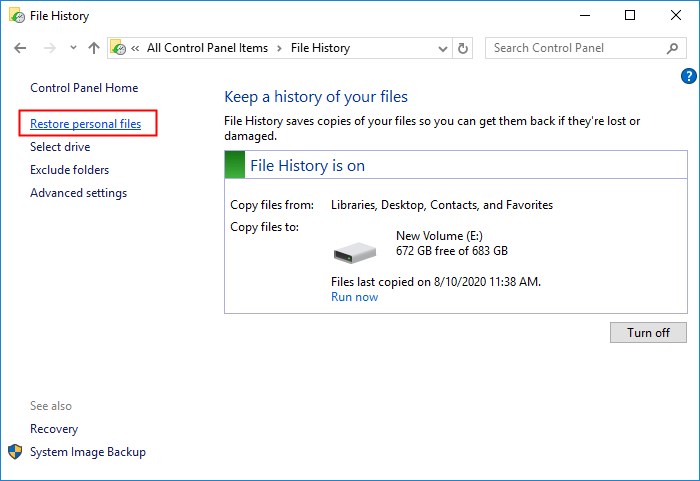 Step 3: On the Home – File History window, look for the file you wish to restore.
Step 4: Check all the versions of the file by using arrows.
Step 5: After finding the correct version, select Restore. This will restore the file to its original place.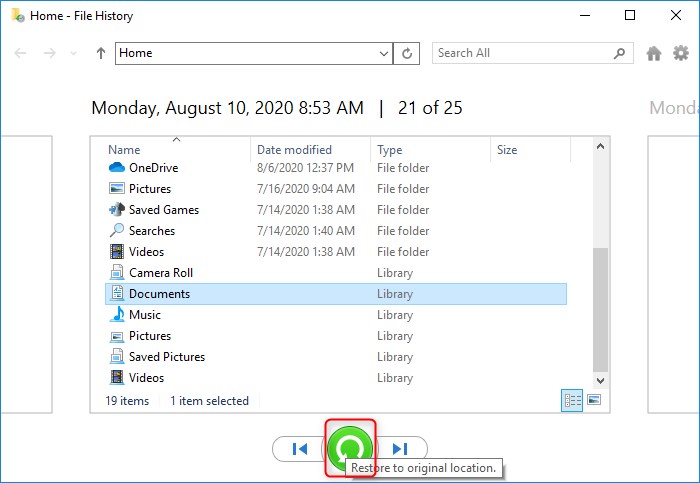 Step 6: In case you wish to restore the file to a different location, right-click Restore and select restore to.
#6: Retrieve Deleted Data From Emptied Recycle Bin Using Windows OneDrive Feature
OneDrive is a Windows excellent feature that can help you to bring your lost stuff back with this backup feature. So, if you've enabled or turned on this backup feature, then you could easily find those files back from here.
Step 1: First of all, log in to your Microsoft account on the official website of OneDirve.
Step 2: Next, scroll down a menu & choose the Recycle bin which you can see in a left side.
Step 3: Lastly, find out the files that you need to bring back >> click on Restore.
FAQ (Frequently Asked Questions)
Can I Recover Files After Emptying The Recycle Bin?
Yes, you can recover files after emptying recycle bin folder. When your data gets deleted from your Windows PC then those files are somewhere on your system but in a hidden manner. So, to recover deleted files from the recycle bin after empty, you can try the professional data recovery software. I ensure you that this program will surely help you to get back the deleted files back in just a few clicks. So, act quickly!
Does Emptying Recycle Bin Permanently Delete the Files?
No, emptying the recycle bin doesn't delete the files forever. But it can help to free up some hard drive space.
How Much Time Do I Have To Recover My Data After Emptying The Recycle Bin?
It totally depends on the factors behind file deletion, the size of your storage device and the number of read/write operations done every minute. But, if you want to recover data after emptying Recycle Bin in less time then you should close all running applications and run the data recovery tool mentioned in this post.
Why Isn't My Deleted File In The Recycle Bin?
Maybe you have pressed the shift + delete button simultaneously that's why you are unable to find your lost files in a Recycle Bin folder. Hence, it is removed permanently.
How Do I Increase The Size Of My Recycle Bin In Windows 10?
In order to increase the space of a Recycle Bin folder on Windows 10, you need to try the below instructions: • Just, right-click on the 'Recycle Bin' >> choose the 'Properties'. • You need to check the option 'Custom size' >> adjust a size that you need to add to a Recycle Bin. • Next, tap on 'Apply' >> 'OK' in order to save & apply all the changes.
(Precautionary Measures) Tips to Prevent Recycle Bin Data Loss
Do not choose the "Don't move the files to Recycle Bin. Remove the files immediately when deleted" option from properties of Recycle Bin.
Always delete the irrelevant stuff from the Recycle Bin folder.
Try to keep several copies of your vital files on the different storage media.
Don't use your PC too much after deleting the crucial data from a Recycle Bin, until and unless you can recover them.
Carefully delete your files, but do not remove the files using the "Shift + Delete" option. Doing so will delete your data permanently and you won't be able to find them on a Recycle Bin folder.
Often backup your crucial files & folders.
Time To Verdict
Well, if you're a Windows user then you must be having a good idea that how essential Windows system files are. But, there can be circumstances when you face file corruption & almost all your data becomes inaccessible. And this is the time when you need an exceptional solution on how to recover deleted files from recycle bin after empty Windows 7.
So, in this specific blog, I've outlined the best ways to recover deleted files from recycle bin after empty free. All the approaches given here are very effective.
However, if you want an instant after emptied recycle bin data recovery way then I would like to suggest you try Data Recovery Tool that mentioned here.
Alex is an expert technical writer with 7+ years of experience. His in-depth knowledge about data recovery and fascination to explore new DIY tools & technologies have helped many. Alex has a great interest in photography and loves to share photography tips and tricks with others.