Check out this article and learn how to recover deleted photos from Nikon D3400 digital camera with or without backup.
It can be really painful to accidentally delete or lose your crucial photographs from a Nikon D3400 camera. They actually represent the memories of events & interactions which can't be recreated again. The instant reaction after losing a bunch of images is often sheer panic.
Luckily, there are some effective Nikon D3400 photo recovery solutions available using which you can retrieve the lost pictures successfully. Though, you can find those methods in this specific post.
With the help of the Nikon Photo Recovery Tool, you can easily restore deleted pictures & videos from Nikon camera.
To recover lost pictures from Nikon D3400 camera, we recommend this tool:
This software will restore data from corrupted, formatted, encrypted storage media and works in all data loss situations. Now recover your lost and deleted data in 3 easy steps:
Download this Media File Recovery Tool rated Excellent on Pcmag.com.
Select the storage media from which you want to restore the media files & click Scan.
Preview the recoverable files, select the items you want to recover and click Recover to save the files at desired location.
But before knowing how to recover deleted photos from Nikon D3400 camera, let's know something about the Nikon D3400 camera in brief.
Part 1: Something About Nikon D3400 Camera
Nikon D3400 is the entry-level DSLR model of Nikon which is announced in the August 2016 for replacing the D3300. It is popular for its countless outstanding features and HD-quality photos.
What makes it popular? D3400 camera makes photography easy & fun, letting you focus on natural talents such as anticipating special moments, framing great shots, & finding exclusive perspectives in daily scenes.
Apart from that, it has a built-in flash, exposure lock, ease to share exciting DSLR pictures, greater convenience, etc.
So, now let's take a look at Nikon D3400 specs:
NIKON D3400 EXCLUSIVE SPECIFICATIONS
| | |
| --- | --- |
| Camera Type | DSLR |
| Image Format | NEF (RAW) & JPEG |
| Movies Format | MPEG4 & H.264 |
| Storage Media | SD Card, SDHC Card & SDHX Card |
| Battery Type | Lithium Ion Battery |
| Digital Zoom | 0 |
| Weight | 445 |
| Colour | Black |
| Dimension | 124 × 98 × 75.5 mm / 4.9 × 3.9 × 3.0 inches |
| Shutter Speed | 30 to 1/4000s |
| Effective MegaPixels | 24.2 |
| Video Resolution | 1920 × 1080 |
PROS / CONS:
Pros:
Excellent battery life
Compact & lightweight body
Decent single-shot AF performance
Cons:
Bad connectivity options
No touchscreen
No microphone port
Part 2: Is It Possible To Recover Deleted Photos From Nikon D3400 DSLR Camera?
The answer is "Yes", you can recover deleted photos from Nikon D3400 camera using the powerful Photo Recovery Tool. But you've to note a few things.
As soon as you come to know that your .nef (Nikon RAW Format) have been deleted from Nikon D3400 camera, firstly you should stop capturing new photos using your camera. This will increase the changes of Nikon D3400 photo recovery.
Actually, the photographs are still present on the camera SD card until & unless the free space is overwritten by the new file. That's why it is suggested to discontinue using your camera.
Now, let's know the major factors behind camera data loss.
Part 3: What Causes Nikon D3400 Digital Camera Photo Loss?
Losing important data from a Nikon camera can cause due to a variety of reasons. But below we have discussed the most common reasons behind it, let's take a look:
1. Accidental Deletion
This is the major cause. People tend to accidentally or mistakenly delete their photographs from their camera including NEF pictures.
2. Camera SD Card Corruption
If there is any type of damage to the SD card that is inserted in your Nikon camera then all the files become inaccessible, including images, and hence the data gets lost.
Generally, SD card corruption takes place due to a virus attack or improper shutdown of the computer.
3. Inadequate Shutdown Of Nikon D3400 DSLR Camera
Most of the time, it happens that your digital camera shuts off while shooting due to low battery. This can lead to losing data on your camera card.
Besides, if you take out the battery of the Nikon camera while using it, this can also result in photo loss.
4. Formatting The Nikon Camera SD Card
Whenever corruption occurs in a memory card or other storage media then it forces you to format the device so that you can use the devices again. But after formatting the card, the data like images, videos, etc. get lost.
5. Interruption While Image Files Transferring Process
Interruptions while transferring pictures from camera SD card to PC can lead to the delete of any photograph or all data saved within the memory card.
6. Using Same SD Card On Multiple Devices
Another foremost reason that can cause photo or video loss from digital cameras is using the same SD card on multiple devices.
Therefore, it's always suggested not to use your camera memory card for other purposes as it will avoid files from being corrupted/overwritten.
In any of the above-mentioned scenarios, you will encounter image file deletion. But don't worry about it, by trying the below potential solutions you can restore deleted pictures from Nikon D3300/D3400 camera.
Part 4: How To Recover Deleted Photos From Nikon D3400 With Software?
Finally, we come to the Nikon D3400 DSLR photo recovery section.
As I have already recommended, you can use Photo Recovery Software to get back lost photos (.nef) from the Nikon D3400 camera.
It not only retrieves deleted Nikon (NEF) image files but also recovers other camera brand's RAW pictures as well like Fujifilm (RAF), Sony (SRF), Canon (CRW & CR2) Samsung (SRW), Leica (DNG), Kodak (DCR), Sigma (X3F), Panasonic RAW image, Olympus (ORF), etc. from various data storage devices.
Let's find out some other outstanding features of this Photo Recovery software:
Recover deleted/lost/corrupted photos.
Apart from photo recovery, this versatile utility can also regain video and audio files successfully.
Restore pictures from different storage devices such as memory cards, hard drives, USB drives, smartphones, etc.
Read-only program, 100% risk-free & easy to use.
It is available for both Mac & Windows users.
emid

emid


* Free version of the program only scans and previews recoverable items.
The best function of this software is that it allows you to preview recoverable files within software before you proceed further to save them on your system.
So, without any delay, download & install this tool on your PC. Then follow the step-by-step guide of this tool to know how to retrieve images on Nikon d3400 digital camera successfully.
Part 5: Restore Deleted Pictures From Nikon D3400 Camera Without Software
There are lots of digital device users who don't want to lose their crucial media files from their devices anymore. So, in order to prevent major data loss, they used to create a backup on other devices.
Thus, if you are one of them who have lost Nikon D3400 DSLR photos and have saved them on PC before their deletion, don't panic. You can recover deleted photos from Nikon D3400 digital camera through backup folder.
Steps To Bring Back Lost Pictures Through Backup Folder:
Step 1: On your computer, find & open a backup folder.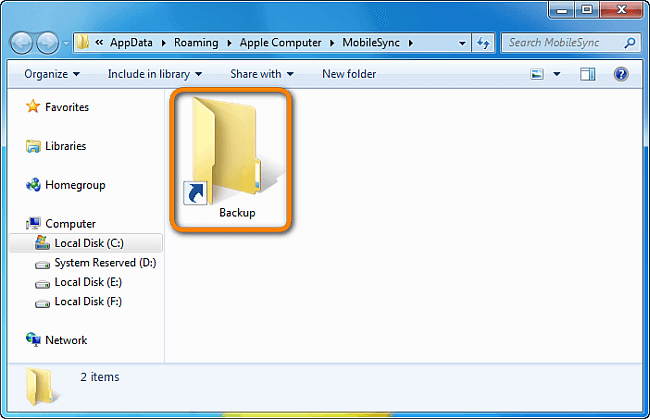 Step 2: Locate the Nikon D3400 pictures that you need to restore.

Step 3: Now, you're required to copy & then store the .image files back to the Nikon D3400 camera SD card after connecting your card to PC via card reader.
That's all…
Part 6: How To Transfer Photos From My Nikon D3400 To My Computer?
You can transfer photos from Nikon D3400 to your computer through the camera's SD card easily.
All you need to do is to follow the below steps to transfer photos from digital camera to computer.
Insert your Nikon D3400 camera's memory card into a card reader that you were used to capturing pictures.
Next, connect that card reader to your computer.
Once you inserted the card reader, in the My Computer/This PC section, it'll display the data saved on your SD card.
Simply click and expand the folder of the SD card, then find the pictures that were taken using a Nikon D3400 camera.
Now, select & copy the needed image files then paste them on another location of your PC.
Frequently Asked Questions:
How Do I Recover Deleted Videos From My Nikon DSLR Camera For Free?
If you have created a backup of your beloved movies in any external storage drive or PC before their deletion, you don't have to worry anymore. You can easily retrieve the deleted Nikon DSLR videos through backup for free.
Can I Retrieve Deleted Photos From Nikon Coolpix B500?
Yes, of course, you can recover deleted photos from Nikon Coolpix B500 camera with the help of most reliable Photo Recovery Tool that mentioned in this post. But remember that, once you've lost your pictures, discontinued capturing new photos or videos using Nikon Coolpix. As continue capturing new memories can lead to complete data loss that's why you should not do that.
How Can I Recover My NEF Files From SD Card?
You can recover NEF files from SD card by using the professionally recommended Photo Recovery Tool. It not only retrieves deleted Nikon (NEF) files but also recovers other camera brands RAW formats like Fujifilm (RAF), Sony (SRF), Canon (CRW & CR2) Samsung (SRW), Leica (DNG), Kodak (DCR), Sigma (X3F), Panasonic RAW image, Olympus (ORF), and many more.
Final Thoughts
Following these steps can help you to know how to recover deleted photos from Nikon D3400 camera using a powerful Photo Recovery Tool.
In case, if you have created a backup of your important Nikon D3400 camera photos somewhere else before their deletion then you can get them back from the backup folder.
Apart from that, if you want to avoid further data loss scenarios, don't forget to keep a backup of your memorable pictures regularly.
I hope, you found this article helpful to you…!
Alex is an expert technical writer with 7+ years of experience. His in-depth knowledge about data recovery and fascination to explore new DIY tools & technologies have helped many. Alex has a great interest in photography and loves to share photography tips and tricks with others.