With the optimized contents of this post, learn how to recover deleted videos from GoPro hero 7/8/9 cameras with ease…
GoPro Hero 7 is one of the best camera models of the GoPro Hero series. It is an action camera preferred by hobbyists, sports enthusiasts, professional stuntmen, & many more.
Apart from capturing and making videos, it also offers excellent media management service by a suite. Despite of having countless features still, some users are encountering video loss scenarios from GoPro Hero 7 cameras.
Thus, if you have also lost your GoPro footage and want to retrieve lost videos from GoPro Hero 7/8 camera, keep on reading this post.
You can recover deleted GoPro footage through GoPro Cloud Plus or using the best Video Recovery Tool.
To recover GoPro video files , we recommend this tool:
This software will restore data from corrupted, formatted, encrypted storage media and works in all data loss situations. Now recover your lost and deleted data in 3 easy steps:
Download this Data Recovery Tool rated Excellent on Pcmag.com.
Select the storage media from which you want to restore the media files & click Scan.
Preview the recoverable files, select the items you want to recover and click Recover to save the files at desired location.
Is It Possible To Recover Deleted Videos From GoPro Hero 7 Camera?
Yes, it is definitely possible to recover deleted videos from GoPro hero 7.
Regardless of the reason behind the photo and video loss from the GoPro Hero camera, there's a possibility to get the deleted files back from GoPro Hero 10/9/8/7/6/5/4 by using the powerful Video Recovery Tool.
As soon as you come to know that your GoPro video gets deleted, firstly you should stop capturing new photos or videos using your camera. Because the deleted data from the camera SD card are still present there, but hidden and waiting to be overwritten by the new stuff. Any further action on a GoPro camera will delete the files permanently.
Before knowing how to recover deleted videos from GoPro Hero 7 in the complete step-by-step methods, let's know the major factors behind the GoPro video loss.
Why do GoPro Hero Camera Videos & Footages Get Deleted?
There could be several reasons that can lead to a GoPro video loss scenario. So, below we have listed the common reasons for it:
Sudden interruption while video read or write process in a GoPro camera.
Ejecting the memory card from the camera forcefully or without turning OFF the camera.
Using the GoPro camera card on multiple devices.
Due to GoPro SD card errors like 'No SD card error' or 'SD ERR'.
Ignoring the error message like 'memory/SD card is full' can lead to card corruption.
Removing the SD card when the video is playing or while file transferring/copying process.
Let's proceed to know how to recover deleted videos from GoPro hero 8/9 with or without backup.
How To Recover Deleted Videos From GoPro Hero 7 Through GoPro Plus Cloud Media Library And Quik App Backup?
The first method that we would like to suggest you is to recover deleted GoPro video free via GoPro Plus Cloud Media Library.
Most of the GoPro photographers used to upload their important images & videos to GoPro Plus cloud in order to avoid major data loss.
Thus, if you have done the same thing before losing your crucial video recordings, you can effortlessly access your videos from GoPro Plus Cloud.
#1: GoPro Video Recovery Through GoPro Quik
Well, if you have activated your GoPro Plus Cloud to keep or upload media files into it, you can easily access your lost stuff via the Quik application for Desktop. For this, you have to follow the below easy steps:
Download & launch the GoPro Quik application on your Desktop.
Next, log into your GoPro Plus Cloud/Quik
Once you have logged in successfully, select the videos that you were previously uploaded and want to get back >> tap Download & save it on your computer.
#2: Restore Videos Via Web GoPro Cloud Media Library
There is another yet option that you can try to solve how to recover deleted GoPro videos from SD card Via Web GoPro Cloud Media Library.
All you need to do is to log in on to GoPro.com or PLUS.GOPRO.COM using your GoPro cloud account & retrieve the needed videos from there.
How To Recover Deleted Videos From GoPro Hero 7 With Video Recovery Tool?
GoPro Video Recovery Software is a professionally recommended tool that is specially designed to recover videos or other media files from digital cameras such as GoPro Hero 7, GoPro Hero 8, GoPro Hero 6, GoPro Hero 5, GoPro Fusion, KARMA, etc.
Apart from GoPro recovery, it can even recover pictures & videos from DSLRs, Drones, Digital cameras, Action Cameras, camcorders, Dashcams, SD cards, HDDs, and many more.
Key Features Of This Video Recovery Tool:
Successfully recover all video formats like MP4, XviD, M4V, 3G2, 3GP, MOV, MPEG, RM, MKV, WMV, AVI, AVCHD, VOB, MTS, and many more.
Preview recoverable video files within the preview screen of the software before final recovery.
Read-only program, 100% risk-free & easy to use.
Compatible on Windows as well as Mac PCs.
emid

emid


* Free version of the program only scans and previews recoverable items.
You can try the below step-by-step guide to know how to retrieve deleted videos on GoPro camera using this recommended software.
Step 1: Select Desired Location
Firstly, select the drive, external media or volume from which you want to recover deleted media files. After selecting, click on 'Scan'.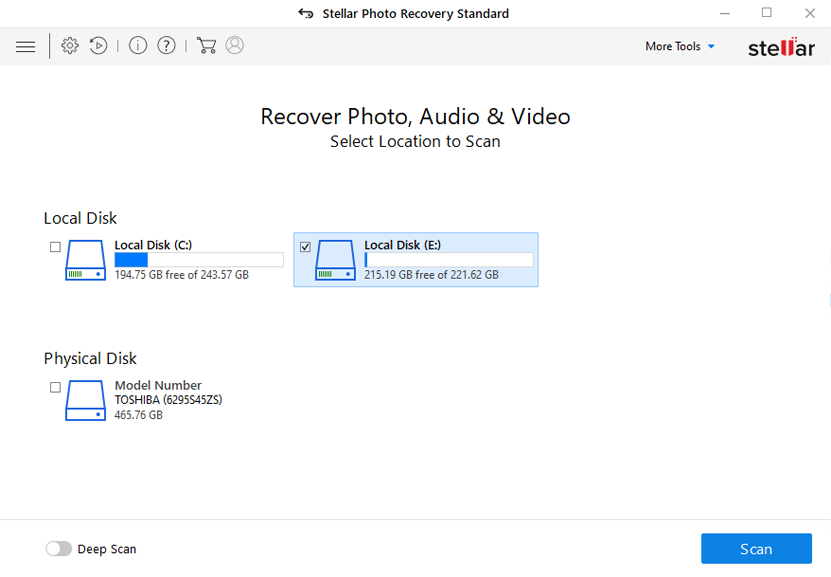 Step 2: Preview Recovered Media Files
Next, you can preview the recoverable media files after the scanning process is completed.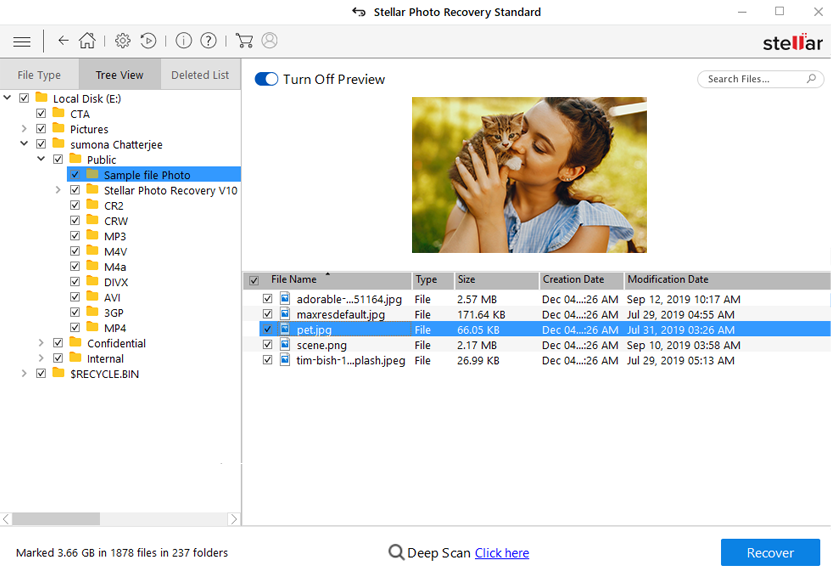 Step 3: Recover Media Files
Lastly, you can select the images, audio, video files you want to restore and click on 'Recover' option to save them at the location you want.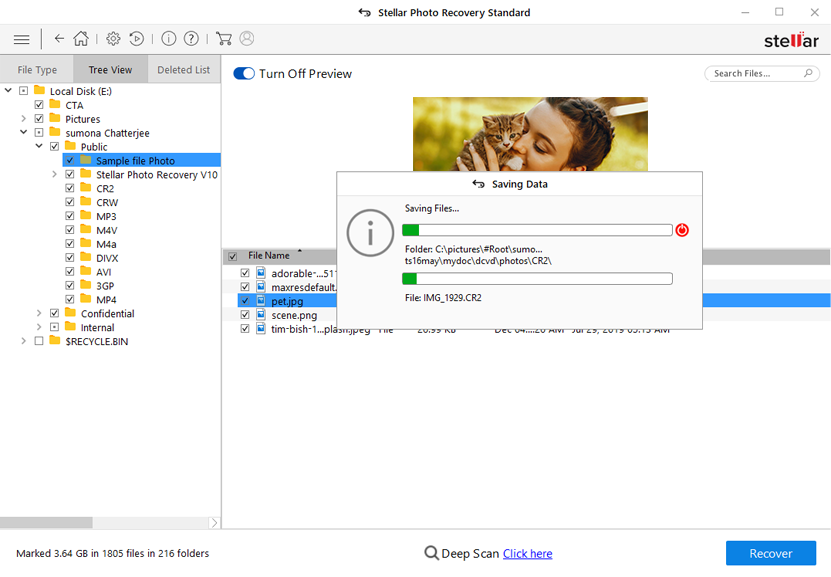 Frequently Asked Questions:
Why Are Some Of My GoPro Videos Missing?
Most of the time, it happens that GoPro pictures and footage actually get disappeared due to SD card corruption or accidental formatting of the GoPro camera card.
How Do I Retrieve Photos And Videos From GoPro SD Card?
You can retrieve photos and videos from GoPro SD card by using the best data recovery tool that mentioned above. But before performing GoPro SD card recovery, you should stop using your GoPro camera to shoot new photos and videos to avoid data from overwriting.
Why Is My GoPro Footage Corrupted?
Most probably the GoPro footage gets corrupted when there is a connection issue between SD card and camera. Or if the GoPro camera runs out of batteries while video recording.
To Wrap Up
The videos captured on GoPro Hero 7/8 camera can be lost at any time. Therefore, you must prepare yourself to avoid such sorts of major data loss scenarios. You can do so, by taking backup of your important GoPro video clips.
But what to do if you don't have a backup of your lost GoPro videos? All you need to do is to try the versatile Video Recovery Tool.
It will help you to quickly retrieve lost videos from GoPro Hero 7 camera.
I hope, you liked this article…!
Alex is an expert technical writer with 7+ years of experience. His in-depth knowledge about data recovery and fascination to explore new DIY tools & technologies have helped many. Alex has a great interest in photography and loves to share photography tips and tricks with others.