Want to recover permanently deleted photos from laptop because you pressed "SHIFT + DELETE" button accidentally?
If so, then you are in the right place. Because in this blog I am going to discuss some of the most effective ways following which you can easily get back your permanently lost photos from laptop or PC.
So, let's get started…
The best way to retrieve permanently deleted or lost photos from the laptop is to use Photo Recovery software.
To recover permanently deleted files from laptop, we recommend this tool:
This software will restore data from corrupted, formatted, encrypted storage media and works in all data loss situations. Now recover your lost and deleted data in 3 easy steps:
Download this Data Recovery Tool rated Excellent on Pcmag.com.
Select the storage media from which you want to restore the media files & click Scan.
Preview the recoverable files, select the items you want to recover and click Recover to save the files at desired location.
Many people have a habit of using "Shift + Delete" button to delete unwanted files and folders, including photos from the laptop or computer. And once they made the mistake, they realize the pictures they have deleted are important.
Photos or folders deleted in such situations are gone FOREVER and they cannot be retrieved from the Onedrive or recycle bin.
But that's not it. There are other reasons as well due to which people lose their precious photos. Some of them are listed here below –
Reasons For The Permanent Lost or Deletion of Photos From Laptop
Emptied recycle bin accidentally or unintentionally.
Deleting images from laptop when recycle bin is full.
The photo becomes inaccessible after corruption due to virus attack and you deleted it.
Formatting or resetting the laptop to restore factory settings.
Deleting photos from external portable hard disks. Remember deleting the files from an external hard drive connected to the laptop delete the files permanently.
Set not to move deleted photos to recycle bin.
Such circumstances create problems for the users and they start to think about whether they will be able to recover their lost pictures back or not?
So to answer their question, you must read the section below dedicated to the same.
Is It Possible To Recover Permanently Deleted Photos From Laptop?
Well, it is possible to recover permanently erased pictures/images or complete photos folder from laptop, until and unless it is not overwritten with new data.
Because adding new data simply overwrites the existing data and hence you may lose the chance to recover your photo files on your laptop.
How to Recover Permanently Deleted Photos from Laptop?
Now that we have discussed everything around our main topic i.e. how to get back permanently deleted photos from the laptop, it's time to answer the main.
So there are three ways to restore permanently pictures from laptop.
Recover Pictures With Photo Recovery Software
Photo Recovery Tool is one of the ultimate and very successful ways to recover permanently deleted pictures/photos from laptop or computer. It can also restore photos deleted permanently from PC or Mac hard drive as well as from external hard drive, USB flash drives, pen drive, memory cards, digital camera/camcorders, etc on Windows 7/8/10 or Mac.
The best part about this Photo Recovery software is that it is available for both Windows and Mac computers. Besides photos, it also recovers lost or deleted videos and audio files.
Support to recover photos deleted permanently due to formatting hard drive, deleted images by shift + delete command, accidental deletion, corruption, virus attack, system crash, emptied recycle bin under different situations.
I am saying this because it has many ingenious features, such as –
Easily recover permanently deleted photos/pictures from the laptop, SD card, hard drives, and other storage devices.
Supports numerous situations such as deleted or erased permanently by pressing "Shift + Delete" button, emptied recycle bin by mistake, deleted photos from the laptop when it is full.
Supports almost all popular image file formats such as JPEG, PNG, GIF, TIFF, BMP, and others.
It also restores deleted RAW image file formats such as SR2, NEF, CR2, ORF, K25, RAF, etc.
100% safe, secure, and easy to use.
emid

emid


* Free version of the program only scans and previews recoverable items.
It is compatible with almost all Windows and Mac laptops or computers of different brands such as Lenovo, Sony, Samsung, Toshiba, Dell, Asus, HP, Acer, Apple Macbook, Macbook Pro, Microsoft Surface Book, Google Pixelbook, etc.
Below find out the guide on how to recover permanently deleted videos from a PC/laptop by using photo recovery software in just a few simple steps.
Retrieve Photos Using Existing Backup Without Software
Windows offer an in-built "Backup and Restore" utility, while Mac OS has Time Machine.
So, if you have recently created a backup of your photos, then it becomes very easy to free restore permanently deleted photos on laptop or PC without software.
Here follow the steps to recover photos on laptop from backup:
Click Start and open Control Panel.
Click on "System and Security> Backup and Restore > Restore my files".
After that, you can save the pictures and files to a new folder or to their original location.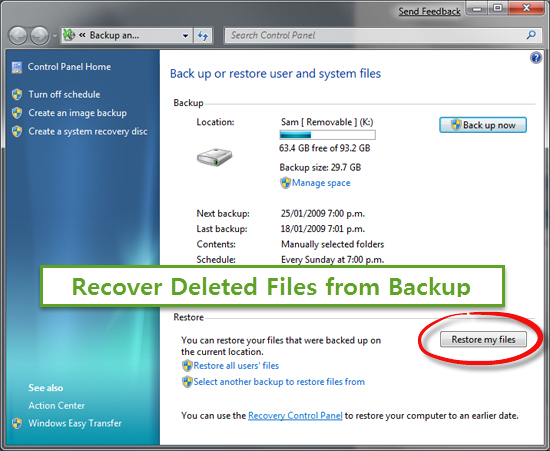 And in the future, if you don't want to get stuck in data loss situations then it is better to backup your precious photos using the steps given below.
How To Backup Photos or Files On Laptop
Click Start and open Control Panel.
Click on "System and Security> Backup and Restore > Set up backup.
Select Backup and Restore and from the left panel, click on "Create a System Image"
System> System Protection> Create.
Note:  It is strongly recommended that you must save the backup to internal drive (local C: drive). Additionally, you can make a copy of your photos to external hard disk or upload it to cloud storage services like Google Drive, Dropbox, Onedrive, etc.
Restore From the Previous Versions Option of Windows System
Well, restoring the laptop to the previous version is little bit risky solution. If you do not have enough technical knowledge then you can skip this step and instead can use the Photo Recovery tool in the absence of backup of your photos.
However, here find out steps to recover permanently deleted photos from a version in Windows laptop:
First, create a new folder on the desktop and give it the same name of the deleted photos file or folder.
Now right-click on the folder you created and select "Restore Previous Versions". After this Windows will look for and list the previous versions of the permanently deleted photos and folder with different times and dates.
Now simply select the latest folder and click on "Restore" to get back the entire permanent deleted photos folder with ease.
Frequently Asked Questions:
Are Deleted Computer Files Gone Forever?
When you remove/delete any file from your PC or laptop then they are not gone forever. The deleted file or folder immediately moves to the Recycle bin (Windows) or Trash Bin (Mac) just after its deletion. However, those deleted files can be easily recovered by tapping on Restore option.
Where Do Permanently Deleted Files Go?
When you press Shift + Delete keys simultaneously then it can lead to the permanent file deletion. However, if you normally remove the file or folder by pressing Delete option then it simply moves to the recycle bin. But, if you empty your recycle bin then it can also lead to permanent deletion. In both situations, you will have to go for recommended photo recovery software specified above.
How Do I Recover Files After Emptying The Recycle Bin?
You can recover the files after emptying the recycle bin via created backup or by using any third-party data recovery software.
Is A Free Tool That Can Be Used To Recover Windows Files?
Recuva is the free and versatile data recovery utility for Windows PCs. It has the ability to thoroughly scan the device, search for the deleted files and retrieve them even without any backup. The best thing about this program is that, it recovers music, photos, videos, emails, and documents from digital devices.
Conclusion
So these are the three solutions that will help you to get back permanently deleted or lost photos from laptop.
However, if you do not have a backup of your deleted pictures, then my recommendation is to try Photo Recovery Tool as it is an easy, simple, and safe way to recover photos deleted permanently from a laptop or computer.
Alex is an expert technical writer with 7+ years of experience. His in-depth knowledge about data recovery and fascination to explore new DIY tools & technologies have helped many. Alex has a great interest in photography and loves to share photography tips and tricks with others.