Accidentally or mistakenly deleted your photos and videos from Xiaomi/Redmi phone? Seeking how to recover deleted photos from Redmi phone? If it is so, then you don't have to worry anymore. You can easily recover deleted photos and videos from Redmi/Xiaomi by using the solutions mentioned in this post.
If you have previously kept a backup of your Redmi phone data then you can try Xiaomi Backup App, Mi Cloud, and Google Drive option to bring them back. In the absence of backup, you can try any third-party Data Recovery Tool to recover deleted videos from Redmi phone.
Rated Excellent on

Trustpilot
Free Data Recovery tool.
Recover photos, videos, & audio files from memory cards and internal storage of smartphones.
Read further to know more…
Can I Recover Deleted Photos & Videos From Xiaomi Phone? 
The short answer is "Yes". You can recover photos & videos from Smartphones.
Now, you must be thinking how?
Well whenever any photos, videos, or files get deleted from a smartphone, they aren't permanently removed. Those files still reside in your phone's internal storage but in a hidden manner. And they can be easily restored if those files are not overwritten by new files.
Restore Deleted Photos & Videos Using Third-Party Software
Data Recovery Tool is the best software which is specially designed to restore deleted, lost, formatted, corrupted data from several digital & storage devices including Xiaomi Redmi phones.
Also, it retrieves media files from SD cards, USB flash drives, hard drives, external hard drives, and other data storage devices.
Below you can find some other igneous features of this tool:
Restore popular picture, video, and audio file formats.
It shows a preview of the recovered file before the final recovery.
To operate this program, you don't even need to have any technical skills.
Read-only program, 100% clean, safe & easy to use
Supports both Windows and Mac OS respectively.
emid

emid


* Free version of the program only scans and previews recoverable items.
Follow this step-by-step guide to recover deleted videos & photos from Redmi phone effectively.
Note: Stop using your Redmi phone's SD card immediately once you noticed that your data get lost from it. Adding new data will overwrite the existing data and you will unable to solve the issue of how to recover deleted photos in Xiaomi phone.
Supported Xiaomi/Redmi Modals & File Formats
Supported Xiaomi Redmi Modals

Redmi Note 5/Note 5 Pro, Redmi 5/5A, Redmi Y1/Y1 Lite, Xiaomi note 10 pro, Redmi 4/Note 4, Redmi 4A, Redmi 4 Prime, Mi Max 2, Mi MIX 2, Mi A1, Mi 5S Plus, Mi Mix, Redmi 1S, Redmi Prime, Redmi Note 2, Redmi Note 3, Mi3, Mi4, MiPad, etc.

Support File Formats

Photo file formats (JPEG, PNG, TIFF, GIF, PSD

, etc.

)

Video file formats (MP4, AVI, MKV, WMV, FLV, MOV, etc)

Audio file formats (MP3, M4A, AMR, WAV, OGG, FLAC, etc.)
Recover Photos & Videos From Redmi Phone Without Software
Check out the below approaches to solve how to recover deleted photos from Redmi phones without software.
Method 1: How To Perform Mi Data Recovery Through Xiaomi Backup App? 
If you've synced your pictures & videos to the Xiaomi Backup app which is an in-built app, then you can easily recover deleted videos from Mi phone.
How to recover deleted photos in Xiaomi phone via backup App:
Open the Backup application on your Xiaomi phone.
Here you see the list of the files that you have backed up.
Now, select files that you want back and tap on the "Restore" button.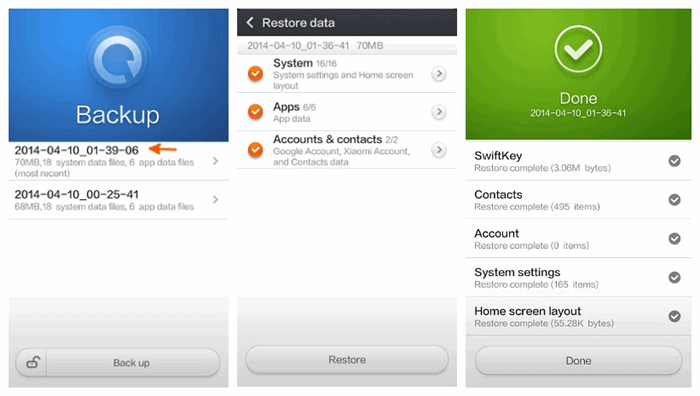 If this method won't help you to recover deleted videos from Redmi phones, try the next one.
Method 2: How To Recover Permanently Deleted Photos From Mi Cloud? 
Well, if you're a Xiaomi phone user then you might familiar with Mi Cloud feature.
But if you are not aware of this excellent feature then let me tell you that Mi Cloud is mainly used to store valuable files like pictures, videos, etc. safely.
Thus, if you have stored your important pictures and other data on Mi Cloud then you can recover data from Mi cloud.
In order to how to recover permanently deleted photos from Mi Cloud, follow these steps:
At first, you need to login into your Mi account>> go to the Settings
Next, tap the Mi Account and then Mi Cloud
After that, click on a Restore from the backup
Now, select a backup file which you need to restore >> tap Restore option.
All your backed-up stuff will be retrieved on your Xiaomi/Redmi phone.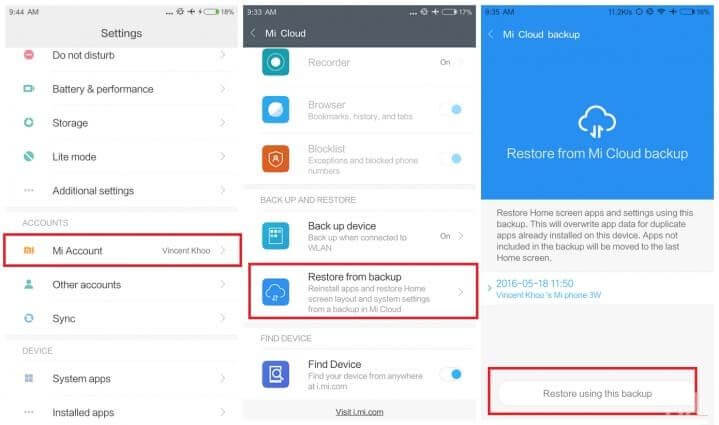 Method 3: Restore Deleted Files From Xiaomi Mobile Via Google Drive 
Google Drive is another option that you can try to solve how to restore deleted private files in Redmi mobile.
Though, if you have backup your crucial files such as photographs, videos, and other documents on Google Drive, you can easily access and retrieve them via laptop or smartphone from anywhere.
Here is how to recover deleted photos in Redmi phone:
On your Xiaomi mobile, you have to open the Google Drive app.
In the second step, go to the "My Drive" >> find & choose the items you want to recover.
Then, click the "Download" option and restore those selected archives to your smartphone.
Method 4: How To Recover Deleted Photos From Redmi Phone With Google Photos?
Another best solution that you can attempt to recover deleted photos from Xiaomi mobile is Google Photos.
Hence, if your Mi hidden files have been deleted automatically then you can go to a Google Photos application and check for those pictures in Trash.
Try the beneath instructions carefully to do recover deleted photos from Redmi phone via Google photos:
First of all, launch Google Photos application on Redmi phone
Next, you will get the erased images in a folder.
In case, you cannot see that folder, then tap on a Trash option now all photos will be visible.
Choose the stuff that you wish to restore >> tap a Restore.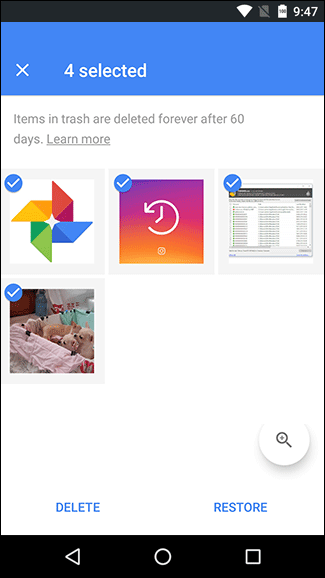 After finishing these steps, all photographs will back to their preferred location on your smartphone.
How To Recover Deleted Hidden Photos In Mi Phone?
The way of finding hidden photos on mobile is pretty much the same as executing the same process on Windows. Therefore, you need to try the below steps and solve how to recover deleted hidden photos in Mi phone:
Open an Explorer app.
Then, go to a Storage
Click on Menu>> Show hidden files.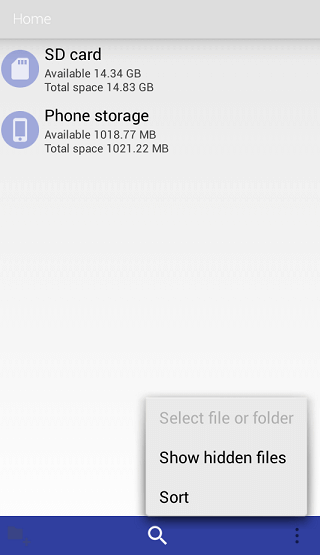 Now, if your Redmi mobile has the SD card, then navigate to folders MIUI >> Gallery >> cloud >>.secretAlbum in memory card storage, besides you can access this folder on your device storage to see if you find your 'deleted' photos here.
After trying these steps you will be able to recover deleted hidden photos in Mi phone.
Frequently Asked Questions:
How Do I Recover Deleted Photos From My Gallery Mi?
You can recover deleted photos from your gallery Mi by navigating to Gallery >> go to Album >> Trash >> choose the pictures that you want to retrieve. Then tap on Restore option. But remember that, you can find your deleted pictures in trash within 30 days only after deletion.
Where Is Recycle Bin In Mi Phone?
To find Recycle Bin in Mi phone, you need to open MIUI Gallery Application & then click on the three dots. This will redirect you to Mi Cloud trash/Recycle Bin.
How Can I Get Pictures Off My Broken Mi Phone?
In order to get pictures off your broken Mi phone, you can use the most reliable photo recovery software mentioned here.
Time To Conclude
You can lose your important photographs, videos, or other media files at any time. So, it's highly suggested to take a backup of your crucial files on a regular basis. Doing so will ensure that you won't lose them in the near future due to any unforeseen reasons.
Therefore, in this post, I have specified some effective ways that will help you to know how to recover deleted photos from Redmi phone with or without backup.
All the solutions are very effective but Data Recovery Software is the best among them.
That's all…
If you have found this post helpful and useful, then please do not forget to share it.
Taposhi is an expert technical writer with 5+ years of experience. Her in-depth knowledge about data recovery and fascination to explore new DIY tools & technologies have helped many. She has a great interest in photography and loves to share photography tips and tricks with others.