VLC your input can't be opened error is one of the common issues that occur when trying to stream/play any video clip or YouTube video by using a VLC player. Once this annoying error takes place, it will be really difficult to open and play a video smoothly on VLC.
Thus, if you are recently going through the same error, then you don't have to worry anymore. Just read out this whole blog & learn the 9 easiest ways to get rid of this problem along with the common causes.
To fix your input can't be opened VLC, you can reset the VLC preferences, disable Windows defender firewall, check for the latest VLC update and reinstall the VLC player.
So, let's get started…
How To Fix VLC Your Input Can't Be Opened Error?
Check out the below possible methods to troubleshoot VLC your input can't be opened Windows 10/8/7 and play your favorite movie smoothly.
Tip 1: Reset the VLC Preferences
Resetting the VLC preferences is one of the simple ways to resolve different errors and issues of VLC media players.
Important Note: All the VLC settings which you've changed will reset & you'll need to do the changes that you were made later installing a VLC.
Here is how you can reset the VLC preferences:
At first, open the VLC on your Desktop.
Next, tap on Tools that you can see at a top menu bar >> choose Preferences. Also, you can select a Ctrl+P key together to open it.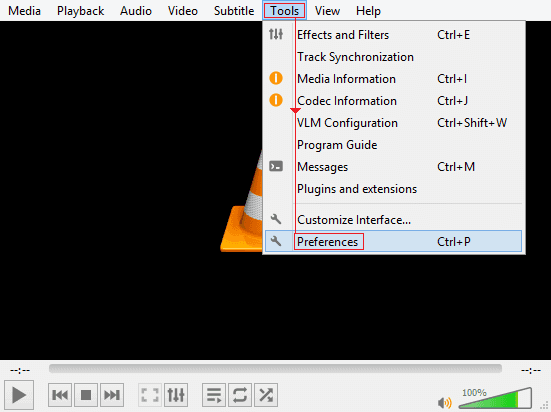 Under a Preferences window, you need to click on the Reset Preferences to confirm a dialog that will appear requesting you to confirm your choice.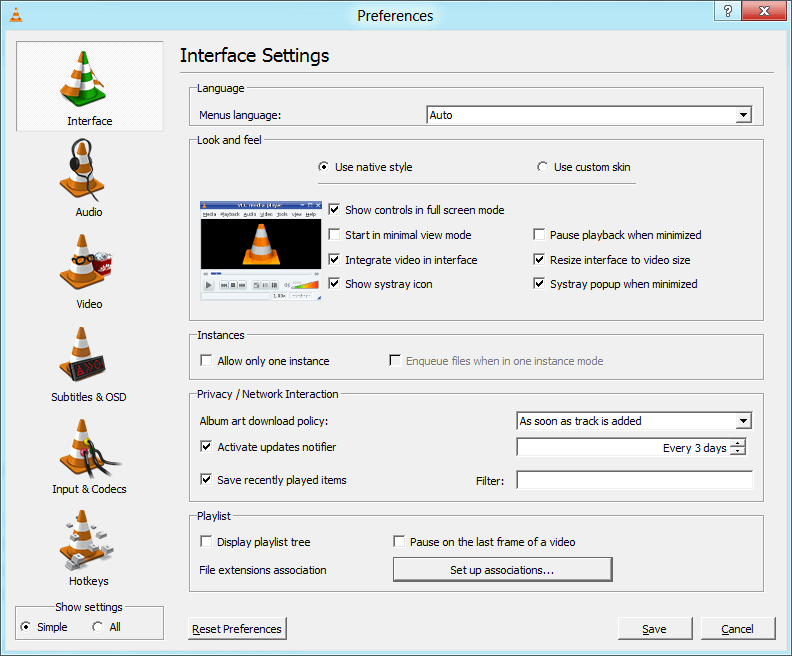 Now, you need to check if the "VLC your input can't be opened local file" error still appears.
Tip 2: Disable Windows Defender Firewall
Most of the time, it happens that YouTube URLs are blocked by the Windows Firewall. Due to which you can get the "VLC error your input can't be opened" error message.
Therefore, to fix this issue, you could disable the Windows Defender Firewall. By following the below instructions carefully:
First of all, on a taskbar, you have to tap on search icon and enter and click on the "Windows Defender Firewall".
After this, turn the Windows Defender Firewall on/off by clicking on it.
In a Private network setting & Public network setting, you have to check the box "Turn off the Windows Defender Firewall.
Lastly, tap on OK.
Tip 3: Save A Youtube.Lau File Into VLC Playlist
Well, there's a beneficial script offered on GitHub that can solve VLC media player error your input can't be opened while trying to open and watch the YouTube videos on VLC player.
Though the script content requires to be copied & it ought to replace a current script. To do so, try the beneath steps:
Simply tap on this link & copy a code.
In the second step, you have to create one new text document & paste that code.
After that, rename it to "youtube.luac" >> copy that file.
Then, go to the below-given location:
C:ProgramFiles(x86)/VideoLAN/VLC/lau/playlist.
In case, if you cannot find a folder, just right-click on VLC player icon >> choose Open a file location.
Finally, replace a youtube.luac document with a file that you have recently created.
Tip 4: Check For The VLC Updates
The outdated media player is the foremost reason that can result in VLC video freezes audio continues or other issues including VLC is unable to open the MRL error.
Therefore, if your VLC player is outdated then you need to update it by trying the below easy steps.
Step 1: Launch VLC and click on Help.
Step 2: Then, tap Check for the Updates.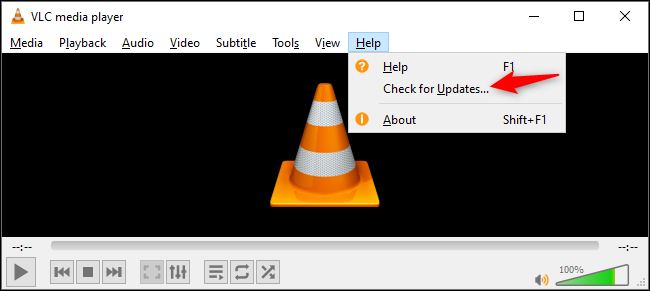 Tip 5: Disable Third-Party Anti-virus Software
Some third-party anti-virus programs can also cause such types of errors and bugs. In such a situation, you need to fix it via disabling the antivirus software.
Here is how you can do so:
Go to the Settings then Update and Security.

Tap on the Windows Security>> select an option Virus and threat protection.
In a Virus and threat protection setting, you need to tap on Manage settings& disable the Real-time protection.
Tip 6: Change File Ownership
Occasionally, your input cannot be opened VLC media player error arises while trying to play local video clips on your computer.
In order to get rid of this problem, you can simply change a video file's ownership. For this, you need to try these steps:
Find a video & make a right tap on it.
From a popup menu, choose Properties.
Then, go to a Security tab >> click on Advanced option.
Click on the Change >> enter the "Administrator" in a box. Tap on OK to proceed.
Here, check the box "Replace all child object permission entries with inheritable permission entries from this object >> click on Apply >> OK.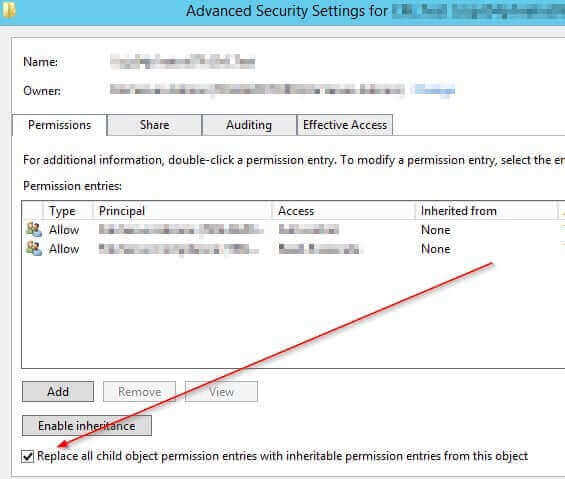 Tip 7: Reinstall VLC Media Player To Fix VLC Your Input Can't Be Opened
If none of the above tricks helped you to deal with such errors then reinstalling the VLC player can be useful for you.
However, several users have found this way helpful in their cases. That's why here we are recommending you to reinstall the program.
How to reinstall a VLC Media Player?
Firstly, ensure you've signed in by admin account. However, if you don't do so then you can't uninstall the program by using different account privileges.
Tap on a Start menu & search for Control Panel and open it. Otherwise, you can tap on a gear icon for opening the Settings if you're a Windows 10 user.
Under a Control Panel, choose View as: the Category at a top right side corner
At this time, tap on the Uninstall Program in the Programs sector.
Now, if you're using a Settings application, click on Applications must open the shortlist of all the programs that are installed on the computer.
Find a VLC & click on it. Here, you need to tap on Uninstall option & confirm any prompted boxes that may appear.
After that, wait until the uninstallation process is finished >> restart your PC.
Again, you need to download the VLC media player on your device.
Once the above steps are completed, check if the issue is resolved.
Tip 8: Use Different Media Player
This is another effective method that you can try to resolve how to fix VLC is unable to open the MRL issue.
If you're unable to play your favorite movie on VLC media player, then it is highly recommended to try different media players such as Windows Media Player, KMPlayer, RealPlayer, JetVideo Player, etc.
Do you know why we are suggesting this method? This is because most of the time it is possible that a player you are using does not support the video codecs.
Tip 9: Contact To Official Support
The last resort that can help you to troubleshoot this problem is to contact to official support. Simply visit the VLC's official support site and get expert help. They will definitely help you to fix "VLC error your input can't be opened" successfully.
Common Causes For "VLC Your Input Can't Be Opened" Error
There could be several reasons that can lead to MKV files not playing in VLC or other issues including the broken link of a video.
Hence, below we have listed the possible causes that can cause the below-shown error.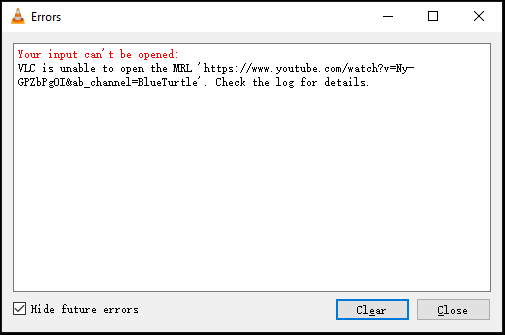 1. Damaged YouTube Script
Damaged or broken YouTube Script is one of the major factors that can result in such kinds of errors. Therefore, in such a situation changing certain details in a YouTube script could help you to fix your problem instantly.
2. VLC problems
Sometimes, errors take place in the media players when there's some issue with the settings of the player.
Similarly, if you've intentionally or unintentionally changed the VLC settings after installation, try to reset VLC preferences/reinstall the VLC player.
3. Video Ownership
Suppose, if a problem seems with the single video or more than one video from same source then it is possible that there're problems with an ownership of a video.
So, these are the most common reasons behind the occurrence of the error in VLC media players.
Additional Tips To Avoid VLC Media Player Error Your Input Can't Be Opened
Always open a healthy MRL & audio/video file links by using the VLC media player.
Don't force to open and play the video files which aren't compatible with the VLC.
Update the connected drivers & Windows on a regular basis to avoid any bothersome settings.
Keep your VLC media player updated.
Frequently Asked Questions:
How Do You Fix Your Input Can't Be Opened VLC Is Unable To Open The MRL?
To fix your input can't be opened VLC is unable to open the MRL, try the below troubleshooting tricks:
1. Reset the VLC preferences
2. Disable the Windows Defender Firewall.
3. Save a YouTube.lau file in a playlist folder of VLC.
4. Check for the VLC Updates.
5. Disable the third-party anti-virus software.
6. Reinstall VLC.
7. Change a file ownership.
What To Do When VLC Is Not Working Properly?
If your VLC media player is lagging or not working properly, then it is highly suggested to try these basic tips:
1. Change the caching value
2. Change a Skip loop filter option for H.264 decoding
3. Use another media player
4. Change a video output module
5. Disable the hardware decoding.
How Do You Fix VLC Can't Recognize The Input's Format?
In order to fix this problem you need to go to the Tools >> Preferences. Here, you need to tick show all settings at a bottom. Now, go to the Input or Output codecs-then Demuxers & select the default. After this, it'll automatically select a proper codec.
To Pack Up
I hope, now you have got a complete idea regarding how to resolve the VLC error your input can't be opened.
Here, we have specified 9 tried and tested solutions to fix this issue. To use these fixes you don't even require having any technical skills.
Hopefully, this article proves helpful to you. Good luck…!
Taposhi is an expert technical writer with 5+ years of experience. Her in-depth knowledge about data recovery and fascination to explore new DIY tools & technologies have helped many. She has a great interest in photography and loves to share photography tips and tricks with others.