CF Card Data Recovery – Recover Deleted/Lost Photos, Videos & Audio Files from CF Card
Overview – Have you deleted your important data like pictures, movies, music files from your CF card? Do you want to restore back deleted photos, video or audio files from Compact Flash (CF) card? If "yes" then you can easily restore those lost, erased media files from CF memory card with the help of Digital Media Recovery Tool.
With the help of this recovery tool, one can:
Retrieve deleted, lost, erased, formatted photos (jpg/jpeg, png, tiff, bmp, raw, etc) from CF card
Beside image files, the software also restores various video and audio file formats
Support various types of memory cards including SD card, miniSD, microSD, SDHC, SDXC, MMC, TF, Eye-fi card, etc
Support CF card manufactured by various brands such as SanDisk, Transcend, Strontium, Verbatim, HP, Toshiba, Kingston, Apacer, Samsung, Sony, etc
Preview recoverable media files within software before you proceed to save them on PC
Read-only program, 100% safe & clean and easy to use
CF card which is also known as Compact Flash Card is popular flash digital memory card which was developed by SanDisk in 1994. The capacity in this card is usually varies from 128 MB to 64 GB and is used as a mass storage device to store data in portable electronics devices like music players, digital cameras, digital audio recorders, personal digital assistants (PDA's) etc. CF card when compared to other memory cards like SD, Memory Stick, XD Picture Card or Smart Media, it is bit larger in size among all of them but has a low cost per MB with a faster speed.
As this card exhibits solid-state construction and is more rugged than traditional storage devices, it is quite popular among professional photographers. This card is also preferred for more demanding photography as it takes very quickly shot of high resolution pictures or can take a picture of a moving object as well. But like any other portable storage devices or memory cards this card is also susceptible to corruption or damage that can lead to severe data loss issues. Some of the common photo or digital media loss situations are discussed here below.
Reasons behind the CF card corruption or photo loss!
At times due to accidental deletion or accidentally pressing the format button leads to the loss of all data stored in the card.  Sometimes situations like battery low or turning off the device while read/write process is on progress can also lose your important data from CF card. Not only that, virus attacks and various such issues can bring down all your work to 'Nil'.
Some reasons and how to avoid that are given bellow read them carefully and apply in your daily life to protect CF card from corruption.
Virus infection– Virus attack can make your CF card totally infected or inaccessible, this is very harmful for any type of data storing device. It happens when you connect your CF card to any virus infected computer system or other infected device. To avoid virus infection install a strong antivirus program on your computer and update it on regular basis. Also avoid connecting memory card with any infected system.
Improper Removal of CF card– If you rudely remove memory card from any device like computer then it is very harmful for your data. To avoid it remove memory card properly from computer system and other devices like camera, mobile phones, tablets and other. In computer safely removal option is given to remove memory card safely.
Low Battery– If your camera or mobile phone display low battery option then immediate stop using it because using camera, mobile phone and any other device is very harmful for your data and device. If you click image in low battery then your device is unable to process it completely due to lack of power and so that card gets inaccessible. If your computer displays "Low Battery" then stop using it.
Improper system shut down– If improper system shutdown occurs due to power cut or any other problem while transferring data from computer to memory card or card to computer then it affect the entire memory card and make it inaccessible. So use any power backup option to fix power cut scenario, if your computer restart automatically then consult with expert to fix it.
What is the "solution" to restore deleted CF Card data?
As you know photos or any digital media lost from its source is very difficult to rescue unless you have updated backup of the lost data, especially when your CF card has been formatted. But there is nothing to be worried about because with CF Card Recovery software you can easily restore back all your data that you have lost due to reasons as stated above. This tool effectively recovers all the deleted or reformatted and damaged data from Compact Flash card, whether it's a digital photo, videos or music files. It effectively scans the entire CF card with its powerful and advanced algorithm and displays list of all objects that can be recovered. With intuitive 4 forms of recovery options, the freedom always lies in your hand.
It supports all the Windows operating system and is designed to restore any kind of RAW file formats. It is not like any other recovery software that takes hours to scan first and then another hour to recover the lost data with degraded quality. This software is really very fast and recovers everything in its original quality. This is a must have tool for any professional who deals in this area every now and then. If you work with CF cards then CF Card Recovery software is "THE" thing for you. So, just grab a copy of it right now and explore your world with CF card as a media to store whatever you capture.
You Might Also Be Interested In:
Steps to recover deleted data From CF Card:
Step 1: Download, install and execute this software. Connect the CF card to the PC and once the software detects it choose it to recover the data from it.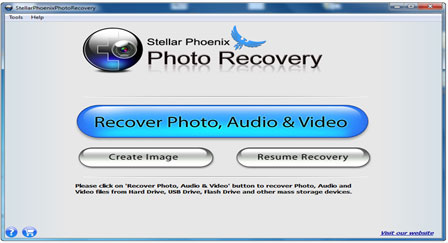 Step 2: Click the 'Scan Now' button to scan the entire CF card or any particular area of it.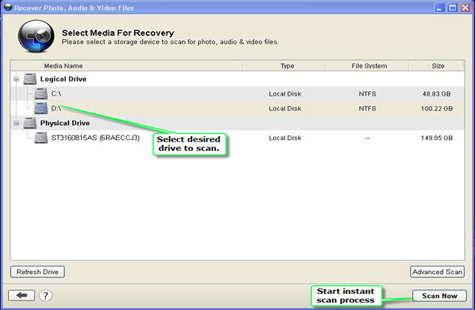 Step 3: Once the scanning finishes, it will display all data that can be recovered in thumbnails. So either recover them all or choose any particular data from the given list.