Like any other data storage media, CF cards are also beneficial to store crucial media files so that they can be accessed later. But at times, the CF cards may corrupt due to several unexpected reasons. But, don't panic! Because the CF card corrupted and unreadable problem is not so difficult to fix. Here, in this optimized post, I am going to discuss how to fix corrupted CF card and make it function normally without affecting any important files stored within it.
Rated Excellent on

Trustpilot
Free SD card recovery tool.
Recover data from corrupted, damaged, & formatted SD cards of all brands on Windows. Try now!
Why Do CF Cards Get Corrupted?
Well, there could be various reasons for the CF card becoming damaged/corrupt/inaccessible. But below I have listed the most common causes for CF card corruption issues:
File system corruption
Physical injury to the card
Bad sectors in the CF card
Virus or malware in the CF card
CF card gets corrupt due to power failure
Due to removing your CF card while transferring the media file process
When attaching the CF card to the virus-infected system
Use the same CF card on several devices and operating systems.
So, as you have known the major factors, now let's scroll down this page and learn how to fix CF card errors.
How to Fix CF Card Corrupted and Unreadable Issues?
No matter whatever the reason may be responsible for CF card corruption, below you can find out the best fixes to repair corrupt CF cards on both Windows & Mac OS.
For Windows Users:
Fix

#1: Connect The CF Card To Another Computer
Sometimes, the devices fail to read your CF card because of incompatibility or any driver-related issues. In such a case, try to connect your compact flash card to another device such as a PC, another phone, a camera, and more.
After doing so, you will be able to access your CF card with ease.
Fix

#2: How to Fix CF Card Error Using CMD
Many times, it happens due to corrupt file systems, users are unable to access their data saved within the CF card. And even they receive different errors on their device's screen.
In such a case, running the chkdsk can assist you to solve the issue. here is how you can run the chkdsk on your Windows PC to check and repair corrupt system files:
Connect your CF card to Windows PC
Go to the Start menu >> type CMD in the search box.
Click on the Command Prompt >> Run as the Administrator option.
Once the CMD windows appears, type chkdsk /f /r x command >> press Enter. (Please Note– Here, replace x via the drive letter of your CF card).
Fix

# 2: Reformat CF Card Corrupted and Unreadable
Reformatting is the best solution to fix any logical damage in the SD card, CF card, memory card, and other storage devices. To do so, you need to just follow the below steps:
First of all, insert your CF card into the card reader.
Next, connect a card reader to the system.
In the window screen, choose My Computer/This PC.
After that, find your connected CF card drive there.
Now, right-click the drive and press the "Format" option.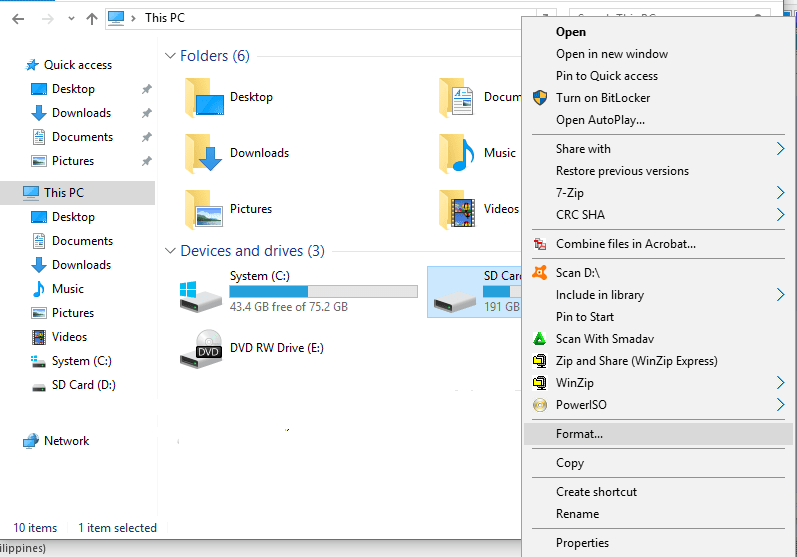 Then, make all the settings are at the default
At this time, make sure that the "FAT32" file system is set to format. This is the file system that CF cards require to be navigable by systems.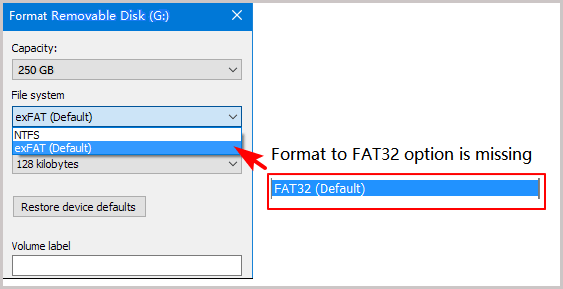 Lastly, click on the "Format" bottom to allow the process to finish.
After following these steps, if your card is still showing an error message "CF card corrupted and unreadable" then you can try the next solution.
For Mac Users:
Fix

#1: Using The First Aid
Well, First Aid is the most powerful way when it comes to resolving the disk-related issues. So, to fix broken CF card using First-Aid, just follow the below steps:
Firstly, open the Disk Utility on the system.
Next, choose the Compact flashcard from the appearing list at the left-sidebar.
After that, select the "First Aid" tab that is located at the top of the screen to resolve this error.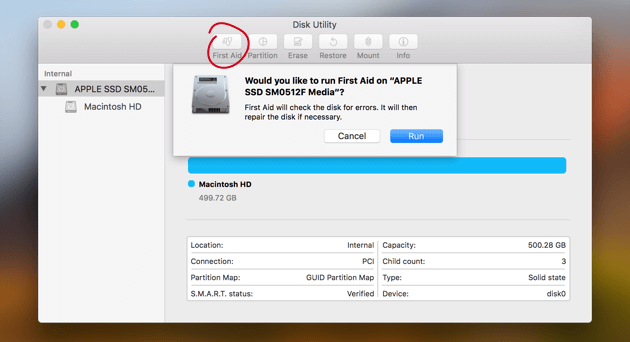 If this fix won't work then try the next method for CF card repair.
Fix

#2

: Repair Compact Flash Card Using The Disk Utility
Another yet option that you can try to fix corrupted CF card is to use the Disk Utility. For this, you need to follow the below steps:
Step 1. Firstly choose the Applications by double-clicking on the Macintosh HD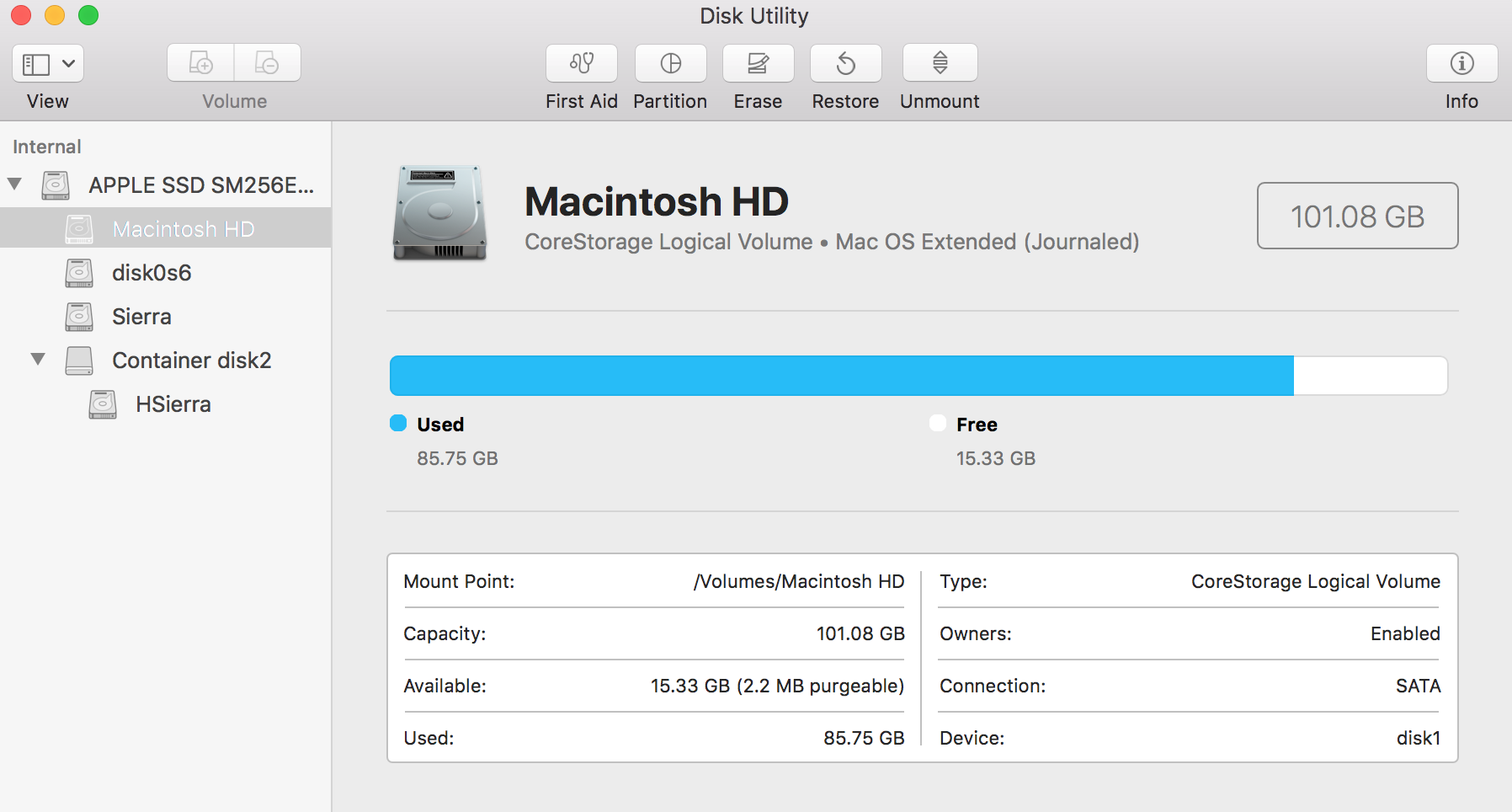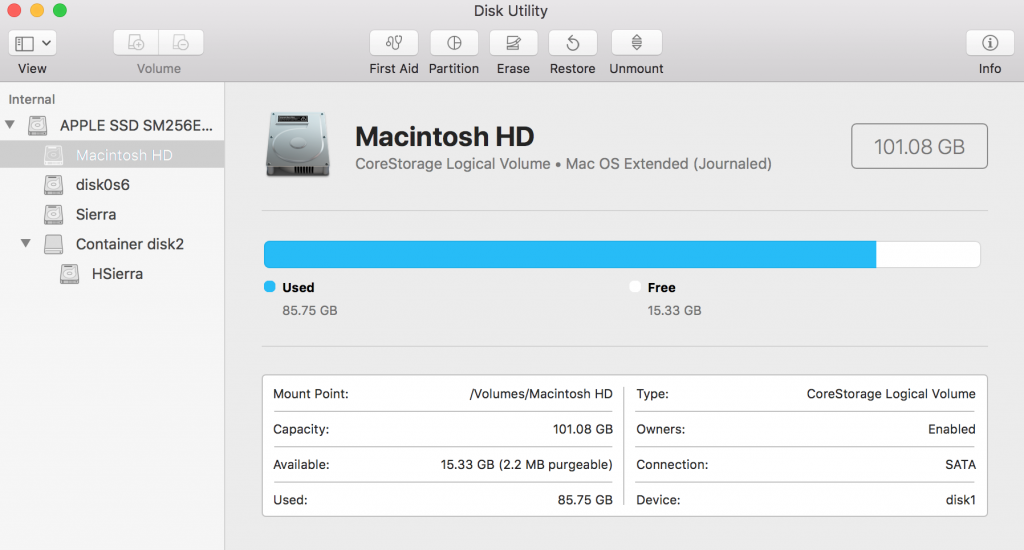 Step 2. After that, go to the Utilities and then choose an option Disk Utilities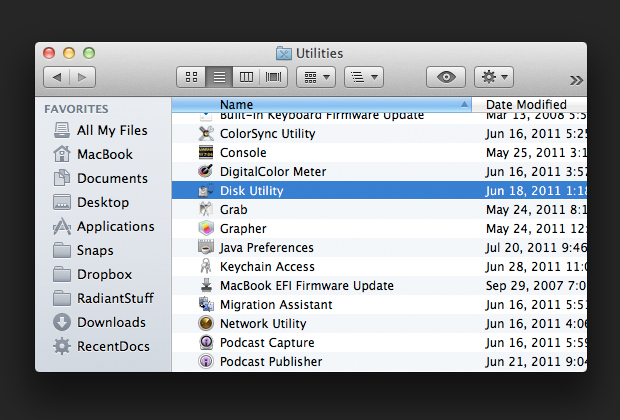 Step 3. Next, from the Utilities, select your CF Card
Step 4. Now, select the Erase and then, click on the MS-Dos File System (FAT 16)
Step 5. Lastly, hit the Enter to finish the process
How To Recover Files From Corrupted Cf Card?
After fixing the error "CF card corrupted and unreadable", if you ever find that all your essential photos, videos, and audio files get deleted then, you can easily them back with the help of the CF Card Recovery Tool. This program will help you restore lost data from external storage devices with ease.
With the help of this CF card recovery tool, you can also:
Recover deleted all kinds of image file formats
Get back lost videos file format
Retrieve deleted or corrupted audio files
Restore photos & videos from other external storage devices like SD cards, microSD cards, CF cards, memory cards, USB flash drives, external hard drives, etc.
Preview recoverable files within the software before you proceed to save them on the computer
Support SD cards manufactured by various brands such as SanDisk, Transcend, Lexar, Strontium, Verbatim, HP, Toshiba, Kingston, Apacer, Samsung, Sony, etc
Read-only program, 100% safe & clean, and easy to use.
So, just download this corrupted CF card recovery software on your Windows or Mac PC and see the result.
emid

emid


* Free version of the program only scans and previews recoverable items.
Steps To Recover Deleted Photos & Videos From Corrupted CF Card
Step 1: Select Desired Location
Firstly, select the drive, external media or volume from which you want to recover deleted media files. After selecting, click on 'Scan'.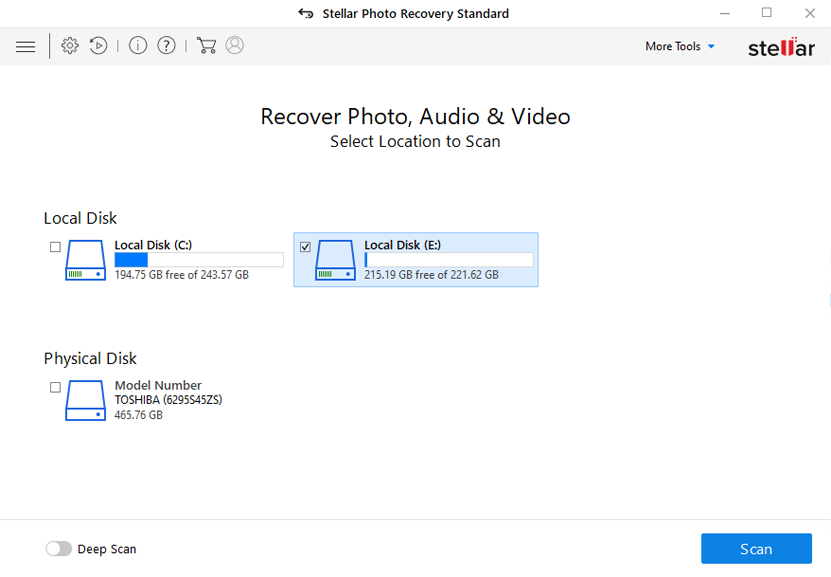 Step 2: Preview Recovered Media Files
Next, you can preview the recoverable media files after the scanning process is completed.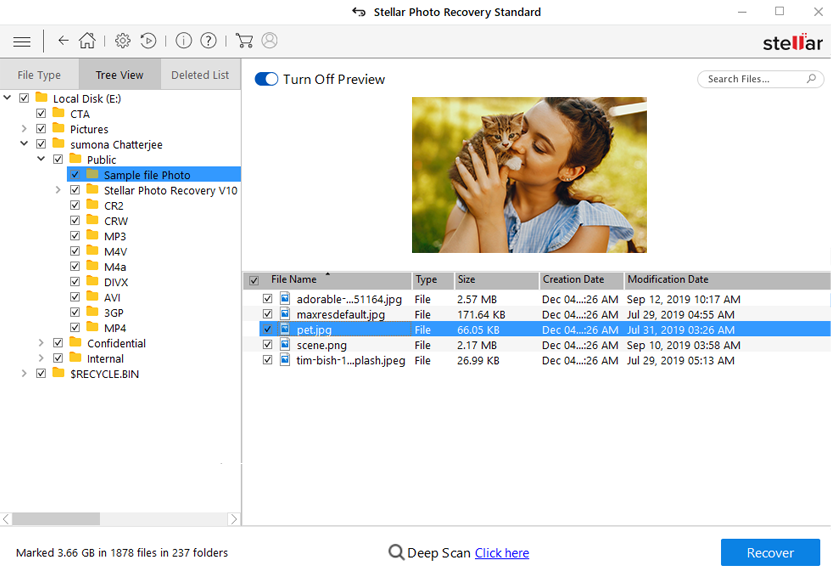 Step 3: Recover Media Files
Lastly, you can select the images, audio, video files you want to restore and click on 'Recover' option to save them at the location you want.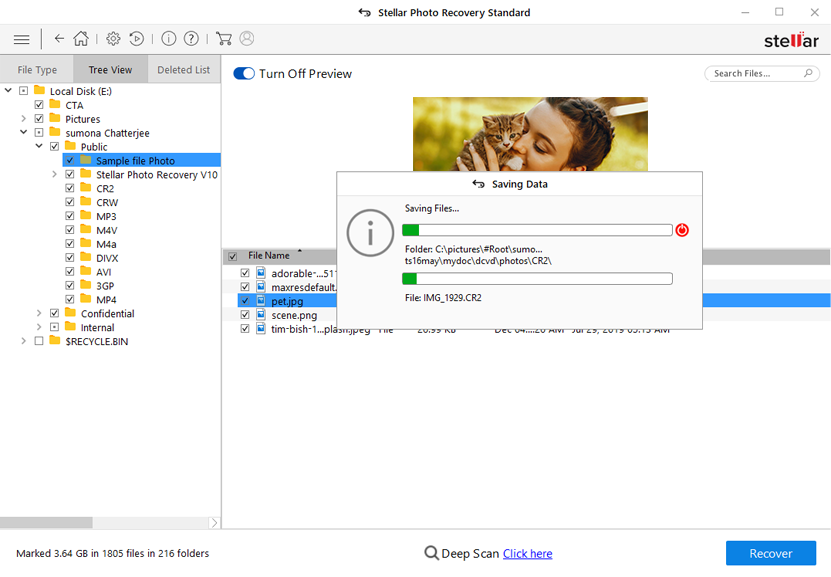 Tips To Avoid CF Card Corruption
Follow the below essential tips to prevent "CF card corrupted and unreadable" error in the future.
Do not add new files when showing the message "Card is full"
Instead of deleting single files to empty your CF card, make a habit of formatting it at once
Eject the CF card in a proper way
Avoid using the same card on numerous devices
Always switch off a digital camera before detaching the CF Card.
Frequently Asked Questions:
How Do I Restore My CF Card?
You can restore your CF card data either from a backup that is created before deletion or using CF Card Recovery Tool.
How Do I Fix CF Card Not Formatted Error?
Do You Need to Format a New CF Card?
Yes, it is necessary to format a new CF card before you insert it in Camera and use it to store pictures, and video recording in it.
Can You Recover a Formatted CF Card?
Yes, you can recover a formatted CF card data. If you have made backup of your CF card data before formatting it, you can easily restore them from there. In the absence of backup, it is recommended to opt for CF Card Data Recovery Tool mentioned in this post.
Final Words
Well, if you are getting an error "CF card corrupted and unreadable" then there are several methods available. Hence, in the above section of this blog, I have mentioned the easiest and fastest solutions to fix corrupted CF cards that you can try.
Apart from this, if you ever find that your CF card has been corrupted and the stored media files get deleted without your consent then, you can recover deleted files from the CF card using the CF Card Data Recovery Tool.
Last but not the least, also follow the above-given tips and tricks to avoid further CF card corrupt files issues.
I hope this blog will be helpful to you.
Taposhi is an expert technical writer with 5+ years of experience. Her in-depth knowledge about data recovery and fascination to explore new DIY tools & technologies have helped many. She has a great interest in photography and loves to share photography tips and tricks with others.