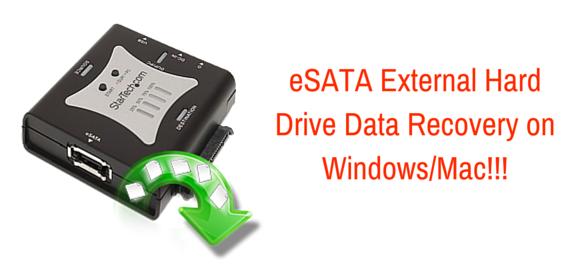 Recover Deleted/Corrupted/Lost/Damaged Data From eSATA External Hard Drive Recovery Easily
Recovering deleted data like photos, videos and music files from any external hard drive is not a difficult task if you have a relevant data recovery tool with you can then you can easily retrieve them back with Hard Drive Recovery Tool. Using this tool, you will be able to:
Retrieve deleted or lost photos, videos and music files from your external hard drive easily
Get back lost data also from any memory card types with an ease
Recover deleted photos of any different file formats like GIF, BMP, PNG, JPG, PSD, PIC, etc
See preview of lost data before proceeding to restore the lost data
Retrieve Deleted Lost Data eSATA External Hard Drive



* Free version of the program only scans and previews recoverable objects.
External Serial Advanced Technology Attachment is called as eSATA which is exact as SATA hard drive, the only difference is in the interface (connection type). It is deemed as ideal device for professionals. Modern working stations, company or users using high end PC has this drive on board. If you are one working on some particular projects and is specifically connected with the hard drive connected to single computer, then having eSATA hard drive is the good option. It is because it offers high storage capacity as compared to any other hard drive and allows users to carry it anywhere they want to. It also provides high speed data transfer even higher than FireWire 400 mb/sec which makes it a great choice for external storage disk.
But as coin has two sides, similarly eSATA Hard Drive are not free from data loss problem. There are several common reasons through which users of face data loss from their eSATA Hard drive. Some of them are mentioned below:
Causes of the Hard Drive Corruption
Before moving towards how to recover data from hard drive, it is imperative to know the causes behind the hard drive corruption. This will; help you to avoid it in future. Here follow some of the common causes of hard drive failure:
Heat: This is primary causes behind hard drive failure. The insufficient ventilation and cooling in and around your computer hardware can cause damage to the equipment.
Physical damage to computer: Any type of physical force likes bumping, jarring, or dropping your system may lead to physical damage to the hard drive. And this can corrupt the hard drive data stored in it.
Power Voltage Surges: It can cause due to lightning strikes, interference with power lines can causes the flow of energy to be interrupted and then restarted. Power surges might  result in data loss when the read/write heads fail to function properly or a computer crash
Corrupted files: due to improper closing of the files, abruptly system shutdown, hardware failure, installing new software or due to NFS write error the hard drive gets corrupted and as a result the data stored becomes inaccessible
Human error: This is also a common cause behind the corruption. The accidental deletion of files, improper installation and removal of files from your computer can cause the hard disk to malfunction.
Viruses and Malware: Sometimes due to viruses and malware in your system can corrupt the hard drive and the data stored in it also becomes corrupted. This very harmful for the system and also the data stored in it.
Best way to Retrive Data from eSATA External Hard Drive
Looking to recover lost, deleted or inaccessible eSATA Hard Drive data then first of all stop using your hard drive. As the new data overwrites the entire data stored in it. And it becomes impossible to recover it in future by any means. So, as soon as you are aware of the data loss situation stop using the hard drive right there.
And after that follow given ways for the eSATA Hard Drive data recovery.
Restore Data from Backup
It is always said of keep valid backup of the data. So, if you are the one having the recent valid backup then you can easily restore data from there. Having a backup is very imperative to overcome the data loss situation in future.
Retrieve eSATA Hard Drive Data from Hidden Files:
If your PC is having any kind of viruses or malware then there are chances your data becomes gets concealed. There are nasty malware designed by the developers that have the ability to conceal the entire data and perform many other tasks. So, to fix this situation scan your system completely with healthy Antivirus program.
Fix Errors in the External Hard Drive
If your external hard drive is showing any formatted or RAW error, then try to fix the error as soon as possible. When the hard drive face any type of error then in such cases the data stored in it becomes inaccessible.
Utilize of the eSATA Hard Drive Data Recovery Software:
You can make use of the best professional recommended eSATA Hard Drive Data Recovery software. This allows you to repair any sort of issues, corruption as well as errors in the hard drive, memory card, USB drive and other storage media. With the help of this you can easily restore deleted, formatted, corrupted, missing and inaccessible videos, photos and audios from any digital media devices. This application uses its powerful scanning algorithm to locate and recover the files. It is easy to use.
You May be Also Interested In:
Steps to retrieve lost/deleted data from eSATA External Hard Drive
Step 1 – Install "Photo Recovery" software and launch it on your computer. Click on "Recover Photo, Audio & Video" tab to recover photos, videos and audio files from any SD card, external USB drive or computer hard drive. Connect the media to your computer and then perform the process.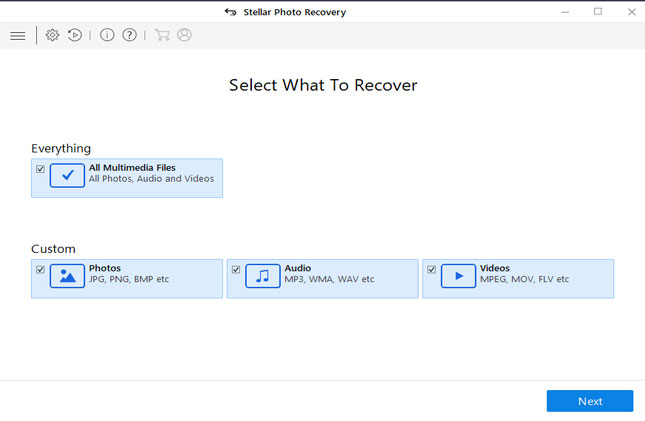 Step 2 – Select the drive from which you want to recover files. All the hard drive and external media will be shown in the list. Now select the desired drive to scan and then click on "Scan" button.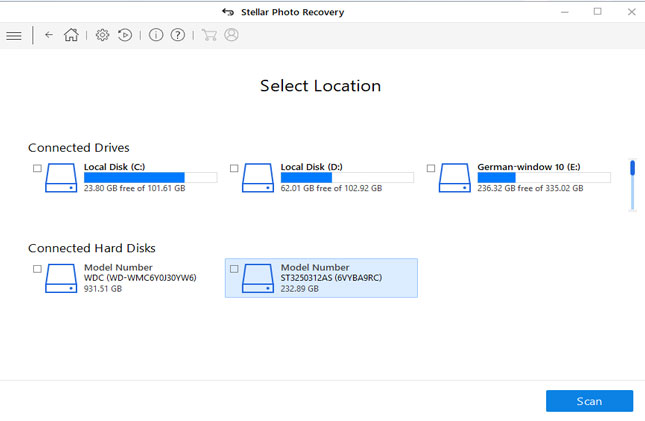 Step 3 – Once you click on "Scan" button the software will show that scanning is in progress. The software will search for all multimedia files from your selected drive or attached media.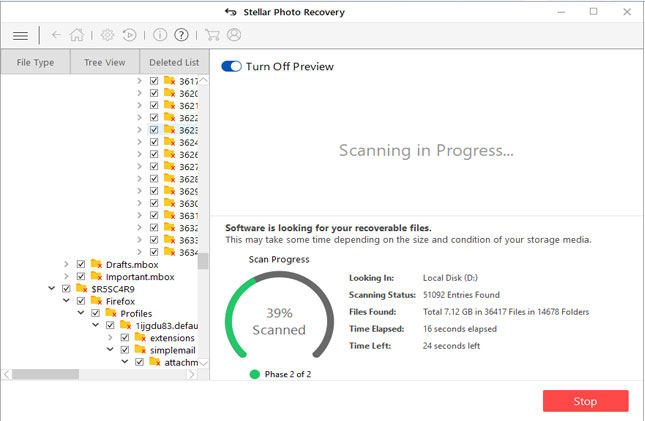 Step 4 – After scanning, all the files that are found in the selected volume, hard disk or other storage media devices are listed. You can now select the files to preview them and then you can click on "Recover" button to finally save them on your computer.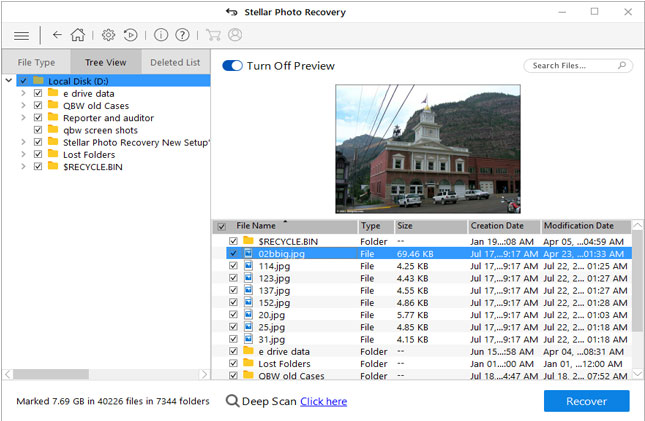 Tips to prevent data loss:
Here follow some useful tips to prevent the data loss situation as well corruption of the hard drive in future:
Backup your storage drive– It is highly important to make a valid backup of the files like videos, audios, images etc on daily basis. If you have a portable hard drive then it will be easy to backup all data.
Avoid unexpected system shutdown: To avoid the data loss situation avoid the unexpected system shutdown. As this can corrupt the hard drive and data becomes inaccessible.
Prevent malware/viruses: Scan your device completely with good antivirus program to avoid malware or viruses. This can also corrupt the hard drive.
Conclusion
In this article I tried my best to provide ample information about how to recover lost, deleted eSATA Hard Drive Data and also fix other issues related to the hard drive.
You can also follow the tips given to avoid the corruption of the hard drive in future.

If you have found this post helpful and useful, then please do not forget to share it.
Also like and follow us on Facebook, Twitter and Pinterest to get latest updates.
That's it…
Summary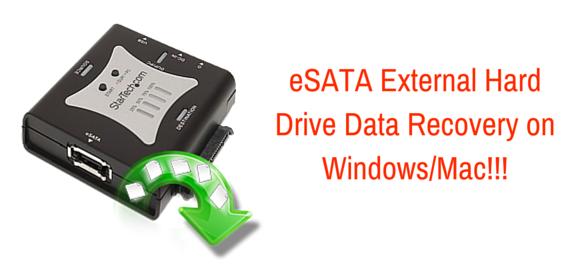 Article Name
How To Restore eSATA External Hard Drive Data on Mac/Windows!!!
Description
To restore eSATA External Hard Drive lost, deleted, erased and missing data make use of the best Hard Drive Data Recovery software or stored it from backup.
Author
Publisher Name
Publisher Logo