External Hard Drive, also known as HDD is a very important device that is extremely portable for one to carry from one place to another and also allows to backup any important data from a computer or laptop to it.
Moreover,  an external hard drive that contains your valuable backed-up data can be affected by accidental deletion or virus attack without any prior notice. As the case may be, this happens as an unpleasant surprise that makes you feel as if you have lost something very dear to you which is your cherished backup data on the external hard drive.
Regardless of the damage to your external hard drive, you need not worry, simply because there are various ways to recover data from external hard drives effortlessly.
Read this article carefully to find out the various ways to recover deleted files from external hard drive:
Part 1: Best Way to Recover Files from External Hard Drive with 4DDiG
Fortunately, you don't have to go through any hassle anymore in finding out how to recover deleted files from external hard drive because a tested and proven external hard drive recovery software called 4DDiG has come to the rescue!
4DDiG is a data recovery software that helps to recover lost data from external hard drives that occurred due to virus attacks or accidental deletion.
However, the steps below explain how to recover data from external hard drive:
Step 1: Connect and Select the External Hard Drive
Firstly, you need to get 4DDiG Data Recovery and install it on your computer then run it. Launch it, connect your external hard drive to your laptop or computer. After it displays, navigate to where you lost data, and then click the external hard disk to start scanning immediately.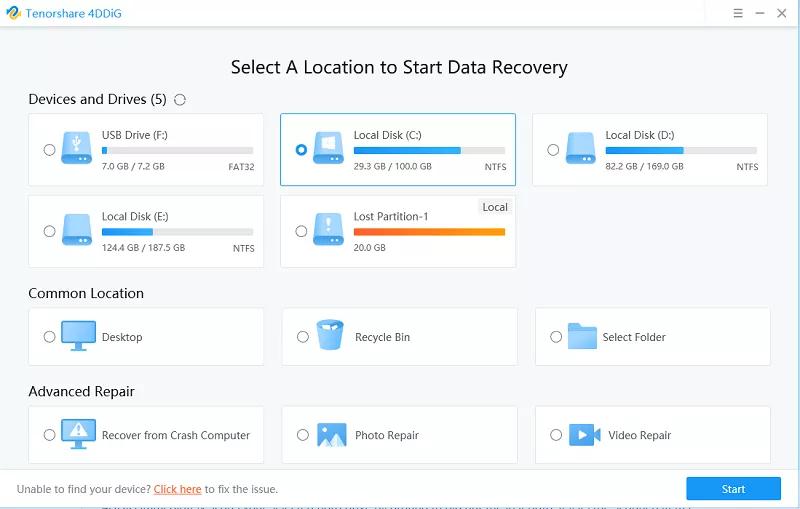 Then, select the file types you want to scan and click "Scan Selected File Types" or "Scan All File Types" to start scanning the drive.
Step 2: Scan the External Hard Drive
After you have connected and selected the external hard drive, then the next step is to scan the external hard drive. 4DDiG Data Recovery software quickly analyzes the external hard drive completely for missing data and you are allowed to stop or pause the searching once you have spotted the files you want to restore.
There are sections such as Existing Files, Deleted Files, RAW Files, Tag Files, and Lost Location under the Tree View. You can as well switch to File View to check file types like Audio, Video, Photo, Document, Email, and others. You can even narrow down your search by the use of Filter on the left side of the panel.
But, if you can't locate the desired lost data, you can then perform a Deep Scan at the bottom of the interface to restore deleted files, which may be a little time-consuming.
Step 3: Preview and Restore from the External Hard Drive
After the discovery of the target files, then preview and restore them to a secure location. Note that in the case of disk overwriting and permanent data loss, don't save to the exact partition where you lost them earlier.
Part 2: Other Ways to Recover Data from External Hard Drive
There are other ways to recover data from an external hard drive, and these methods are as well explained below:
Method 1: Recover Data from External Hard Drive with Command Prompt
You can also recover data from external hard drive using the command prompt which is also known as CMD. To recover deleted files using CMD, follow these steps:
Attach your external hard drive to your laptop.
Click Win + R keys to start the Run program.
Type cmd and click OK.
Enter the command below in the Command Prompt window:
ATTRIB -H -R -S /S /D X:*.*

Ensure you replace the "X" above with the original drive letter of your external hard drive.
Method 2: Retrieve Data from External Hard Drive with File History
This is another external hard drive recovery method that enables one to recollect and retrieve former types of files after it is being deleted. It is needed to activate File History manually to work.
Type in "File History" into the search bar located on your desktop space and select Recover back files with the use of File History, then make sure your hard drive is included in the functional location of the file history.
To recover a former type of a file with the use of the file history located in Windows, follow the steps below:
Locate the folder where your files were initially stored before being deleted.
Then right-click inside the opened folder and choose "Properties".
Access the Previous Versions tab.
Choose the Previous Version that you want to restore.
Select the restore button.
Method 3: Restore Data from External Hard Drive with Windows System Checker
The System File Checker, also known as SFC, is a DIY method that can also recover deleted files from an external storage drive. The steps below are to be followed if you are using the SFC method:
Firstly, you will have to run the command prompt as administrator. To do this, click on Windows key + S, type in Command Prompt, and select the Run as Administrator option.
When you approach the Command Prompt, input the command "SFC /scannow" then click Enter to run a full system scan to have System File Checker attempt repairs.
sfc /scannow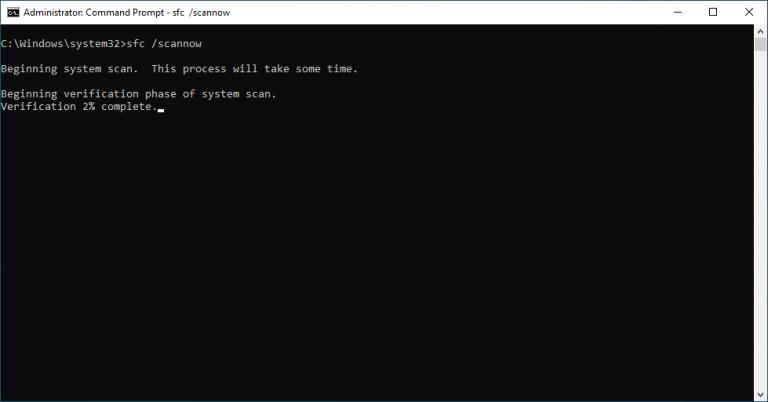 Ensure you keep the Command Prompt window open when the command is scanning all your protected files. Then it will restore the files that are corrupted with a cached copy in a compressed folder.
After the command runs successfully, then the prompt 'Windows Resource Protection did not find any integrity violations' will be visible to you on your screen.
Method 4: Recover Data from External Hard Drive for Previous Backup
A previous backup is an alternative method to recover external hard drive previously lost data or files. This will allow you to only recover files to the state they were in when they had been backed up. However, it is a nice idea to keep more than one backup of your data in cloud storage so you can turn to these previous backups.
Method 5: Recover Data from External Hard Drive with Local Data Recovery Service
Using a Local Data Recovery Service to recover deleted files from external hard drive is more expensive than the other external hard drive recovery methods that were explained earlier. Also, take note of these essential pointers below when approaching a data recovery service:
Ensure you choose a reliable Data Recovery Service Centre.
Agree to the price of the recovery service before proceeding with the process.
Also, ensure the recovery service company you approach has a "no data/no charge" policy.
Part 3: Tips for External Hard Drive Data Recovery
Here are some tips for you to take note of when recovering data from an external hard drive:
Don't delay the recovery process: The earlier you install the hard drive data recovery software on your computer and use it to scan the storage device on which the lost data or files were located, the better chances you have in getting your files back.
Use the best software available: You need to be careful when selecting the data recovery software to use, simply because not all software performs the same. Some support only a few file formats, while others are versatile and can restore any file and also repair files that have been corrupted. Remember that a data recovery software has been recommended to you in this article, called 4DDiG, so try it.
Minimize the risk of overwriting: Overwriting of files prevents the possibility of a deleted file or data to be recovered. So try to minimize the risk of overwriting, such as unplugging the hard drive in question until you are ready to begin the recovery process.
The above-pin-pointed tips are very important and can be the difference between partial data recovery and complete data recovery. Another way to ensure successful recovery is to back up all important files regularly and keep the backups someplace safe. By doing that, you will be able to recover any lost file or data after experiencing a total hard drive failure.
Conclusion:
After having read through this article, you can't deny the fact that you now know how to recover deleted files from external hard drive effortlessly without any stress. Ensure you remember the best and most recommended way to recover external hard drive lost data or files is the use of 4DDiG.
Alex is an expert technical writer with 7+ years of experience. His in-depth knowledge about data recovery and fascination to explore new DIY tools & technologies have helped many. Alex has a great interest in photography and loves to share photography tips and tricks with others.