Fail to access your important files like photos, videos and songs from your CF card? Are you facing CF card not formatted error while accessing it? Have you encountered CF Card RAW Not Formatted Error, CF Card RAW Error or CF card cannot be formatted error on your digital camera or mobile phone or PC? Do you know what to do next when you run into CF card not formatted error?Well, use CF Card Data Recovery software, which will help you to:
Restore deleted, inaccessible, missing, formatted pictures, videos and audio files from CF card.
Also support recovery of media files from SD card, miniSD, MicroSD, SDHC, MicroSDHC, MiniSDHC, SDXC, MiniSDXC, MicroSDXC, etc of all brands.
Preview recoverable files within software before you proceed further to save files on your system.
100% read only program, easy, safe and secure to use.
Retrieve Digital Media Files from CF Card Throwing Not Formatted Error



* Free version of the program only scans and previews recoverable objects.
What is CF Card?
CF card is one of the popular storage device that is used as camera's memory card to store photos and videos. With its high popularity the problem are keep on increasing with every new card.
While using CF card – Formatted CF Card Error is the common problem. Is it possible to recover data from formatted CF Card error? Do you know why you are seeing this error? Before we head into restoring lost CF card data, let us  know what makes CF card to throw not formatted error.
Let us Take Real User Example:
CF Card not formatted error

So, I thought I had a faulty card, as my EOS 50D kept saying 'card not formatted' whenever I tried to use it. Now that card does work, but using one of my cards (pretty sure it's another), I had the same error intermittently. Made me worried when I tried to extract images and it came up 'not formatted'!! Simply taking the card out and putting it back in fixed it.

So anyway, what's the likely cause? Camera? Or could it just be that old CF cards are starting to fail?

                                                            – Original Post from DPReview Forums
Why CF Card Shows Not Formatted Error?
What made CF card not formatted? How your card becomes not formatted? Sometime while finding the actual reason for not formatted error help user to fix CF card Not Formatted error. For restoring your lost CF card data and restore pictures or videos off a not formatted CF card it is important to know the reason.
Here you will find the exact reasons:
CF card is damaged or corrupted: If your CF card is physically damaged or corrupted due to other reasons virus attack, file system damage, interrupted formatting then don't you can still retrieve photos from Unformatted CF Card. Virus damaged is very dangerous as it can make any healthy file corrupt so make sure your device is virus free. While formatting your card the process got interrupted or stooped due to system failure, or your CF card was unplugged from PC,  power failure etc can even make this error occur.
CF card RAW error: The unexpired inner error in CF card can cause RAW issue and when you try to format it you are welcomed with a warning (not formatted error).
Errors during conversion of file system: Memory card are formatted with FAT file system and if you have mistakenly or intentionally formatted the NTFS file then you may run into memory card not formatted error.
Additional Reading: CF Card Recovery – How to Rescue Data from CF Cards
What to Do When You Run into CF Card Not Formatted Error?
When you get this error on your card the first thing you need to do is to calm your mind. The error prompt you to format your CF card and it even prevent you from accessing the data stored in it.
Do you want to format your CF card? No! Then stop using your CF card instead of formatting it. You need to do this because formatting may decrease the chances of recovery. Moreover, stop saving any new files to CF card. You need to do so to avoid the old data being overwritten. If you keep on receiving the error then go with data recovery software.
Additional Reading: How to Recover Data from SD Card Formatted as Internal Storage
Fix CF Card Not Formatted Issue And Recover Your Precious Data [Photos/Videos/Audio]
Solutions for Fixing CF Card Not Formatted Error
There are few solutions that you can follow to fix CF card unformatted error:
If CF card show won't format, then please out the steps mentioned here – Windows was unable to complete format error fix
You can also run CHKDSK command to fix the CF card not formatted error, for the steps please visit – How to Fix External Hard Drive Not Formatted Error (though it is mentioned external hard drive, but this solution can also be used to fix Compact flash card error)
Both the above solutions can also be used to repair corrupt or damaged memory card and card with not formatted error.
Additional Reading: How to Open Memory Card & Recover Files Without Formatting It?
Solution for Recovering Data From CF Card Not Formatted Error
Fortunately, fixing CF card Not Formatted error has been found by the data recovery experts and it can be used to retrieve your CF card data. This tool is the perfect choice of user while recovering and restore their lost data. This developed solution let you recover data from not formatted CF card, formatted card in few easy clicks.
The Photo Recovery software is a suitable CF card data recovery, designed in such a way that it can easily retrieve digital media files such as photos, videos and audio files from CF card and any storage media devices that includes all types of memory card such as SD card, miniSD card, microSD card, SDHC card, microSDHC, miniSDHC, SDXC card, miniSDXC, microSDXC, CF card, XD card, etc.
This is one of the best tools to restore deleted, formatted, corrupted, missing and inaccessible videos, photos and audios from any digital media devices. It thoroughly scans the entire storage device as it has powerful scanning technique which can recover files from CF card which is throwing Not Formatted Error and gets back all the missing files.
It also provides the facility to preview the files before recovery and can access the files which users want. It provides users with the best recovery platform ever for restoring the deleted photos, audios and videos files. The recovery tool is known as one of the successful tools which brings back the lost data from memory card, hard drives, USB drives etc and also supports Windows and Mac both.
You Might Also Be Interested In:
Steps To Recover Photos, Videos and Audio  Files  From CF Card Throwing Not Formatted Error
Step 1 – Install "CF Card Recovery' software and launch it. Click on "Recover Photo, Audio & Video" tab to recover images, songs and videos files from CF card, external USB drive or computer hard drive. Connect the media to your computer and then perform the process.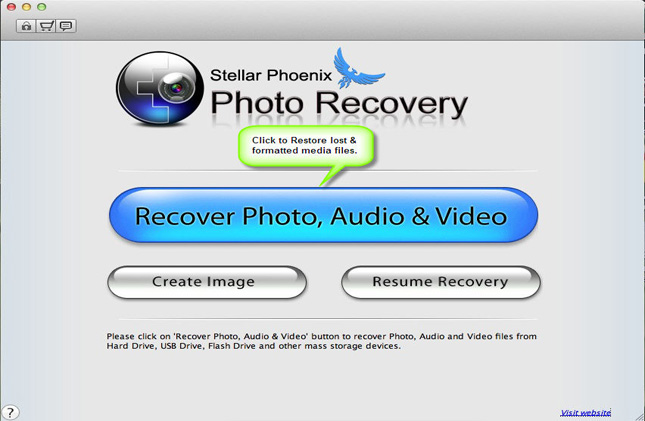 Step 2 – Select the drive from which you want to recover files. The external media will be shown in the list, if not then click on "Refresh Drive" button. Now select the desired drive to scan and then click on "Scan Now". If you want to customize the recovery on the basis of file types then click on "Advance Scan".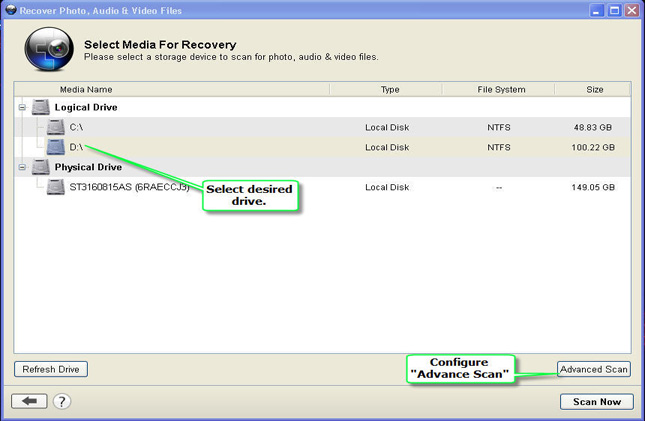 Step 3 – In the Advanced Scan you will have the option to scan as per to the file list, such as Photo, Video and audio or you can also select the data range from the storage device. This option reduces the scanning process time.
Step 4 – Once you click on "Scan Now" button the software will show that scanning is in process. The recovered files listed in a tree structure on the left side of the window panel.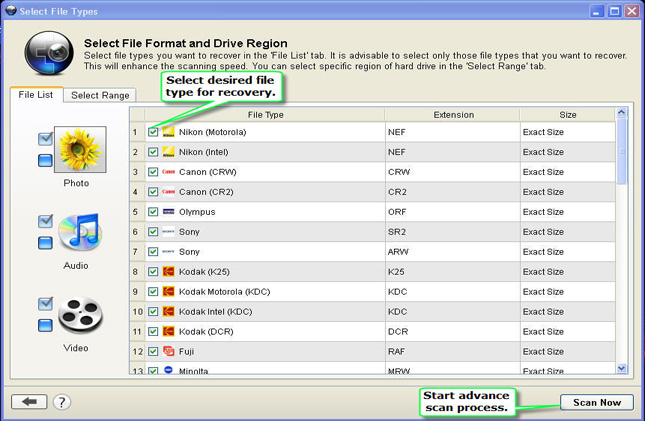 Step 5 – After scanning, you can select the files to preview them and then you can click on "Recover" button to finally save them on your computer.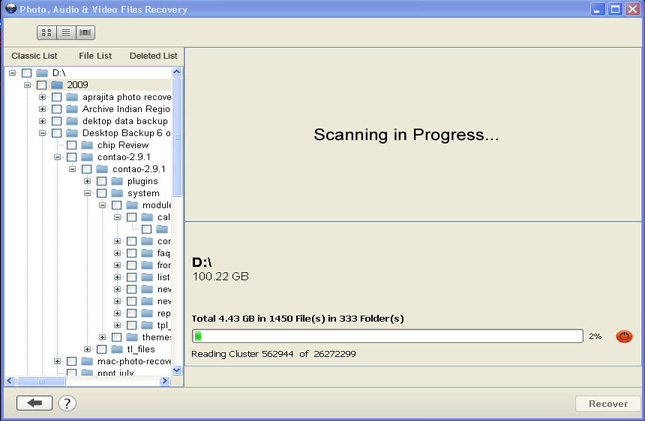 Step 6 – Select the desired location on your computer to save the recovered files. The screenshot shows that the recovered files are being saved.

Tips to remember
After losing your important data from your storage device, it is very much important to remember some useful tips when using CF Card to avoid RAW error:
Always make a backup of all your important files or folders of your CF card so that it can help you in future when any data loss situation happens.
Before formatting CF card, check the files stored within the card,  at least two to three times.
Never use any digital device when its battery is low
Don't remove your CF card when file transfer process is on progress
Before removing the device from computer or from any other system, eject it properly
Avoid using the same CF card on multiple gadgets. Keep it on safe place and do not save any new media files otherwise the previous data will be overwritten
Always protect your CF card from any virus or malware attack by using the reliable antivirus program.
Before deleting any files, just be sure of what you are selecting and what you are deleting.
Never avoid any type of CF card warning message because this can also be the reason for data loss.
If you have found this post helpful and useful, then please do not forget to share it.
Also like and follow us on Facebook, G+, Twitter and Pinterest to get latest updates.
Summary
Article Name
How To Recover Deleted Files From CF Card With A Not Formatted Error
Description
Find out the easiest solutions to fix CF card not formatted error and best way to recover Photos, Videos and Audio files from unformatted CF card.
Author
Publisher Name
Publisher Logo