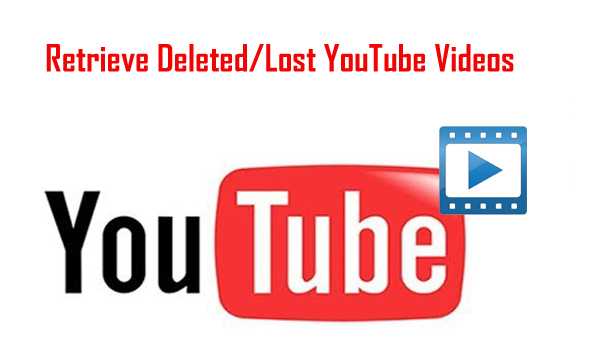 You will agree when I say – "there are many people out there who have accidentally deleted their YouTube videos from their media storage devices"
And you will also agree when I say – "people who accidentally deleted their YouTube videos and are unable to recover them successfully, may be they are still looking for solution."
There are users who watch videos on YouTube on daily basis but not all. But, some people who find interesting videos then they download & save it on their media storage devices or on external devices like memory cards, USB flash drive, hard drive, etc, so that they can watch them, whenever they want to.
But things do not go according to you!
There are chances you might lose or delete your downloaded/saved YouTube videos and then you may look for an effective solution to restore deleted/lost YouTube Videos.
Well, in this post I am going to share some amazing facts and easy solutions on how to retrieve YouTube Videos in different situations.
But before that let me inform you the recommended solution: with the help of Photo Recovery Tool, you can:
Easily retrieve deleted, lost, formatted YouTube videos saved on memory cards, USB drive, hard drive external hard drive, etc
Also restore accidentally deleted/lost other videos, photos and audio files from media storage devices
Preview recoverable videos within software before final recovery
100% read only program, safe, secure & easy to use
Download YouTube Video Recovery Tool For Free



* Free version of the program only scans and previews recoverable objects.
Let Me Introduce Real Examples Of YouTube Video Deletion:
Example 1: I download and upload videos to YouTube. I have created wonderful videos that I want to share with people hence I have uploaded on YouTube and after uploading I have deleted the videos from my hard drive. And later when I was looking for my uploaded video on YouTube, then it is saying me "videos deleted by YouTube" for it might breach their policy.

Example 2: I have downloaded one funny video and saved it on my phone's SD card, but later the videos got deleted by me accidentally while I was deleting unwanted files to free up some space on my SD card.
In both the examples, you can see that I have lost my both videos that I created by myself and uploaded on YouTube and second video that I have downloaded from YouTube got accidentally deleted by me.
There are other several ways through which users may lost/delete their YouTube videos due to various reasons and thereafter they look for a solution on how to recover deleted youtube videos? Some of them are mentioned below.
Additional Reading: MP4 File Recovery – Recover Lost or Deleted MP4 File
Cases That Are Responsible For The Loss/Deletion of YouTube Videos
Accidental deletion of videos that is stored within your devices while viewing or deleting unwanted videos
All videos including YouTube may get corrupt and finally get erased if there is any virus or malware infection
Formatting the media storage devices such as hard drive, memory cards, USB drive can lead to the deletion of videos
Unknowingly deletion of videos by any third person
If you delete Google account through which you have uploaded videos on YouTube will also get deleted
If you delete the YouTube channel through account settings, even then also your video get deleted permanent
So, these are some of the common and possible reasons through which users may lose their YouTube videos. At such situation you may get sad or disappoint.
But Relax and be calm!
There are few solutions that you can follow to retrieve your lost or deleted or removed YouTube videos that is explained below. Just go through them.
Additional Reading: How to Recover Video Files from Digital Camcorder
Solutions To Restore Deleted/Removed YouTube Videos
All right, so here are the solutions that you were looking to recover deleted youtube videos. The solutions are given as per different situations, just find it by yourself.
Situation 1: Retrieve/Find Deleted YouTube Videos Online
There are various websites where you can find your videos back that is deleted or removed from YouTube – it doesn't matter whether you are looking to recover deleted youtube videos with URL or without URL. The websites are:
vk.com
youku.com
svoe.tv
video.mail.ru
twitvid.com
dailymotion.com
tomsk.fm
video.bigmir.net
videobash.com
kiwi.kz
vimeo.com
bashtube.ru
For example: If you are looking for removed Enrique Iglesias videos on Youku only, then you can use Google string – site:youku.com "Enrique Iglesias" to search videos on that particular website. After you find your deleted videos from the websites mentioned above, you can then proceed to watch deleted YouTube videos online as well as you can download deleted youtube videos with URL or without URL, as of now it doesn't matter at all.
Note: There are many hundred of websites that store files form YouTube available on internet. The sites that I have mentioned above are just few of them. You can use search engine to find more.
Additional Reading: How to Recover NTFS Video Files
Situation 2: Retrieve Deleted/Lost YouTube Videos From Media Storage Devices
If you have lost or deleted YouTube videos from your media storage devices such as memory card, hard drive, USB flash drive, then you can use Photo Recovery Recovery software that comes separately for both Windows and Mac users. This recovery software has the power to recover deleted media files such as videos, audios and photos of almost all file types of file format, no matter whatever may the reasons behind the deletion of files.
So, in order to get back deleted YouTube files, users are recommended to try Digital Media File recovery Tool, if they have lost their videos from their media storage devices. Now, below find steps on how to rescue the lost/deleted videos with the help of recovery software.
You Might Also Be Interested In:
Steps To Recover Deleted/Lost YouTube Videos
Step 1 – Install "Photo Recovery' tool and launch it. Click on "Recover Photo, Audio & Video" tab to recover images, songs and videos files from any SD card, external USB drive or computer hard drive. Connect the media to your computer and then perform the process.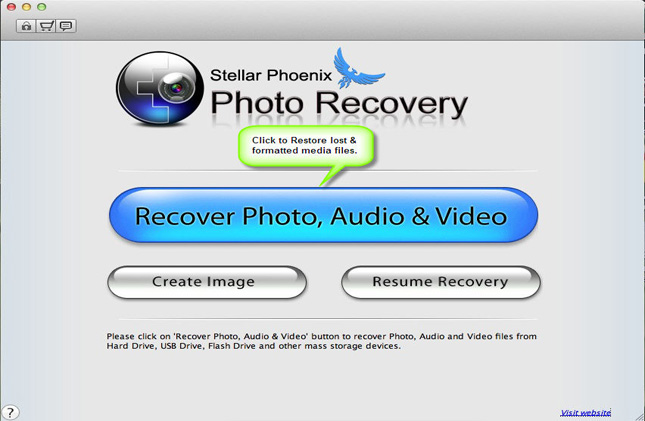 Step 2 – Select the drive from which you want to recover files. The external media will be shown in the list, if not then click on "Refresh Drive" button. Now select the desired drive to scan and then click on "Scan Now". If you want to customize the recovery on the basis of file types then click on "Advance Scan".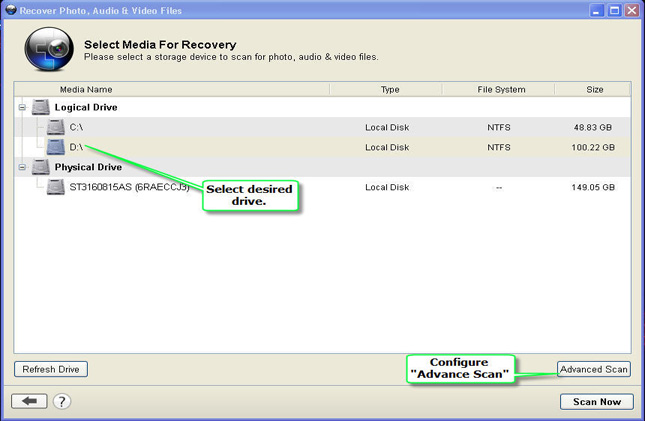 Step 3 – In the Advanced Scan you will have the option to scan as per to the file list, such as Photo, Video and audio or you can also select the data range from the storage device. This option reduces the scanning process time.
Step 4 – Once you click on "Scan Now" button the software will show that scanning is in process. The recovered files listed in a tree structure on the left side of the window panel.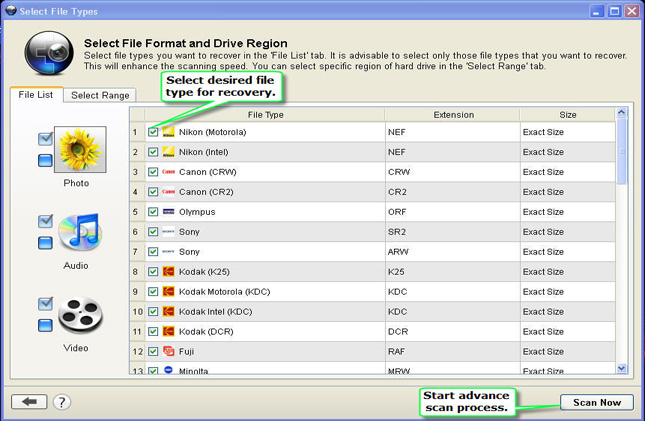 Step 5 – After scanning, you can select the files to preview them and then you can click on "Recover" button to finally save them on your computer.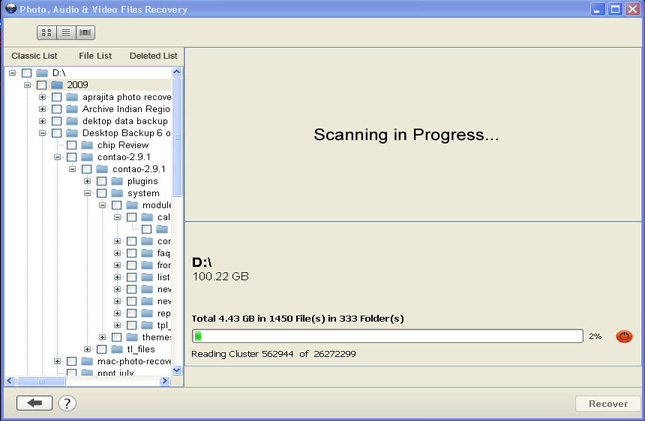 Step 6 – Select the desired location on your computer to save the recovered files. The screenshot shows that the recovered files are being saved.

Additional Reading: MOV File Recovery- Recover Deleted MOV files
Frequently Asked Question [FAQ]
Conclusion
By now I believe that you have got the solution that you were looking for. From restoring YouTube videos online to offline and saving YouTube videos to SD card from recovering video files from media storage devices, all are mentioned here.
If you have found this post helpful and useful, then please do not forget to share it.
Also like and follow us on Facebook, G+, Twitter and Pinterest to get latest updates.