Step by Step Guide to Recover Digital Photos From Corrupted Memory Card With an Ease
If you have saved some precious digital photos in your memory card that has been corrupted and so you want to get them back from it then do not worry because now you can easily get them back with Digital Media Recovery tool. This tool will allow you to:
Recover deleted or lost digital photos from corrupted memory card easily
Get back lost or deleted images also from damaged/inaccessible memory card
Recover images of different file formats like PNG, JPG, GIF, BMP, PSD, PIC, etc
Besides images, it can also restore videos and audio files of different file formats
Retrieve media files from different memory card brands such as Samsung, Sandisk, Toshiba, PNY, Verbatim, Sony, etc
Easily perform the recovery process due to its user-friendly interface
Steps To Recover Deleted Digital Photos From Corrupted Memory Card



* Free version of the program only scans and previews recoverable objects.
Memory card are the extra storage device for camera and phone as they offer limited capacity of storage space. Most consumer and professional digital photo cameras store images on memory cards. But one of the worst things the photographer may suffer is from loss of images from the memory card that is stored on the camera. Even they would be some quick clicks of their family it would be worth it and losing them can lead to disaster. If camera is unable to read images from the memory card or accidentally you have deleted your important pictures from the memory card. There are many reasons for the corruption or damage during the power shortage, removal of memory card while shooting or viewing of pictures that lead to temporary unusable for displaying or offloading photos and videos. Though there are many ways to reduce the risk of memory card issues, you can never get away from corruption issue. Sooner or later you will find error with your memory card.  Your memory card will stop cooperating with you.
There are a number of reasons behind the loss of images and photos from the memory card. The most common causes behind this corruption and error are—
Faulty Memory card- Buying the cheap unbranded cards or either knowingly buying fake cards then errors may get into the card which results to accidental formatting of card, deleting all the images instead of one image and removing the card while it is transferring the images or the images are still being written on it.
After the photos and images stored on your memory card gets deleted then first thing you should do is remove the card and then keep it safe and do not try to shoot any more images on it. This will reduce the chance of recovery.
Secondly you need to take help of some image recovery software. These third party software are sophisticated software that depends upon whether you have shot jpeg or RAW. The RAW files are more difficult to recover.
It might be a very tough situation to know the exact reason behind the corruption after knowing the reason you can recover some data from your corrupted memory card. These corruptions are marked by error messages such as card error, card locked, and memory card error and make the pictures inaccessible.  In such a situation camera and phone prompt to re-format the memory card or refuses to take pictures or view old pictures.
So to recover all the pictures from the memory card you need to rake help of third party Rescue Digital Media Software. It helps you to recover all your photos from the memory card efficiently. It scans the whole device and recovers the photos file such as jpeg, jpg, png, tif, tiff and other file types. It is designed such a way to recover photos and even video file formats. This utility software helps you to recover and restore all your photos back from memory card. Below you have few reasons that play their important role behind data loss. When compared to recovering lost, deleted and damaged files from other media devices such as hard drive recovery files from the memory card is not so difficult. In fact recovering the files from digital camera memory card is much easier that any recovering file from any other storage media. Due to its three typical features you can easily recover your images from your memory card: memory cards have smaller storage capacity, files on these cards are usually fragmented and the memory card can only contain only photos and movies so it can be easily recovered by Rescue Digital Media.
How to prevent memory card from getting corrupted?
Use branded camera and phones to avoid these types of corruption.
Never switch off the device when you are transferring pictures from device memory card to the computer.
Reformat the memory card on regular intervals depending upon how you are using the camera.
Use the device reformat option or formatting the memory card doesn't it via the computer.
While pictures are being clicked do not switch to view or play mode option.
Do not shoot next picture when the camera is not ready or previously picture is being written on the memory card.
Make sure the camera batteries are properly charged otherwise you may even lose your pictures.
Never eject the memory card when the device is on.
You might Also Be Interested In:
Steps for recovery deleted pictures from corrupted memory card:
Step 1. Firstly download and install the software Rescue Digital media software then connect your device to the computer.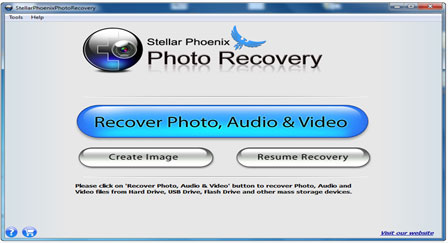 Step 2. Then select the drive and then select the file type of the photos that you want to recover from "Advanced Scan" option and then select the "Start Scan" to start the scanning process.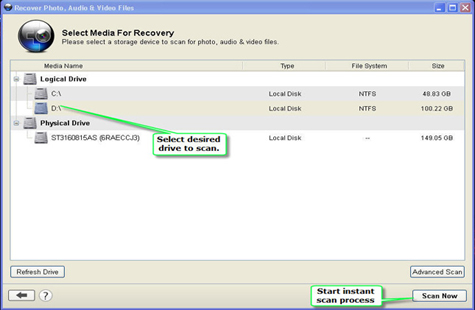 Step 3.  Then preview and recover the images that you found. Then after finishing the scanning process preview the found pictures and photos that are deleted and recover back them by clicking on "Recover" option.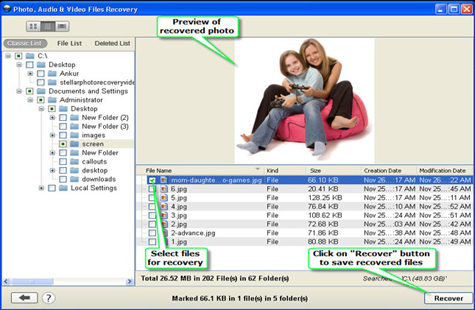 Tips to remember
After losing your important data from your storage device, it is very much important to remember some useful tips which can help you to avoid data loss in future. Some of the tips are mentioned below:
Always make a backup of all your important files or folders so that it can help you in future when any data loss situation happens.
Use some reliable power source which can help your system from sudden shutdown
Before formatting, check your storage device at least two to three times
Never use any digital device when its battery is low
Don't remove the files when file transfer process is on progress
Before removing the device from computer or from any other system, eject it properly
Avoid using the same device when it is already used and it is full. Keep it on safe place and do not save any new media files otherwise the previous data will be overwritten
Always protect your device from any virus or malware attack by using the perfect antivirus program
Before deleting any files, just be sure of what you are selecting and what you are deleting
Never avoid any type of warning message because this can also be the reason for data loss