Worried about how to fix the file or directory is corrupted and unreadable issue without losing any data? Don't panic, just go through this article and learn some of the best approaches that would definitely help you out to get rid of this error message.
In order to resolve the file is corrupted and unreadable error, you can check the hardware connection, run the cmd command, repair the file system using an error-checking utility, and format the drive.
Read further to know each and every aspect of this error and how to fix it in detail.
What Does It Mean "The File Or Directory Is Corrupted and Unreadable"?
While using the USB drive or any other external hard drive, you must have encountered the error that says "the file or directory is corrupted and unreadable" on your Windows.
This error mainly occurs when a file, folder, MFT (Master File Table), FAT (File Allocation Table), or a USB drive is corrupted for some reason.
When the below error message appears on your PC, then you're unable to access the data stored in that drive.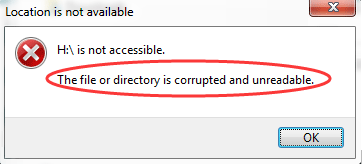 Now, let's understand what causes this issue and how to fix it in detail…
Why 'The File Or Directory Is Corrupted And Unreadable' Error Occurs?
Before you look towards the fixes, it's very important to get to know the major causes behind getting this error. So, let's see the most common reasons which lead to the above-mentioned issue.
Corrupted or damaged MFT/FAT partitions on a hard drive.
An external hard drive has physical damage/malfunction.
Your hard drive must be infected by harmful malware or virus. The virus can damage the partitions that created in a hard drive. Such malware might also corrupt all your files stored within it.
The troublesome hard disk wasn't eliminated properly from your system. In such case, partitions & files saved within it can corrupt.
So, these are the reasons that can lead to the file or directory is corrupted and unreadable please run the chkdsk utility.
How To Fix "The File Or Directory Is Corrupted And Unreadable" Pendrive?
After figuring out the major factor behind the directory is unreadable folder error, now you must be curious to know how to fix this. Below I have listed the best possible ways to troubleshoot this problem in a hassle-free manner.
Workaround #1: Check The Hardware Connection
At very first, you need to check the connection between the USB flash drive and PC to repair the unreadable error. Just check out these fixes below to overcome this issue:
Try to connect the USB flash drive to another PC
Connect the USB flash drive to another USB port
Replace the USB cable
However, after trying these, even if you get error 0x80070570 the file or directory is corrupted and unreadable error then you can try other methods mentioned below.
Workaround #2: Restart your PC
Rebooting the device is the first resort that users used to attempt to get rid of different issues on their devices whether it is PC, laptop, or Android phone.
Similarly, if your file is corrupted or unreadable, you can also try to restart your system. After doing so check if the external hard drive corrupted and unreadable fixed or not.
Workaround #3: Check & Repair The File System Error
Another best option that you can try to resolve this error is to run chkdsk command against a problematic drive. Need not worry, if you don't know how to run the chkdsk command prompt. Here I have mentioned the easy steps to run the chkdsk command and solve the file or directory is corrupted and unreadable please run the chkdsk utility error.
1: At first, in a search bar, you need to type CMD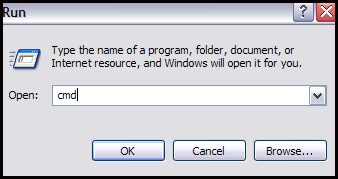 2: Then, you'll see the option Command Prompt
3: Simply, tap on the option Command Prompt and then click on Run as administrator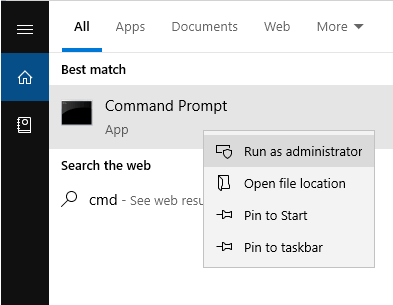 4: Now, you'll be able to run the Windows Command Prompt as administrator
5: After opening a command prompt, you need to type the command: C:\Windows\system32>chkdsk /r name of the drive: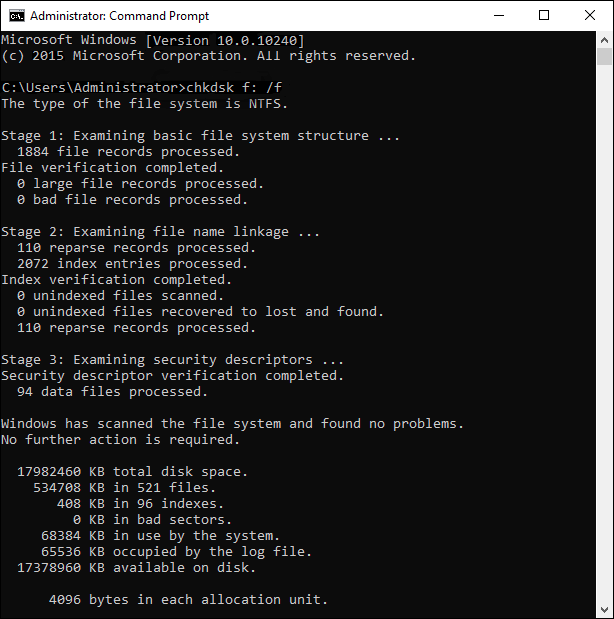 Note: Replace the last letter with the hard drive letter that's creating the issue. For instance, if the F:/ drive is creating an issue then your command will be – C:\Windows\system32>chkdsk /r F:
Workaround #4: Run Full Scan For Malware & Virus
The malware and virus is the major cause of several critical errors that might occur in your PC. Therefore, to resolve this, you need to run the quick full scan for your PC. Windows Defender offers to keep your system protected online, dun periodic scans, maintain device' health, manage your threat-protection settings, etc.
1: Just make right-click on the Start menu & choose the Settings.
2: Next, click on the Update & Security >> Windows Security >> Virus & threat protection.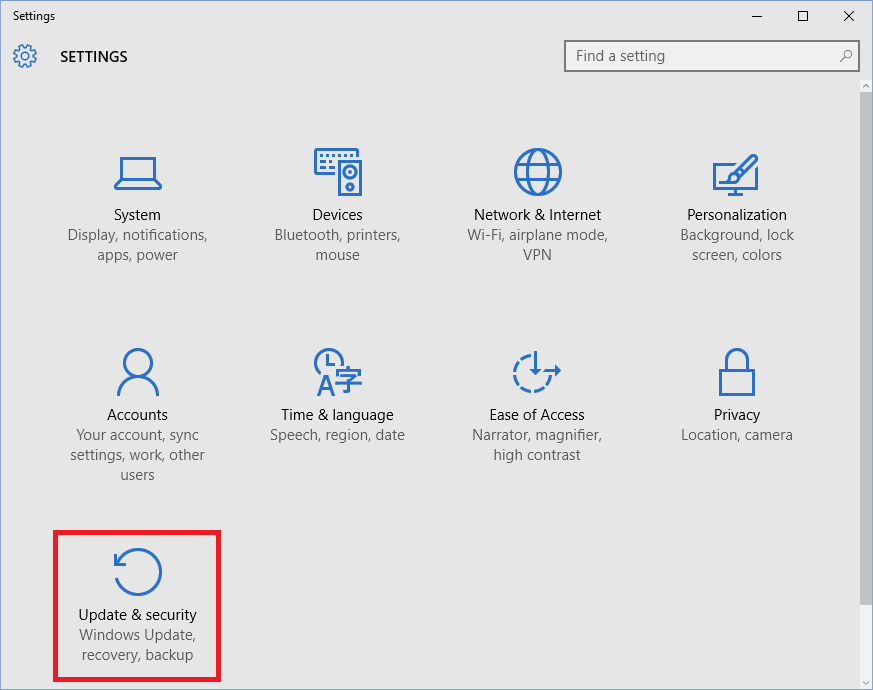 3: After this, click on the Scan Options >> select Full scan >> Scan Now.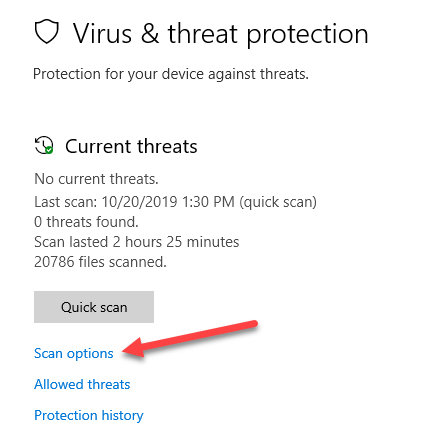 If this approach won't fix this problem, then try the next one.
Workaround #5: Check the Hard Drive through Properties
Well, if your C drive get corrupt, then you do not need to take any drastic measures to fix it. This is because Windows provides several solutions to fix a corrupted hard drive on its own.
One of the simplest and most effective ways is the native error-checking feature of Windows. If you want to learn how to repair this error using error-checking features, then follow these simple steps:
First of all, launch the Windows Explorer
Next, go to a My Computer from there you can choose the C drive option.
After this, right-click on the icon C drive & go to the Properties.
In the Tools tab, you can see the "Error Checking" feature. Just click on "Check" button.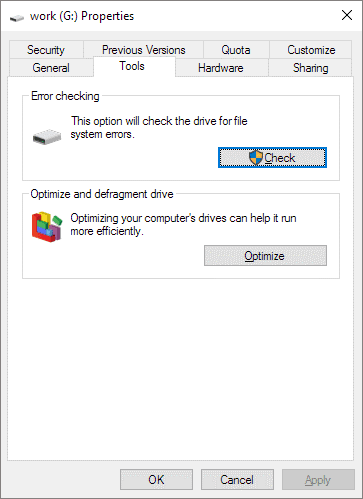 Then, wait till the Window check the C drive & will get rid of all types of minor problems related to it.
Workaround #6: Move The Files To Different Directory
Another solution that you can try to troubleshoot the file or directory is corrupted and unreadable folder in drive is to move all your data to a different directory.
Follow the below easy steps to do so:
Step 1: At first, open the "My Computer" & browse location/files which you're unable to access.
Step 2: Make right-click on a folder which you won't access & copy/cut them. After that, go to another drive & paste your files there.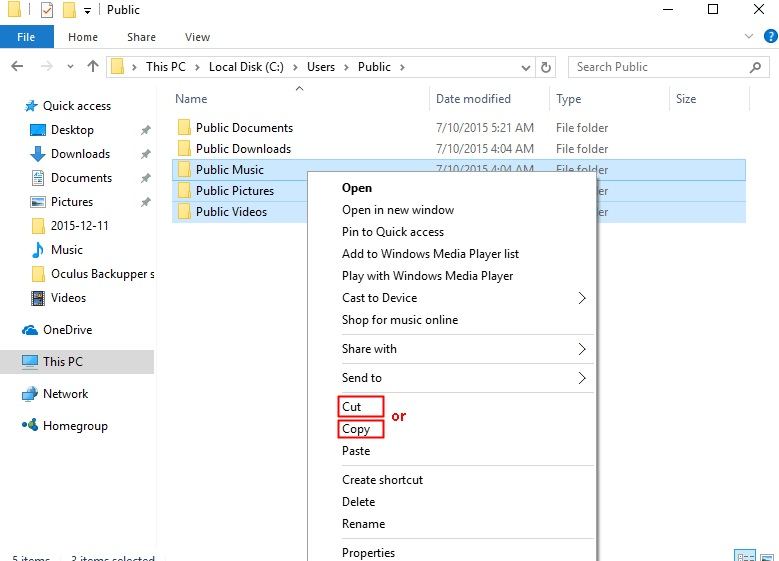 Step 3: Otherwise, you can just drag & drop the files & select a "Send to" option as well.
Step 4: Last of all, you need to visit to a new location wherever you've moved all your files & try to get access to them.
Once completing these steps, check if you can assess to your USB/external hard drive data. However, if you can easily access to them on a new location, it simply means that there was an issue with your drive.
Workaround #7: Convert The RAW drive to NTFS/FAT32 using CMD
In order to fix this issue, you need to convert the RAW drive to NTFS/FAT32 using the cmd option. To do so, you have to try the beneath steps and fix the file or directory is corrupted and unreadable please run chkdsk utility:
Firstly, type in cmd in the Windows search box and find a Command Prompt.
In the second step, launch the Run as administrator.
Under a Command Prompt, just type the diskpart & hit the Enter
Now, continue typing the below command one after another, and hit the Enter key after each command.
List volume (remember the volume number of the RAW drive)
Select volume # (replace # with the volume number that represents the RAW drive)
Format fs=FAT32 quick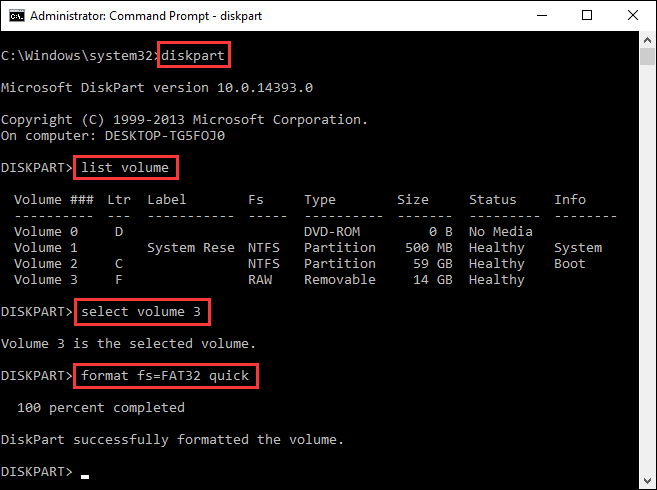 Workaround #8: Format the Flash Drive
After trying the above ways, if you're still unable to solve this error, then the last option left for you is to format the hard drive. Doing so will wipe out your entire files that saved on the hard drives. Also, removes the corrupted files and directories. This method had helped numerous users to repair drive H:\ is not accessible. The file or directory is corrupted and unreadable error.
Follow the below steps to format the hard disk:
First locate the affected disk partition & right-click on the affected drive
Then, select the option format on the drop-down menu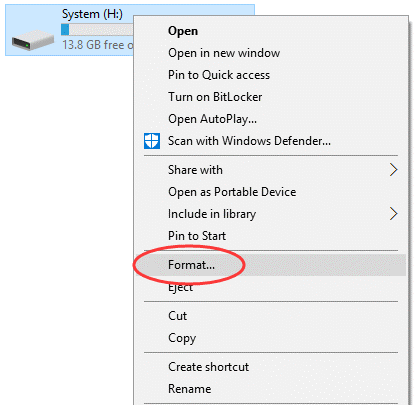 Now select the file system & tick the Quick Format in the Format options.
After this, click on the 'Start' option to start the formatting.
Wait till the formatting process gets finished & check if the error is solved.
Ultimate Solution To Recover Files From Corrupted Or Unreadable External Hard Drive
While fixing the error "the file or directory is corrupted and unreadable Pendrive", if you have found that your important files get deleted from your storage media, you can easily bring them back using Data Recovery Tool. It thoroughly scans the entire device with its advanced scanning algorithm and recovers data from it.
With the help of this tremendous program, you can get all types of media files such as photos, videos, music, and more without any trouble. Besides, it has the capability to recover data from a USB flash drive, SD card, microSD card, memory stick, external hard drive, etc., with its powerful restoring ability.
Below you can see it's more outstanding features like:
Retrieves the lost, deleted and inaccessible pictures, videos, music and more successfully
Easy, customized, accurate, and quick recovery
Preview recoverable files within software before you proceed to save them on the computer
100% risk-free, user-friendly interface & read-only program
What are you waiting for? Just download & install this photo recovery software from the below-given buttons and retrieve your missing files easily.
emid

emid


* Free version of the program only scans and previews recoverable items.
Here is the step-by-step guide of this tool to know how to recover data from non-detecting hard disks using this feature-loaded tool.
Bottom Line
In this article, I have discussed why "the file or directory is corrupted and unreadable SD card" error arises and how to fix this. So, try out all the techniques mentioned here.
Apart from that, while solving the above-stated error if your stored media files get deleted, you can recover deleted data from a USB flash drive using the Data Recovery Tool.
Last but not the least, also follow the above-given tips and tricks to avoid problems in the near future make a backup in advance.
I hope this blog will be helpful to you.
Alex is an expert technical writer with 7+ years of experience. His in-depth knowledge about data recovery and fascination to explore new DIY tools & technologies have helped many. Alex has a great interest in photography and loves to share photography tips and tricks with others.