The disk is write-protected. Remove the write protection or use another disk. error mainly triggers due to read-only switch, security settings, virus attacks, USB drive being full, broken, or having bad sectors in the USB drive. However, the disk is write protected USB error can easily be fixed by running the Diskpart command, checking for bad sectors using Error Checking utility, and formatting the drive.
There are some other fixes as well that can assist you to troubleshoot this problem. Though in this post, I have gathered all the possible solutions on how to fix the disk is write protected USB error.
Besides, I will be also discussing a trustworthy Hard Drive Data Recovery Software to retrieve data from a write-protected USB drive with ease.
Rated Excellent on

Trustpilot
Free Hard Drive Recovery Tool.
Recover data from USB drives, Pendrives, SSDs, HDDs, and other devices on Windows. Try now!
Quick Navigation:
But before proceeding further, let's take a look at one of the real user's examples…
Practical Scenario:
Hey, so I've bought a USB flash driver 2 weeks ago, it was working fine, until im getting this write protection error. I have tried every single method on the internet, cmd diskpart and clean/editing registry/ used programs, but sadly nothing worked.

Right now when i plug my USB in my pc, it says You need to format the disk in drive F: before you can use it, so when I click format disk, it gives me the error "The disk is write protected". and when i click close, it gives me this message: Windows can't format F, check to see the disk and drive are connected properly, make sure that the disk is not read-only.

And another thing, when I run diskpart and see the drive info, it says Current Read-only state: yes  /  Read-only: No. and it doesn't work with clean and it doesn't even let me format it with cmd because its write protected. It was working fine yesterday and i haven't changed any settings in the USB. Sorry for my bad english, I hope someone would help me with this and it would be completely appreciated..!

Source: Microsoft-Community
Why Does The Disk Is Write Protected USB Error Occur?
The Write protection feature on SD cards or USB drives helps to protect the data of the disk from accidental deletion or unauthorized access.
But sometimes, this handy feature can trouble you and throws some peculiar error message like "The disk is write-protected. Remove the write-protection or use another disk" when you attempt to write the disk data. Although it might occur due to various unforeseen reasons like:
Read-only switch
Wrong security settings
Faulty USB flash drive
The USB drive is full
Virus or malware attack
Because of read only property
Bad sectors in the USB.
So, these are the major factors for the occurrence of this annoying error message. Now, let's move ahead to fix this problem with 8 workable ways.
How To Fix The Disk Is Write Protected USB Error?
As you will not be able to use your write-protected USB drive, until and unless you fix it. Fortunately, we have got some simple but very effective solutions and steps that will solve USB drive write protection problem.
Video: Remove Write Protection From USB Drive
You can watch this video as well to remove write protection from USB flash drive. It explains the best solutions that will help you to remove write protection from storage drive like external/internal hard drives/SD cards/USB drives. Just watch it…
General Troubleshooting: Check USB Drive Body
Some USB flash drives have a mechanical switch on their body that puts them into the "Write-Protected" mode.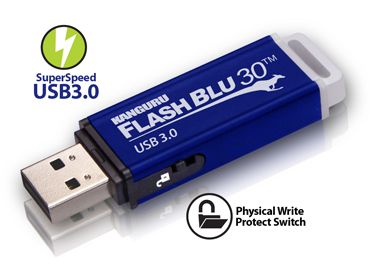 Hence, check if there is any small slider switch that may have gotten stuck in your pocket or computer case. If this is the case, then simply slide the switch into an unlock position and check the problem is solved or not.
Scan USB Drive With Antivirus
Each and every time when you plug the USB drive to your PC, you must automatically scan it for the virus. Because a virus is dangerous and it can fill your USB with unwanted/unknown files and this can display SanDisk USB write protected error.
According to your antivirus software, you can configure it to automatically scan a USB drive when connected to the computer. If not, then you can manually scan it. Simply, 'right-click' and force a manual scan.

If it detects any virus, then eliminate it. After this, you can check your USB drive and I hope you will not get disk is write protected SanDisk error.
Also Read: Remove Write Protection From Internal And External Hard Drive?
Check Your Flash Drive and Make Sure It Is Not Full
Sometimes your USB drive may throw a SanDisk write protected error if it is full.
Go to My Computer/PC. This provides you with an overview of all drives connected to your PC. Now, right-click your USB drive and select Properties, this will show the current drive capacity – both used and free space.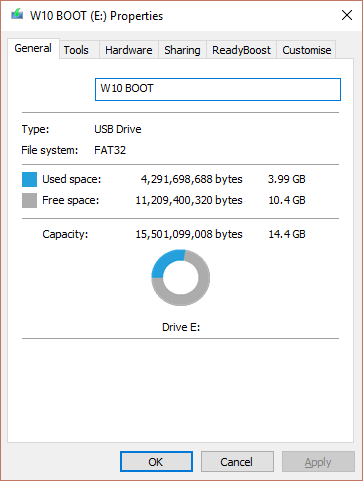 If in case, your USB drive is full then move some files to another drive and delete them from the USB drive to make enough space.
Make Sure Read-Only on Your USB Drive is Unchecked
There are cases, in which we have found that a single file that is marked as "read-only" refuse to get deleted from the USB and this can throw several error message. And one of them could be the disk is write protected SanDisk pen drive how to format errors. Nevertheless, you can fix the "read-only" error of USB drive.
To fix this, open your USB drive look for the read-only file. Right-click on the file and select Properties. At the bottom of the panel, you can see the Attributes option – here make sure that Read-Only is unchecked.
Check For Account Permission
Most of the time, it happens that due to permission issues you can't access the particular storage media and get such sorts of error. So, you need to provide the permission to get access to the USB drive. Also, ensure that you've set the write privileges correctly for a user account.
Go to My PC/ Computer then find your USB drive My Drive (F) & right tap on it.
Click on Show more options
Now, you will see the Give access to option, tap on it >> click on "Advanced sharing" option.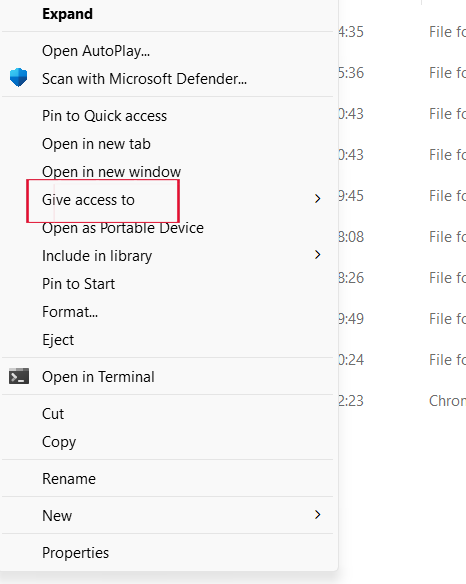 Now, again click on Advanced sharing >> Edit.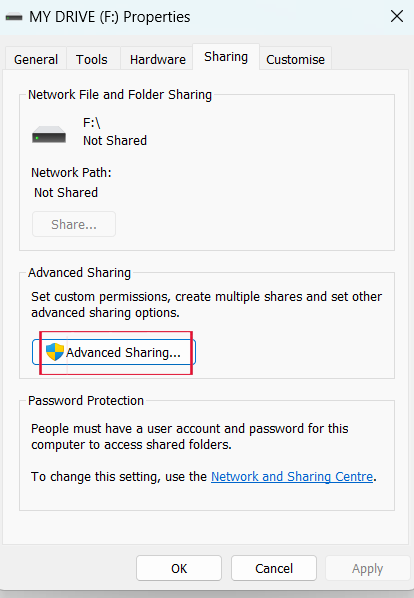 Tap on the Add >> enter an object's name >> click OK.
How to Fix the Disk Is Write Protected USB Error By Running DiskPart Command Prompt Utility
Whether you are familiar or unfamiliar with Command Prompt, you can follow these steps to fix the disk is write protected SanDisk error. Well, you do need to get worried about it because it is really isn't scary as it sounds.
Below follow the steps:
The process is very easy but you have to follow the steps very carefully:
Connect your USB drive showing a "Write Protected" error with PC.
Click "Start" and type in "command" in the search tab and hit ENTER.
Now in command Window type: diskpart and hit ENTER. Next type: list disk and press ENTER. You will see the list of mounted disks.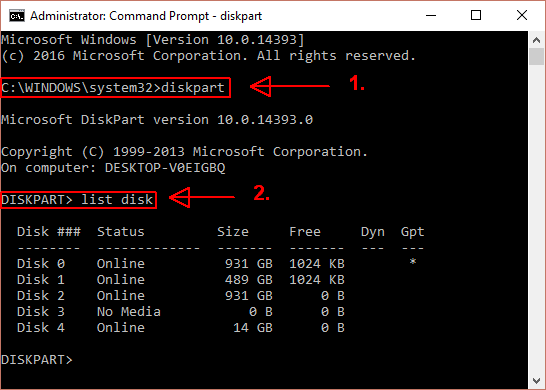 Make sure your USB drive is displayed in the list. Mine is Disk 4. Note down your disk number. After this, enter the following command:
select disk [your disk number]
Once selected, enter the following command:
attributes disk clear readonly
Once, you received the Disk attributes cleared successfully. Type: exit and press ENTER to finish the process.

That's All! You have cleared any remaining read-only file attributes from the USB drive.
Format Write-Protected USB Drive 
Important Note: Before following the below solution, you must first backup all the files and data from your USB drive to your PC. Because formatting the USB will erase the entire data stored within it. But don't worry by using the best USB Drive Data Recovery Tool you can easily get them back.
All right, let us come back to the topic – how to format write-protected USB flash drive. But before formatting the drive, you must first check what kind of file system it has – FAT32 or NTFS.
To check the file system, go to My Computer/PC. Right-click on your USB drive and select Properties.
Now, close the Properties window, and again right-click on the USB drive and select "Format" option. You will see a various customizable options.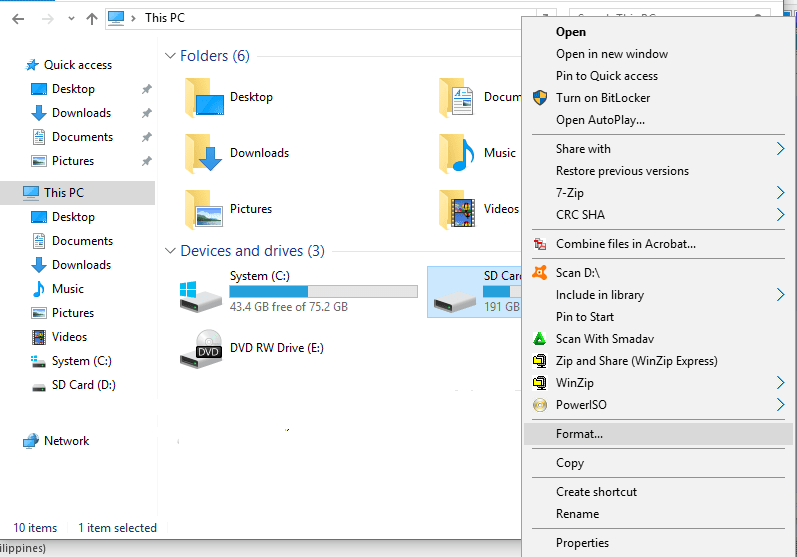 Give any memorable name to the Volume label, uncheck the Quick Format option and finally click on "Start".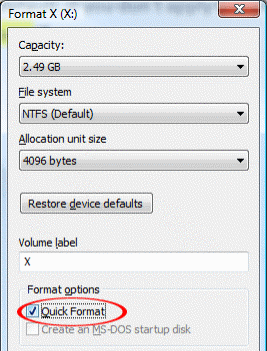 Depending on the size and capacity of the drive, the formatting will take some time. The larger the drive, the longer you have to wait.
If there is no physical problem with USB then your USB drive will be formatted, cleaned and ready to use again.
Format Write-Protected USB Flash Drive Using Regedit.exe
If the above format step does not work in your case, then here is another solution that you can use to format and remove write protection error from USB flash drive.
Below follow the steps:
Click Start, type Regedit in the search box, click Regedit.exe and click "Yes" to open the Registry editor.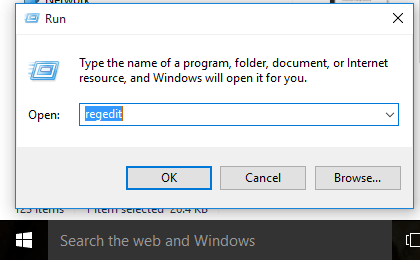 Now navigate to the following path:
Computer\HKEY_LOCAL_MACHINE\SYSTEM\CurrentControlSet\Control\StorageDevicePolicies
Now, look for a key named WriteProtect.
If it exists, double-click it. This will open the Edit DWORD (32-bit) Value box. You can now set one of two values: 0 or 1.
1 means "Yes, write protect my USB storage devices."
0 means "No, don't write protect my USB storage devices."
But here you have to remove the write-protection from the USB drive. So you should set the value to 0 and press OK.
After that, you can now format the drive normally by right-clicking on it in My Computer and choosing Format as mentioned in above solution no 6.
After this, I am sure "The disk is write-protected. Remove the write-protection or use another disk." error message will no longer pop up.
How To Recover Data After Pen Drive Write Protected Error Fixed?
Well, after getting the SanDisk pen drive write protected problem solution if you find your all data gets deleted, then you can use USB Drive Data Recovery Tool.
This popular USB Drive Data Recovery software will help to retrieve files (photos, videos & audio) from write-protected USB drives. With the help of this recovery tool, you can:
Restore digital media files such as photos, videos and audio files from write-protected USB flash drive.
Also retrieve media files from a locked, unrecognized, read-only USB drive.
Recover files from write-protected SD card, memory stick, pen drive, external hard drive.
100% read-only program. Safe, secure and easy to use.
This software support all types of image (JPG/JPEG, PNG, BMP, RAW, etc), videos (MP4, AVI, MOV, HD-MOV, MKV, etc) and audio files (WAV, AMR, MP3, FLAC, etc). This software support all types of memory card such as SD card, SDHC card, SDXC card, microSD, miniSD, CF card, TF card, xD picture card, Sony XQD card, MMC card and more.



* Free version of the program only scans and previews recoverable objects.
Follow the step-by-step guide to run this tool.

Bonus Tip: But I've Got an SD Card Throwing Write-Protected Error

If your SD card is displaying a write a protected error message, then you can follow all the above-mentioned solutions to fix the write-protection of SD card – as all the listed solution works with the SD card, too.
But do remember that like USB drive comes with a mechanical write-protection switch, similarly, an SD card also comes with a write-protection switch. Hence, check your SD card lock switch before you start to panic.
Frequently Asked Questions:
What Does It Mean The USB Is Write Protected?
The disk is write-protected error message specify that your USB flash drive is physically locked. Due to this, you cannot do any changes to your USB drive. Therefore, you need to fix this issue and remove its write protection from a USB drive.
Why Is My USB Write Protected All Of A Sudden?
All of a sudden your USB is showing write protected due to one of these reasons: read-only switch, security settings, virus attack, USB drive is full, broken or has bad sectors.
How Do I Remove Write Protection From USB Without Formatting?
To remove the USB write protection without formatting, follow the below easy steps: Step 1: First, open the command prompt as Administrator on your system. Step 2: Then, connect the USB drive to your computer and remember its disk number. Step 3: Now, type the following command one by one and hit Enter each time:
diskpart
list disk
Select disk n(Replace n with the disk number of your write-protected USB drive.)
attributes disk clear read-only.
How Do You Force Format A Flash Drive That Is Write-Protected Windows 10?
Well, to format the write protected flash drive in Windows 10, you have to disable & clear write protection on the internal or external hard drive. Also, works on the USB flash drive or SD card. So, let's see how to try the Diskpart command line to fix this issue now:
Simply press the 'Win + R' keys together, type cmd to open the 'Command Prompt'.
After this, type diskpart and hit the Enter.
Now, type the list disk and press Enter.
Next, type select disk 0(Replace 0 with the write-protected device number) and hit Enter.
This time you have to type attributes disk clear read-only and press the Enter.
Lastly, type exit to close the diskpart window once the write protection removing process is finished.
After finishing these steps, you have to restart the system.
Conclusion
Sometimes, the disk is write protected USB are simple but sometimes it is difficult. Hopefully, we found few solutions, in both cases. And I am sure you have got something here to learn in this article that would have helped you on how to fix the disk is write protected USB error or Sandisk write-protected.
Also, do not forget to apply USB Drive Data Recovery Tool, if you have lost any images, videos or audio files from your write-protected USB drives.
I hope you liked this post.
That's all…
Taposhi is an expert technical writer with 5+ years of experience. Her in-depth knowledge about data recovery and fascination to explore new DIY tools & technologies have helped many. She has a great interest in photography and loves to share photography tips and tricks with others.