Get Back Deleted/Lost/Corrupted Photos from Formatted Memory Card in Just a Few Clicks
Are you looking for a way to get back deleted or lost photos from your formatted memory card? Have you lost all your images from your micro SD card because of some unexpected reasons? If YES then you can easily get them back with Digital Media Recovery tool. This recovery tool will also help you:
Recover Lost or Deleted photos of any file format like PNG, JPG, GIF, BMP, PSD, PIC, etc
Get back deleted photos from formatted memory card easily in just a few clicks
Apart from photos, it can also recover videos and music files of different file format
Also recover deleted or lost photos, videos, audio files from damaged, corrupted memory card
Provides easy to use interface
See preview of recovered photos and select the required photos from the list
Recover Photos From Formatted Memory Card



* Free version of the program only scans and previews recoverable objects.
Nowadays memory card is the best option to store and carry images and other data, a small black chip that can able to store thousands of images. Memory card is very popular among the camera and mobile industry so that memory card is used by the entire digital camera to store images. Also, in smartphones, if you want to expand the memory of your mobile then you can do it by inserting a memory card into the given slot. Today almost mobile, tablets, iPod are designed with an external memory card slot so a user can expand device memory by simply inserting a memory card.
But along with lots of facility memory card can also get easily formatted and after formatting of memory card, all the stored images gets inaccessible. This is a very common problem that occurs with almost the camera or mobile phone users. Sometimes accidently formatting occurs by the user side and sometimes system forced a user to format their memory card due to any internal error. Unintentionally formatting can happen due to lack of knowledge and by selecting format option memory card gets formatted by mistake.  Many time computer System or mobile forced the user to format the memory card, it happens when the memory card is improperly used by the user or improper insertion and removal of memory card its format gets affected. When user connects unformatted memory card to their computer system then system display a message to format memory card and when user press Yes button then memory card gets formatted.
Image recovery from formatted memory card is possible by using photo recovery tool but if the memory card is overwritten by other data after formatting then some data may get inaccessible permanently. So if you want to perform any recovery process then avoid overwriting the memory card.
When you insert any unformatted or dirty memory card with your computer then it displays error message like "Media is not formatted would you like to format now?" or "Memory Card Not Formatted" and when you press Format button then the system will automatically format your inserted memory card. After formatting memory card, all stored data like images get inaccessible.
Some Precautions to avoid Memory card corruption:
Memory card is very sensitive and so that due to any small error it gets inaccessible, but we can protect them from corruption or unintentionally memory card corruption by applying some precautions:
Don't capture images or use camera in low battery– If your camera or mobile phone display low battery warning message then immediately shut down camera because due to lack of power memory card get unable to read or write data properly and so your images get corrupt.
Always remove memory card from any device by applying proper removal method– Avoid removing card improperly because due to rude removal of memory card it may get corrupt. In computer system safely removing option is given to remove any external removal device, apply it and remove memory card safely.
Doesn't use Delete All option– Delete all option does not remove the images permanently and it affect the memory of your SD card. So if you want to remove photo permanently from the memory card then Format your memory card formatting make your memory card faster and efficient.
Recover Photos from formatted memory card:
Nowadays photo recovery from formatted SD card is very easy and effective if you use a photo recovery tool because this tool is highly programmed and technically able to recover all your lost images with good picture quality. Free download pictures recovery tool and recover images from formatted memory card.
This tool has very strong algorithm so it can able to recover images from all types of memory card and other removal devices like pen drive, external hard drive etc. So it is the best option for you, simply download, install and run this application on your computer to restore corrupt images from formatted memory card.
You Might Also Be Interested In:
Steps to recover deleted photos from formatted memory card 
Step 1 – Install "Photo Recovery" software and launch it on your computer. Click on "Recover Photo, Audio & Video" tab to recover photos, videos and audio files from any SD card, external USB drive or computer hard drive. Connect the media to your computer and then perform the process.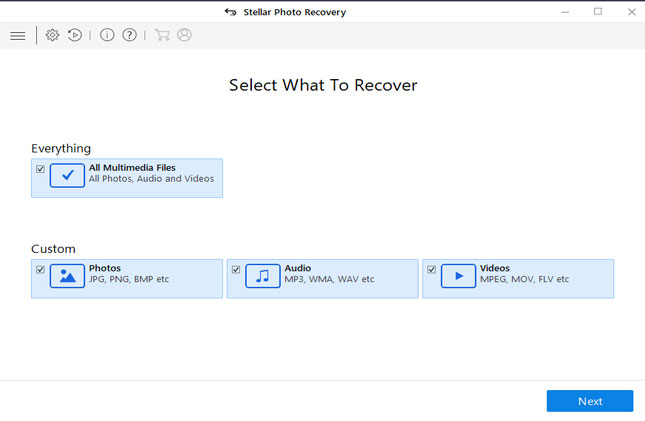 Step 2 – Select the drive from which you want to recover files. All the hard drive and external media will be shown in the list. Now select the desired drive to scan and then click on "Scan" button.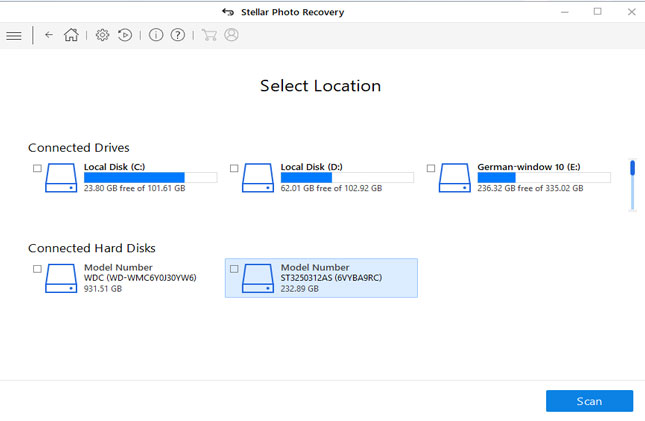 Step 3 – Once you click on "Scan" button the software will show that scanning is in progress. The software will search for all multimedia files from your selected drive or attached media.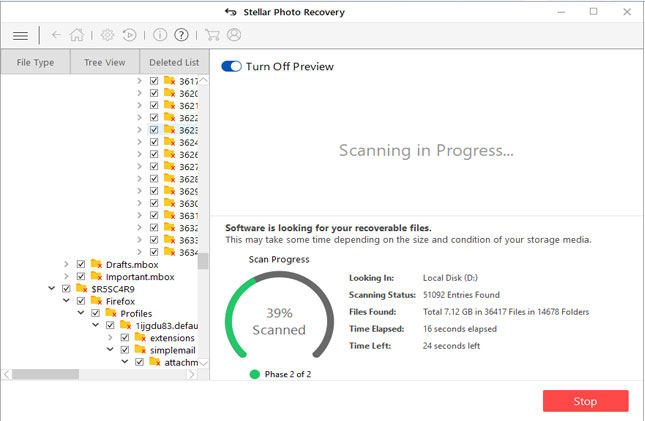 Step 4 – After scanning, all the files that are found in the selected volume, hard disk or other storage media devices are listed. You can now select the files to preview them and then you can click on "Recover" button to finally save them on your computer.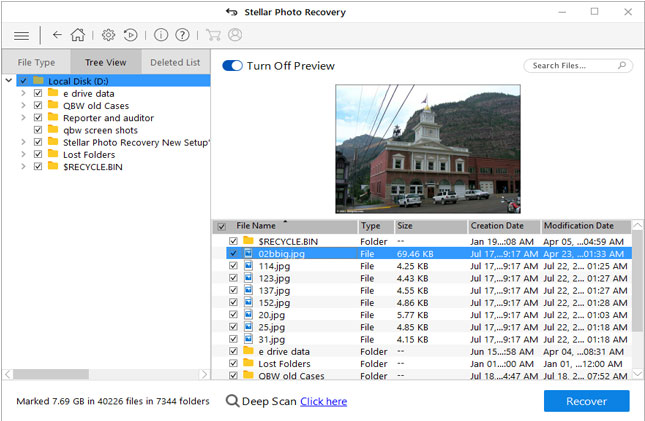 Tips to remember
After losing your important data from your storage device, it is very much important to remember some useful tips which can help you to avoid data loss in future. Some of the tips are mentioned below:
Always make a backup of all your important files or folders so that it can help you in future when any data loss situation happens.
Use some reliable power source which can help your system from sudden shutdown
Before formatting, check your storage device at least two to three times
Never use any digital device when its battery is low
Don't remove the files when file transfer process is in progress
Before removing the device from computer or from any other system, eject it properly
Avoid using the same device when it is already used and it is full. Keep it on safe place and do not save any new media files otherwise the previous data will be overwritten
Always protect your device from any virus or malware attack by using the perfect antivirus program
Before deleting any files, just be sure of what you are selecting and what you are deleting
Never avoid any type of warning message because this can also be the reason for data loss