If you are a professional video editor then you might have encountered an "Error Compiling Movie. Unknown Error" while trying to compile or edit a movie in Adobe Premiere Pro.  Well, it's one of the dreadful error as when it occurs all your efforts and editing vanishes in a few minutes. But nothing to worry! Here are the few troubleshooting fixes applying which you can easily get rid of this problem.
So, let's get started…….!
To fix corrupted, choppy, pixelated, jerky or grainy videos, we recommend this tool:
This software will repair flickery, stuttery, jerky, unplayable videos and supports all popular video formats. Now repair your corrupt and broken videos in 3 easy steps:
Download this Video Repair Tool rated Great on Pcmag.com.
Click Add File to add the video you want to repair.
Select Repair to start the repair process and save the repaired video on the desired location after the repair is done.
What Does "Error Compiling Movie. Unknown Error" Mean?
"Error Compiling Movie. Unknown Error" is an error message that simply indicates that your video editing software fails to process your request of editing or compiling a video file in Premiere Pro. This unknown error will not let you edit or compile your movie or video file completely.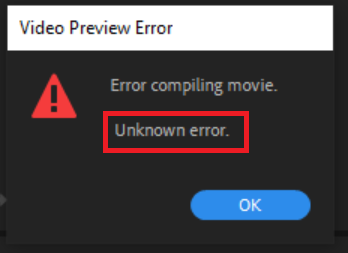 This error message can appear due to several unknown reasons. Some of them are mentioned here below.
Why Does It Say Error Compiling Movie Premiere Pro?
Having insufficient storage space on your disk you're trying to render your video file.
Duplicate files might exist in the same location and with a same name.
You might be using an outdated version of the Adobe Premiere Pro.
Your video file name might contain some special characters in it.
Due to the unsupported frame size of the video file.
Any of the above-listed reasons can cause this issue. After knowing the causes, now it's time to learn the solutions to fix this issue.
How To Solve "Error Compiling Movie Premiere Pro"?
Here is the list of some of the troubleshooting fixes that will help you to fix Adobe premiere pro error compiling movie unknown error. No matter whether you are Windows or Mac user, these solutions will work in all scenarios.
#1: Re-launch the Adobe Premiere Pro
Since you are receiving the error while working on Adobe Premiere Pro, so firstly you should close and restart the Premiere pro to get rid of this problem.
Sometimes, continuous use of the Premiere Pro could lead to several kinds of errors and issues within the app that can be easily resolved by re-launching the Adobe Premiere Pro.
Before exiting Premiere Pro, make sure to save all your editing progress otherwise you'll lose your entire progress. First of all, close the Adobe Premiere Pro, wait for some time then restart the software again.
#2: Restart Your System
If the error is not solved after re-launching the Adobe Premiere Pro then try restarting your PC. Sometimes, your system drivers need a reboot to work properly.
Restarting the PC will give your system a fresh reboot and also free up your system's processor that will help you to resolve this error effectively.
Before restarting your PC, firstly you need to close all the background running apps on your system then restart it by following the below steps.
For Windows users:
Firstly, you need to go to the Start menu on your PC.
Then, click on Power button and choose Restart option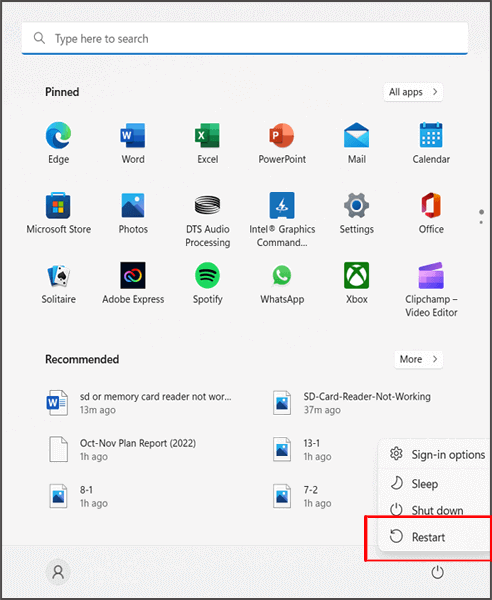 For Mac Users:
Go to the Apple Menu located at the top left corner of the screen.
Then, choose & click on Restart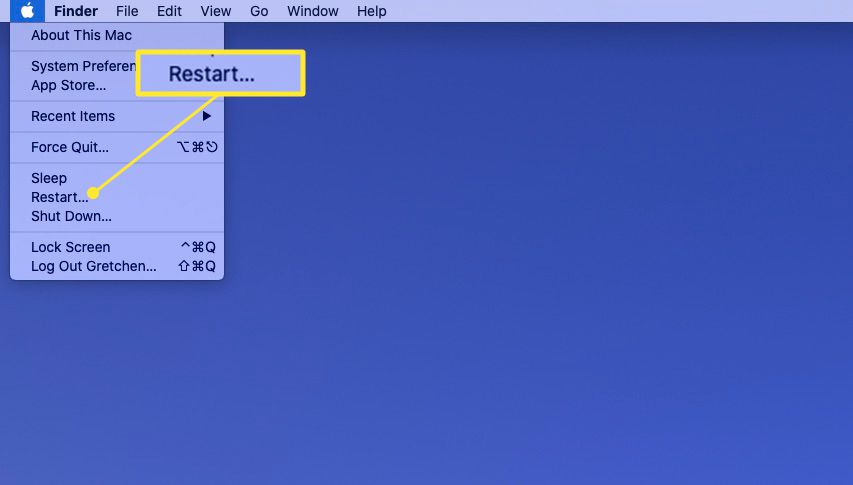 Once the dialog box appear, click on Restart again in order to confirm the action.
After booting up your PC, just restart the Premiere Pro and check if the error is fixed.
#3: Use Latest Version of Premiere Pro
If you are using the older version of the premiere pro then you may encounter several kinds of error and bugs including error compiling movie Premiere Pro.
So, here I will suggest you to install the latest version of the Adobe Premiere Pro to deal with this issue.
Follow the step-by-step instructions to know how to do so:
First of all, you need to press Windows+ S keys together on your PC.
Then, type control panel in a search box & click on the desired result to open it.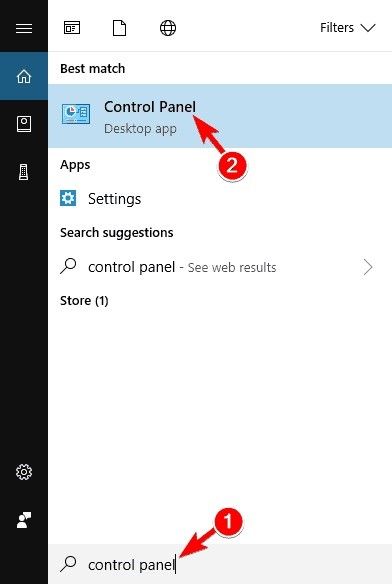 Here, you need to choose view by Category then navigate to Programs and Features.
Make a right-click on the Adobe Premiere software and select Uninstall.
Once the program is uninstalled successfully, restart your system then visit our official download page to install the latest Adobe Premiere software. After installing the program, just insert your licence key in order to activate your Adobe Premiere.
You May Also Read – How To Fix Premiere Pro Won't Play Videos In 9 Ways 
#4: Convert Video File Format To Fix Error Compiling Movie. Unknown Error
You can also try to fix the "Compiling Movie. Unknown Error" on Premiere Pro by changing the file format of your video file.
Sometimes, it happens that your Premiere Pro doesn't support the specific file format because of which you are not able to compile or export your video clip.
In such a situation, you should convert the file format of your video to another format that has been widely supported by Premiere pro such as – MOV, AVI, and WMV.
#5: Check the Name of Video File
Sometimes, an inappropriate name for the video file could lead to such kind of errors and issues. So, here you need to make sure that your file name doesn't contains any special characters (such as \ / : * ? < > |).

In case, you find some special characters are used in your file name then either try to remove it or rename your file to fix this error. This is because your system will not able to read the special characters involved in the file name.
#6: Remove the Effects & Special Features
Adobe Premiere Pro offers its users the most advanced effects & special features for movies or video editing. But sometimes these effects and special features can affect the rendering of video & can cause error compiling issues.
Therefore, if you have added some advanced effects or special features to your video file, try removing it to fix premiere error compiling movie unknown error.
After making these changes, save your video file then restart the Premiere Pro and try to compile the movie again.
You May Also Read – How to Fix Could Not Initialize Photoshop Because the Scratch Disks Are Full?
Recommended Solution to Repair Corrupted/Damaged Video Files
Even after trying the above-listed fixes, if the error is not solved, there is a chance that your movie file is corrupted. In such a situation, you should choose the best Video Repair Tool to fix the corruption issue.
This tool will help you to repair all kinds of corrupted, damaged, broken, or inaccessible video files. It always has a user-friendly interface and is 100% safe to use. And the best thing is that, this software is available for both Windows and mac users.



* Free version of this program only previews repaired videos.
So, without wasting your time, quickly download this Video Repair Tool and fix your corrupted video file with ease.
Step 1: Download, install and launch Video Repair software on your system. Click on 'Add Files' to add corrupted video files.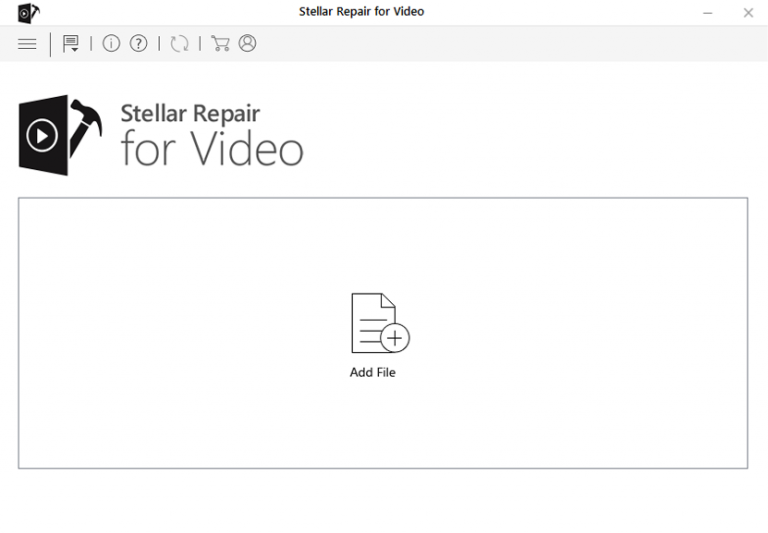 Step 2: Click on 'Repair' button to begin the repairing process. This start repairing your added video files one by one.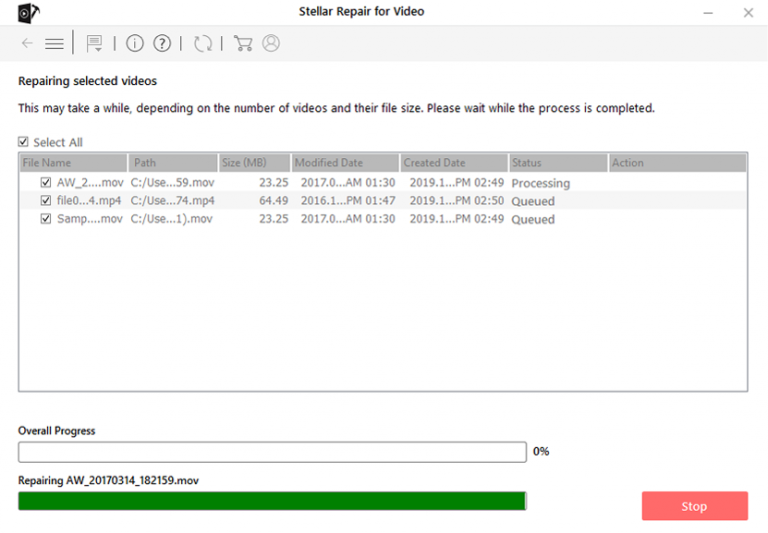 Step 3: You can click on 'Preview', in order to preview the repaired video file within the software and click on 'Save Repaired Files' button to save the repaired videos at desired location.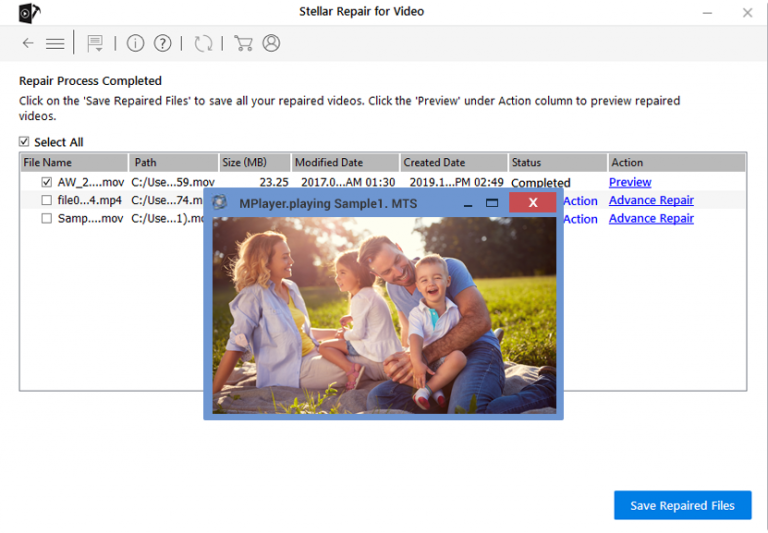 FAQs [Frequently Asked Questions]
Why Is My Video Not Rendering In Premiere Pro?
You may unable to render your video file in Adobe premiere Pro either due to corrupted or missing video files. To fix this issue, you need to find your missing video file then re-link it again.
What Video Format Should I Use For Premiere Pro?
Some of the supported file formats that you can use for Adobe Premiere Pro are AVI, MP4, WMV or TIFF.
Why Can't I Import MOV Files Into Premiere?
Sometimes, you may fail to import your MOV files into Premiere Pro because some necessary codecs are missing from the video file or the video file is unsupported by Premiere Pro. By transcoding the MOV file via VideoProc Converter, you will able to import your MOV files into Premiere Pro.
How Do I Fix The Rendering Problem In Premiere Pro?
Whether it's a common Premiere Pro issue or a rendering problem it can be easily solved by restarting the adobe Premiere pro software. All you need to do is, save your video file, close the program, and restart it again after sometime and your problem will be solved.
Time To Sum Up
It's quite frustrating when you're trying to compile, render or export your important video file and getting stuck with an Error Compiling Movie Premiere Pro. Luckily, there are a handful of ways that can help you to deal with this error.
In this article, I have gathered 7 tested and tried ways to fix error compiling movie Premiere Pro. If you are currently dealing with this error, then you must try out the given solutions one by one until and unless the error is fixed.
However, in case of video file corruption issue, you can use an advance Video Repair Tool. This tool will help you to fix all sorts of video related issues.

Reference: Solve compiling error when rendering or exporting from Adobe Premiere Elements.
Taposhi is an expert technical writer with 5+ years of experience. Her in-depth knowledge about data recovery and fascination to explore new DIY tools & technologies have helped many. She has a great interest in photography and loves to share photography tips and tricks with others.