If your files & folders in USB drive, SD card, Pendrive, or other data storage drive turned into shortcuts and you're unable to access them, then check if your files are hidden, run antivirus program and attrib command. Doing this will help you to solve how to fix folders turned into shortcuts and recover shortcut files in USB drive/Pendrive/SD card.
Most probably files turned into shortcuts due to viruses, malware, or trojans. It mainly happens when you connect your removable device with a virus-infected PC. However, the trojan just makes your files/folders invisible instead of removing them permanently.
So, if you abruptly find your files/folders turned into shortcuts, then don't worry, just start invoking the step-by-step methods mentioned in this post and solve this issue.
Besides that, you can use Hard Drive Data Recovery Tool to retrieve shortcut files successfully.
Rated Excellent on

Trustpilot
Free Hard Drive Data Recovery Tool.
Recover data from USB drives, Pen drives, SSDs, HDDs, and other devices on Windows. Try now!
List Of Content
Part 1- Common Signs That Can Be Seen After File/Folder Turn Into Shortcuts
Before moving ahead to deal with this problem, it is important to check whether your removable disk is actually suffering from shortcut issue or not.
Below I have listed the common symptoms that can be seen after file/folders to become the shortcut.
1. Unable To Access The Files Saved Within Your Folder
When you double-click on the specific file/folder to open it but it won't open and let you to access the data saved within it, at that time it is very clear that your folder turned into the shortcut.
2. Removable Drive Or External Drive Becomes Too Slow
Sometimes, it happens that the USB flash drive or Pendrive is working slowly because of which it's not supporting large-sized folders/files, and finally, they turn into shortcuts.
3. Shortcut Files & Folders Will Show The File/Folder Size In KB
Another symptom of files and folders turned into shortcuts is the change in file or folder size. Though, if your folder size is changed from MB, GB to KB then it is clear that your folder/file is turned into shortcut.
Part 2- Why Do Files & Folders Turn Into Shortcuts?
The major factor behind the files or folders turn into shortcuts is your external or internal hard disk getting attacked by "shortcut" virus.
On the other hand, we can say that your files/folders getting changed into the shortcut files are triggered by the notorious malware or trojan. This malicious trojan hides the files or folders and makes them completely inaccessible.
Part 3- How To Fix Folders Turned Into Shortcuts?
Check out this video guide on how to fix folders turned into shortcuts and recover shortcut files.
Follow the below step-by-step guide on how to fix shortcut files in USB using CMD or other methods. Let's try them.
Way 1: Check Whether Your Files/Folders Are Hidden Or Not
Whenever your SD card or USB drive files turn into shortcut due to a malicious virus attack then it'll hide your original files saved within the drive.
Thereby, in order to unhide your files and folders, you need to follow the below steps:
At first, you have to connect your USB drive or Pendrive to a PC.
Then, go to My Computer/This PC.
After that, find and double-click on your connected USB drive or Pendrive (named as My Drive).
Now, tap on a View option in the menu.
At this time, click on Show option >> click Hidden Items.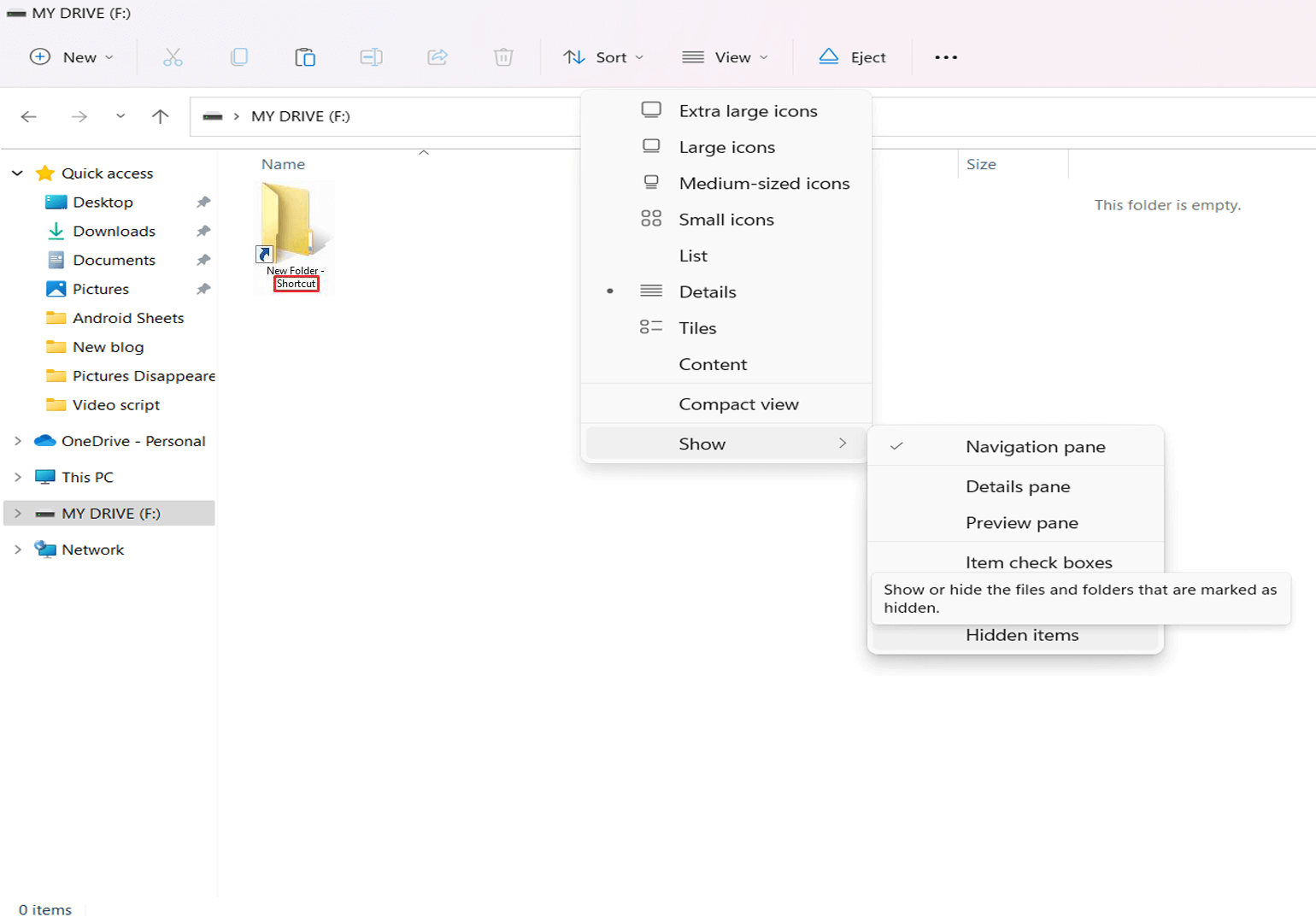 Finally, all the invisible or hidden files/folders will seem, hence making the stuff accessible.
After completing these steps, if you are still unable to fix files turned into shortcuts, try the next solution.
Way 2: Download & Run Antivirus Scan
Since files and folders turned into shortcuts due to viruses or trojans, so, it is important to remove virus from the device to convert shortcut file to original online files.
Removing the malware isn't a tough task. You have to just download & install any third-party antivirus tool on your PC. Then, run it to thoroughly scan your hard drive for malicious viruses.
To do so, follow the below-detailed steps:
Just download any antivirus program on your device.
Then, launch it & choose Scan option or you can go for a Full Scan.
After this, click on Ok to start a scanning process.
When the malware or virus is removed successfully, attempt to access a file/folder. Now, the content saved within your drive will be accessible.
Way 3: How To Fix Folders Turned Into Shortcuts By Running Attrib Command
There's no doubt, a chkdsk command is an excellent way for fixing file system errors along with files turned into shortcuts. All you need to do is just follow the below easy steps and convert shortcut file into original file on an external hard drive.
Step 1- On your PC, create the Notepad document.
Step 2- Copy this content into a Notepad & save that file.
attrib -r -a -s -h /s /d
del /f /s /q *.infMKDIR autorun.inf\Kill……..\
attrib +r +a +s +h *.inf /s /d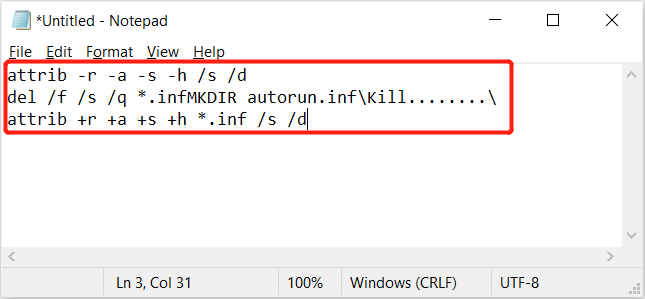 Step 3- After this, close a notepad document & give new name as the "UPAN.cmd". (here, .cmd is a file extension.)
Now, copy a file to a device where the files/folders are turned into shortcuts.
Step 4- Make double-click on .cmd file & run it.
Finally, you have to wait until the process gets over. Once the process finishes, the shortcuts will be permanently removed & you can access the files saved within the folders again.
Part 4- How To Recover Shortcut Files In USB/Pendrive/SD Card?
If want a risk-free way to recover shortcut files in Pendrive or other external drives, then you can go for Hard Drive Data Recovery Tool.
By following a few simple steps, you can eventually retrieve data from SD card, hard drive, memory card, USB drive, pen drive, etc.
Apart from that, this data recovery program is user-friendly & non-technical staff could easily run this to recover data from external storage devices.
The best thing about this tool is that it supports both the OS: Windows & Mac.



* Free version of the program only scans and previews recoverable objects.
So, download this software on your PC and go through its step-by-step guide.
Part 5- How To Remove Shortcut Virus From SD Card/USB/Pendrive?
You can remove shortcut virus from SD cards, USB drives, or other data storage media by formatting your drive.
But do remember that, formatting your external hard drive will FULLY erase the data that are saved within it.
Therefore, if you haven't saved anything vital on your drive & wish to remove Shortcut virus, do follow the below instructions carefully:
Step 1: At first, press "Windows" + "E" together to open "This PC" folder.
Step 2: Then, make right-click on your SD card, USB drive, or Pendrive. (Note- Your disk name will be shown as a "Removable Disk".
Step 3: Now, from a list of the options which seem after right-tapping, click on the "Format" option >> choose a file system for your drive.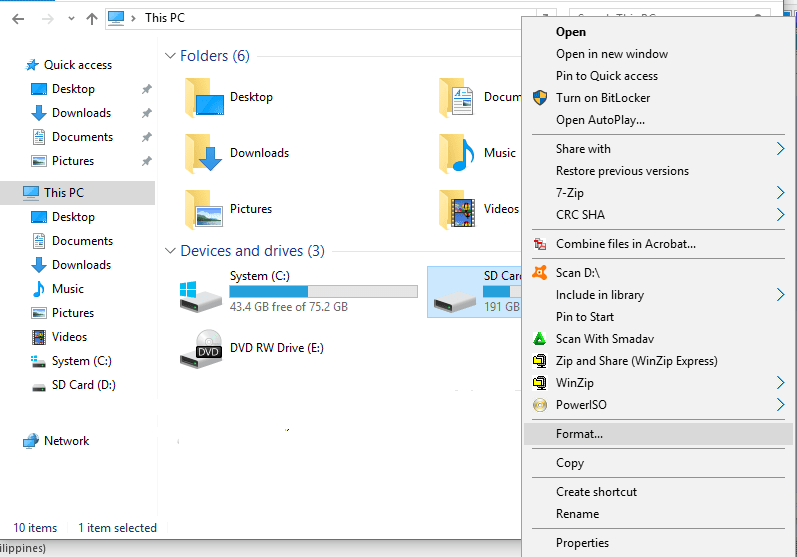 Step 4: Select the "Quick Format" option >> click "Start".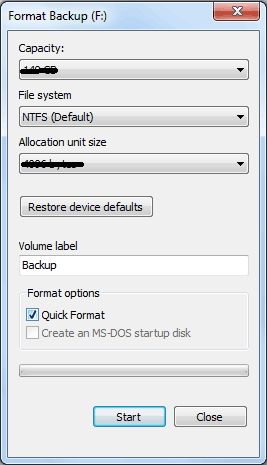 Step 5: After that, click on the "Yes" when appearing a pop-up.
Formatting your disk drive will eliminate shortcut viruses instantly.
Part 6- People Also Ask:
Where Are Desktop Shortcuts Saved?
The desktop shortcut files and folders are saved into the location-C:UsersPublicDesktop.
Why Did My Files Turn Into Shortcuts?
Your files turn into shortcuts mainly due to the virus, malware or trojan infected your PC/laptop. After that, whenever you connect an external device with that PC, the malware will hide the real folders & turn them into shortcuts.
How Do I Fix Folders That Have Become Shortcuts On An External Hard Drive?
You can fix folders that have become shortcuts on an external hard drive by trying the below tricks:
Show Hidden Files in File Explorer.
Run CMD Command.
Run System File Checker.
Format The External Hard Drive.
Can You Recover A File From A Shortcut?
Well, the answer is yes, you can recover shortcut files using CMD (attrib command) or Data Recovery Tool. Though chances of shortcut file recovery using CMD is less so, it is suggested to go for shortcut file recovery software free download for how to recover shortcut files in Windows 10.
How Do I Change Shortcuts To Normal Folders?
Generally, the shortcut virus hides your folders/files and then changes them to the shortcut icons. Thus, you can easily change shortcuts to normal folders by following the below steps.
Click & open your removable drive.
Then tap on three dots menu that you can see at the top of your screen.
Now, click on Options >> go to the view tab.
At this time, tick on the option 'Hide protected operating system files.'
Bottom Line
So, this is all about how to fix USB folder turned into shortcuts and how to retrieve files from shortcut folders.
Although, you can select a suitable method specified above to solve files and folders turned into shortcuts in Windows 8/10/11.
Apart from the above-mentioned solutions, if you've any other solutions on how to fix folders turned into shortcuts issue, then please let us know on Facebook or Twitter.
Thanks for reading…!
Taposhi is an expert technical writer with 5+ years of experience. Her in-depth knowledge about data recovery and fascination to explore new DIY tools & technologies have helped many. She has a great interest in photography and loves to share photography tips and tricks with others.