Experiencing "movie recording has been stopped automatically" error on your Canon digital camera? If it is so, then read this post till the end and sort out this issue by yourself.
Recently many Canon DSLR and Canon Rebel T3i users have reported that they couldn't record video after using the SD card as an external storage. Thus, if you're one of them then stop worrying & keep on reading this article to learn how to fix the Canon camera stops recording video automatically.
You can fix video or movie recording stopped automatically error on Canon cameras by checking the SD card compatibility, modifying the recording resolution, controlling a camera's bitrate, and formatting the memory card.
Common Reasons For Movie Recording Has Been Stopped Automatically on Canon
We've found some major reasons for the occurrence of this error as follows.
Canon Model fails to support the SD card.
Insufficient storage space of Canon camera internal memory.
Overheating of Canon digital camera.
Slow read and write speed of memory card.
Using a corrupted SD card.
Canon digital camera might run on low battery.
A higher bitrate of camera.
So, now we're going to tackle the situation based on the factors listed above.
How To Fix Movie Recording Has Been Stopped Automatically Error On Canon Camera?
Check out the below workarounds and troubleshoot movie recording stopped automatically on canon DSLR camera.
Solution 1: Cool Down The Canon Camera
As we all know that, DSLR cameras are versatile & mainly used by photographers to shoot HD quality images/videos.
But sometimes, it may happen that while recording videos or capturing photographs during summer or under intense Sunlight can lead to device overheating problems.
When this happens, it is highly recommended to stop recording then power OFF your Canon camera & wait until it cool.
Solution 2: Check The Camera & Memory Card Compatibility
Most of the time, it happens that users are buying a new SD card & begin using it without worrying about the card compatibility with a recording device. So, if you have also done this, then perhaps the error is occurring because of a compatibility issue.
In such a situation, you need to check whether its configurations such as storage space, memory card type and write speed of the card are actually matching your current Canon device requirements. Also, do not forget to check the camera compatibility with the SD Card.
Solution 3: Use Another Memory Card To Fix Movie Recording Has Been Stopped Automatically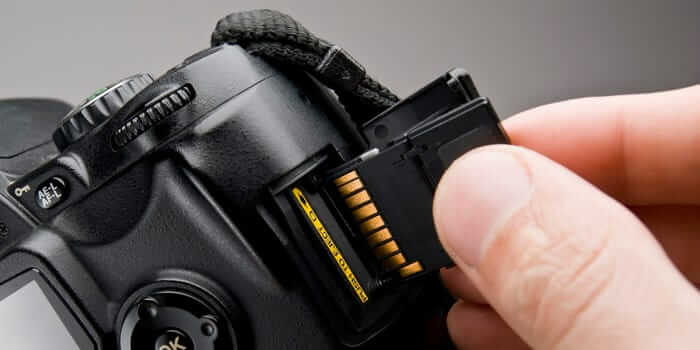 Not able to shoot video using Canon DSLR or other Canon model? Maybe there is some issue in the SD card inserted in a camera. Though, in order to check if you are unable to capture movie due to a faulty SD card then you should try another memory card.
Simply remove the old memory card from your Canon digital camera and insert a different one. But before using another card, don't forget to format it within a camera or PC.
Also, make sure your memory card has sufficient space for recording further videos.
After doing so, check if movie recording has been stopped automatically slow card write speed problem is solved.
Solution 4: Change A Recording Resolution
If you don't want to purchase a new SD card then once you can try to change a recording size of the video can also fix the error.
Though, you can easily set the video footage size (compression, frame rate, clip size, etc.) under the movie settings of a Canon camera.
Note: In Canon Rebel T5 or Canon1200D camera, you can simply adjust a movie setting via Quick Control.
Solution 5: Control The Canon Camera's Bitrate
The higher bitrate of a camera is another foremost reason that can lead to Canon video recording has been stopped automatically issue. It is always suggested to keep the camera bitrate in proper value so that the card inserted in it can easily handle it.
Thus, many users have conveyed that lowering down a bitrate had helped them to solve recording stopped automatically Canon camera. Once, you should also try this method.
Solution 6: Format The Memory Card
Continuously using the SD card for storing data might create junk files. So, it is always suggested to take a backup of your SD card data and format it on a regular basis.
Formatting the card wipes out all the stuff and makes it fresh. You can either format your card on PC or Canon camera itself.
Also, ensure that your micro SD card has sufficient space before recording a movie or video again.
Below I have shown how you can format the card in Camera as well as PC:
How To Format Card In Camera?
First TURN OFF your Canon camera & insert the card properly into a camera card slot.
After some time, POWER ON the device >> choose "Menu" option.
Use a navigation wheel then move to a right side and get a wrench & dot image.
There, move down and choose "Format Card" option >> hit "SET" button >> OK.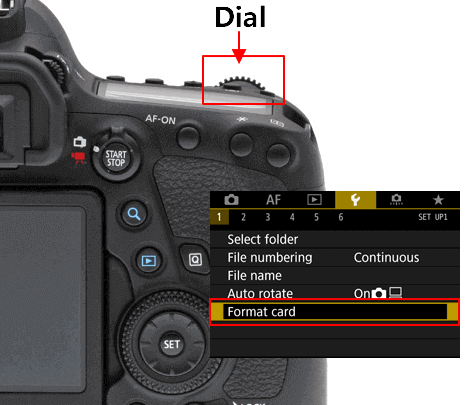 Again, press a "SET" button.
Now, a menu will seem once your card is formatted.
How To Format Card In PC?
Connect the card to Windows PC using the card reader. (Ensure it is detected)
Next, double-click on "This PC" or you can press the "Win + E" keys together to open the Windows Explorer.
Here, you will be able to see a connected memory card.
At this time, make right-click on an SD card >> select "Format" option from a list.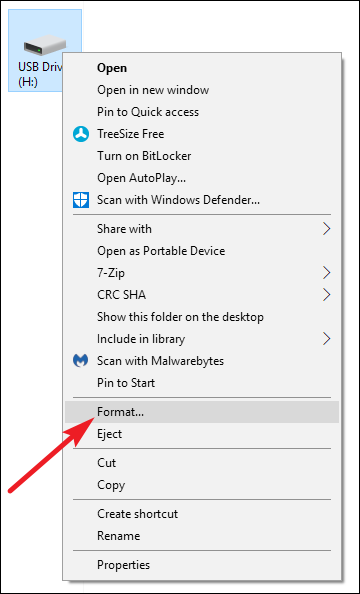 Now, you need to choose a file system that you wish to format your card as. There you will get 3 options: NTFS, exFAT, and FAT32.
You have to select one of them >> tap Quick format >> click "Start".
Your SD card will be formatted successfully.
Solution 7: Update To The Latest Firmware
Last but not the least if none of the above methods helped you to fix video recording stopped automatically on Canon then the last option left for you is to update to the latest firmware.
If your firmware is not updated then you need to update it immediately. Do you know why I am suggesting this method? Because updating the firmware usually fixes minor as well as major glitches in a camera.
Accordingly, it's worth checking whether there's any latest update available or not for the Canon.
Though, in order to know in which firmware your Canon camera is running, you need to see it in your camera. You can get the newest version from a support & downloads page of the Canon website.
How To Fix Corrupted & Damaged Video Files?
Sometimes, it happens that we use to record movies or videos in the slow-writing SD card inserted in the camera due to which the captured video can corrupt. In such a situation you can try the advanced Video Repair Tool to repair corrupted video files.
It is one of the best and effective DIY utilities that can be used to resolve corrupt, choppy, jerky or broken videos recorded with any digital camera including Canon.
The best thing about this program is that – it's available for both OS (Windows and Mac).



* Free version of this program only previews repaired videos.
So, without wasting more time, just download this tool on your Windows and Mac and get rid of video-related issues effortlessly.
Below you can find the easy steps to run this software.
Step 1: Download, install and launch Video Repair software on your system. Click on 'Add Files' to add corrupted video files.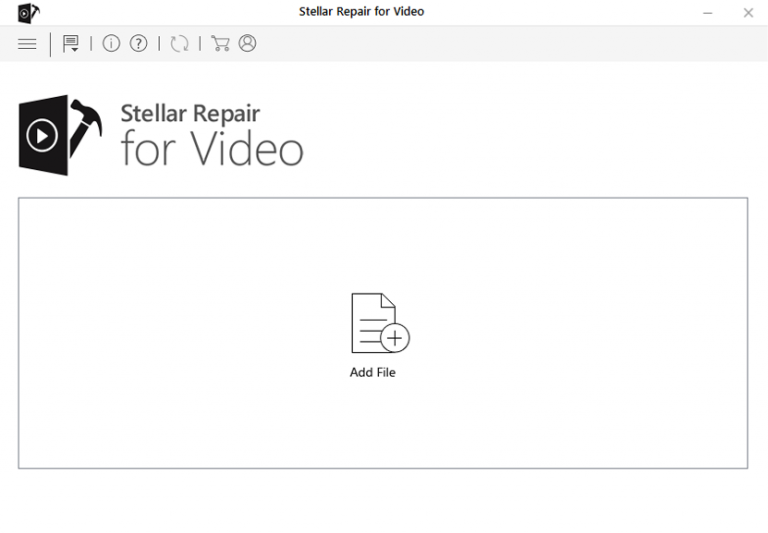 Step 2: Click on 'Repair' button to begin the repairing process. This start repairing your added video files one by one.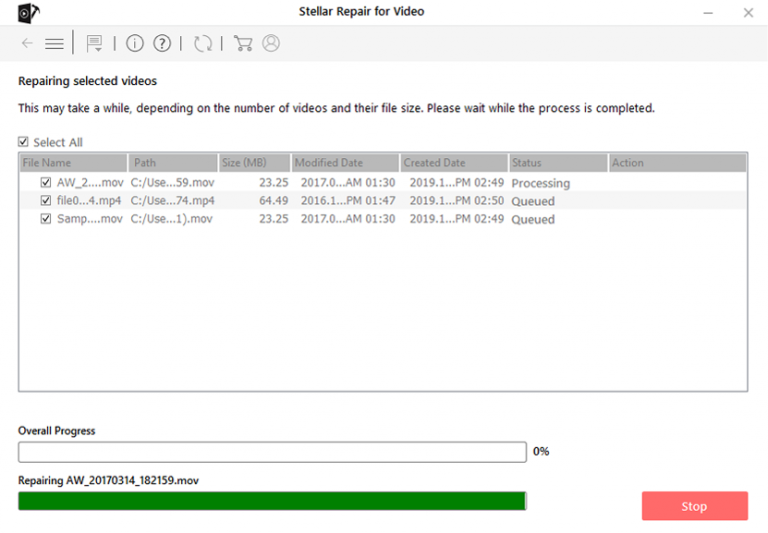 Step 3: You can click on 'Preview', in order to preview the repaired video file within the software and click on 'Save Repaired Files' button to save the repaired videos at desired location.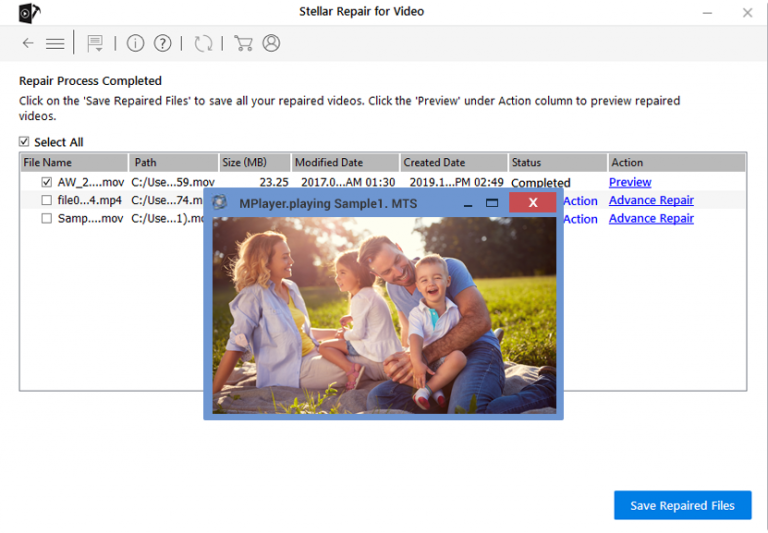 Frequently Asked Questions:
Why Does My Canon 70d Stops Recording Automatically?
There are numerous reasons due to which you are unable to shoot videos on Canon 70d and getting Canon video recording has been stopped automatically issue. Hence, below I have listed the common causes: 1. Maybe your camera is overheated 2. Using incompatible SD/memory card3. Because of a corrupt memory card.
How Do You Fix Movie Recording Has Been Stopped Automatically Canon 1300D?
In order to fix this issue, follow the below troubleshooting tricks:1. Cool down the Canon camera2. Change the recording size of Canon camera3. Control the camera's bitrate4. Update to the latest firmware5. Format the camera memory card6. Use another SD card
How Long Can Canon 600d Record Video?
Canon 600d camera can record the videos and movies up to 30 minutes.
Time To Verdict
So, now I've come to end up this blog…
Hopefully, the aforesaid solutions will absolutely help you to solve Canon camera stops recording video automatically. Therefore, follow them one by one to get rid of this issue and record your cherished memory using a Canon camera without any difficulty.
That's all…
Alex is an expert technical writer with 7+ years of experience. His in-depth knowledge about data recovery and fascination to explore new DIY tools & technologies have helped many. Alex has a great interest in photography and loves to share photography tips and tricks with others.