Lexar memory card is the best and renowned storage drive used in most of the modern electronic gadgets. It is used in digital cameras, camcorders, Android phones and other portable devices. However, if you're a Lexar memory card user, then it's obvious that you have a lot of data like photos, videos, music etc in your SD card. But at times those files become inaccessible or get deleted due to various reasons. So in this blog, I am going to discuss how to perform Lexar SD card recovery using best working methods.
To recover photos from Lexar memory card, we recommend this tool:
This software will restore data from corrupted, formatted, encrypted storage media and works in all data loss situations. Now recover your lost and deleted data in 3 easy steps:
Download this Media File Recovery Tool rated Excellent on Pcmag.com.
Select the storage media from which you want to restore the media files & click Scan.
Preview the recoverable files, select the items you want to recover and click Recover to save the files at desired location.
Lexar Professional SD Card Recovery Software
To recover files from Lexar SD card, it is necessary to use the recommended data recovery tool. Hence, you need a Lexar SD Card Recovery Software as this will help you to restore Lexar memory card with ease. It's very powerful photo recovery software that retrieves photos, videos and other stuffs without losing any original files.
Below, find out its other exciting features-
Recover damaged photos, videos and music files from corrupted or damaged memory cards
Restore data from External storage device and Hard Drive as well
Retrieve lost or corrupted data from different memory cards like SD card, SDXC card, SDHC card, CF card, etc
Get back deleted stuffs from other memory card brands, as for example, Sandisk, Verbatim, Transcend, Toshiba, Pentax, Sony, Samsung, Kingston, Kingmax, etc
It is available in both the OS Windows & Mac
100% read-only, Safe, secure and easy to use
emid

emid


* Free version of the program only scans and previews recoverable items.
Now, the question may arise in your mind – How do I use the Lexar recovery tool? Well, don't panic, you can get your answer below.
You can try this step by step guide to know how to recover pictures from Lexar SD card using this feature-loaded software.
How to Do Lexar SD Card Data Recovery Through Backup?
If you've backed up the Lexar SSD dash data to another removable device then, it is a good option. You can retrieve the backup files to the original hard drive or you can view the lost photos/videos directly on the backup device.
To do so, you need to try the below steps:
Firstly, you need to find and open a backup folder
Now, locate the exact file that you have deleted or erased from the Lexar SD card
In this step, you've to copy and restore the found photos and videos back to the lexar memory card or disk drive
These steps will surely help you to recover deleted photos from Lexar SD card.
Restore Lexar USB Drive Without Software Using attrib Command
You can try another manual way the attrib command to perform Lexar USB flash drive data recovery. So, to get back data from Lexar SD card or USB drive, you can try the following steps:
Firstly, you've to plug in a hard drive, memory card or USB drive to the system
Now, just go to Start menu
After that, type the 'cmd' in a search bar and hit the Enter Then, you can see option 'cmd.exe' under a program's list.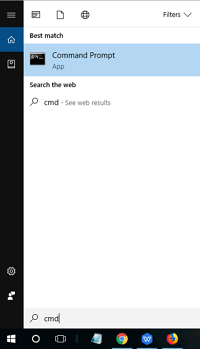 Next, right-click the 'exe' and then there you will get the command windows that allow you to recover data that are infected with a virus.
Lastly, you need to type in 'attrib -h -r -s /s /d drive letter:\*.*', as for example, 'attrib -h -r -s /s /d G:\*.*'.

Please NOTE: You can replace G with a letter of the hard drive or any other storage drive where you missing stuffs.
How Do I Recover Photos From My Lexar SD Card?
When you face such data loss issue, you might be thinking that your all precious photos have deleted forever. But this is not true, it is available there only and you can easily rescue the erased pictures by using few simple ways given in this article. To do instant Lexar SD photo recovery, you have to try the steps of Lexar recovery tool which will definitely help you to do so.
Note: You have to stop saving new images, videos or any other media files in your Lexar SD card because saving new data can permanently delete your essential lost files from it.
Why Does My Lexar SD Card Keep Deleting My Files?
Well, if you're a Lexar memory card user, then it's obvious that you have lots of crucial data like photos, videos and other files in it. And losing those files due to several unexpected reasons are very much annoying.
 Let's come to the point..Your Lexar SD card keep deleting files due to any of the below mentioned scenario.
Lexar card is infected by a virus– Virus infection is a common reason, due to which you may lose your important images, music file, and other data.
Accidentally deletion– You may lose your important photos while you delete it accidentally from Lexar card.
Formatting of Lexar SD card– You can format your memory card easily and while doing something you will lose your important data.
People Also Ask
What Does Lexar Mean?
Lexar is a famous brand of the flash memory products manufactured by Chinese company Longsys.
Is Lexar Still Making SD Cards?
YES, Lexar still makes SD cards and other storage devices.
In June 2017, Micron announced that it would be discontinuing its entire Lexar removable storage devices like card readers, flash drives, memory cards, storage drives, etc. But the manufactured company Longsys says that "high-performance and exceptional reliability will continue making the Lexar brand devices.
How Do I Open My Lexar SD Card?
To open the Lexar SD card, you have to take-out your card from the device. Then, look at the front of the memory card. You will see a tiny lock-switch on the left-hand side about three-quarters of the way up the memory card. Move the switch to the down position with your fingernail. By doing so, you can open your Lexar SD card easily.
How Do I Restore My Lexar SD Card?
To restore Lexar SD card data, you can try the world's best and most recommended Lexar SD card photo recovery software. It's very powerful photo recovery software that retrieves photos, videos and other stuffs in their original quality.
Is Lexar A Good Brand?
Yes, Lexar is good and the best brand of flash memory products manufactured by the Chinese company Longsys. Products manufactured by Lexar include Compact Flash cards, SD cards, USB flash drives, Solid State Drives and card readers.
How Do I Fix My Lexar Flash Drive?
Well, you can fix your Lexar Flash drive by updating the USB device driver, assigning the drive letter or by formatting it.
Why Does My Lexar USB Keep Flashing?
On both the Lexar USB flash drive and card reader, a flashing light indicates data transfer is in progress. You should never remove the Lexar device when the LED light is flashing, or you risk corrupting your data, which could make the data unrecoverable.
Time To Verdict
The Lexar SD card would get accidentally formatted, virus attacked or devices system crashed can remove your data. When pictures, videos, and other stuffs wipe from its source, it is very tough to get back those files. But after going through this complete blog, you can recover photos from Lexar SD card by using the given above solution.
Without wasting any time, you can directly try the best Lexar SD Card Recovery tool to restore Lexar memory card data easily.
 Hope the aforementioned information will helpful for you.
Taposhi is an expert technical writer with 5+ years of experience. Her in-depth knowledge about data recovery and fascination to explore new DIY tools & technologies have helped many. She has a great interest in photography and loves to share photography tips and tricks with others.