As you're reading this post, you must be looking for the perfect solutions for how to recover corrupted MP4 videos. So keep reading this post till the end. Here in this article, I am going to discuss-what is MP4 file format, how MP4 files get deleted due to unexpected causes, and also the best MP4 file recovery software to recover deleted MP4 files.
Rated Excellent on

Trustpilot
Free Video Recovery Tool.
Recover videos, clips & video recordings from all digital cameras & memory cards on Windows for Free. Try now!
But before I proceed further, I would like to provide something more about the MP4 Video file format…
What Is An MP4 File?
MP4 is a video file format that contains a number of videos, audio, and even subtitle streams. This file format is portable and is highly supported by devices like mobile phones, cameras, iPods, PSP, etc Though, the MP4 is famous than MOV or other video file formats because it can be operated through various kinds of platforms including Windows, Linux, MACs and more devices.
MP4 video format contains the VLC incompatible video codec, then it will not be supposed to play in the VLC. To do so, you can convert MP4 to AVI that can be easily played in the VLC by downloading some codec like, DivX codec.
Reasons For MP4 Video Files Loss Or Inaccessibility
Some of the reasons behind the inaccessibility of the MP4 file:
Accidental formatting
Interruption during reading and write process
Memory card or hard drive corruption
Improper handling of storage device
Malware infection that corrupts your MP4 videos badly and makes them inaccessible.
Is It Possible To Recover Deleted MP4 Files?
Well, the answer is YES. With the help of MP4 file recovery software free download, you will be easily able to recover such videos. Or, you can also try the other alternatives like using the CMD command, or recycle bin, or from backup option.
But you've to keep in mind that as soon you come to know about video files lost, immediately stop using your device to avoid any kind of data storage further. Unless any new files are overwritten to old data, there is still a chance to recover MP4 videos with ease.
Let's proceed to know- how to recover corrupted MP4 videos
5 Solutions to Recover Corrupted MP4 Video Files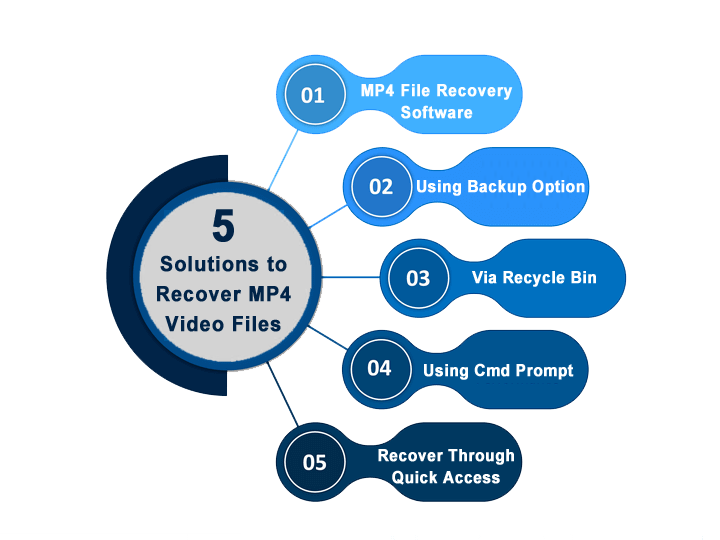 Solution #1: Best MP4 File Recovery Software To Recover Corrupted MP4 Video Files 
The MP4 File Recovery Tool is enough solution that provides a suitable process for better MP4 recovery. This tool rescue deleted or formatted MP4 videos from different storage devices such as memory card, SD card, Pen drive, Hard drive, CF card, MicroSD card USB flash drive, and more.
This tool not only recovers the MP4 video files but, also capable to retrieve other video file formats such as AVI, MPEG, MOD, ASF, MOV, 3GP, VOB, MTS, WMV, TS, etc.
It has some more outstanding features such as:
Recover virus affected files
Recover corrupted MP4 videos
Easy to use interface
Don't need any technical skills.
Restore MP4 videos lost after formatting.
Support similar file formats like MIDI, MOV, WMV, WAV, AVI, and more.
Supports Windows as well as MAC operating system.
emid

emid


* Free version of the program only scans and previews recoverable items.
So, simply try this step-by-step guide and know how to recover deleted MP4 files Android with the use of this fully featured free MP4 file recovery tool. After finishing the recovery process, you will get all the recovered files in your preferred folder.
Solution #2: Restore MP4 Files Via Backup Option
Well, a backup is a primary option for every user who randomly facing this type of data loss issues.
And, if you have saved a backup of the lost/ deleted MP4 video Files, then those deleted MP4 files can be easily recovered from the backup option. To do so, just follow the below-given steps to restore from backup:
First of all, find out & open the video backup folder.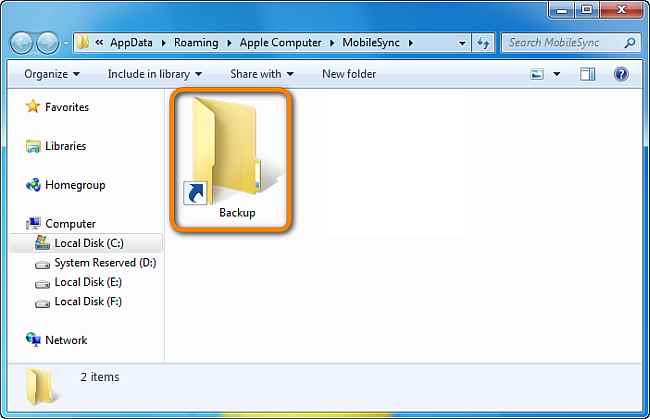 Next, locate the data you actually restore lost or deleted MP4 videos from the camera or SD card.
Lastly, just copy & store the found videos back to the SD card or the disk drives.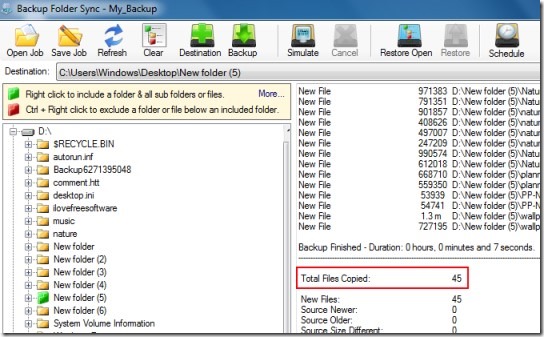 Solution #3: Recover MP4 Files Via Recycle Bin
Well, if you've deleted MP4 videos accidentally then, you can check your Recycle Bin. The Windows Recycle Bin is temporary storage for data that have been lost by the user but not yet permanently lost from the file system.
So, if you rub out your movie file mistakenly, you can restore it from the Recycle Bin. To do so, follow these steps:
Firstly, open your Recycle Bin.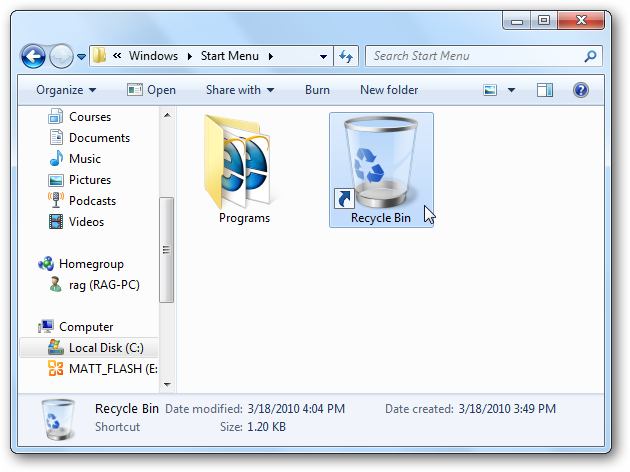 Next, right-click on deleted MP4 files
After this, you have to choose the Restore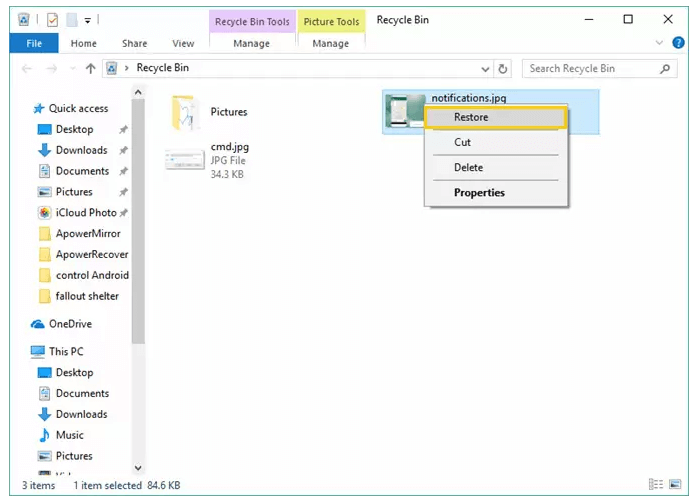 Solution #4: Retrieve Deleted MP4 Files Using Cmd Prompt
There is another solution available to recover corrupted MP4 video files using CMD prompt. It is one of the easiest solutions to perform corrupted MP4 file recovery.
There are several possible reasons due to which video files are deleted. But those files are not actually deleted from a storage device, it still resides there and presents there only but in a hidden manner.
Step 1: Firstly, you've to open the Command Prompt as administrator.
Step 2: After that, you have to type the chkdsk /r /f X: next press on the "Enter" key. Then simply replace the letter X with the drive volume letter.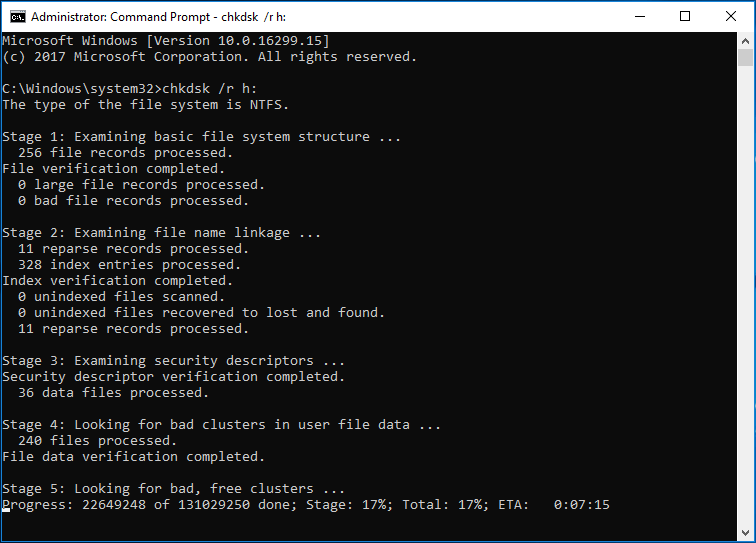 Step 3: Lastly, try to detach and then reconnect the storage device to access it properly.
Solution #5: Recover Deleted Mp4 Files Through Quick Access
The recently modified MP4 video files can be easily recovered via Quick Access. So, to do MP4 video recovery using quick access, you have to follow these steps:
First Go to the File Explorer
Next, click on the Quick Access
After that, recent files modified are shown. Simply choose your MP4 files and save them.
The FAQ (Frequently Asked Questions)
How To Fix Inaccessible MP4 Video Files After Recovery?
Below are the steps to repair MP4 video file after restoration using VLC: • Firstly, open the VLC player and then, go to Media. • Select the Convert or Save. • Choose the recovered MP4 files using Add input files or folder options. • Next, click on the Convert/Save button. • Then, name your video file. • After that, choose the desired Codec from the profile list. • Now, select the Edit Selected Profile option. • Lastly, tap on Start to begin the process.
How Do You Recover Permanently Deleted MP4 Video Files?
Below I have provided the steps to restore permanently deleted MP4 files in Windows 10. Step 1: First of all open the 'Control Panel' Step 2: In the next step, go to the 'System and Maintenance' option then, Backup & Restore (Windows 7/10). Step 3: In the last step, make click on the 'Restore my files' to recover MP4 video files.
The Error Message That You Could Experience While MP4 File Loss:
• File Not Found • Unable to Read Memory Card • Memory Card Errors • Media Player can't read a file, etc.
To Sum Up
Though MP4 file deletion is caused by various reasons. Here I have provided the information regarding how to recover corrupted Mp4 video files that will help you to recover broken MP4 video files.
The above-given solutions are very effective and anyone can use them easily. If you find the manual methods difficult to perform then make the whole process easy by trying the MP4 File Recovery Tool.
Apart from this, whenever you come across the MP4 corruption issue, then you can fix corrupted MP4 files by using MP4 Video Repair Tool. Many times it may happen that while fixing video files, it gets lost at that time you have to simply follow this blog to recover deleted MP4 files.
I hope you liked this article and it helped you in resolving your issues.
That's all…
Taposhi is an expert technical writer with 5+ years of experience. Her in-depth knowledge about data recovery and fascination to explore new DIY tools & technologies have helped many. She has a great interest in photography and loves to share photography tips and tricks with others.