How to protect your personal & important files from theft and hackers on Windows PC? The answer is by using the BitLocker Drive Encryption.
Yes, it's an advanced safety feature that is introduced by Microsoft for Windows-based OS. BitLocker hard drive encryption offers the best data protection by encrypting the entire files stored on Windows system partitions or volumes. But like other hard drives, BitLocker drive is also prone to data loss. So, today in this article, I am going to discuss each and everything that you need to know about how to recover data from BitLocker encrypted drive.
And of course, you will learn the major factors behind the deletion of data from BitLocker encrypted drive.
Are you ready! Let's read…
To recover data from BitLocker encrypted drive, we recommend this tool:
This software will restore data from corrupted, formatted, encrypted storage media and works in all data loss situations. Now recover your lost and deleted data in 3 easy steps:
Download this Media File Recovery Tool rated Excellent on Pcmag.com.
Select the storage media from which you want to restore the media files & click Scan.
Preview the recoverable files, select the items you want to recover and click Recover to save the files at desired location.
Can You Recover Data From An Encrypted Drive?
Yes, of course, you can recover deleted files from BitLocker encrypted drive by using some effective solutions mentioned here. If you have recently deleted any of your files from your computer, then first of all you need to check your Recycle bin folder. I am saying so because whenever you delete any files or folder then it directly moves to the recycle bin and those lost files remain there until and unless if you've not emptied them.
In case you have emptied your recycle bin, then what? Take a deep breath & Calm down! One of the best options left for you is BitLocker data recovery software. Using this trustworthy tool you can recover data from BitLocker encrypted drive in a hassle-free manner.
Finding Recovery Key of BitLocker Drive
If you cannot find the recovery key, just think about the places to look for your BitLocker recovery key:
Print out the paper: Look in places you keep important papers.
USB drive: Plug the USB flash drive into your locked PC and follow the instructions. If you saved the key as a text file on the flash drive, use a different computer to read the text file.
Your Microsoft account: Try signing your Microsoft account with another computer or phone to see Bitlocker recovery keys.
If you cannot find the BitLocker recovery key, you will not be able to access the BitLocker encrypted drive and its' contained information.
Two Situations May Occur
1. Computer Not Unlocking The Drive At Boot
The encrypted BitLocker drives can be unlocked with your PC's built-in TPM (Trusted Platform Module) every time you boot it. However, if the Trusted Platform Module unlock way fails, then you will receive a "BitLocker Recovery" error on your computer screen which asks you to "Enter the recovery key for this drive". (If you have set up your PC to require a PIN or password each time it boots, then you will see the same unlock screen that you generally use before getting a BitLocker Recovery screen. But, if you do not remember that password, then simply press the ESC button to enter the BitLocker Recovery.)
Now, type the recovery key to continue. Doing so will help you to unlock the hard drive & your PC will boot normally.
If your PC is displaying the BitLocker error on the screen each time it boots & you don't have any way of getting the recovery key, you can always use the "Reset this PC" troubleshooting option to fully wipe your computer. You'll be able to use the computer again, but you'll lose all the files stored on it.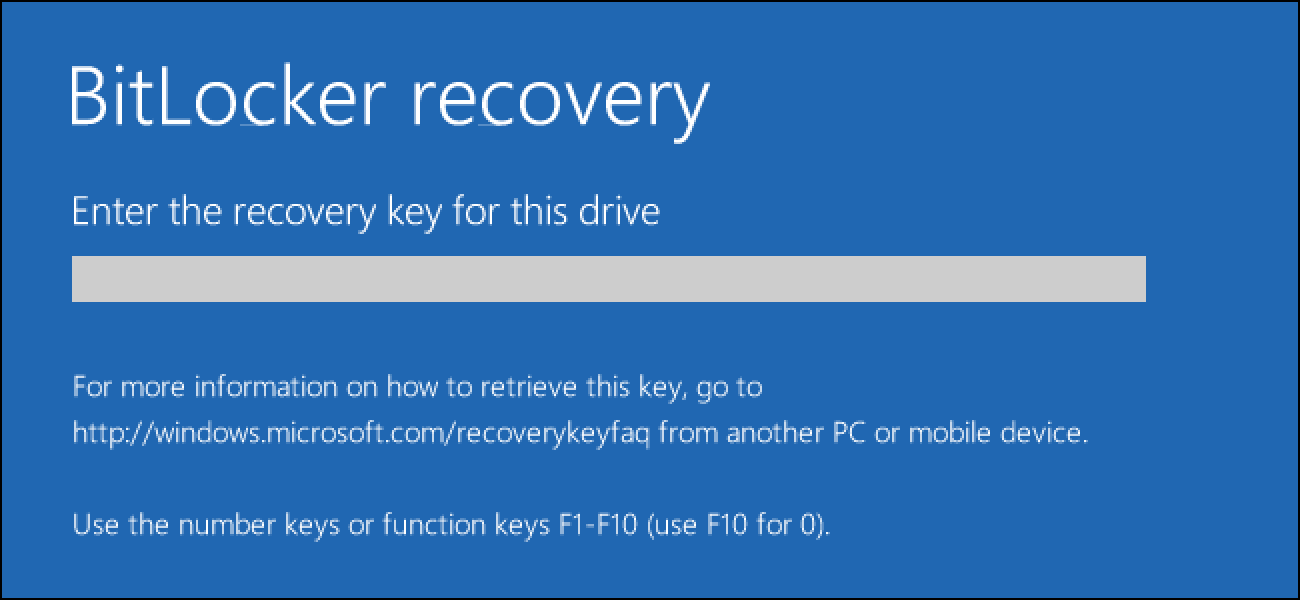 2. Unlock Drive Within The Windows
If your BitLocker encryption hard drive isn't unlocking normally, then you have taken a BitLocker encrypted hard drive from another PC & connected it to your recent system. So, to unlock the drive within the Windows PC, you need to follow the below steps:
First of all, connect your hard drive with PC.
Then, open a Control Panel & then click on System & Security
After this, go to the BitLocker Drive Encryption.
Note: You can perform this only on Professional editions of Windows, as they provide access to BitLocker software.
Find the external drive in a BitLocker window & tap the option "Unlock Drive".
Now, you will be asked to simply enter the PIN, password, PIN, or other details that you have to provide to unlock your drive.
If you do not have the complete information, then choose the More Options and then Enter Recovery Key.
At this time, you need to enter a recovery key to unlock your drive.
When you enter a recovery key, a hard drive will unlock & you can easily access the data present on it.
Now, the ID shown here will surely help you to find the right recovery key if you've various saved keys to select from.
Best Way To Recover Data From BitLocker Encrypted Drive
In order to retrieve the deleted, corrupted or formatted data from the BitLocker encrypted drive, you can try the professional BitLocker Data Recovery tool. It is enough solution that provides better recovery of your valuable stuff.
This software thoroughly scans the entire device & restore data from it easily. It has a powerful scanning technique that can solve how to recover deleted file from BitLocker with ease.
The best part about the external hard drive data recovery software is that it is available for both the platforms; Windows & Mac respectively.
emid

emid


* Free version of the program only scans and previews recoverable items.
Therefore, don't wait for anything, just start downloading & installing this feature-loaded program and then follow the step by step guide mentioned below.
Step 1: Install & launch Data Recovery software.
Step 2: From the 'Select What to Recover' screen, select the file type(s) that you want to recover & click 'Next'.
Step 3: Now, select the BitLocker encrypted drive & click on 'Scan'.
Step 4: The software prompts & asks for the BitLocker password. Simply enter the encryption password to scan your drive. Besides, you can scan the BitLocker hard drive by putting a BitLocker recovery key as well in the text field.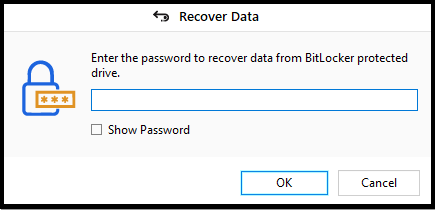 Please Note: If you don't remember your BitLocker password then you can't recover the data from an encrypted storage drive.
Step 5: After the scanning process, you can preview the data. Select the files that you need to recover.
Step 6: If you're unable to find the preferred files, then tap on 'Click Here' link which you can see at the bottom to perform the 'Deep Scan'.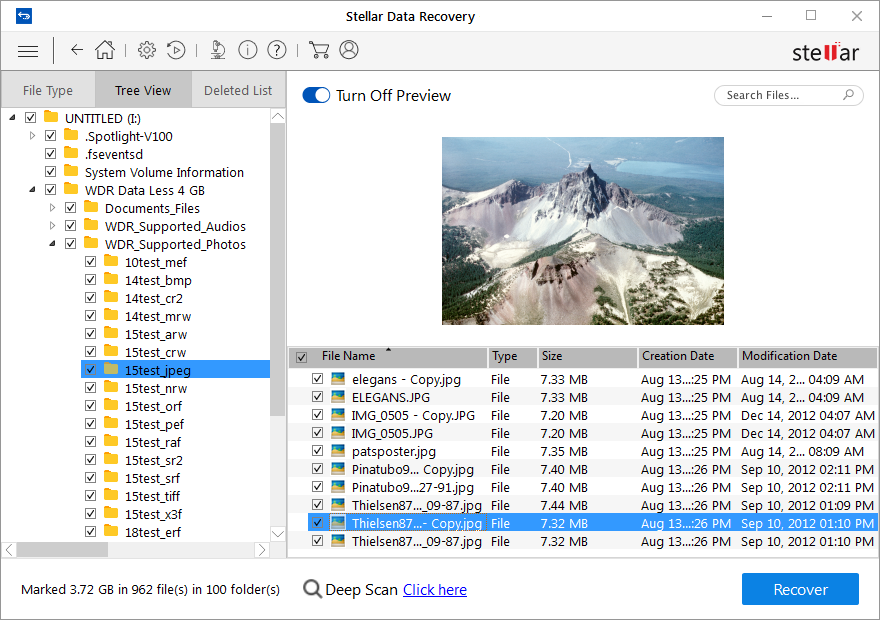 Step 7: When the scanning process gets finish, choose wanted files & click the 'Recover' button.
Step 8: In this step, click on 'Browse' to select the location to save your files. Use the external hard drive to save all the recovered data.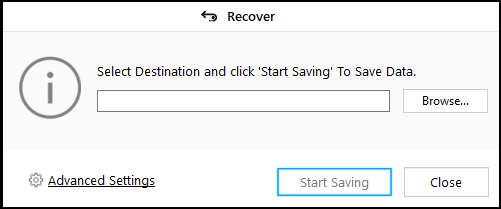 Step 9: Lastly, click on the 'Start Saving' to just save the recovered stuff.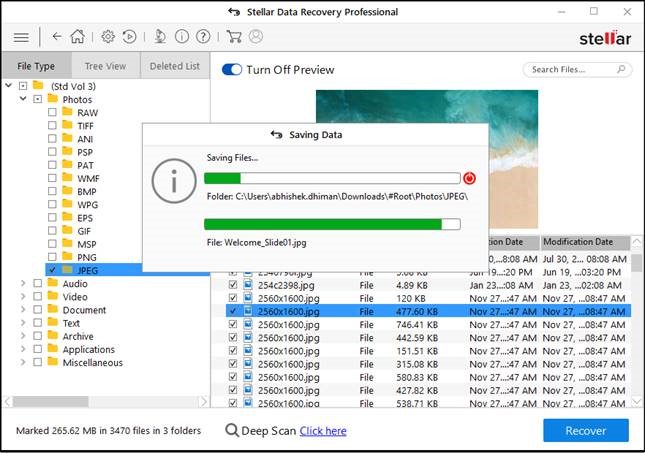 How To Recover Data From BitLocker Encrypted Drive Manually?
When you delete any of the files from your PC's local hard drive, then you need to first check your Recycle bin folder. Those deleted data might still in the Recycle bin if you've not emptied it.
Therefore, if you want to recover data from BitLocker encrypted drive then follow the below steps:
First of all, go to your desktop and then double-click on the Recycle Bin icon to open it.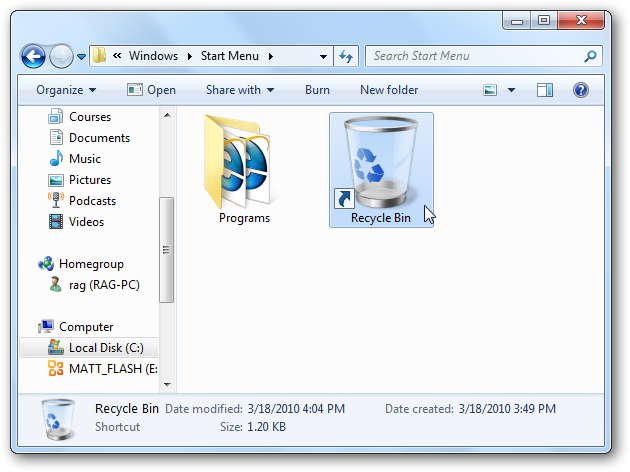 Next, right-click on the deleted files that you've selected.
Now, in a context menu, you need to select the Restore option.
How to Decrypt The BitLocker Hard Drive?
To decrypt the BitLocker encrypted hard drive, try the below modes:
# Through GUI mode
Make sure that you've administrator credentials to decrypt or disable the BitLocker encryption. To disable the Encrypted BitLocker in GUI mode, follow the steps given below:
At first, click on the Start menu and then go to Control Panel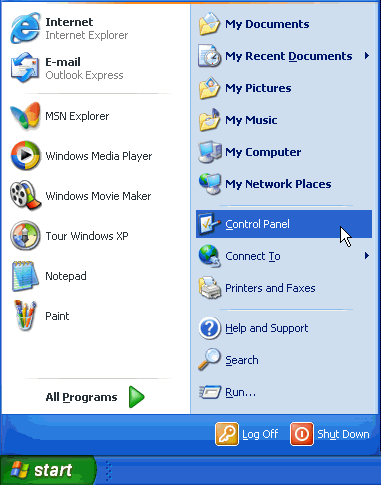 In the second step, you need to click on System & Security, then make a tap on "BitLocker Drive Encryption".
Next, look for a BitLocker Drive Encryption that you need to turn off
Then, click on the "Turn Off BitLocker" option.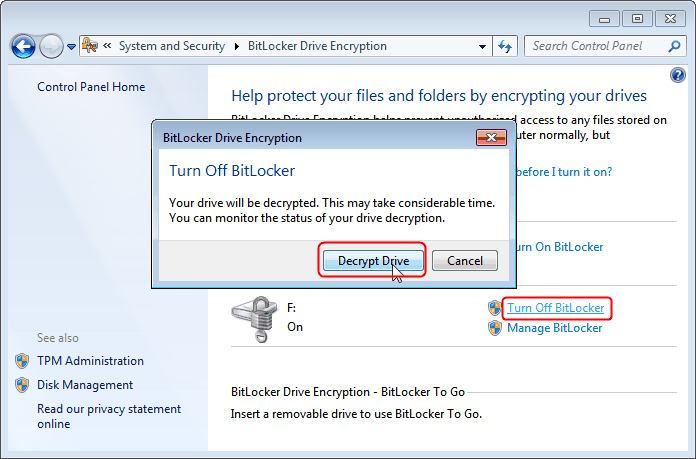 After doing so, a message will be shown, stating that the drive will be decrypted and that decryption may take some time.
Now, click on the "Decrypt the drive/ Turn off BitLocker" option to turn off the BitLocker on a drive.
# Through The Windows PowerShell
To try this mode, you must have the PowerShell installed on your Windows system.
To Disable The BitLocker For All The Volumes
If you want to disable all the volumes, then follow these instructions:
Firstly, open the Windows Powershell then click on run as administrator.

After that, you need to type the below-given command
PS C:\>$BLV = Get-BitLockerVolume & then PS C:\>Disable-BitLocker -MountPoint $BLV.
Now, to check if the drives are decrypted, simply type PS C:\> Get-BitlockerVolume & ensure it says Fully Decrypted.
Disable BitLocker For A Single Volume
If you want to disable a drive, use the below steps:
Just, open the Windows Powershell & then run as administrator.
Now, enter the below command
PS C:\>Disable-BitLocker -MountPoint "C:".
At this time, you need to confirm encryption using PS C:\> Get-BitlockerVolume command & check that it says Fully Decrypted.
Solutions to Recover Data of Encrypted Drive in 4 Different Scenarios
Scenario #1: Recover Data If BitLocker Encrypted Drive Is Corrupted Or Failed
When your BitLocker encrypted drive is corrupt or fails then you can't access the data that present on the BitLocker drive. At that time, you must be thinking that how to recover BitLocker encrypted drive that is corrupted or failed? Don't panic, just try the recommended Data Recovery software to bring your all deleted stuff back under a wide range of situations, including the corrupted or failed hard drive with ease.
Scenario #2: Recover Data From Formatted BitLocker Encrypted Drive
If you have kept a backup of your lost data before formatting then you can easily bring them back from your backup folder.
In case, if you don't have a backup, then you can recover data from formatted BitLocker encrypted drive with the help of a trustworthy BitLocker data recovery software. I have already started a lot about this program in the above section of this article but, I still would like to again mention that it is the best recovery software. I am saying so because you cannot use this tool only on Windows PCs but also on Mac PCs.
Scenario #3: Recover Data When BitLocker Encrypted Partition Is Deleted or Lost
Countless reasons are there that can cause BitLocker encrypted partition deletion issue. Some of the major factors are accidental deletion, abrupt power failure, partition table corruption, virus, bad sectors, and more. If your partition gets deleted due to any of these reasons, then do not worry anymore. As you can try the trustworthy hard drive data recovery mentioned above to scan your disk and bring back all your deleted partitions that aren't overwritten.
Scenario #4: Recover Data After Formatting the Corrupted BitLocker Encrypted Drive
Formatting doesn't mean that your files are totally removed. When you format your encrypted hard drive, it might be removed entries of the existing files. After that, you have no access to them, but the files are still there.
So, if you have formatted your corrupted BitLocker encrypted drive then you should immediately download, install & try the hard drive recovery tool to recover data from formatted BitLocker encrypted drive in a few minutes.
What Are The Possible Reasons Behind The BitLocker Drive Data Deletion?
Well, the BitLocker protects the data from being stolen/exposed to others. Apart from that, it is prone to lose files, too. Here I have listed some of the common factors for data deletion from BitLocker drive:
Unintentionally formatting the BitLocker drive while changing the name or copying the files can lose your entire stuff from it.
Mistakenly deleted data from the BitLocker encrypted drive.
Virus or malware attacks on the BitLocker hard drive can render the removal of crucial data present in the drive.
Your hard drive has been corrupted & you can't access it.
Transfer interruptions when you try to move files from the BitLocker drive to another storage device.
FAQ (Frequently Asked Questions)
How Long Does BitLocker Take To Encrypt?
According to Microsoft, the speed of the BitLocker encryption process is generally 500MB per minute. And, BitLocker Encrypting the hard drive process can take more than 20 minutes.
What To Do If I Lost My BitLocker Recovery Key?
If you can't log in to your PC because you've forgotten your PIN, password, or USB key, then you need a recovery key. To request for a recovery key, you are require to restart your PC and press on Esc key in the BitLocker logon screen. Then, in the BitLocker recovery screen, locate the Recovery key ID. The Recovery key ID is displayed for a short time. To display it again, you must restart the computer.
Can You Unlock BitLocker Without Recovery Key?
No, you can't unlock the BitLocker without the recovery key. If you have an external drive that is encrypted with BitLocker & you do not have a recovery key or any other way to unlock it, then you may have to do format the drive. Formatting the drive will erase its contents, but at least you will be able to use the drive again.
How Do I Unlock BitLocker?
You can unlock the BitLocker using Windows explorer. To do so, open the Windows Explorer and then right-click on the BitLocker encrypted hard drive. After doing so, select the Unlock Drive from a context menu. Then, you will get a popup in an upper right corner that asking for the BitLocker password. Just enter your password & click the Unlock. The drive is now unlocked and you can easily access the files within it.
Can A BitLocker Locked Drive Be Formatted?
Yes, the BitLocker locked hard drive can be formatted.
Final Words
As of now, I hope you were successfully able to know how to recover files from BitLocker encrypted drive using the best Encrypted Drive Recovery Tool.
Besides, this article will also help you to know the multiple reasons behind the BitLocker drive data deletion and how to decrypt the BitLocker hard drive with ease.
Nevertheless, in order to prevent any data loss, it's quite important to keep a backup of your essential files so that you can restore them from there whenever you are in need.
I hope, this blog will help you out to recover data from BitLocker encrypted drive without key.
That's all…
Alex is an expert technical writer with 7+ years of experience. His in-depth knowledge about data recovery and fascination to explore new DIY tools & technologies have helped many. Alex has a great interest in photography and loves to share photography tips and tricks with others.