Read this post till the end and learn how to recover deleted Zoom recordings or meetings successfully.
Zoom is a platform or app which offers and generates great convenience for individuals who actually want to run the meetings over a network. On the other hand, we can say that Zoom is an excellent business communication tool for both large and small size of businesses to run online meetings.
It has features like cloud video conferencing, remote collaboration, chats, option of sharing screens, and recording meetings.
Despite having countless exclusive features, some users are experiencing zoom meetings disappeared/deleted.
Fortunately, there are some best solutions available that can assist you to recover deleted zoom meetings or recordings. All of them are stated in this article.
So, keep on reading and follow the instructions accordingly…
Quick Navigation:
Part 1: Can I Recover Deleted Zoom Meetings/Recordings?
Yes, definitely you can recover deleted Zoom app meetings/recordings by using both manuals as well as automatic solutions.
If you want to go for an automatic solution then we would like to recommend you to go for our Video Recovery Tool.
Rated Excellent on

Trustpilot
Free Video Recovery Tool.
Recover videos, clips & video recordings from all digital cameras & memory cards on Windows for Free. Try now!
It can retrieve deleted videos or footages from internal as well as external data storage devices without any backup.
However, if you want to try manuals, try Zoom Cloud Trash or Zoom App Trash and recover deleted zoom recordings.
Part 2: How To Check If The Zoom Recordings Are Actually Deleted Or Not?
In order to check if the recorded Zoom meeting videos are actually deleted or not, navigate the below-given location:
Location of Zoom Recorded Vides on PC:
C:\Users\PC\Documents\Zoom or C:\Users\PC\AppData\Roaming\Zoom\
Zoom Cloud Recording Location:
Sign in to Zoom then tap on Recordings option >> Cloud Recordings.
After navigating the location of Zoom meeting recorded footages, you can watch them.
Part 3: How To Recover Deleted Zoom Recording Using Powerful Video Recovery Tool?
Most of the users don't want to go for any risky methods that can lead to complete data loss. Thus, if you are one of them who don't want to lose important Zoom meeting recordings then try versatile Video Recovery Software.
This utility will surely help you to restore your recorded Zoom videos without losing their original quality.
Nevertheless, if you have lost your recorded Zoom clips on the PC or any external drive then this software can bring them back effectively.
This software will deeply scan your computer and figure out where the lost files were actually stored.
Below we have outlined other outstanding features of this tool:
This program works pretty in undeleting videos, movies, or other video formats in a secure manner
Besides video recovery, it can recover audio and image files as well.
Read-only program, 100% risk-free & easy to use.
It is available for both Mac & Windows users.
emid

emid


* Free version of the program only scans and previews recoverable items.
Here is the user guide of this software that you can try to recover deleted large video files.
Part 4: How To Restore Zoom Recordings From A Zoom Cloud Trash?
Once your Zoom meetings or recordings get deleted then they are directly moved to the Cloud Trash. Though, Zoom Cloud Trash will get back the Zoom cloud recordings from Trash within 30 days only.
However, if your Zoom meeting disappeared for more than 30 days, then it can lead to permanent video loss.
But do remember that, Zoom meetings/recordings only be deleted permanently on Zoom Cloud Recording if this feature is enabled.
In order to retrieve Cloud recordings on Zoom trash, follow these steps:
On your desktop/phone, sign in to "Zoom" >> go to the "Recording".
Next, go to the Cloud Recording >> tap on "Trash".

Here choose the lost recording >> click "Recover".

Again, click on the "Recover" option to confirm recovery.

Once completed these steps, now check & again watch your Zoom videos without any trouble.
Part 5: How To Retrieve Zoom Recording In The Zoom App Trash?
Another yet option that you can try to perform Zoom recordings recovery is from the Zoom app trash.
Just like Zoom Cloud Trash, Zoom app trash will also recover deleted zoom recordings within 30 days only. After 30 days of Zoom meeting deletion, you will be unable to bring those meetings back through app trash.
Hence, in the situation of Zoom meeting disappeared permanently, you are recommended to try the best Zoom Video Recovery tool to get the lost meeting back.
Rated Excellent on

Trustpilot
Free Video Recovery Tool.
Recover videos, clips & video recordings from all digital cameras & memory cards on Windows for Free. Try now!
Here is how to recover deleted Zoom recordings/meetings through app trash by following the below steps:
At first, you have to log in to Zoom.
Next, click on "Meetings" option or "Webinar".
In the second step, tap on the "Recently Deleted" option & find the lost or deleted items.
Now, choose desired items that you need to bring back then tap on "Recover" option.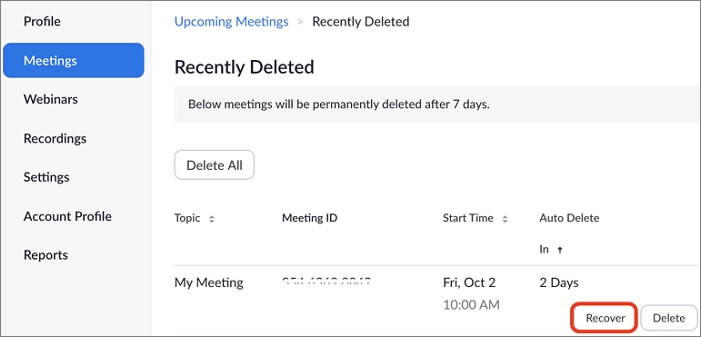 Frequently Asked Questions:
What Happens When You Delete A Zoom Meeting?
When you delete a Zoom meeting or recording then it directly moves to the 'Recently Deleted'. Hence, you can recover deleted zoom meetings in 7 days from Recently Deleted just after deletion.
Can I Watch A Missed Zoom Meeting?
Yes, you can definitely watch a missed Zoom meeting by following the below steps:
1. On your desktop, log into your Zoom account.
2. After this, click on a Chat tab.
3. Now, on the top left-side of chat panel, you will see 'missed meeting call' option. Simply tap on it.
4. Here you will get the list of your just missed meeting invitations.
How Do I Record The Zoom Meeting?
In order to record the Zoom meeting, you need to follow the below steps:
Step 1: At first, start Zoom, and then tap on 'Record'.
Step 2: Choose 'Record on this Computer'.
Step 3: Then, you need to wait until participants join.
Step 4: Once the meeting finishes, Zoom app will automatically convert recording for you in order to access it later.
Where Are The Recordings Saved In Zoom?
No matter whether you are a Windows, Android or iPhone user, meetings can only be recorded if you're a paid member on the Zoom app. Thus, if you're a paid member then your recordings get saved in the online folder 'My Recordings' on the Zoom website & not on your device.
Does Zoom Save Meeting History?
The answer to this question is Yes. Meeting history & recordings are synchronized between Zoom desktop client & mobile app. It means Zoom definitely saves meeting history.
Time To Sum Up
So, now it's time to conclude this article…
Well, recovering deleted zoom recordings or meetings is much easier than you think. Yes, by trying the methods mentioned in this post you can do so.
So, it is our recommendation to follow the step-by-step solutions mentioned here & deal with how to recover deleted Zoom recordings/meetings with ease.
For instant Zoom recording recovery, you have to try the advanced Video Recovery Tool.
Hope you liked this post…
Alex is an expert technical writer with 7+ years of experience. His in-depth knowledge about data recovery and fascination to explore new DIY tools & technologies have helped many. Alex has a great interest in photography and loves to share photography tips and tricks with others.