Are you getting "invalid ZIP files" or "the compressed zipped folder is invalid" error while opening your Zip files? Struggling hard to recover invalid zip files? If  "YES", then you have come to the correct place.
This article describes the best approaches that will surely help you out to fix corrupted ZIP files & restore all your valuable Zip files with ease.
So, let's get started…
What Does "Invalid Zip File" Mean?
ZIP files is a compressed folder with .zipx or .zip extensions. It is mainly used to store numerous files and helpful for emailing, transferring, and downloading the larger files easily. However, this file is very prone to corruption and due to this, you may get several types of error messages while accessing your Zip file. One such error is "zip file invalid" or "the compressed zipped folder is invalid" error.

The compressed zipped folder is invalid error simply means that your (zipped) folder is invalid and you will not be able to access information and even you can't extract the Zip files from your zip folder. The ZIP file Invalid error is mainly occurring because of the virus or due to the faulty compressor tool.  So, before fixing this error, it's very much important to know the exact reason behind the occurrence of this error. In the next section of this post, you will get some of the major factors that may responsible for this issue.
What Are The Causes of "ZIP File Is invalid" errors?
Here, I have listed a few major factors that can cause the ZIP file is Invalid error, So, let's have a look:
The virus or malware is the major cause of ZIP file is Invalid error
Due to the slow download speed
Microsoft Office files with the medium or low security might also cause this issue
Because of the faulty compressor tool
Due to all these issues, there is a huge possibility to get this error and lose your important Zip files. But you need not worry because every problem has its solution.
So, let's know how to recover corrupted zip files in a hassle-free manner…
How To Recover Invalid Zip File?
Simply follow the below-mentioned methods to bring the ZIP files back with ease:
# 1: Retrieve Lost & Deleted Zip File Using File Recovery Software
In order to repair and recover invalid zip file, you can try the best and trustworthy Zip File Recovery Tool. This software has exceptional features that will allow you to restore-corrupted-invalid-zip-files. No matter whatever the reason behind getting the "Invalid Zip file" issue and losing your important file, all you have to just try this feature-loaded tool.
This File Recovery Tool not only restores invalid or corrupt Zip file but also other photos, video, and audio file formats.
Below you can find its more exciting features:
Easily restore files from storage media
Preview recovered file within software before you proceed to save them on your PC
Easy user-interface, 100% clean, safe & easy to use
Available for both Windows and Mac users
emid

emid


* Free version of the program only scans and previews recoverable items.
So, without wasting any time, just try the step by step guide to recover zip file corrupt with the issue stated as 'the compressed zipped folder is invalid'.
# 2: Unhide The Hidden ZIP Files
When your system is set to hide the specific document folder or hide the compressed NTFS files then you'll unable to view & find them on your system.
In order to make the ZIP file visible, just try the below two options. Either one option will definitely work in your case.
Option #1: First go to the Control Panel and then "File Explorer". After that, go to a "View" tab and then check the option "Show hidden files, folders & drives".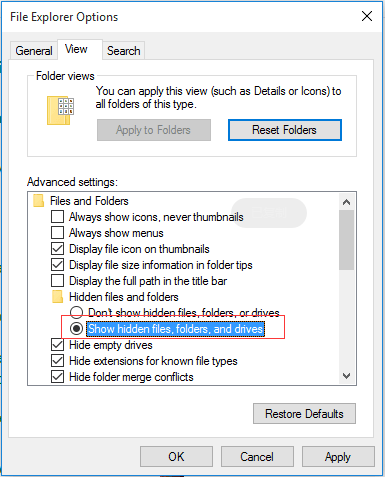 Option #2: At first, open your Zip folder which contains the Zip hidden files. Then, go to the "View" and then check the "Hidden items".
# 3: Re-Download & Regain ZIP File
This method is only applicable to solve the downloaded ZIP file invalid or not working issue.
Well, if you are unable to open your downloaded ZIP file using any third-party zipping tool or Windows compression software, then you must try to re-download the new file. To do so, you have to follow the below easy steps:
First of all, you should Delete an invalid ZIP file.
Next, launch the browser & open that site from where you have downloaded your ZIP file.
Now, find a ZIP file and simply re-download Then, save the re-downloaded Zip file to another safe location on Computer.
After completing these steps, you can use the unzip software to access the valuable Zip file.
How To Repair Corrupt Or Invalid Zip File?
When the "zip file invalid" message takes place, you will be unable to access your information and might lose all your important files. And I must say that the Zip file is invalid this issue is really very irritating. So, you need to fix the zip file invalid error and recover invalid zip files as soon as you can.
Just try out the below effective ways to resolve corrupt or invalid Zip file problems without any trouble.
Fix #1: Run Command Prompt To Fix Invalid ZIP Files
Step 1: Firstly, go to the Start & launch the Command Prompt as an Admin.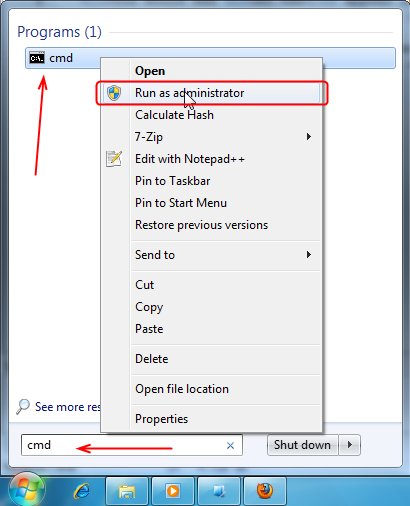 Step 2: Then, change the directories to a folder where your damaged or invalid Zip file is placed. Type: "C:\Program Files\WinZip\wzzip" – yf zipfile.zip
Files\WinZip: Location where you have installed WinZip application
zipfile.zip: Name of a file showing invalid ZIP error.
Step 3: After this, you have to press the Enter.
If this solution won't work for you, then you can go with the next method.
Fix #2: Repair Invalid ZIP File by Using Shortcut Menu
By following the below steps of the shortcut menu, you can simply fix corrupt RAR or compressed ZIP file with ease.
At first, you have to choose your ZIP archive and then make right-click on it.
Select the Extract files in an appearing shortcut menu.
Under the Extraction path & options window, you need to select the folder to save the decompressed file.
After that, check to the Keep broken files in the Miscellaneous section.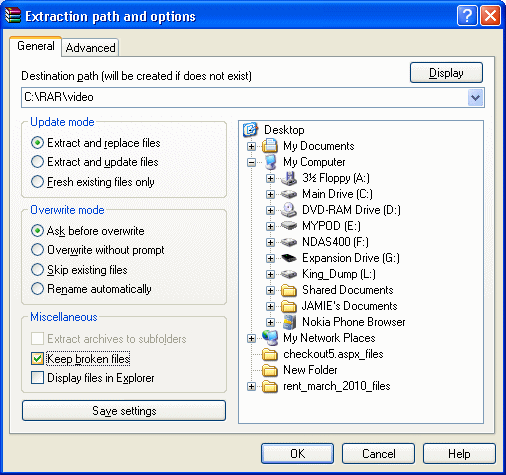 Now, click on OK to start the extraction. If again the errors prompting you, then ignore them & go to the option extract the archive.
Finally, you will get all your files that aren't invalid or corrupted.
Fix #3: Resolve the Invalid ZIP File Error Using Third-Party ZIP Program
Another best method that you can try to repair corrupted or invalid ZIP files is to use a third-party zip program.
However, if your ZIP files get corrupted and throw "Windows cannot complete the extraction" or "ZIP file is invalid" error, then you can solve by using the third-party ZIP software. Some of the third-party programs which you can try are WinRAR, DiskInternal ZIP Repair or 7-ZIP, etc. can help you.
So, here I would like to suggest you to try WinRAR to fix this invalid error and recover invalid zip files easily. To repair with WinRAR, you have to follow these steps:
First, you need to download & install the most recent version of the WinRAR on a PC.
Then, open the WinRAR & find your invalid ZIP file.
Choose a ZIP file, and make a tap on the "Tools" option in a toolbar, & click the "Repair archive"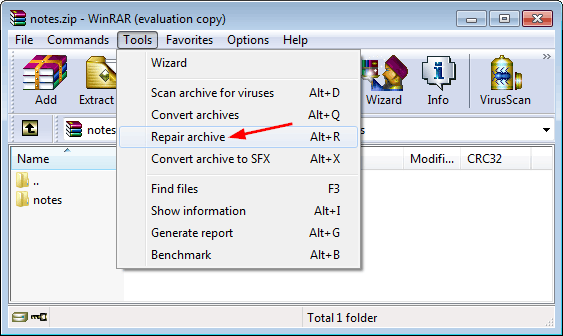 Next, click on the "Browse" to select the place to save a repaired Zip file. Then click on the "OK" button to confirm.
After this, you need to wait until the repairing process finishes & click the "Close" option to finish.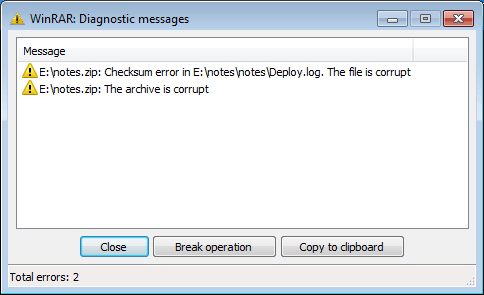 Make a double-click on a repaired ZIP file & open it in the WinRAR
Now, you need to click on the "Extract to" option in a toolbar which you can see at the top of your screen.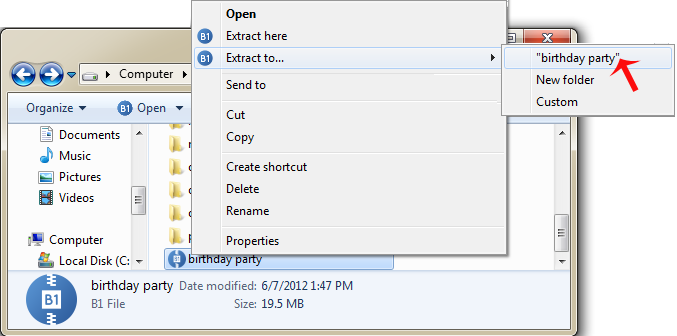 Select a destination folder where you had like to extract your files.
Lastly, tick the option "Keep broken files" in a Miscellaneous section. Then click on the "OK" to begin extracting your Zip files from the WinRAR.
Fix #4: Uninstall & Re-install Decompression Tool
In order to fix "the compressed (zipped) folder is invalid" error, you need to uninstall or re-install a Zip program or decompression tools. To do so, here are the easy steps:
On your Windows PC, you have to type: apps & features in a search bar, make a tap to just open it.
Now, on a Screen and features column, simply scroll down and locate the compression software or zip tools.
Next, click on ZIP software, and choose the "Uninstall".
Wait until the uninstalling process finishes.
At this time, you need to reinstall an uninstalled ZIP program on your system. After this, open it and try to access the ZIP files again.
Fix #5: Run AntiVirus Tool to Remove The  Virus & Malware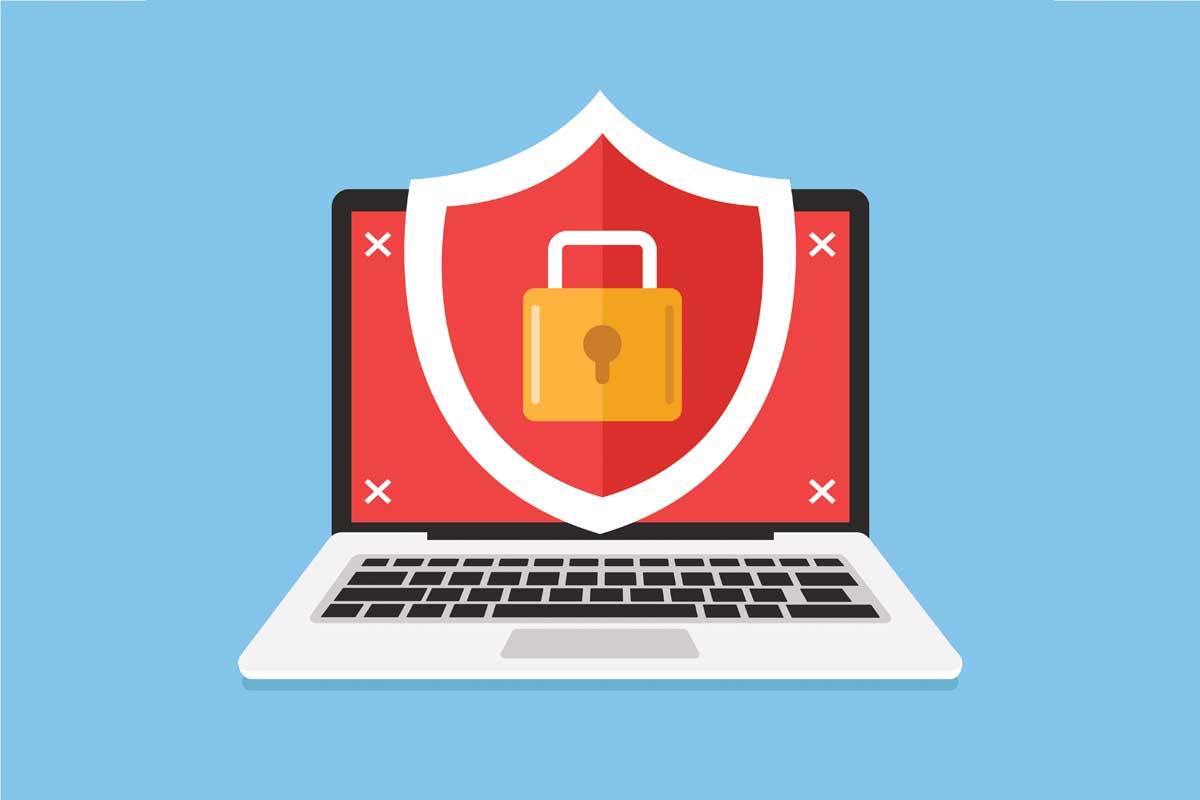 When your PC or storage media gets infected by malware or virus, at that time you will unable to open your ZIP file and may get a compressed (zipped) folder is invalid error. So, it's very much important to solve this issue as soon as possible.
However, if you've installed a good antivirus tool, then run it to remove all the existing viruses. In case, if you do not have any antivirus, then you can turn on a Windows Defender on your PC to do so.
FAQ (Frequently Asked Question)
What Kind Of File Format Is A Zip File?
The ZIP is the archive file format which supports the lossless data compression. It contains one or more directories or files that might have been compressed.
Why Is My Zip File Invalid?
The Compressed ZIP file shows invalid error and leads to loss of Zip file because of the following reasons:
The virus/malware is the major cause of the zip file errors
When the downloaded Zip file become corrupted originally
Due to the slow download speed of your zip file
MS office files with medium or low security can also cause zip file errors
Because of the faulty compressor tool you can get this error.
How Do I Open Zip File On Windows & Mac OS?
Below I have mentioned the easy steps to open the Zip file for both Windows and Mac users:
# For Windows User
Step 1: First, open the File Explorer, then navigate the folder which contains the ZIP file.
Step 2: Now, make double-click on your zipped folder after doing so you can see your archive/documents.
Step 3: Choose the files that you need to extract, and click on Cut.
Step 4: After that, navigate to the place where you want to keep your unzipped file. And paste it at the place, This PC >> Desktop >> Unzipped folder.
Step 5: At this time, make right-click and choose the Paste.
Here you can see the unzipped file which can be opened & modified.
# For Mac Users
As we all know that the Mac OS has Apple's Archive Utility tool which allows to decompressing of the archive formats such as GZIP, TAR, ZIP, etc. Therefore, just like Windows operating system, you do not need any external tool to open or unzip a file/folder on your Mac OS. Here's how you can open Zip file by follow the below steps:

First of all, make double-click on zipped file
Now, Archive Utility will unzip you file and place it into the same folder where the zipped file is located previously.
After this, find an unzipped file & open it by simply double-clicking on it.
How Do I Fix An Invalid Zip File?
To fix an invalid ZIP file issue, you have to try the below given steps:
Option #1: Repair your ZIP file using any secure third-party repair software like WinRAR.
Option #2: Try to scan with good antivirus software to detect errors & bugs which causing this invalidity issue and block them from accessing your files.
How Do I Open The Zip File On My Android Using WINZIP?
Well, let me tell you one thing, you have two best options either you can unzip the complete folder or simply open a single file. So, let's follow these steps to unzip and open the ZIP file on your mobile phone.
Option #1: To Unzip the File
1. Just open the WinZip & go to folder where your zipped files are located.
2. Then, make a long press on the folder to choose the files and get menus at the bottom.
3. Now, make a tap on option unzip to simply unzip your Zipped folder or file.
Option #2: To Open the File
1. Click on folder "My zipped files" & then folder opens to show files it contains.
2. After this, you need to click on a single file to open.
Time to Conclude
After going through the above section of this post, you might know how to fix the compressed zipped folder is invalid and recover the damaged zip file. No matter which operating system (Windows or Mac) you are using, you can easily recover invalid zip file using Zip File Recovery Tool.
If you find this article helpful enough then please share it with your friends who're also getting this same problem & want to restore-corrupted-invalid-zip-files.
Thanks a lot for reading my blog.
Taposhi is an expert technical writer with 5+ years of experience. Her in-depth knowledge about data recovery and fascination to explore new DIY tools & technologies have helped many. She has a great interest in photography and loves to share photography tips and tricks with others.