How to recover SWF files? You might get panic or tense. But just Calm and Relax! As you can do nothing by getting tense, you've to recover those videos, and luckily the SWF recovery option is available. As the deletion is not permanent the deleted videos are wiped from there and stored in some other place, thus the recovery is possible. So, today in this tutorial I'll show you the easy & simple methods to recover SWF files.
But before knowing the SWF video recovery solutions, it's also important to know about SWF files and what causes these files to become corrupted and deleted. So, let's get started…….
To recover corrupted SWF files, we recommend this tool:
This software will restore data from corrupted, formatted, encrypted storage media and works in all data loss situations. Now recover your lost and deleted data in 3 easy steps:
Download this Media File Recovery Tool rated Excellent on Pcmag.com.
Select the storage media from which you want to restore the media files & click Scan.
Preview the recoverable files, select the items you want to recover and click Recover to save the files at desired location.
What Are SWF Files?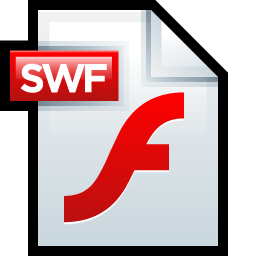 The SWF (Shock Wave) files are an animation that is created with the Adobe Flash. This file can be played via Flash Player or a web browser which has a Flash plugin installed. Besides, it contains videos, text, raster graphics, vector, and interactive content written in Action Script. This file format was actually created by the Macromedia & owned later by Adobe, therefore it's supported by the Adobe Flash Player.
Like other media files, this video file can also get deleted due to several unexpected reasons. Hence, it's very much important to know the major reasons behind the SWF file loss before knowing how to recover corrupted SWF files. So, let's see the causes of SWF in the next section…
What Causes SWF Videos Deletion?
Here I have listed some of the major factors that can lead to SWF video file deletion:
Accidental deletion: It may happen that while deleting some of the unwanted files, you by mistakenly delete your SWF files from your storage drive
Corruption of drive: Corruption of the memory card or hard disk because of the virus or other malware infection.
Anti-Virus Program: The antivirus app installed in your PC may delete your valuable files along with the corrupted data.
Error while transferring: Unexpected system shutdown or connected drive removal while transferring videos to PC.
Other Causes: Software malfunction or the Physical issues with storage devices, bad sectors, and other reasons.
Is It Possible To Recover Deleted SWF Files From Storage Media?
Yes, it is possible to recover deleted SWF files from memory cards or other storage devices. No matter what are the reasons behind data deletion, we all want our data back.
Maybe you're not aware of the fact that when your videos or other files get deleted from storage media then they're not permanently deleted. They are present in your device itself but becomes invisible. Those videos can only be recovered by using a professional Video Recovery Tool to get back deleted SWF video files.
Please Note: As soon you come to know about SWF files lost, immediately stop using your digital device to avoid any kind of data storage further. Unless any new files are overwritten to old data, there is still a chance to perform video recovery with ease.
Use Best & Professional Tool To Recover Deleted/Lost SWF Files
With the help of the advanced SWF File Recovery Tool, you will be able to restore lost .swf files from storage devices. So, do not wait for anything, just try this program and see the results. It's very effective to recover the corrupted, deleted, lost, or even formatted video files easily. It doesn't matter in which scenario you have lost the files.
This software is easy to use and you don't even need any technical knowledge to perform the steps for the SWF video recovery. It can recover the videos, images, audio files, and many other files from cameras, camcorders, iPods, mobile phones, and other digital devices.
Retrieves the lost, deleted and inaccessible SWF files successfully
Recover not only video file formats but also audio and image file formats
Easy, customized, accurate, and quick recovery
100% risk-free, user-friendly interface & read-only program
So, just download and install this tool on both the operating systems; Windows as well as Mac.
emid

emid


* Free version of the program only scans and previews recoverable items.
Follow the step by step guide of this excellent tool to recover deleted videos from memory card in a hassle-free manner.
How To Recover Deleted/Lost SWF Files Without Software?
#1: Restore Lost Video Files From Backup
If there is a backup of the lost or unintentionally or accidentally deleted videos then you can simply use the Backup option. Yes, you can try the Windows backup option to do recovery SWF files. To do so, you have to follow the below steps:
Just connect the backup storage device to your Windows system using USB.
Next, press the 'Windows + I' keys together and then go to Settings and then Update & Security and finally go to Backup.
After that, you need to click on the 'Go to Backup & Restore' option and then simply click on the 'Restore My Files' option.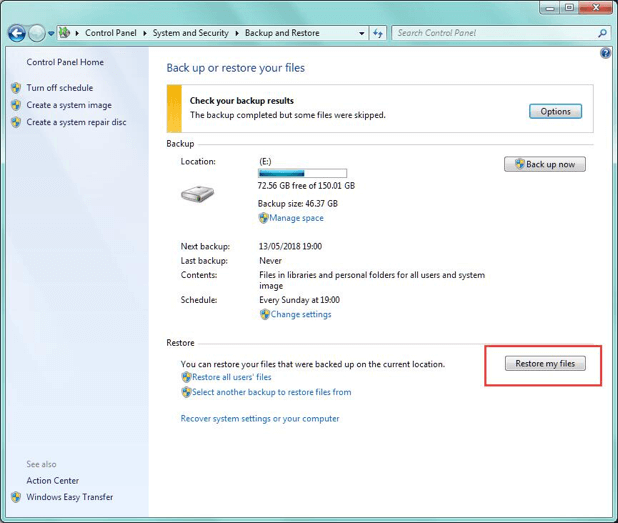 With these steps, you can somehow able to recover deleted large video files from storage media.
#2: Recover SWF Files Using Attrib Command
Another option that you can try is the attrib command to recover SWF files from your SD card, Windows hard drive, external HDD, USB, etc. So, follow the below easy steps to do so:
Firstly, you've to plug in your SD card, memory card, hard drive, USB flash drive to the computer.
At this time, go to the Start menu and type in 'cmd' in a search bar and then hit Enter.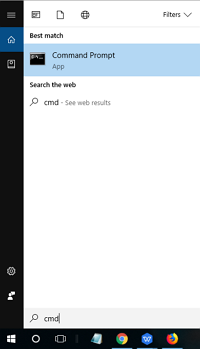 Now, you can see there is something named 'exe' under the program's list.
After this, make sure that your right-click 'exe' and then you will get the command Windows that used to allow one to recover files.
Lastly, you have to type in 'attrib -h -r -s /s /d drive letter:\*.*,'. For example: "attrib -h -r -s /s /d G:\*.*".

NOTE: You can replace the G drive with the drive letter of your external storage device or hard drive where you lost files.
#4: Get Back Deleted SWF Video Files From Recycle Bin
Sometimes to vacant the camera memory card, you use to copy the data to your PC. And somehow, unknowingly you select the SWF videos and click on the delete option. This obviously deletes the files you have selected. In this case, if you want to restore the .swf videos that have been deleted accidentally then just go to the Recycle Bin folder of your system.
Find the SWF files by its filename or the date of deletion if you remember then just select it and make a right-click on the file. Now, select the Restore option from the list, and then the SWF video files will be saved to its original destination.
The FAQ (Frequently Asked Questions)
Can SWF Files Play On Android?
Yes, you can play SWF video files on your Android device. The best application for opening and playing the .swf files in your Android is SWF player Flash file viewer.
How Do I Open SWF Files In Chrome?
You can open your SWF files in just few easy steps- Right lick on your SWF files >> click on open with and then choose the chrome from a menu.
Can I Open My SWF File In Windows 10?
Yes, of course, you can open your SWF file in Windows 10. To do so you have to download and install the SWF File Player on your PC. After that, click on the File menu and then Open the item. Next, choose the SWF video file that you want to open.
Is SWF Vector Or Raster?
The SWF (Shock Wave) files are usually vector-based but can contain a mixture of raster and vector graphics.
Time To Verdict
Well, losing any recorded videos from storage media is quite a disappointing situation but there is nothing to worry about. As I've already stated the best solutions that you can easily recover SWF files that have been lost from your external storage device.
If you have a backup of those .swf videos then they can be recovered from there only. However, if you don't have any backup then try the SWF File Recovery Tool and easily know how to recover corrupted SWF files.
Hopefully, this article will help you to overcome this data loss situation and enjoy watching your videos. Also, don't forget to keep backup onwards.
Alex is an expert technical writer with 7+ years of experience. His in-depth knowledge about data recovery and fascination to explore new DIY tools & technologies have helped many. Alex has a great interest in photography and loves to share photography tips and tricks with others.