Losing an important Photoshop file can really become a nightmare for professionals whether it's due to accidental deletion, sudden system shutdown, power outage, or any other unexpected reasons. But, nothing to worry about!
Today in this guide, I am going to provide you the most effective ways to perform PSD file recovery. So, if you want to them then keep reading this post…..!
Let's get started…..!
To PSD Image Recovery Tool, we recommend this tool:
This software will restore data from corrupted, formatted, encrypted storage media and works in all data loss situations. Now recover your lost and deleted data in 3 easy steps:
Try this Media File Recovery Tool rated Excellent on Pcmag.com.
Select the storage media from which you want to restore the media files & click Scan.
Preview the recoverable files, select the items you want to recover and click Recover to save the files at desired location.
How To Recover Unsaved PSD Files Manually?
How To Recover Deleted PSD Files Using Data Recovery Tool
FAQs [Frequently Asked Questions]
Why Do Your Photoshop Files Get Deleted?
How To Recover Unsaved PSD Files Manually?
Well, there are many handful ways that can help you recover lost PSD files, in no time. Some of the most effective methods are mentioned below:
Let's go through them one by one…
Method #1: Restore PSD Files Using Photoshop Auto-Recovery Feature
On Adobe Photoshop, there is a great feature available that allows the Photoshop application to save a backup copy of PSD files that users are working on a regular basis. With this feature, you can easily get back unsaved PSD files after system crash power failure, or other issues.
Remember: This feature is not available on Adobe Photoshop CS5/CS4/CS3 or earlier.
BONUS: Well, to know how to recover deleted Adobe Photoshop CS3 file, you can click here. Also, you can recover deleted Adobe Photoshop CS4 file using the solutions mentioned in this blog.
On Adobe Photoshop CS6 and above, AutoSave option is enabled by default. So, if your system crashes accidentally then do not panic, just try to recover PSD file not saved with this feature. For this, you have to relaunch Photoshop and the autosave version of the unsaved work will appear on the screen automatically. However, if you are unable to see the unsaved PSD file then make sure that your AutoSave option is enabled.
To check this, you have to go to File -> Preferences -> File Handling -> File Saving Options and then check if "Automatically Save Recovery Information Every" is enable or not.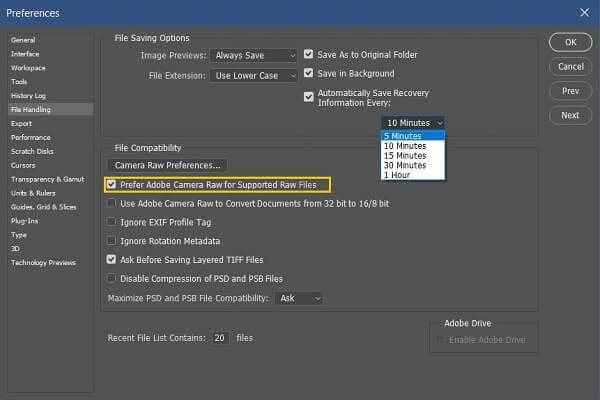 However, if your AutoSave option is already enabled but you are unable to see the autosaved PSD files then you can also search the unsaved PSD files on AutoRecover.
Photoshop AutoSave Location on PC:
C:\Users\YourUserName\AppData\Roaming\Adobe\Adobe Photoshop CC 2017\AutoRecover (the specific path is slightly on different versions of Photoshop)
Photoshop AutoSave Location on Mac:
~/Library/Application Support/Adobe/Adobe
Photoshop CC 2017/AutoRecover (the specific path is slightly on different versions of Photoshop)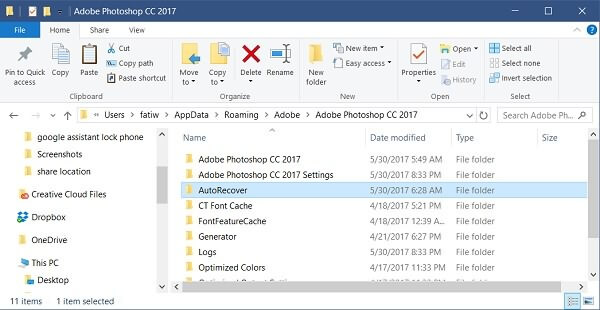 Method #2: Recover From Adobe Creative Cloud
If you have Abode Creative Cloud account then you can easily restore unsaved PSD files from this online storage. It is very helpful if you accidentally delete the Photoshop PSD files or if the system crashes accidentally. Abode Creative Cloud allows you to access work from anywhere and on any device like a tablet, computer, or smartphone. As it syncs the data with other devices, any deletion or modification is reflected on all synced devices.
So, if your PSD file gets deleted accidentally then you can restore your files from a deleted folder in Adobe Creative Cloud with the help of below steps:
Step1: First of all, open your Abode Creative Cloud account
Step 2: Now, you need to navigate to the Deleted Folder
Step 3: After this, select the PSD files and then click the Restore icon
How To Recover Photoshop Files Not Saved Creative Cloud?
If you see that the PSD files have been deleted from the Creative Cloud then do not worry because it still presents there in the Archive files of the File page. You can browse their archived files in the Files view of the Creative Cloud Assets site and if you find your unsaved PSD files there then restore them.
Method #3: Recover PSD Files From Temp Files
When you create new PSD files then its temporary file is also created to contain information. Generally, a temporary file gets deleted automatically after you close the Adobe Photoshop app. But, sometimes because of Photoshop's crappy file management, the temporary file may still stick there. And, in that case, you can just follow the below-mentioned steps and get back unsaved PSD files:
Step 1: First of all, go to the below path and you will be navigated to the Temp folder on PC.
For Windows Users: C:\Users\Your Username\AppData\Local\Temp
For Mac users to navigate to Temp folder, you can simply open Terminal application, type "open /tmp", and then press Enter.
Step 2: In the next step, you can then locate the PSD temp file and change its extension to .psd. After this, open the file with the Photoshop app and you can then save your file.
Method #4: Restore From Backup
It is quite possible to recover unsaved PSD files for free from the PSD file backup option. But, this option is only helpful if you had previously backed up the files before you losing them.
If you have the backup on any external storage then you can easily get them back. Besides, the Windows backup utility can also help you to keep a backup of PSD files. For this, you just have to enable the feature and to do so you can follow the below steps:
Step 1:  First of all, go to the option Control Panel and then click on System Protection
Step 2: Now check on a drop-down menu and then pick on Protection Settings and set it to ON
Step 3: Now click on Create to create a restore point and then simply click on OK option to restore the PSD files back.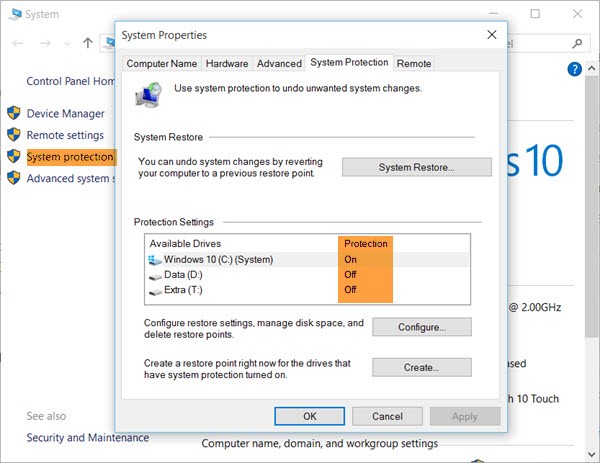 Method #5: Restore From Recent Folder
Most Adobe Photoshop users may not know that unsaved PSD files can be recovered directly in the Adobe Photoshop app. Below are the steps to be followed to restore unsaved PSD files.
Step 1: Open the Photoshop app on your Mac or Windows PC
Step 2: Now click "File" in the menu bar and then select the option "Open Recent"
Step 3: After this, the app will list all the files that are opened recently. You can then choose the preferred PSD file you want to get back. Now open the file in edit mode and save with the name you want in PSD or other formats you want.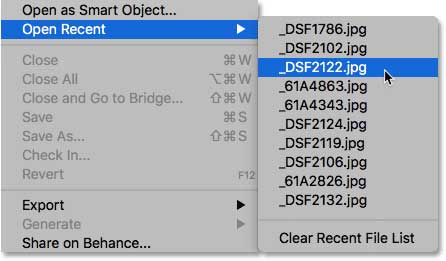 How To Recover Deleted PSD Files Using PSD File Recovery Tool
If you are unable to recover your lost or unsaved PSD files even after trying the above methods, then you can use PSD file data recovery tool for peace of mind.
It is professionally recommended software that has enough ability to recover lost, deleted, missing, or erased files in no time. No matter whether your files have been deleted due to any reason, this tool can rescue them effectively.
Apart from PSD, this tool can recover other image file formats as well such as – PNG, BMP, RAW, JPG , TIFF, JPEF & many more.
emid

emid


* Free version of the program only scans and previews recoverable items.
You can simply download this tool from the below button and follow the step-by-step guide to know how to use this tool.
FAQs [Frequently Asked Questions]
Can You Recover Unsaved PSD?
Of course yes, you can easily recover your unsaved PSD files using Auto-recovery feature, backup option or from the recycle bin folder. However, if the backup is not available then you can use the recommended PSD File Recovery Tool to get back your lost PSD files.
Where Are PSD Files Stored?
PSD files are usually being stored on your computer's hard drive or in designated folders. Users can choose their preferred location to save their PSD files during saving process in Adobe Photoshop.
How Do I View PSD Files Online?
You can use an online PSD viewer such as - Google Drive or Photopea to view your PSD files.
Does Photoshop Save Temporary Files?
Yes, the Photoshop creates temporary files while you're working on a project. These files are usually stored in the system's designated temporary folder and can be helpful for recovery in case of an unexpected system shutdown or crashes.
Why Is Photoshop Not Saving My Files?
If you are unable to save your file in Adobe Photoshop other than a PSD, TIFF, or RAW format file, chances are the file is too large for any other type of format.
Why Do Your Photoshop Files Get Deleted?
Well, there can be numerous reasons behind PSD file deletion and it's quite difficult to avoid such unexpected situations. Let's have a look at some of the most common causes:
Photoshop crashes or freezes abruptly while working.
Accidental deletion or app corruption.
Unexpected system shutdowns or system crashes
Due to corrupt storage devices
Power fluctuations etc.
Conclusion
It is so disheartening to lose an important Photoshop file especially when you have been working on it for a long time. Thus, it's always suggested to keep a backup of your PSD files to avoid such unexpected issues.
Also, before starting working on Photoshop, make sure to enable the Photoshop Auto Recovery feature. However, if you still lose your PSD file, you can try PSD File Recovery Tool & other alternatives to recover unsaved PSD files with ease.
Taposhi is an expert technical writer with 5+ years of experience. Her in-depth knowledge about data recovery and fascination to explore new DIY tools & technologies have helped many. She has a great interest in photography and loves to share photography tips and tricks with others.