Receiving "invalid image error JPEG" or JPEG "Invalid Image" error message while trying to view the picture? Struggling hard to solve this issue? If it is so then you are at the correct webpage.
Here I will let you know what are JPEG files, how does it get corrupted, and of course how to fix an invalid image JPEG error.
You can fix invalid image error JPEG/JPG by downloading the photo file again, converting the file extension, or using the best Photo Repair Tool.
How To Fix JPEG Invalid Image Error?
Well, I have already mentioned that using JPEG File Repair Tool, you will be easily able to fix corrupted JPEG invalid image errors. So, just feel free to use this tool without any hassle.
I am recommending this tool because it has several features that are very useful and I have already mentioned them above. This tool is easy to use and is completely trustworthy.
Not only JPEG image files can be repaired but you can also repair other image file formats as well such as PNG, TIFF, GIF, BMP, and also all camera raw images as well.
Repairs corrupted, damaged, inaccessible, or errors like an invalid JPEG image
Apart from fixing JPEG image files, you can also repair other image formats like CRW, DNG, CR2, TIFF, PNG, GIF, NEF, etc
Preview the repaired files and save them in your preferred folder
Completely trusted and available at an affordable price
100% safe and secure to use



* Free version of this program only previews repaired photos.
So, here are the steps to know how to fix JPEG invalid Image Error…..
Step 1: Download, install and launch Photo Repair Tool on your computer. Click on 'Add File' to repair corrupt/damaged image files.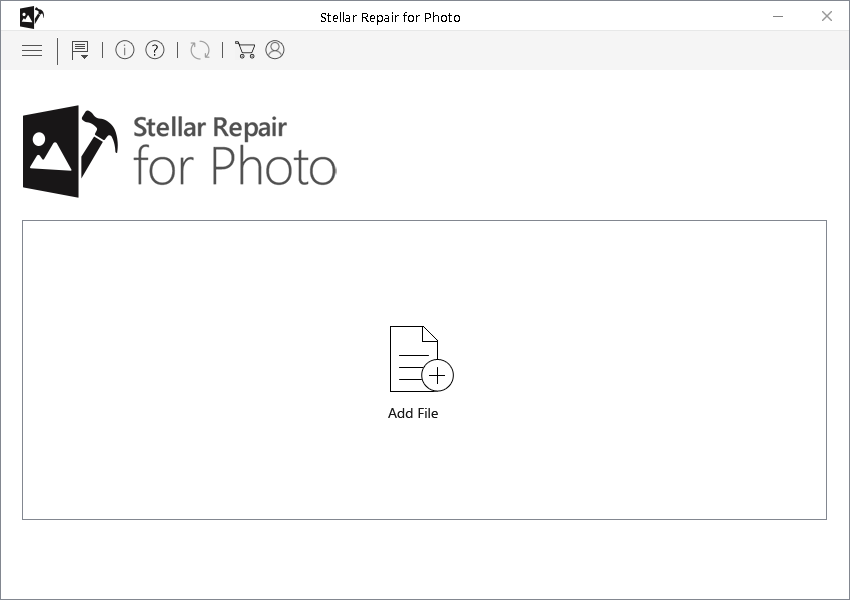 Step 2: You can then select the files for repairing. Next, click on 'Repair' to begin the repairing process.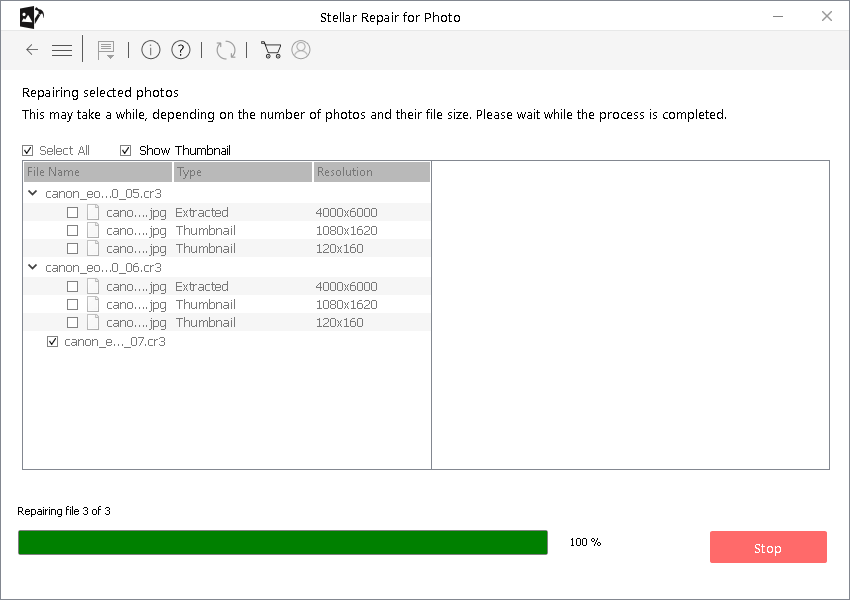 Step 3: Finally, click on 'Save' button to preview and save repaired images on your desired location on the computer.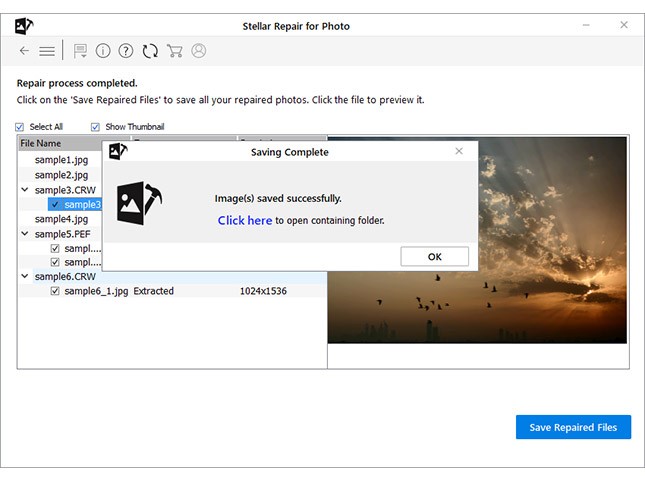 Other Alternatives To Fix JPEG Invalid Image Error
Solution 1: Download JPG File Again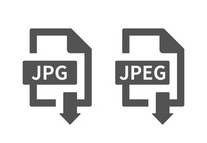 Many times, it happens that due to site or network issues files are not downloaded properly. Afterward, when we try to open that downloaded file, different error messages appear. Similarly, if your JPG file showing invalid image it means that the JPG/JPEG got corrupted & makes it inaccessible.
In such a situation, downloading the JPEG image file again from a same source can be helpful. So, once you should download the image again & check if the issue is solved.
Solution 2: Rename A JPG File
Another simplest method that you can try to troubleshoot invalid image error: unknown image format is to rename a file. When you rename a file then make sure to save a file in (.jpeg) extension & try to launch it.
Solution 3: Convert The JPEG File Extension To Different Image File Format
Open the JPEG image in Adobe Photoshop or any other photo editing software.
Save the JPEG image with the different image file formats. From the menu click on "File" and select "Save As"
In the Window, field selects the file extension to another image file format such as .png or .bmp and then click on "Save" to save the image with the new file format.
Now, open the image and see if it is opening or not.
Solution 4: Rebuild The JPEG Backup
Well, it is always suggested that you should keep an extra copy of your important photo files as a backup. So, if you have kept one more copy of your JPEG file then you can access them from there.
 Solution 5: Run CHKSDSK Command
The invalid image error JPEG sometimes occurs when you try to open the JPEG file saved within the storage media. It might happen due to the bad sectors present on the data storage drive. In such a situation, you need to run the 'CHKDSK' command to fix the problem.
At first, you need to connect your SD card or USB drive to PC.
Then, tap on Command Prompt >> type "CHKDSK (drive letter) / r" under a command window.

After doing so, chkdsk will check for the error or bad sectors & will repair it.
Once the process is completed, check if you can access the photo stored with the drive or not.
Solution 6: Check For Compatibility Problem
You also have to make sure that the particular application or software in which you are opening and viewing JPEG photos does not have a compatibility problem.
In order to ensure, try to run the application or software in the compatibility mode and then open the JPEG images.
On your Windows computer, right-click on the specific program in which you are trying to open JPEG images (say for example "Microsoft Photos") and then select "Properties".
Go to the 'Compatibility" tab and then select Run this program in compatibility mode and click OK.
Solution 7: Unhide All The File Extension of The JPEG File
It could be possible that all the file extension of the JPEG files has been hidden on your Windows computer. So, make sure that the file extension matches the actual file type or else the image will not get opened.
The reason being, every time you try to open it, Windows will run the same error because there is no file extension that exists in your Windows PC to open the JPEG image with that extension.
Here follow the steps to unhide all the file extension of the JPEG file:
On your Windows PC, go to Control Panel, click Appearance, and Personalization and then click on "File Explorer Options".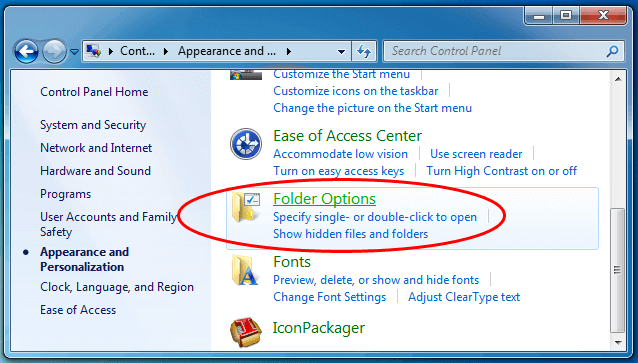 Go to the "View" tab and select "Show hidden files & folder" and then uncheck "hide extensions for known file types and click Apply.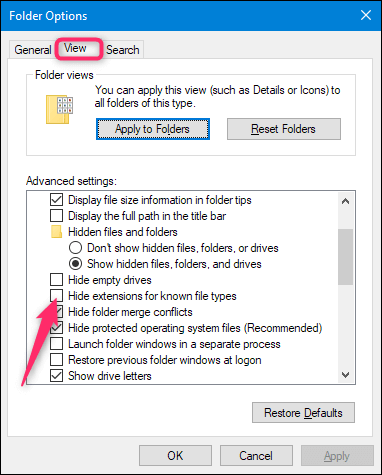 Now open your JPEG files, I hope you will not face the error message.
Solution #8: Open The JPEG File In A Web Browser
Simply drag and drop the JPEG file in a web browser.
If the browser opens your JPEG image without any error, then simply save the image and then open it again in the photo viewer application to check whether you are able to open it or not without any error message.
What is a JPEG Image?
JPEG is abbreviated as "Joint photographic Experts Group". This is a standard image format to contain compressed and lossy image data. Even after a reduction in the image size, JPEG images maintain its image quality.
This is why the JPEG image file format is used widely on mobile devices, internet and PCs as well. Sharing a JPEG file is so quick and efficient.
One can store numerous JPEG image files in minimum storage space. This file format can contain high-quality image data with lossless compression.
What Causes JPEG Image File Corruption?
Some major causes that lead to JPEG Invalid image error are mentioned here, so you can go through them:
If the storage media is virus infected then it can corrupt JPEG files and become unable to access them
When there is any storage device like SD card with bad sector resides then it can throw JPEG invalid image error
Broken or corrupt header of JPEG image file
Because of an incomplete scan of JPEG files, corruption can take place
Using a digital device in the low battery may corrupt the clicked JPEG images
Changes in the JPEG file extension.
If your JPEG photos get infected with the virus, then you can't open it and you may get above error messages.
Clicking images even when your device shows  "not enough memory" also results in the corruption of JPEG pictures and you encounter above error messages when you try to view images.
Conclusion
Since now you know the fixes that will act as a counter when you will face "invalid image" error or unknown or invalid JPEG marker type is found while opening JPEG photos.
The above-mentioned manual solutions will fix the JPEG error message as well as recover the JPEG file.
But if all the first four manual methods fail, then it is highly recommended that you must try JPEG File Repair Tool to repair damaged JPEG/JPG files and recover your photos and open them without any JPEG 'invalid image' error message.
Editor's Note: This post was originally published in October 2018. This updated version is completely revamped for comprehensiveness, freshness, and accuracy.

Taposhi is an expert technical writer with 5+ years of experience. Her in-depth knowledge about data recovery and fascination to explore new DIY tools & technologies have helped many. She has a great interest in photography and loves to share photography tips and tricks with others.