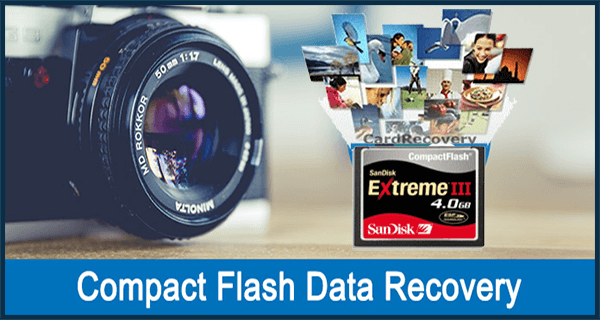 Summary
In this post, you will get to know how you can recover photos from compact flash card with ease. Here, you will get a detailed solution with the help of which you will be able to get back lost images from CF card. So, do not miss to go through this blog and get your problem solved.
About CF Card & Data Loss
Compact Flash Cards or CF cards are generally used to store data primarily on digital cameras and DSLRs. Most of the shots you capture using your digital camera are stored on these little pieces of storage devices. So, if corruption or disaster strikes the CF card and you lose all images from it then you could end up losing memorable moments of a life-event which is so disheartening.
Photos, videos and other data get deleted accidentally from compact flash card or CF card get formatted unintentionally from your side, these both situations are very irritating situation for the entire card user. But don't worry because your all inaccessible CF data will be accessed by applying one form the given methods. If you want to recover data from compact card then the first thing that you have to do is stop using the memory card because any unwanted activity with the card can delete your important data permanently. So it is recommended that avoid using the memory card after facing any data loss situation.
In the world, there are many gadgets lover and those always face many types of problems with their devices or gadget data, among all the problems data loss situation is at the top. Data those are stored in any compact card of any brand such as Lexar or other get easily corrupt or deleted unintentionally sometimes. If data loss occurs then in this situation it doesn't matter what brand of CF card you are using. So that it is clear that data loss situation is one of the famous gizmo related problems and can happen with any gadget user at any time anywhere. But, you don't have to worry at all because here you will get the complete solution to retrieve images from CF card easily.
Few Useful Applications Of Compact Flash Card
As we all know that CF card is the first flash memory standards to compete with PCMCIAI which was appeared earlier and provided with a larger volume. Apart from this, CF card is also the oldest successful standards and this is the reason that it is perfectly suitable for professional camera market.
Below you can see the use of CF card in many cases:
CF card was earlier applied to digital cameras and Personal Digital Assistant (PDA).
Later, CF card expanded its using scope to MP3 players, Global Positioning System devices (GPS), laptops and more.
CF card is now adopted in several operating systems and hardware platforms like Windows, UNIX, DOS, Mac OS.
Best Recovery Tool To Recover Photos From Compact Flash Card
Here the important question is "How to get back lost images from CF card?" As previously said that avoid using memory card immediately when you face any data loss situation. It is the primary precaution to protect data from permanent deletion of data. For this, you have to download professional CF Card Data Recovery Tool to restore deleted photos from corrupted CF card. After downloading apply the given steps to recover CF data.
This tool is able to restore complete memory card data within the given steps, and the main thing that you don't need any user manual to operate it because this software provides a very simple user interface so that it is easily operated by any types of user. It is the single tool that is recommended by the professionals because it is easy to use and safe.
So that, apply this CF Card Recovery Tool and restore deleted photos from corrupted CF card without need of any backup file and professional knowledge. This tool is also available for free trial, download free CF card recovery tool and save your deleted images, videos and other type of data from any external storage devices.
With the use of this recovery tool, one can:
Easily get back deleted, erased, formatted photos (JPG/JPEG, TIF/TIFF, PNG, BMP, GIF, RAW, etc) from compact flash card
Also, restore various kind of video and audio files deleted from CF card
Recover photos from compact flash card or other memory cards such as SD card, SDHC, SD mini, SDXC, MicroSD, MicroSDHC, MicroSDXC, MMC, xD Picture card, Smartmedia card, Eye-Fi card, TF card, etc
Support recovery of photos from memory stick, pen drive, portable hard drive, USB flash drive, Digital cameras & camcorders, etc
Read-only program, 100% clean, safe & easy to use
Restore Deleted Photos from Corrupted CF Card In Minutes



* Free version of the program only scans and previews recoverable objects.
Steps To Recover Photos From Compact Flash Card
Step 1 – Install "Photo Recovery" software and launch it on your computer. Click on "Recover Photo, Audio & Video" tab to recover photos, videos and audio files from any SD card, external USB drive or computer hard drive. Connect the media to your computer and then perform the process.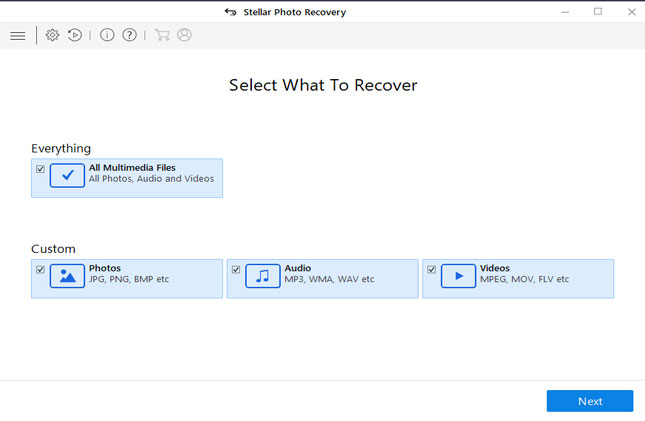 Step 2 – Select the drive from which you want to recover files. All the hard drive and external media will be shown in the list. Now select the desired drive to scan and then click on "Scan" button.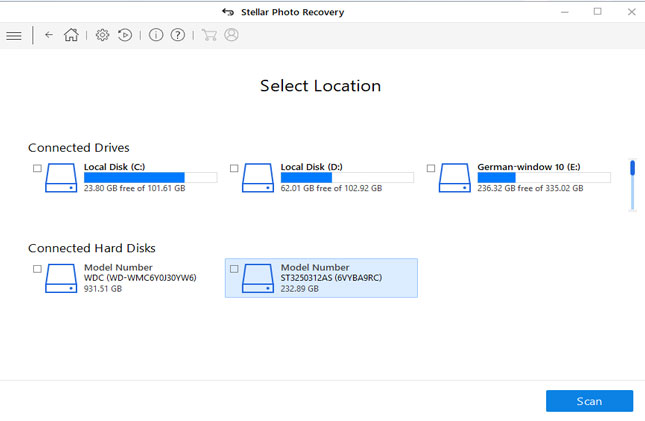 Step 3 – Once you click on "Scan" button the software will show that scanning is in progress. The software will search for all multimedia files from your selected drive or attached media.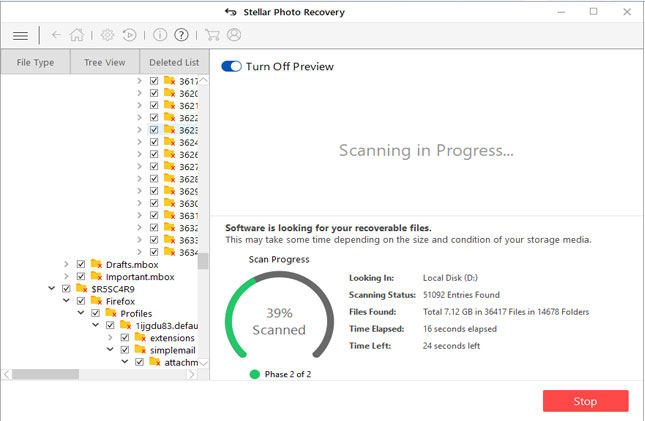 Step 4 – After scanning, all the files that are found in the selected volume, hard disk or other storage media devices are listed. You can now select the files to preview them and then you can click on "Recover" button to finally save them on your computer.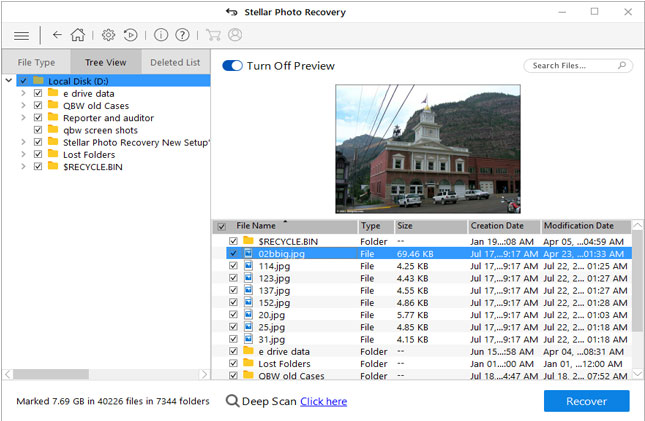 Alternate Method To Recover Photos From Compact Flash Card Using CHKDSK

The CHKDSK utility is very powerful in repairing corrupt partition tables. Hence if it is executed on an CF card which is inaccessible then it will be able to make the card visible to the system in which it is inserted. After that, it becomes possible to retrieve images from damaged CF card using any of the methods mentioned below:
To recover partition tables on the CF card, try the below command:
chkdsk g: /f /r /x                                
Here 'g' denotes the drive letter that is assigned to the CF card.
A word of caution
Using the above command to fix partition tables on CF card might be little risky since they are ultimately intended to make changes to the MFT and File Allocation Table. So, one should avoid this step if you don't have a complete backup of the data saved on the CF card.
Practical Scenario
"I accidentally formatted a CF card that had a couple hundred pictures on it that I had not transferred to my PC. Can I recover these lost pictures in CF card any way? Thank you for any advice."
Source: https://www.jihosoft.com/recover-data/recover-photos-from-cf-card.html
Types Of Reasons For Data Loss On CF Card
Physical Failure
Most of the data corruption issues on CF card are caused by card quality issue such as disasters are generally very difficult to tackle. So, there is a great need to take proper care of them. Apart from this, you should always choose to buy high-quality external storage devices like memory card, CF card, memory stick memory stick, etc rather than those that comes at low price.
Sometimes, another important part of physical failure is the firmware corruption on CF card. Connecting CF cards to system for long time or unsafe removal of CF card can also lead you to face firmware corruption issue.
Note: Loss of data due to physical issues are can never be recovered. However, you can still recover it with the above mentioned solutions like CF Card Data Recovery or other alternatives id it is not permanently deleted from the memory.
Logical Failure
Unintentional Formatting: You are also likely to format CF card because of careless operation like virus attack and other issue. In such case, CF card recovery becomes essential if there is no backup of data or the backup is not updated to the latest version.
Accidental Deletion: It may be possible that you are careful enough while using CF card and so you eliminate images from CF card mistakenly. At such time, you may feel disappointment and helpless as you are not allowed to rely on Recycle Bin to get back deleted pictures even when the CF card is connected to the system during the deletion of photos.
Forcing To Move CF Card: If you move your CF card when any operation like copying, deletion, etc are still running then your important data like photos, videos or music files may get corrupted or lost easily. Apart from this, if any kind of unexpected accidents such as power failure takes place at that time then data loss can take place.
Some More Reasons Of Data Loss From CF Card
Reason or causes of CF data inaccessibility are many, but some of them are given below, read them carefully to avoid data loss situation:
Unintentionally deletion of card data by pressing "delete all" button
Card formatted automatically after connecting them to any computer system- It happens due to an internal system error.
Card start showing error message when you connect it to the system or digital camera- Virus infection or Trojan infects the memory card sometime and hence it starts showing error message.
Using CF card in low battery situation may also affect the data of the card- You are capturing photos while Digi cam displays low battery warning then there is a chance that captured images get corrupt.
Tips To Use Compact Flash Card Carefully
As CF card is much more fragile than hard disk, so you should be very careful when using this external storage device. Here are some of the most useful tips you should follow:
Hold Tight: Device like CF card, if falls to the ground or suffers from any strong shock and vibration then data loss will take place. Or in more serious condition, the CF card will be physically damaged.
Be Gentle: CF card slot is actually provided with several small frangible pins that are used to transmit videos, images and other data. If the CF card is pushed too hard while insertion process on any other electronic devices then the possibility is that it can break or bend the pins. So, you need to be very gentle while doing this.
Keep Dry And Be Away From Magnetic Field:  Magnetic field or humid environment, these both can make your CF card damaged and data can be lost from CF card. So, try to use and place CF card under proper conditions.
Avoid High Temperature: The CF card's shell is actually made up of plastic, and due to this overheating will definitely lead to deformation. The deformation will actually make the CF card installation very difficult because of limited space. So, you should avoid keeping the CF card in prolonged exposure or direct sunlight and you should place CF card away from any heating appliances.
Final Verdict
With the increasing popularity of digital products, compact flash card has also entered a great development period in some recent years. However, sometimes your data such as photos, videos and audios files from CF card may get deleted due to some reason, but there is a chance of CF card recovery.
Yes, with the help of above mentioned methods, you can easily recover photos from compact flash card in easy steps. So, try the steps mentioned above and get your deleted photos back from your corrupted, damaged or formatted CF card.

Summary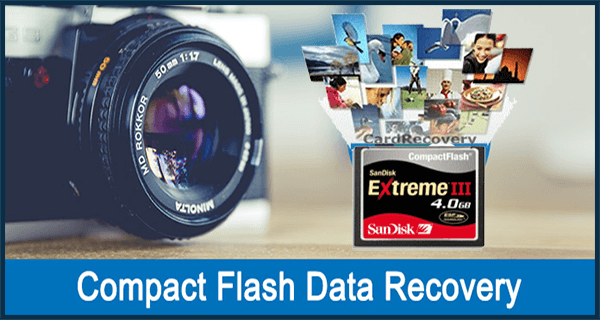 Article Name
2 Most Effective Ways To Restore Inaccessible Photos From Compact Flash Card With Ease
Description
Learn the best and effective methods to recover photos from compact flash card with the CF Card Data Recovery tool and using alternate solution in easy steps.
Author
Publisher Name
Publisher Logo