Sometimes, when you connect your USB drive to PC and try to access its data, you might be surprised to see that the files copied to USB drive disappear. You check again and again to ensure that, but still found the copied files disappeared. So, why your files disappeared from USB or what can be done to retrieve them back?
Today in this post, I am going to describe each and everything about USB files disappearing issue and also I'll show you how to recover missing files from USB in east steps.
But before we move into fixing this issue, let's find out the reasons that leads to this issue.
To recover disappeared files from USB flash drive, we recommend this tool:
This software will restore data from corrupted, formatted, encrypted storage media and works in all data loss situations. Now recover your lost and deleted data in 3 easy steps:
Download this Data Recovery Tool rated Excellent on Pcmag.com.
Select the storage media from which you want to restore the media files & click Scan.
Preview the recoverable files, select the items you want to recover and click Recover to save the files at desired location.
Why Do Copied Files Disappear From USB?
Well, you couldn't pinpoints a single reason of disappearing files in USB. There can be several reasons that can cause this problem. Some of them are mentioned here below :
Incomplete Copying – If you remove USB drive before finishing the copying process, the files may not transfer completely and leads to their disappearance.
Hidden Files – Some virus or malware make the files in the USB hidden making them appear as if they are disappeared.
Corrupt USB Drive – If the USB drive itself is corrupted, it may not store data correctly, leading the files to disappear.
File System Error – USB's file system may have encountered error, causing the files to become inaccessible or appear missing.
Improper Ejection – If USB drive is not ejected properly from computer, it may lead to data loss and corruption.
How To Recover Disappeared Files From USB? [Recommended Solution]
If you are looking for the instant way to recover your disappeared files from USB then USB Drive Data Recovery Tool is the perfect choice for you. It's one of the powerful data recovery software that is specially designed to rescue deleted, lost, missing or disappeared media files.
This excellent tool comes with an advanced algorithm that deeply scan your drive & restore your deleted USB files in no time. It doesn't matter whether your files gets disappeared due to accidental deletion, virus infection, corruption, physical damage or formatting, it can retrieve them easily.
Besides that, it will not only help you to perform USB Flash Drive Data Recovery but you can also retrieve your missing data from all storage devices such – Pen drives, SD cards, hard drives and others. It is available for both the Windows & Mac.
So, just download & install this tool on your PC and get back your missing/disappeared files from USB with ease.



* Free version of the program only scans and previews recoverable objects.
Follow the step-by-step guide of this tool to know how to use this program:
Step 1: Select Desired Location
Firstly, select the drive, external media or volume from which you want to recover deleted media files. After selecting, click on 'Scan'.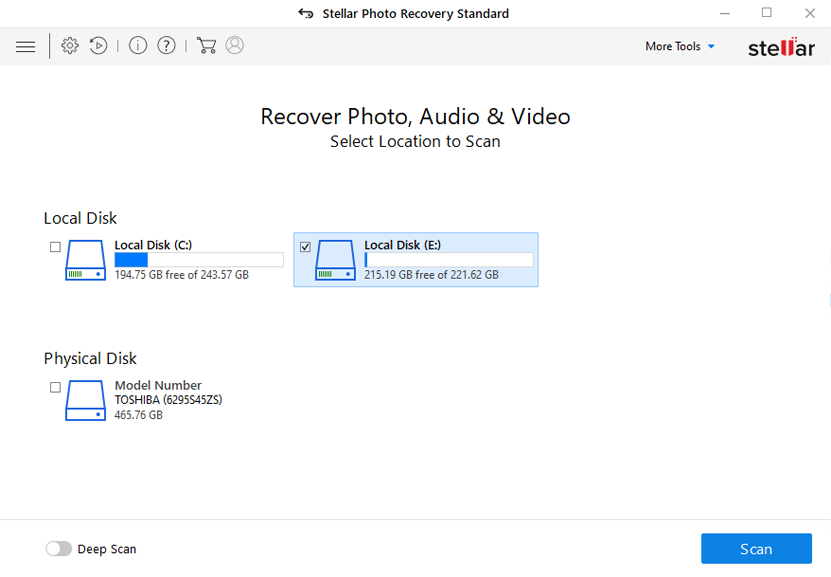 Step 2: Preview Recovered Media Files
Next, you can preview the recoverable media files after the scanning process is completed.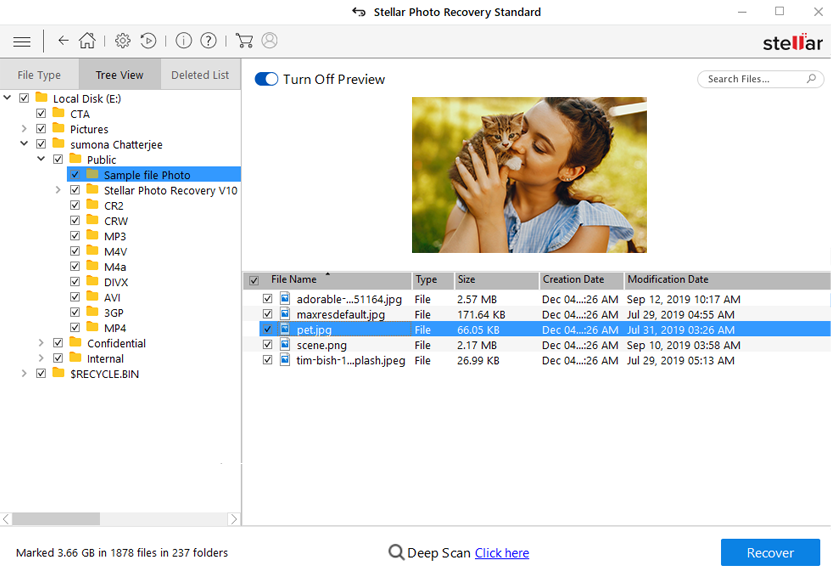 Step 3: Recover Media Files
Lastly, you can select the images, audio, video files you want to restore and click on 'Recover' option to save them at the location you want.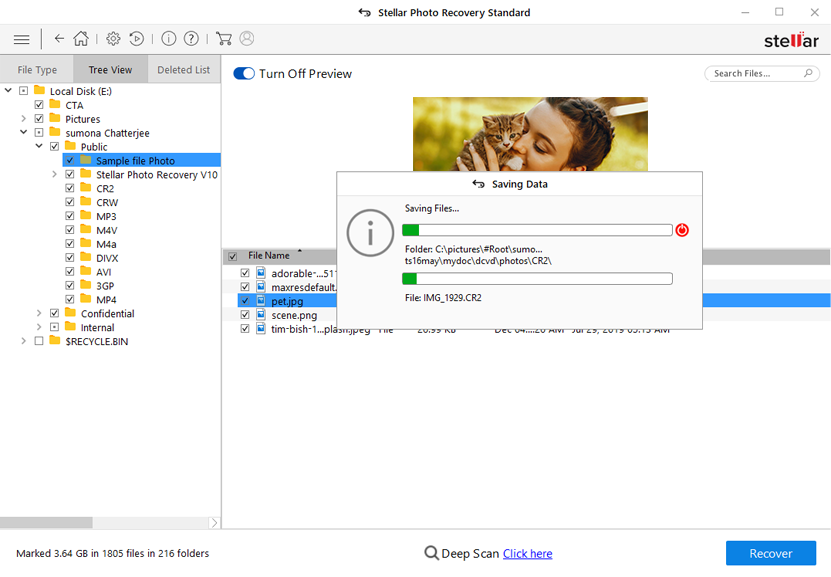 Troubleshoot Files Copied to USB Drive Disappear Manually
In this section, you will get some of the manual ways to fix files copied to USB drive disappear issue and recover data from it.
#1: Disconnect & Reconnect Your USB Drive
If your USB drive is not connected properly to PC, your computer will not able your read your drive and hence you may face USB files disappearing issue.
So here, I will suggest you to remove the USB drive safely and reconnect it again. Additionally, you can try changing the USB cable, restarting the PC etc.
#2: Enable "Show Hidden Files" Option to Unhide USB Files/Folders
Sometimes, when you open your File Explorer or disk management on your PC, you may find that USB files not showing but space used. This simply indicates that, your USB files are still present on your drive but only gets hidden.
When the hidden attributes applied in your files, they won't be appear as usual. In such a situation, you'll need to unhide the files or folders by following the below given steps:
Open the File Explorer by pressing Windows + E
Then, click on the View tab from the top and choose Options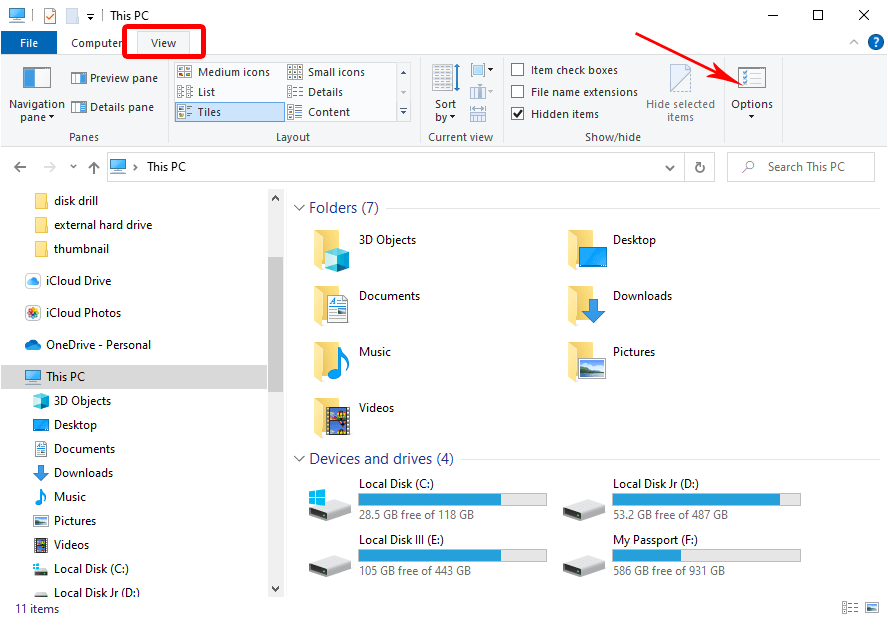 Here, you can see Change folder & search options, just click on it.
Now, go to View tab, find & enable Show hidden files, folders, and drive option under advanced setting.
Finally, click on the Apply button > OK.
#3: Use Command Prompt Utility to Check for Disk Errors
As I discussed above, if your USB files disappearing after copying to USB drive, it might be due to corrupted file system. In such a situation, you can use the check disk utility as it helps to repair various kind of disk related issues including damaged file system.
Here's what you need to do:
Open the Windows search box then type cmd or Command Prompt then press Enter & select Run as administrator.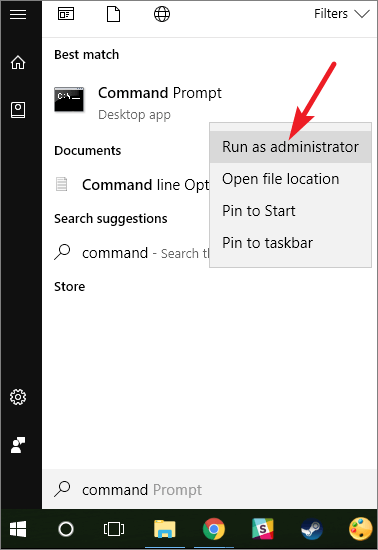 Now, you need to type the below command below (replace C with a drive) & press Enter
chkdsk c: /r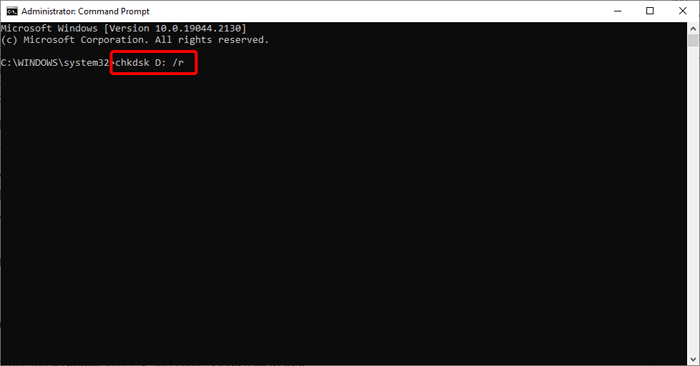 Also Read – How to Recover Unallocated Space on USB Drive?
#4: Run Anti-Virus Program to Scan Your Drive
Many times, the presence of virus in the drive makes your files hidden or disappeared from USB. If you are having the same case, you'll need to unhide the files. After that, you can easily recover your data from flash drive.
But before that, you will need to remove the virus from your drive to avoid the further data loss. For that, you can either use Microsoft Defender Antivirus or install any reliable Anti-virus program on your PC to perform this task.
Here's how to run Windows Anti-virus program:
Press Windows + E keys together to open File Explorer.
Right click on your USB flash drive & choose Scan with Microsoft Defender.
Finally, click on the Quick Scan option and you are done.
#5: Format Your USB Drive to Fix Files Copied to USB Drive Disappear
Even after applying the above methods, if you still facing files disappearing after copying to USB drive issue then you need to take any drastic step like formatting the drive.
However, formatting the drive deletes everything from your external storage device but still it's one of the effective way to fix all sorts of errors and issues.
Please Note – Before applying this method, make sure to recover your important files from USB using the most reliable USB Drive Data Recovery Tool.
Open the File Explorer by pressing Win + E keys.
Locate your drive & right-click on it then choose the "Format" option.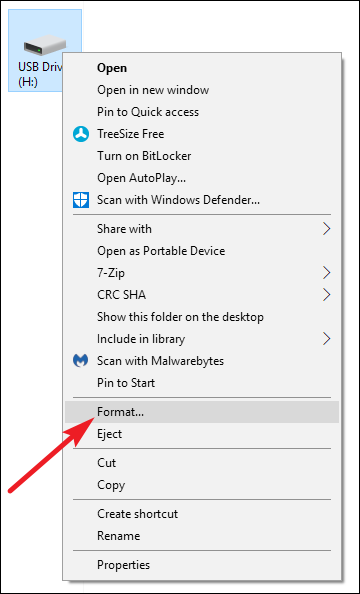 Here, you need to select the file system – NTFS ( make sure to check Quick Format box)
Finally, click the "Start" button to begin the formatting process.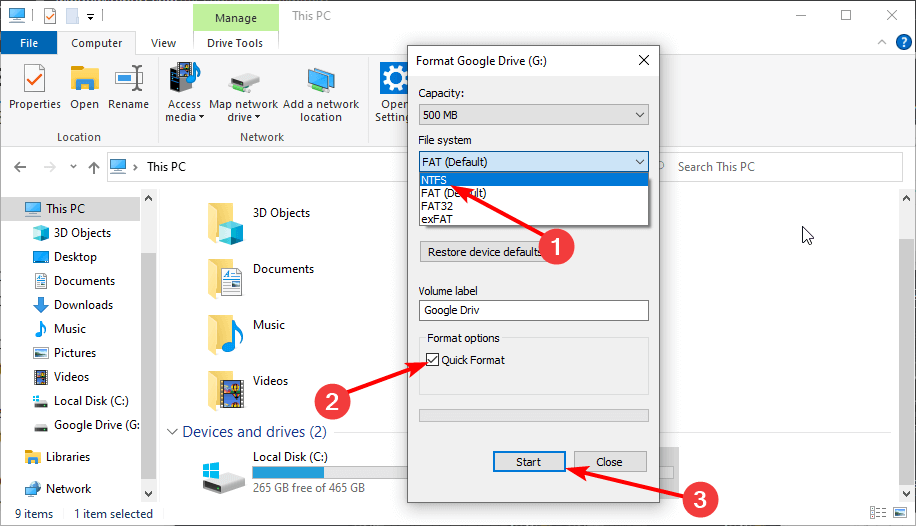 FAQs [Frequently Asked Questions]
Which Virus Makes Files Disappear?
Worms are the malware that often hides or deletes the files present in your device. However, the virus infected files can be recovered by using any specialized tool. But before that, you'll need to remove the malware from your device running any Anti-virus program.
How Do I Fix USB Files Not Showing Up But Used Space?
You can simply fix USB files not showing but space used issue by following this process:
Open File Explorer then go to View tab & choose Options > Change folder & search options. Again, navigate to View tab then find and enable the Show hidden files, folders, and drive. Then click on Apply > OK and you are done.
Conclusion
It's one of the frustrating and stressful moment, when you need to transfer some of your important data from USB but you find the files copied to USB drive disappear.
However, by applying the aforementioned methods, you'll definitely able to fix USB files disappearing issue and also recover data from USB even without backup.
Besides that, to prevent your data from further deletion, it's recommended to create the backup of your vital data in any safe place.
Hope you find this post helpful!
Taposhi is an expert technical writer with 5+ years of experience. Her in-depth knowledge about data recovery and fascination to explore new DIY tools & technologies have helped many. She has a great interest in photography and loves to share photography tips and tricks with others.