Have you ever come across the problem where your USB drive or SD card shows you unallocated space or your USB drive stops working on your PC?
Now if this happens to anybody then I can understand how frustrating the situation would be. Actually, what happens is when you ever try to burn an ISO image on USB drive then the unallocated space error occurs.
This situation creates a havoc situation and they think that a USB drive or SD card is damaged forever and it cannot be repaired anymore.
To recover unallocated space on USB flash drive, we recommend this tool:
This software will restore data from corrupted, formatted, encrypted storage media and works in all data loss situations. Now recover your lost and deleted data in 3 easy steps:
Download this Data Recovery Tool rated Excellent on Pcmag.com.
Select the storage media from which you want to restore the media files & click Scan.
Preview the recoverable files, select the items you want to recover and click Recover to save the files at desired location.
So, if you are the one who is facing this issue then I would like to say that STOP THINKING right now. There is a possibility to fix the unallocated space on USB drive or in the SD card.
Don't worry about that also as I have come up with some best solutions to fix and recover unallocated space on USB flash drive.
What Is Unallocated Space On USB Drive?
Just imagine you have a USB drive of 16GB and you want to know how much space does it have. When you see the space on it then it is not showing the exact space that should be available. It means that low space is showing and you are much worried because you have some important files on it.
Now, this is called an unallocated disk space and you cannot use this space unless disk space is allocated. The space that is taken in the USB drive is the program files, some other files or some fragment generated by OS.
Why USB Drive Lose Space?
To see how much space is left on USB drive or SD card, you plug it on your PC but you were surprised to see that only a few MB was left.
To know further, why it happens, simply open Disk Management (Windows built-in utility) just to check what actually happens. There you can see lost space is marked as unallocated. It completely means that the unallocated space that you see on a USB drive or SD card is because of the loss of partition.
How this happened is important to know? Well, its already mentioned that the lost space often occurs when users try to burn the system to USB drive. For example, Chrome and Linux have the ability to change the partition system of the removable disk and hence, space will become low on either SD card or USB flash drive.
In addition, the causes behind the error, another one includes is the installation of third-party software inaccurately. Many times, formatting the drive does not process successfully which in return shows you as unallocated space.
Now the question is how to recover unallocated space on USB flash drive?
Don't worry, read further to know the solutions…
How To Recover Unallocated Space On USB Flash Drive/SD Card Using USB Flash Drive Recovery Tool?
Though the situation might frustrate you as you don't know how to solve such condition but don't worry, there are ways that can easily solve the less space error showing on your USB drive.
When you lose all your data accidentally or due to some other reasons, then using a recovery program will be the best way to restore all erased data from USB drive. With the use of USB Drive Recovery Tool, you can restore all lost/inaccessible files from USB drive. This tool is designed to rescue all types of data such as photos, audios and videos.
No matter for whatever reasons the files were deleted from USB flash drive, every data is easily recovered using the software. It scans the drive completely to find the lost files and restores them with ease.



* Free version of the program only scans and previews recoverable objects.
Tutorial On How To Recover Files From USB Flash Drive
Step 1: Select Desired Location
Firstly, select the drive, external media or volume from which you want to recover deleted media files. After selecting, click on 'Scan'.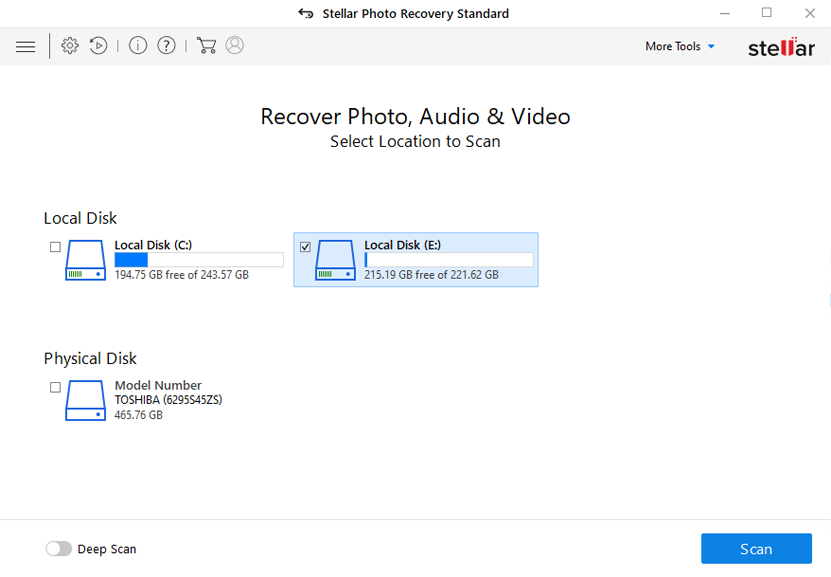 Step 2: Preview Recovered Media Files
Next, you can preview the recoverable media files after the scanning process is completed.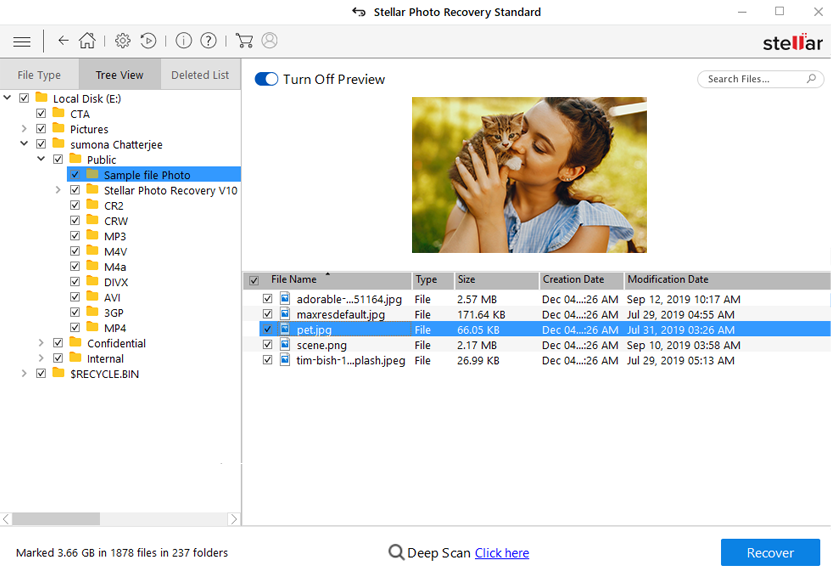 Step 3: Recover Media Files
Lastly, you can select the images, audio, video files you want to restore and click on 'Recover' option to save them at the location you want.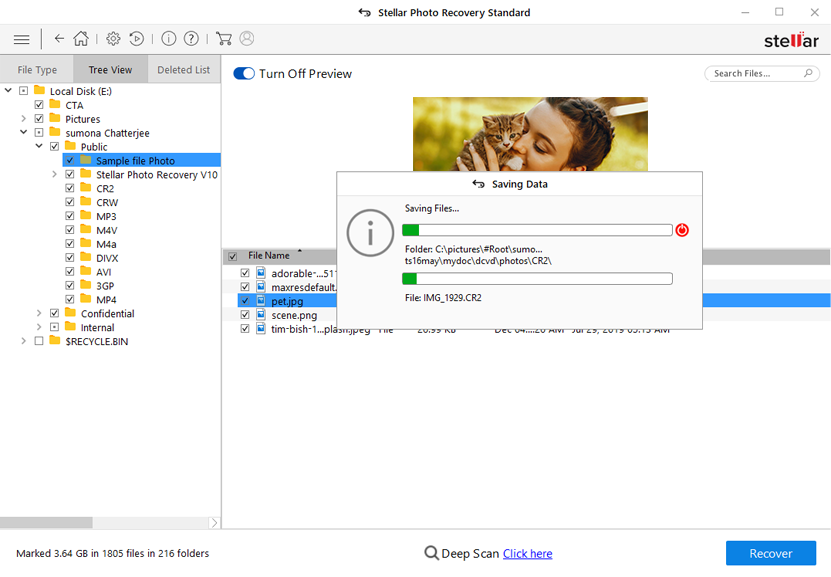 More Alternatives to Recover Unallocated Space On USB Drive
Apart from the above solution, you can also try the below two more alternative ways to recover unallocated space on USB drive and they are as follows:
Part #1: Recover Unallocated Space On USB Drive Using Disk Management
You have already read about Disk Management that is Windows built-in utility and opening this will show you space as unallocated on USB drive. Follow the steps to recover low space on USB drive/SD card.
Step 1: First, connect your USB drive to PC and then open Disk Management
For Windows 8/10, to open Power User Task menu, press Win + X and then tap on Disk Management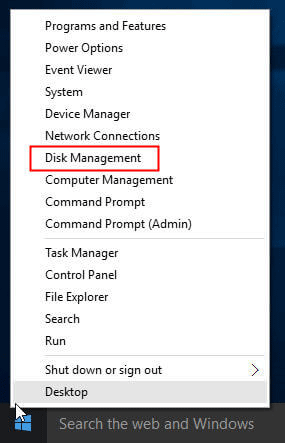 For Windows 7, tap Start option to open Start Menu and after, that type Disk Management and press Create and format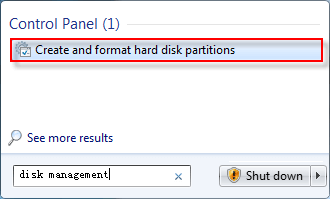 Step 2: Now in Disk Management tab > search Removable device > right click on it > select Delete Partition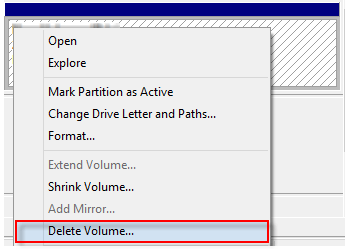 NOTE– Before you proceed with this step, kindly backup all data in the USB drive. After that, press on YES option when popup occurs. Doing this will create a USB drive as one portion of low space.

Step 3: Now when the complete USB drive becomes unallocated space, simply right click and choose New Volume option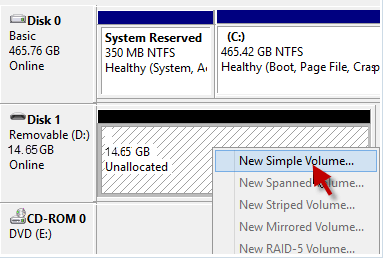 Step 4: After that, you will get a popup of Partition Wizard where you have to choose Primar Drive as partition type. Now select partition size and allocate a drive letter to USB drive.
Step 5: At last, tap on Finish option when the process is over and you can easily access the drive.
Part #2: Restore USB Flash Drive Unallocated Space Using Command Prompt
First, connect your USB drive to PC
Now, open Run dialogue box and type diskpart > enter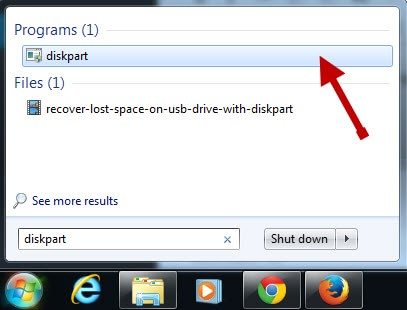 Here you have to type list disk on Diskpart window after which all disks with number will be seen on the system. You will see two-disk space: Hard disk drive as 0 and USB flash drive as Disk 1
Now type Select Disk 1 and press Enter. You will see 'Disk 1 is now the selected one'
Clean all volumes and partitions by typing Clean command on USB drive
After that, you have to create primary partition by typing create partition primary command
When it is done, type Exit to close window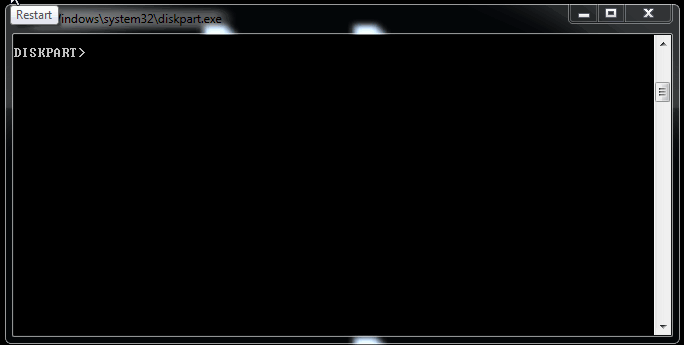 Using Diskpart method is considered as the best way to recover unallocated space on USB flash drive or SD/memory card. Its time to format the drive so that the low space can be accessible for using it.
But at the same time, you should also be careful in moving further because there is a chance to lose all your data from USB drive. In such situation, what can be done to get back those data from USB drive?
Conclusion
At some point of time, it is quite possible to lose unallocated space of USB flash drive. In that case, you can easily recover unallocated space of USB flash drive using the best USB drive data recovery methods.
In this blog, the complete recovery solution will help you to know the best ways of recovering unallocated space of a USB flash drive.
So, without wasting any time, just try these ways and get your problem solved.
Taposhi is an expert technical writer with 5+ years of experience. Her in-depth knowledge about data recovery and fascination to explore new DIY tools & technologies have helped many. She has a great interest in photography and loves to share photography tips and tricks with others.