It is quite easy to understand that hard drive is one of the major data storage devices that we generally use in our systems and other digital media devices. This is generally divided into single or multiple partitions.
However, the major purpose of creating more than one partition can be varied as per different issues like install multiple systems, separate operating system, improve hard disk performance, etc. With multiple partitions, users can manage and store the data easily, securely and smartly.
But, sometimes, it happens that you lose USB drive partition due to some unexpected reasons. In that case, it becomes important to recover data from USB drive. So, here I am going to provide the solution to recover USB drive partition without losing data.
To recover USB drive partition, we recommend this tool:
This software will restore data from corrupted, formatted, encrypted storage media and works in all data loss situations. Now recover your lost and deleted data in 3 easy steps:
Download this Data Recovery Tool rated Excellent on Pcmag.com.
Select the storage media from which you want to restore the media files & click Scan.
Preview the recoverable files, select the items you want to recover and click Recover to save the files at desired location.
Best Recovery Tool To Recover USB Drive Partition
USB Partition Recovery Tool is one of the best recovery tools that you can try to recover partition in USB drive in just a few easy steps. This tool offers easy and effective steps that you can easily perform even without requiring any technical help. USB Partition Recovery tool not only allows you to restore lost partition in USB drive but it also has other features like:
Recover deleted or lost data from other external storage devices like memory card/SD card/Pen drive/microSD card
Restore lost, inaccessible, missing files from encrypted, unreadable and locked digital devices
Recovers data in just a few steps
100% safe and secure to use



* Free version of the program only scans and previews recoverable objects.
Here is the step by step guide you need to follow to recover USB drive partition in just three easy simple steps.
Other Alternatives To Recover USB Drive Partition
#Run CHKDSK Scan
A USB drive partition may turn your drive RAW because of sudden power failure, malware infection, improper use of USB drive, etc. Due to these issues, you can lose data such as photos, videos, audios, etc as the USB drive becomes inaccessible. But, to make it accessible, you can try CHKDSK command to fix corrupted flash drive using command prompt. To do so, you need to follow the steps:
Step 1: First of all, you have to open a Command Prompt as administrator.
Step 2: In the next step, you have to type chkdsk /r /f X:  and then press "Enter" key. Now replace the letter X with the drive volume letter that turned RAW.
Step 3: In the last step, you have to detach and then reconnect the USB drive to access the USB drive properly.
NOTE: If you still find the RAW USB drive then it is possible that the drive is corrupted and so you have to try the next recovery solution.
#Run 'attrib' Command
A malware or virus can change the file attributes in external storage devices. With making changes in attributes, it hides the data and then creates the executable shortcuts to the hidden folders and files. After you click on the shortcut, the virus starts spreading on the system.
So, if you see any shortcuts on the USB drive partition then try attrib command to undelete files that are hidden due to virus attack. After this, run an antivirus scan to quarantine the infection by simply following the below-mentioned steps:
First of all, press Windows + S keys together and then type of command prompt.
Next, right-click on the 'Command Prompt' and then select the option 'Run As Administrator.'
After this, you have to type the below command as mentioned by pressing the 'Enter' key.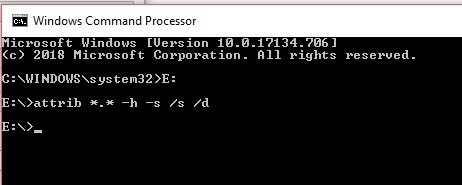 In the above command, X refers to the USB drive partition letter from where the files are missing. You can then replace the letter X with your desired drive partition.
After doing so, you will notice that the shortcuts are gone and the lost files can now easily accessible. But remember that you have to run an antivirus scan deeply on the USB drive to remove virus from SD card or other USB flash drives permanently.
#Recover Deleted USB Drive Partition Using CMD
Most of the time it happens that drive letter, loss of volume label, partition name or Diskpart clean command results in the loss of partition. Well, if it happens to you also then you can try to assign a new drive letter using Diskpart. Doing so can undo Diskpart clean using CMD. Follow are the steps below to do so:
#1: First of all, you have to find the deleted partition in Disk Management and to do so, try the below steps:
Press Windows + R keys to open the Run window.
Next, you have to type msc in the pop-up window and then press OK just to open the Disk Management.
After this, find the deleted partition and remember its partition size. Generally, the partition that has been deleted will be marked as Unallocated.
#2: Now, type cmd in the search box and run as administrator and then type there diskpart and then press Enter key.
#3: Next, you have to type there the following commands as mentioned and then hit Enter key:
list disk
select disk n (n is the disk which contains the deleted partition.)
list volume
select volume m (m is the number of the lost partition.)
assign letter=r (r is a drive letter which cannot be used before. )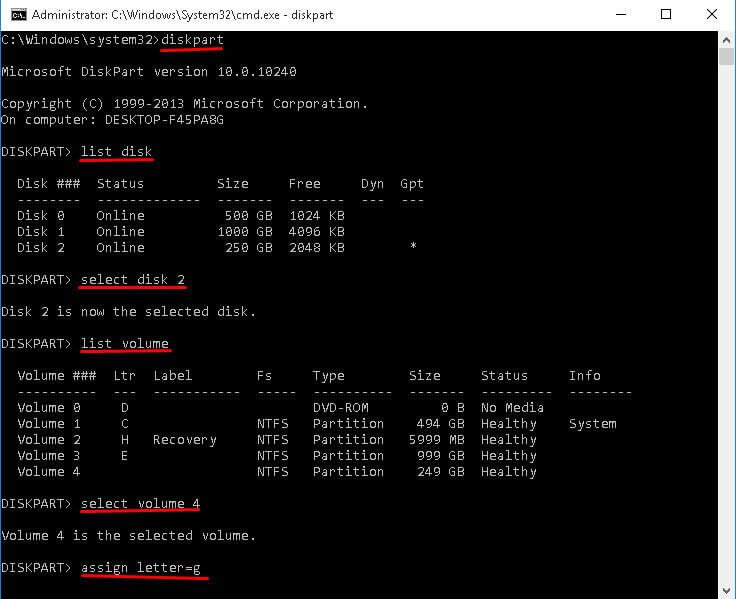 #4: Finally, you have to exit the window and see if DIskpart undo delete partition.
Why USB Drive Partition Gets Deleted/Lost/Inaccessible
There are several reasons that cause USB drive partition to get deleted/lost or inaccessible. Some of the major causes are mentioned below:
Partition Table Corruption: Partition table used to store data like type, size and location of the partition. After the partition gets corrupted or damaged, operating system is much more likely to lose partitions.
Accidental Deletion: Apart from system-related volumes, all the partitions can easily be deleted in Diskpart or Disk Management or any third-party disk partition tool when the operating system is running.
Disk Repartitioning Or Reformatting: Formatting or reformatting hard drive removes all the existing partitions and the data present on the specific disk. So, it is very important to make sure that you have already taken a complete backup of those data before performing repartitioning and reformatting the hard disk.
System Reinstallation: Sometimes, it happens that users choose to clean the hard drive mistakenly instead of the original system partition while reinstalling the operating system. During this process, it results in the loss of USB partitions.
Bad Sectors: Presence of a bad sector on the hard disk may lead you to face corruption in partition or even partition missing. If the number of bad sectors is so high then the hard disk may not be able to show up in the system.
Virus Attack: Several types of virus are created for several purposes and some of them can hack your system and even delete the partition.
How To Recover Data From Hard Disk After Deleting The Partition?
Well, recovering media files from accidentally deleted data is so quick and simple if you have a good recovery solution with you. In this case, the best option you can try is to use USB Drive Partition Recovery Tool.
This tool comes with an extensive partition search feature that allows users to locate their every single partition that existed on a hard drive. No matter whether the partition is lost because of formatting or normal deletion, this USB drive partition recovery tool features the option to recover lost partition and the data stored in it without any hassle.
Tips To Prevent USB Drive Partition
You can follow the below-mentioned tips to prevent USB drive partition and feel free to easily access the drive completely:
Do not connect the USB drive to any virus-infected laptop/system.
Use updated antivirus tool to scan the USB drive and remove virus from it before it harms your drive.
Make sure that you always disconnect the USB drive from laptop/system using 'Safely Remove Hardware' option.
Keep backup of vital USB drive data in some other external storage devices.
Conclusion
Partition in USB drive can be done due to many reasons but recovering partition in USB drive can be done with the help of USB Drive Partition Recovery Tool, using CHKDSK command and using attrib command.
All these ways can be very helpful for you to recover partition in USB drive. However, some tips have also been mentioned with the help of which you can prevent USB drive partition loss.
So, just keep following the tips I have mentioned above and try to follow them while using any USB flash drive.
Alex is an expert technical writer with 7+ years of experience. His in-depth knowledge about data recovery and fascination to explore new DIY tools & technologies have helped many. Alex has a great interest in photography and loves to share photography tips and tricks with others.