Hard drives are the best source for saving & carrying important data from one device to another. It provides huge space for saving files securely. But sometimes, it may happen that the hard drive makes a clicking noise, and due to which the data present on an external drive becomes inaccessible. Therefore, in this article, I am going to share 5 feasible solutions on how to recover data from hard drive clicking noise.
So, without wasting any time, let's proceed to read my article…
To recover data from PS4 hard drive, we recommend this tool:
This software will restore data from corrupted, formatted, encrypted storage media and works in all data loss situations. Now recover your lost and deleted data in 3 easy steps:
Download this Data Recovery Tool rated Excellent on Pcmag.com.
Select the storage media from which you want to restore the media files & click Scan.
Preview the recoverable files, select the items you want to recover and click Recover to save the files at desired location.
Can A Clicking Hard Drive Be Recovered?
Yes, clicking hard drive data can be easily recovered with the help of suitable hard drive data recovery software.
There are many users who don't know anything about clicking hard drive data recovery. But if you find the right solution then it becomes very much easier for you to get back your data.
So, what are the right & best way to recover data from clicking external hard drive?
Find the answer by yourself in one of the below sections!
Common Reasons Behind The Hard Drive Clicking Noise Issue
Before taking any action to fix and recover data from clicking laptop hard drive, it's very important to determine the root cause behind the issue. Let's have a look:
#Physical Damage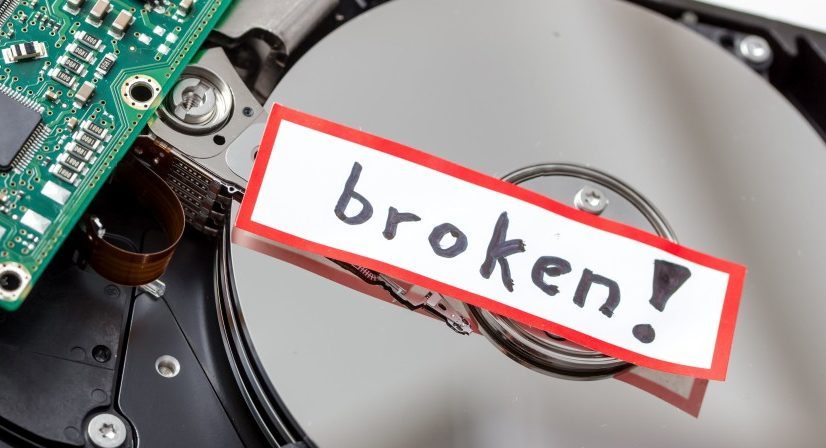 Physical damage to the hard drive is the major reason. In case, if your external drive has been exposed to fire, dropped, or had water damaged then this can lead to a clicking hard drive issue.
#Electrical Problems
Many times a hard drive won't able to receive sufficient power because of a faulty power supply unit. However, if you have a substitute power supply source, you can test this to see if it's causing the clicking.
#Service Area Problem
There's a portion of the hard drive where the manufacturer data is stored called the service area. When this portion becomes broken then your drive won't be able to operate properly and you will hear a clicking noise.
#Read And Write Head Misalignment
Another root cause behind the clicking a hard drive sound is the read and write misalignment, due to the dropping, or not handling a hard drive carefully.
#Manufacturer's Defect
Sometimes, a hard drive fails because of manufacturing errors, firmware issues or faulty parts. If you've a new external drive that has not sustained any damage, then this could be the problem. Usually, this will be covered under the manufacturer's warranty, however, they only cover the drive, not the data that's on it.
#Damaged/Corrupted Disc Platter
If a disc platter has sustained damage, an actuator arm won't work correctly. It will attempt to locate a platter & swing back and forth, resulting in a clicking noise.
How To Fix & Recover Data From A Hard Drive (Stuck Heads Buzzing Clicking Etc)
There are many ways to recover data from a hard drive (stuck heads buzzing clicking etc). Below I have mentioned some solutions that will help you to get back your deleted data. So, perform the below steps carefully one by one.
Solution #1: Powerful Hard Drive Data Recovery Tool
The best and appropriate Hard Drive Data Recovery Software is capable to recover data from hard drive clicking noise. Apart from that, it recovers inaccessible media files like photos, videos, and other stuff from a dead/crashed hard drive.
The best part about this tool is that- it extracts the data from drive formatted with FAT32, FAT16, NTFS5, and exFAT file system. It also retrieves data from all types of memory cards, USB flash drives, computer internal as well as external hard disk and other removable media storage devices. It is available for both Windows and Mac computers.



* Free version of the program only scans and previews recoverable objects.
Follow the step-by-step guide to recover data from hard drive makes clicking noise and won't boot using this program.
Solution #2: Change Hard Drive Connection to Fix & Recover Clicking Drive
The hard drive clicking sound can be an indication of an underpowering. Typically, the insufficient supply of power is likely to be the result of the clicking of hard drive, while changing a USB port is quite helpful in some circumstances. Likewise, an incompatible or a broken cable connection can also cause the disk clicking issue.
You can try out these troubleshooting steps:
Check whether the cable connection is broken or not.
If yes then just purchase the new cable & reconnect by clicking (external) hard drive to the PC.
Examine if the cable of power is loosened.
If yes then unplug & plug your power cable and connect it with your computer & the drive tightly.
Verify if you're using the compatible drive.
If you've connected the USB.30 external drive using the USB 2.0 cable then the drive could not be familiar & makes clicking noises.
Next, connect a clicking (external) hard drive to the other computer.
If your drive still keeps clicking on the computer then try to join it to the other computer.
Now, take your hard drive out from the disk enclosure & again connect it as an external disk.
The above tips can exclude all your connection issues which may exist. In case, the clicking noise exists then continue to try the other fixes in detail.
Solution #3: Freeze/Cool Down Your Hard Drive
This method is only applicable when a hard drive clicking noise issue caused by overheating or high temperature. In order to freeze or cool down your hard drive, you need to follow the below easy steps:
First of all, open your PC or laptop, check if the fan is covered with dust then clean it.
Add an extra fan to your PC & cool down a drive.
Stop using your device & wait for a drive to cool down.
Then, if your hard drive is too old, then replace an old drive with a new one.
Solution #4: Run Check Disk
When your external drive is creating a clicking sound, there must be some logical errors. Therefore, to repair the errors, you need to execute the Check Disk utility. To do so, you have to eliminate your external drive from the PC & then plug it and follow these steps.
Step 1: Right-click on a hard drive that makes clicking noise >> choose the Properties from a pop-up menu
Step 2: Under a properties Window, choose the Tools tab
Step 3: Make a tap on Check button found under the Error-checking.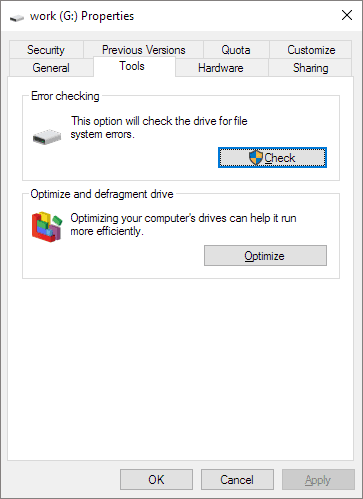 Step 4: Now, it will scan the hard drive for logical error & try to solve it
Step 5: After finishing the fixing process, check if you can access your hard drive or not.
Solution #5: Send Your Clicking Noise Drive For Repairing
Last but not the least, if the above solution won't help you to fix a hard drive clicking noise issue, send your clicking drive for repair.
Well, you've two options for repairing the clicking noise hard drive issue:
# Contact support team of a hard drive manufacturer for help.
# Take a clicking drive to the local repair center.
FAQ (Frequently Asked Questions)
Is It Possible to Recover Data From A Clicking Hard Drive?
Yes, of course, it is possible to recover data from hard drive clicking noise by using the powerful hard drive data recovery tool mentioned here.
Why Is My Hard Drive Making A Clicking Noise?
There are many reasons due to which your hard drive could make a clicking noise. Some of them are listed here: • Because of damaged firmware • Insufficient power supply • Due to faulty data cables or incorrect drivers installed.
How Do I Fix My Clicking Sound On My Hard Drive?
You can fix clicking sound on your hard drive by trying the below troubleshooting tips: • Check the connection of a hard drive • Freeze the hard drive • Send your hard drive to repair center.
Final Thoughts
The one and only way to make sure that you don't lose your important data is to have a valid backup of your hard drive. Backed up data will help you to recover files from the backup folder if you encounter any data loss.
But in the absence of backup, you can try the best Hard drive data recovery tool to recover data from clicking hard drive efficiently.
Apart from that, I have also mentioned some of the quick solutions on how to fix hard drive clicking noise. So, first, try to fix this problem and then recover data from hard drive clicking noise by using the tool mentioned here.
That's all…
Alex is an expert technical writer with 7+ years of experience. His in-depth knowledge about data recovery and fascination to explore new DIY tools & technologies have helped many. Alex has a great interest in photography and loves to share photography tips and tricks with others.