Sometimes, you may accidentally hit the FACTORY RESET option on your Android device and lose all your files like photos, videos, contacts, etc from it. In such a situation you would wonder how to recover deleted photos from Android phone after factory reset? Well to resolve this issue, here in this article I am going to share with you the 4 best methods following which you can easily get back your lost stuff in no time.
To recover lost photos after factory reset, either you can use the latest backup of the lost photos or try free to use Photo Recovery software. With its intrinsic algorithm, there is a high probability that you will be able to restore photos from your Android phone after factory reset quite easily.
How To Recover Data After Factory Reset Android Without Computer?
How To Retrieve Deleted Photos On Android After Factory Reset with software?
What Does A Factory Reset Do on Android?
Can Data Be Recovered After A Factory Reset?
Yes, absolutely the data can be easily recovered after a factory reset. The fact is that whenever you erase data from your phone or do a factory reset, the files saved on your mobile phone never get permanently wiped out. The pictures and other files are still there but in a hidden manner.
So, if you intentionally or unintentionally do a factory reset on your phone then there are still very high possibilities to retrieve deleted photos on Android after factory reset. But for this, you'll need the powerful Photo Recovery tool which can scan your Android phone and restore all your data after a factory reset.
Note: Do not try to add any new files on your Android device from which you have lost your data after a factory reset, because it will overwrite the existing files and hence you'll lose chances of recovery.
Rated Excellent on

Trustpilot
Free Photo Recovery tool.
Recover photos, videos, & audio files from memory cards and internal storage of smartphones.
How To Recover Data After Factory Reset Android Without Computer?
Below I have mentioned some of the best methods to recover data after factory reset Android without computer –
Option #1: Restore Pictures After Factory Reset Android Via Local Backup
Today, Android devices are coming with in-built backup features which can allow us to backup the precious files to internal or external memory. Thus, if your image files are stored on a memory card, it's very easy to restore the files through Local backup.
So, here are the steps which you can follow to recover photos after factory reset Android using local backup
First, go to the Settings and then go to Backup option
Next, you have to click on the option Backup and restore then File restore and management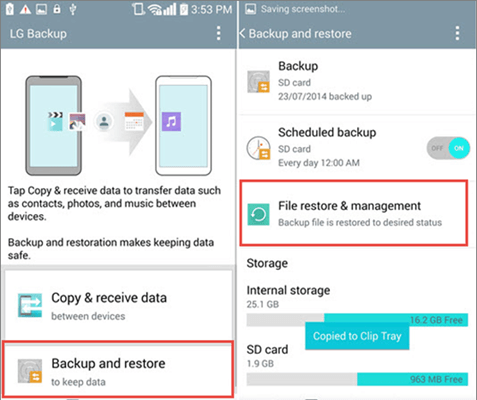 Then select backup file which you need to restore
 Finally, tap on the Restore and wait till they're recovered
NOTE– Factory data reset rubs all the files from internal memory, hence it'll be better to keep all your data on some other external storage device.
Also Read: How To Recover Hidden Files In Android Mobile? [7 Easy Methods]
Option #2: Recover Deleted Photos On Android After Factory Reset By Google Photos
When pictures disappear from your Android phone then, you can easily restore photos after factory reset Android using Google Photos. So let's go try the steps given below to do so:
At first, you need to open the Google Photos on the cell phone
Now, click on the three horizontal line
After that, there you'll see the Bin option
Next, click on the open it option and you'll get your deleted items
In the last step, choose the pictures that you wish to restore then tap the Restore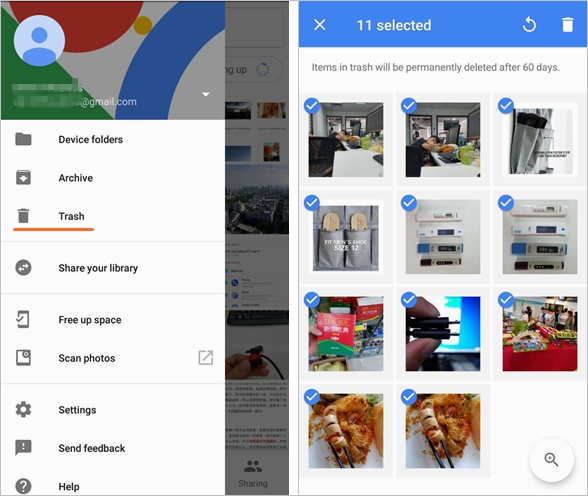 That's all, now your photos will be recovered on the Android phone.
Please note: The best thing is that you can restore those lost photos back within 60 days & after that, they're removed automatically.
Option # 3: Recover Photos After Factory Reset By Google
Well, if you've ever saved a backup of your all pictures & other stuff to the Google account then you can simply recover them without any worry. That's why it's always recommended to make a backup of your important photographs, videos, and other files to Google Drive.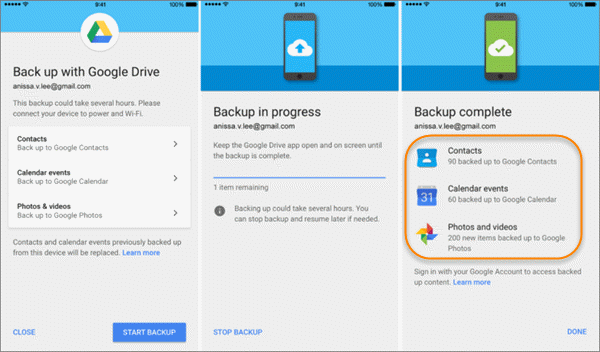 So, just follow the below steps carefully to recover photos after factory reset Android via Google:
First of all, sign in to your Google account which you are using to backup & sync your files
Next, go to the option Google Drive where you'll see all your backed up files
After that, choose the pictures that you want to restore
After choosing, simply click on the option Restore & tap on the "Done"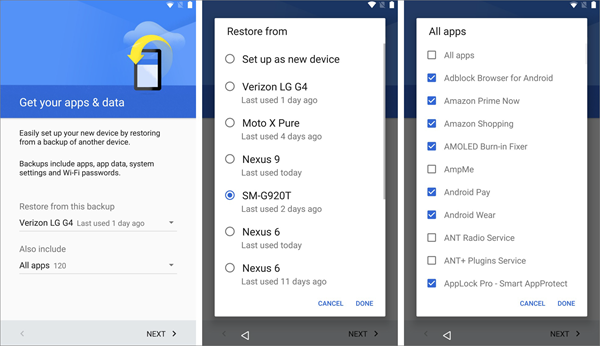 How To Retrieve Deleted Photos On Android After Factory Reset?
The powerful Photo recovery Tool is one of the best options that can help to recover photos from smartphones. The tool works successfully and it doesn't require any type of backup. This marvelous software is used by billions of users & has effectively retrieved their stuff from digital devices.
No matter whatever the reason may responsible for your lost data is, this powerful software scans the full device & finds wiped pictures from it. This data recovery tool has some other outstanding features like:
Easily recover deleted, lost, corrupted, formatted, and inaccessible photos, videos, and other files from digital devices
Data recovery can be done from external as well as internal storage media.
Read-only program, 100% clean, safe & easy to use
Supports both the Operating system Windows and as well as Mac
emid

emid


* Free version of the program only scans and previews recoverable items.
So, just download this tool and follow its step-by-step guide to know how to recover deleted photos from Android SD cards with this recovery tool.
What Does A Factory Reset Do on Android?
Factory Data Reset can repair various chronic performance problems of your Android. Therefore, when you do a factory reset on your Android phone, doing so will:
Reset the password and pattern lock code.
Improve the Android phone's performance.
Troubleshoot Wi-Fi hotspot setup issue.
Fix mobile phone as it keeps freezing after a system update.
You Might Also Read: SD Card Recovery For Android Mobile
The FAQ (Frequently Asked Questions)
If I Factory Reset My Phone Will I Lose My Pictures?
The answer is YES because the factory reset can delete all your data from the Android phone such as personal information, app data, device settings and many more. Doing so can save your data in your Google Account and can be easily restored. To do so, make sure that it's in your Google Account.
Can I Get My Pictures Back After A Factory Reset?
Yes, definitely you can get your lost pictures back after a factory reset. For this, I would like to recommend you the best and professional data recovery tool that is already mentioned in the above section of this post. This software is specially designed to recover photos, music, videos and more documents from digital devices with ease.
Will Factory Reset Improve Performance?
Yes, of course, factory reset can actually improve the performance of the device. Doing so can help in totally removing everything from the Android device and restoring all the settings & files back to its default.
Does A Factory Reset Remove Viruses?
The Android devices can actually suffer from the viruses or malware. However, if you do get a virus, then you can perform the factory reset on your Android phone to get rid of it. Well, doing so can delete your all-important files from your device, and then you need any third-party data recovery to perform phone data recovery after a factory reset.
Should I Remove My SIM Card Before Factory Reset?
NO, you should not remove your SIM card before factory reset. Unless when you're performing a factory reset, you have to select the erase the SIM card memory, it'll remove all the data stored on the SIM as well.
Time To Conclude
Here in this post, I have mentioned 4 effective methods to recover photos after factory reset Android. All you need to just select a suitable one based on your actual situation to recover deleted photos Android internal storage after factory reset.
But for instant phone data recovery after factory reset, you should try the recommended photo recovery software mentioned above. Last but not the least, if you liked this post, then do not forget to share it with your friends and family members.
Alex is an expert technical writer with 7+ years of experience. His in-depth knowledge about data recovery and fascination to explore new DIY tools & technologies have helped many. Alex has a great interest in photography and loves to share photography tips and tricks with others.