Nowadays, people mostly use their Android phone to take photos and videos instead of the digital camera. Every time people used to keep their mobile phone with them and during the time when they find something interesting they record them for memory or fun. But sometimes, it may happen that those memories can lose accidentally. At the time, you need some effective solutions to recover photos/videos from phone internal memory.
That's why today in this specific post I am going to share the 7 best methods on how to recover deleted photos from phone internal memory. So let's get started…
To recover photos/videos from phone internal memory, we recommend this tool:
This software will restore data from corrupted, formatted, encrypted storage media and works in all data loss situations. Now recover your lost and deleted data in 3 easy steps:
Download this Media File Recovery Tool rated Excellent on Pcmag.com.
Select the storage media from which you want to restore the media files & click Scan.
Preview the recoverable files, select the items you want to recover and click Recover to save the files at desired location.
Is It Possible To Retrieve Deleted Videos From Android?
YES, it is absolutely possible to retrieve deleted videos from Android internal memory in easy ways. I've mentioned here the best methods for Android data recovery. Though, if you want the best recovery way then you can try photo recovery software for Android phone memory to do so.
This software will surely help you recover the deleted photos Android internal storage app. Apart from that, you can also try to restore files from Cloud backup option, Google Photos App, Recently Deleted Folder, Dropbox, Google Drive, and Microsoft OneDrive. In the below sections of this post, you will get the easy steps of all these manual options.
How Do I Recover Permanently Deleted Photos And Videos From My Android Internal Memory?
Well, no matter whatever the reason may responsible for the deletion of your memorable photos and videos is, now you can simply recover them by trying the best way. All we want a safe way to recover photos/videos from phone internal memory. And for that, you can use the appropriate Photo Recovery Software.
With the help of this SD Card Recovery tool, you can also:
Recovers almost every photo file formats
Restore video files that are large in sizes such as 20GB, 40GB, 60GB, 120GB, and so on
Get back videos and photos from several digital devices
100% read-only. Safe and secure to use
emid

emid


* Free version of the program only scans and previews recoverable items.
Simply, follow the step by step guide to know how to recover deleted photos from Android phone for free using this recommended tool.
How To Recover Deleted Photos From Phone Internal Memory?
Solution #1: Recover Pictures & Video Files Via Cloud
Today, several smartphones are providing their own cloud features where users can store their useful data. All essential data are automatically backed up to the cloud storage after it is enabled. You need to enable the cloud option so that your data can get save and later on you can restore them.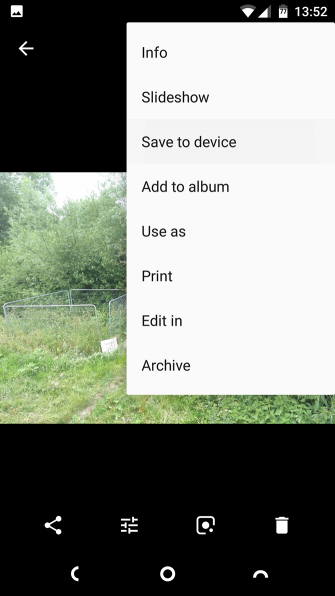 Some smartphones that provide cloud feature includes Mi Cloud, Samsung Cloud, Sony Companion, etc. that allows data storage up to 5GB. Using this feature, you can properly manage your data on the cloud and restore them when required.
Solution #2: Restore Photos And Videos Using Google Photos App
Well, if you've uploaded or saved a backup of your data on Google Photos then, you can simply recover it back. When your data gets deleted from Android phone then the files directly goes to the trash bin. So, here are the steps which you can easily follow to recover deleted videos Android internal storage:
Firstly, on your cell phone, you have to open the "Google Photos App".
Next, in the top corner of the left side, simply tap on "Menu" and then "Trash".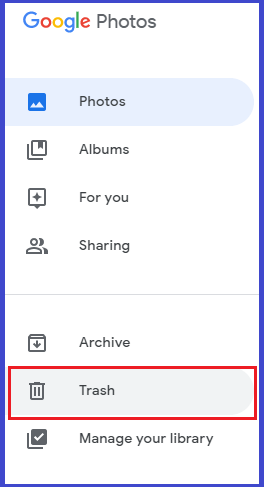 Now, just touch & hold the photos and videos that you wish to restore.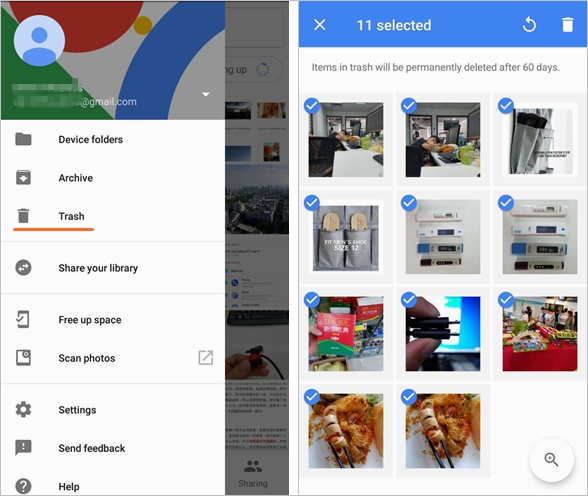 At the last step, you need to click on the "Restore" option.
After doing so, the data will restore to the Phone's Gallery, Album, or Google Photos App.
Please Note: You can get your lost photos back within 60 days only. Because, after 60 days your important files automatically get removed from the trash.
Solution #3: Retrieve Deleted Image Files From Recently Deleted Folder
Most of the Android users keep their precious photos, videos, and other things in their smartphones. But sometimes, it may happen that while watching the videos, they may unintentionally press delete option. And doing so can erase their files and simply goes to the "Bin" or "Recently Deleted Folder".
However, by following the steps given below, you can easily recover photos/videos from phone internal memory with ease, once try them:
Step 1: Just go to the Recently Deleted folder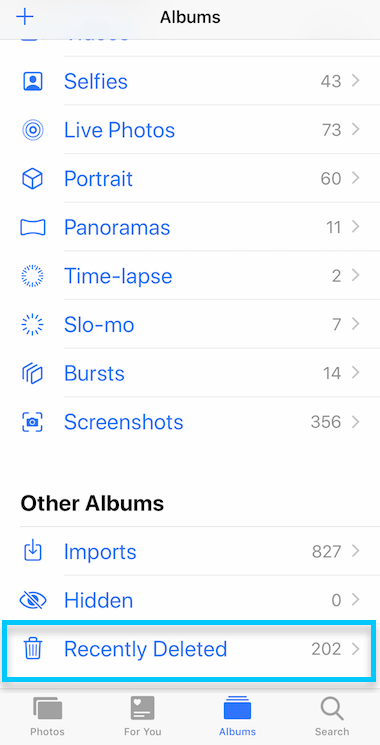 Step 2: After this, choose those files whichever you want to restore or get back.
Step 3: Next, simply tap on the "Restore option" to get the deleted data back to its original location.
Step 4: But you must know that it is only possible to recover from a recently deleted folder when the "Back up & sync Option" is ON.
Note: If the deleted video or image files are older than 30 days then, you won't be able to recover from the recently deleted folder.
Solution #4: Get Back Erased Photos & Videos From Dropbox
Yes, recovering deleted/lost data from the Dropbox is a very simple process. To do so, you have to follow these steps mentioned below: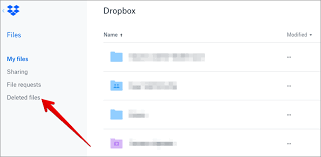 At this time, just click on the name of your lost file/folder that you require to restore.
Choose the Multiple files/folders by clicking on checkbox icon
Lastly, make click on Restore The process of restorations may take time if you are recovering more than one or two large files.
Note: The Dropbox keeps the deleted photos and videos for 30 days only, therefore you will have to notice those deleted files & recover them before 30 days.
Solution #5: Restore Lost Pictures From The Google Drive
If you've kept the backup of your data in Google Drive then, you can simply get those files back from Google Drive backup even if you've done the factory reset of your Android.
Step 1: Sign in to "Google Drive Webpage" or you can also sign in to the "Google Drive App".
Step 2: You need to log in with your Google account which you've used at the time of creating a backup of your files.
Step 3: After completing the Login process, you'll get all the backed up data. Next, you have to choose the files that you actually want to recover & after this you can simply download the data from Google Drive.
Solution #6: Revive Data From The Microsoft OneDrive
To recover deleted photos from Android internal memory using Microsoft's OneDrive, you need to just follow these steps:
At the first time, open the Microsoft OneDrive app
Now, you need to go to Me > Recycle Bin.
Then, choose your photo or video files & click the Restore
Please Note: Microsoft OneDrive keeps the lost data up to 30 days only, though it can delete them earlier if your recycle bin is larger than 10 percent of your total storage space.
How Data Get Deleted From My Android Phone?
The photos, videos, or other media files can delete from your Smartphone due to several factors. So, below I have listed some of the common scenarios that render the loss of pictures and video files from phone internal memory. Just have look at the most common reasons:
Deleting all the photos & video files by accidentally choosing the option Delete All on your Android phone
Incorrectly erasing the essential files while deleting the unwanted videos or pictures from Smartphone
Malware/virus infection to the Android by downloading the virus infected files may sometimes remove your data from the phone's internal memory
Resetting the Android phone to factory settings can delete all the data (including photos & videos) present in your Smartphone's internal memory
Final Verdict
Well, there are several Android users in the world who have lost their data accidentally from their Smartphones due to unexpected reasons. So, in this article, I have discussed 7 easy ways that will help you to recover photos/videos from phone internal memory and tablets.
So, just try the aforementioned solutions to know how to recover deleted photos from gallery with ease. For instant file recovery, you need to try the professional Photo Recovery tool. It is very easy & will help you to recover your deleted video files from Android without backup.
Alex is an expert technical writer with 7+ years of experience. His in-depth knowledge about data recovery and fascination to explore new DIY tools & technologies have helped many. Alex has a great interest in photography and loves to share photography tips and tricks with others.